The Brentwood area has gone under significant changes in the past few years. The Amazing Brentwood is nearing completion, and there are many trendy restaurants slated to open there soon. There is also a new option for bubble tea in The Amazing Brentwood, Presotea. I've been hearing about this place for a couple months so we finally went to go try it out.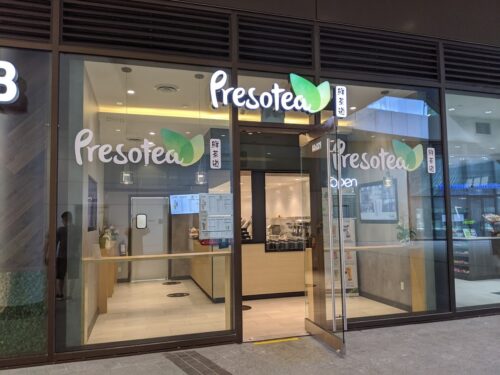 We weren't quite sure where Presotea was located in The Amazing Brentwood and there didn't seem to be a map installed yet, so we walked around for a bit before we saw it. The best place to describe Presotea would be on the ground level, so you don't have to walk up any stairs. It is closest to the corner of Lougheed and Willingdon. I hope these somewhat vague instructions can help someone, lol!
The menu was pretty expansive, spanning two pages. There were a lot of options for caffeinated and non-caffeinated drinks.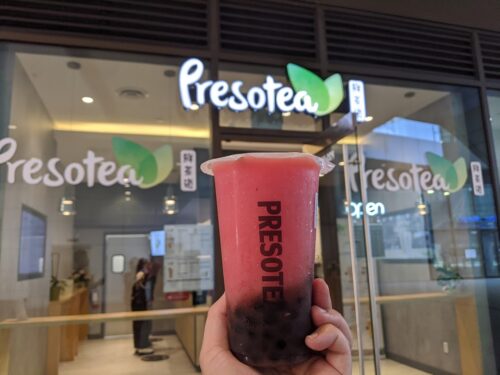 Watermelon slush with pearls: The watermelon slush was a seasonal drink, available in the summer and until watermelon goes out of season. The watermelon was fresh, and I found the drink to be really refreshing on a hot summer's day (oops, I wrote this post back in August and didn't publish until now).
The slush was blended well, with no ice chunks inside. In addition, the pearls were delightfully chewy and fresh!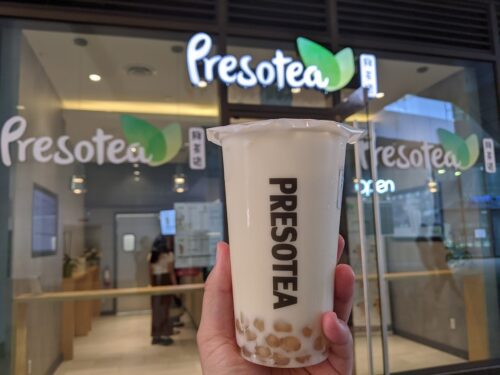 Genmaicha milk tea with white pearls: The fiance ordered the genmaicha milk tea and enjoyed his drink as well. The drink had a stronger milk taste than tea. The tea could have been a bit stronger to give the drink more tea flavour, but it was still enjoyable.
He ordered white pearls with his drink. I'm not sure what the difference between the regular pearls and the white pearls were.
We left satisfied with Presotea and would come back if we were in the area, but it's not a place I would purposely drive to because there are so many other bubble tea shops closer that I'd pick first.
However, it's a great addition to the Brentwood area and the service was really friendly and nice.