Indian food is only something I've been having for the past two years or so. Turns out I have been missing out for most of my life because it is so fragrant and delicious! I am wanting to try more Indian restaurants to review so please let me know if you have any favorites.
We originally had plans to get Red Robin's with Sangria and Lager, but last minute I saw an ad for Indian food and began craving for it. Fortunately, everyone else was down for Indian too so we found a place that did delivery near their place, Desi Turka.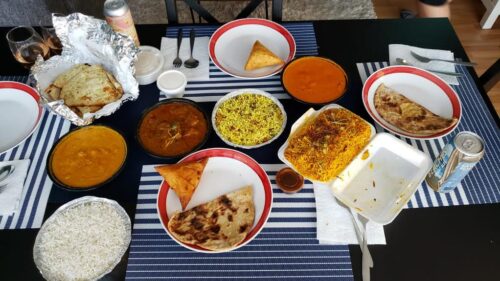 Desi Turka is located on the border of New West and Burnaby. We ordered delivery so we didn't go into the restaurant, but it seems like they have some dine in specials during the week.
We each picked an entree and shared everything!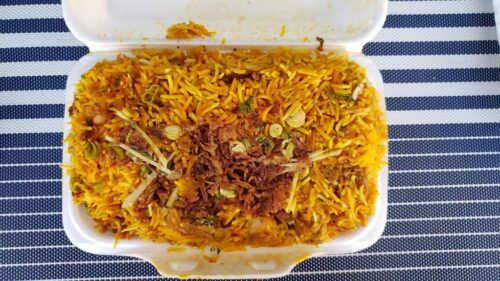 Chicken biryani: I absolutely love my chicken biryani, and it is what I usually order. Some places can be hit or miss though so I was hoping Desi Turka would be the former. The portion was huge! The takeout box was jam packed to the brim, as evident in this photo.
The chicken biryani was absolutely delicious and writing about it is making my mouth water. The basmati rice was incredibly fluffy and fragrant with all the spices and herbs they used. The chicken was juicy, tender and very flavourful although there could have been a few more pieces.
I've had biryani at other restaurants that was so oily that you couldn't tell the rice was fluffy. I'm happy to say this was not the case and this dish was perfect.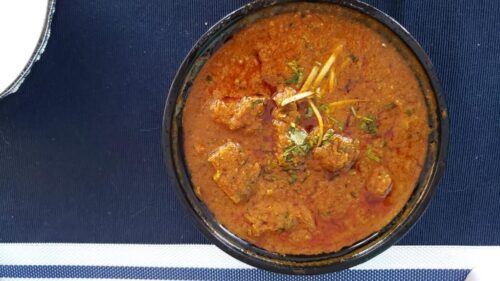 Goat curry: Lager loves his goat, but Sangria and the fiance are vehemently opposed to goat. I am neutral so I had some of the goat curry. The curry was very flavourful and fragrant, and good to mix with our naan bread and rice.
Goat meat tends to be tougher than beef or pork but I found it to be alright. I personally wouldn't order a dish to myself but if it was on the table, I'd have some.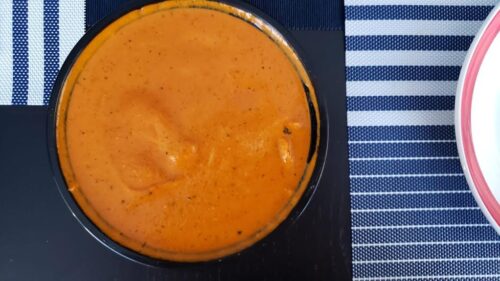 Butter chicken: Sangria picked the butter chicken. The butter chicken was more mild in spice and less fragrant than the biryani and curry. It was creamy and had a silky smooth, well rounded flavour to it.
I personally prefer my Indian food to be more spicy and fragrant, but the butter chicken was delicious!
Chicken korma: The fiance picked the chicken korma and it was also delicious. He couldn't have enough of it! Chicken korma is made with a creamy sauce and is less spicy than curry. The chicken was also very tender and juicy in this dish.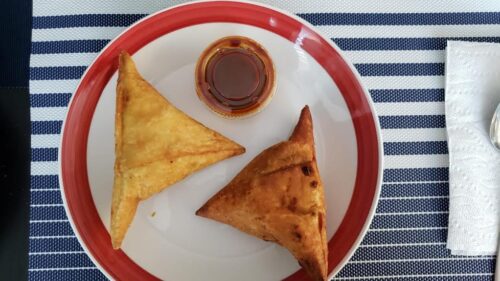 Vegetable samosa: We were pleasantly surprised when we saw that we got two samosas instead of one! This was absolutely delicious and fragrant with all the different herbs and spices used.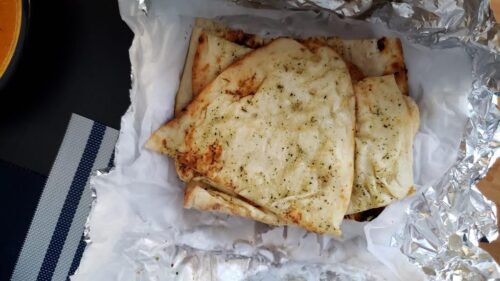 Garlic naan: The garlic butter naan bread was so good! It was thick and chewy, perfect for dipping with the goat curry, butter chicken and chicken korma. The garlic complemented the sauces in the other dish well.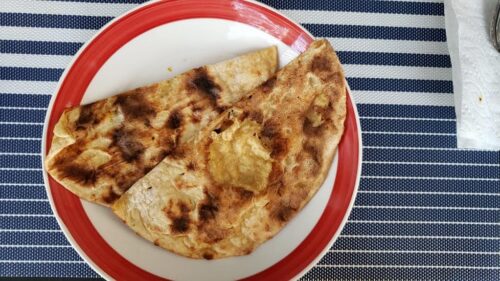 Roti bread: The roti bread was forgettable and meh. The garlic naan was a lot better.
We were really happy with Desi Turka. The food was delicious, flavorful and the portions were big. Too bad they don't deliver to our area or I would get it more regularly.