It has been awhile since I have gone to downtown for a meal (thanks COVID). Seeing that it was a nice day, I suggested going to Ebisu on Robson Street for their happy hour. We used to go to the Ebisu on Broadway a lot (like almost every weekend at some point!) but haven't been there for a couple years. Since Broadway location's happy hour was good, we decided to see if the Robson location would also be good.
I made a reservation on Open Table and selected the patio seating option, so I was quite looking forward to enjoying the sun and warmer weather. However, when we got to the restaurant, the patio was still closed so we had to sit indoors. That was disappointing since they gave the option to pick on Open Table.
Although we came for happy hour, we treated it like an early dinner. Their happy hour is from 3-6pm.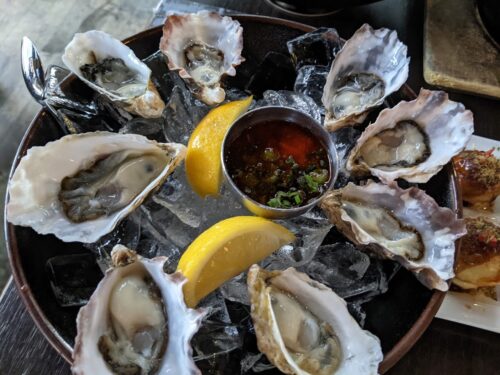 Raw oysters: Raw oysters are something I love, but try to only eat occasionally because of how risky food poisoning is. Did you know raw oysters are associated with a bacteria called vibrio, which could lead to limb amputation or even death in very serious cases? Anyway, I probably only eat raw oyster 1-2x a year to minimize my risk of food poisoning.
The oysters were on a great deal for happy hour, $1 an oyster. Raw oysters go for $1.50 usually for happy hour so I was happy to see the lower price here. The raw oysters were delicious. I was only going to eat 1 (HAH!) it was so good that we ordered more. They were creamy, juicy and briny. I can't stop thinking about raw oysters now and am wanting to go back for more.
We ordered a second round as well. In the second round, the oysters came with some toppings and sauce inside. Personally, I prefer my oysters plain with a tiny bit of lemon juice so I can enjoy the full flavour of the oyster – maybe that's weird? Anyway, I'm putting this here as a reminder to myself to ask for no toppings on the oysters.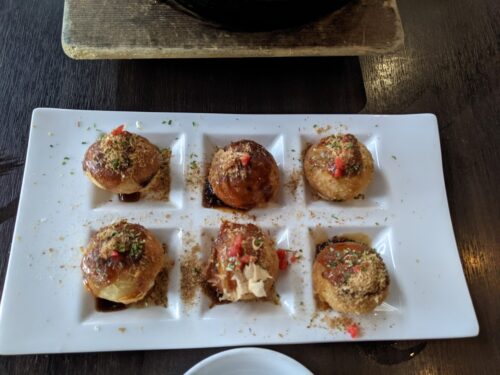 Takoyaki: We used to always order the takoyaki at the Broadway location, so we tried it here as well. They were good here as well and I'd order them again.
Truffle fries: Another regular dish we ordered at the Broadway location! The fries were served piping hot, fresh and crunchy. However, it could have used more truffle oil because I didn't taste much of it.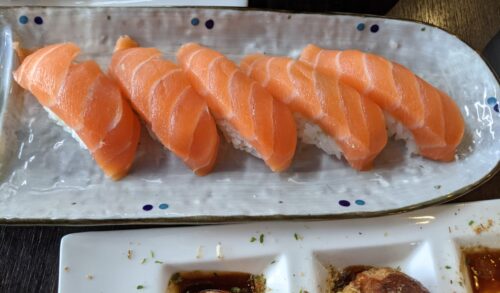 Salmon nigiri: This was a pretty good happy hour deal at $9 for 5 pieces. The salmon was fresh and tasty. I would definitely get this again, especially at the price point.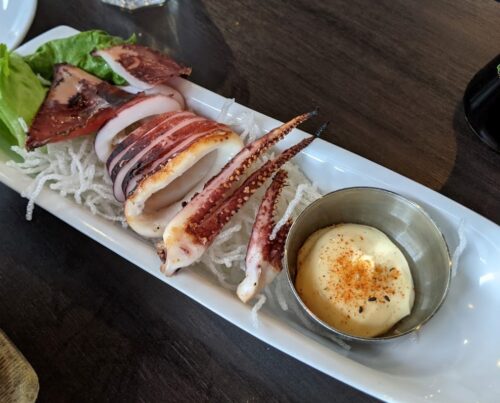 Grilled squid: This isn't something we normally order, but it was on the happy hour menu so we decided to try it. It ended up being really good! There was a nice char to the squid and a grilled flavour to it.
We left satisfied and full from happy hour. I am sure we will be back, especially for those delicious buck a shuck oysters!