Almost 3 years ago, the fiance and I went to Maru Korean Bistro for dinner which I wrote a review on. At the time, Maru had just newly opened in the area and it wasn't as popular yet. We enjoyed our dinner there but since there are a bunch of other Korean restaurants that are more convenient, we haven't come back until now when we found ourselves in the area.
Since we were doing an errand in the area, it was the perfect time to come back and see if Maru was as good as we remembered it!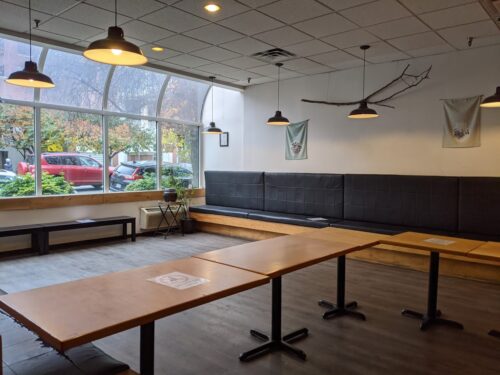 Walking in, the restaurant was split into two sections. The front section was closed off and only the back section was opened.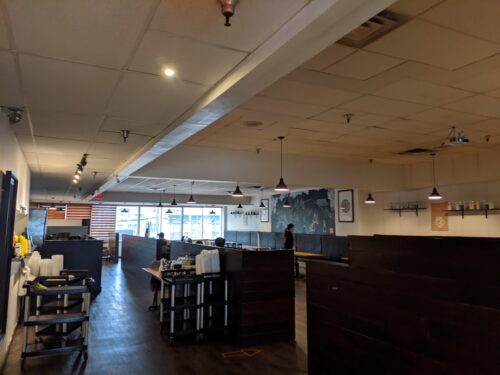 The back section was a lot bigger and really spacious so it made sense. The tables were more spaced apart than the health protocols needed, but we aren't complaining because it felt really safe and clean.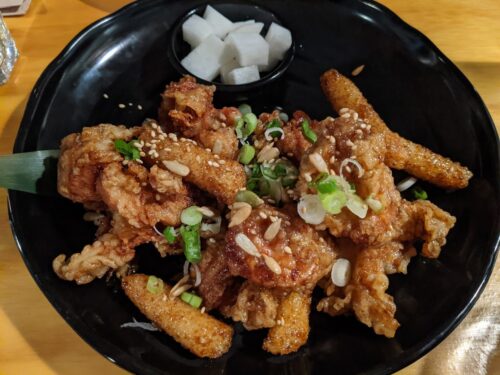 Korean fried chicken: The fried chicken at Maru stood out than other Korean restaurants I have been to. The reason is because they also included deep fried rice cakes with the fried chicken! I'm not a huge fan of fried chicken except for chicken strips (GASP! The audacity!) so I happily had the rice cakes instead. The rice cakes were delightfully chewy on the inside, but crunchy on the outside.
You can pick from the soy garlic, spicy gochujang, or miso sauce. The fiance picked the soy garlic sauce which was delicious with a nice sweetness to it. The fried chicken itself was piping hot, crispy, and not oily at all. The perfect Korean fried chicken with a nice addition of rice cakes and pumpkin seeds.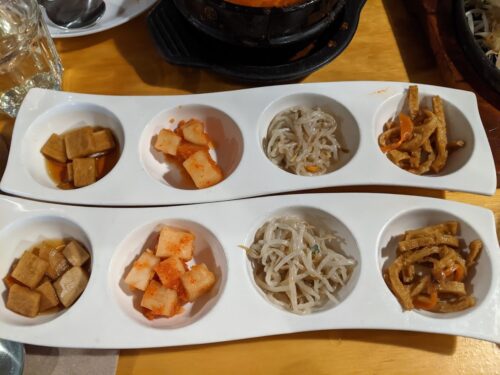 Banchan: The banchan was pretty average, nothing particularly good or bad to note about it.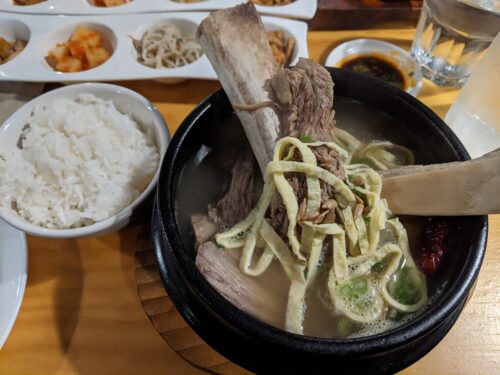 Beef rib soup: I normally order beef bone soup whenever I go to Korean restaurants, and this time was no different. The price was more expensive than I was used to, at $18 a bowl in 2020 (who knows, if this blog is still around in a few years, this may be considered a reasonable price cause inflation). With that said, I was a bit wary that it would be disappointing and not worth the higher price point.
However, the beef bone soup turned out to be delicious! The beef bone was huge and came with tender beef that easily fell off the bone. There was also some tender sliced beef in the soup. The soup broth itself was very flavourful and comforting, with lots of depth. I could see why it cost a bit more than other places. I would gladly order this again.
There were also some dates and nuts inside the soup, which I hadn't seen before. This made the soup feel more herbal and healthy.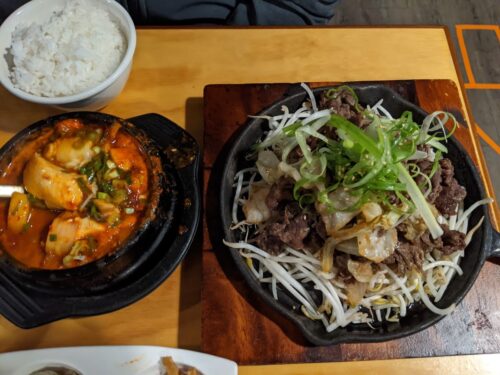 Tofu soup and meat combo: The fiance went with one of their lunch combos, which was a pretty good value for what you get. It came with a full portion of meat (your choice of beef bulgolgi, spicy chicken thigh, spicy pork shoulder, or grilled soy pork shoulder).
The fiance went with the beef bulgolgi and it did not disappoint either. The beef bulgolgi was marinated well and very juicy. The portion was really big, and the cost of just the meat plate alone would have been worth it.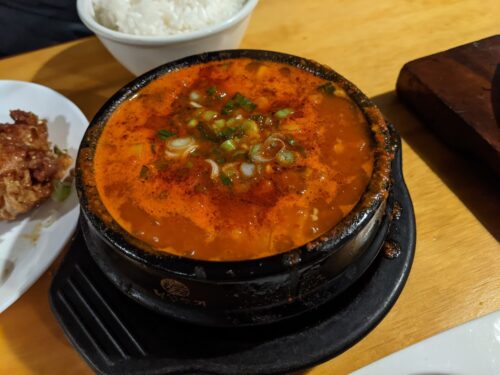 The combo came with a smaller side of tofu soup, my bowl was bigger. The tofu soup packed a spicy kick and there was lots of tofu inside.
Overall, we left very full with some leftovers for dinner as well. Although the prices were a bit higher than most Korean restaurants, the quality and taste of the food was delicious and worth it. Service was also friendly and attentive too. Maru is a gem in North Vancouver and I highly recommend it. We will be back again!