Disclaimer: In light of COVID-19, I just wanted to say that I am doing my part and have been social distancing. Luckily, I have some drafts saved up before this whole craziness began so please don't attack me for posting restaurant visits.
I know that you may want to go out and have fun, but it is crucial that we distance ourselves to slow the spread of the virus and flatten the curve before it gets worse. Yes, you may feel fine but you could be passing on the virus to someone who is immunocompromised or elderly that may not survive this virus.
---
Before this craziness began, Sangria's Riskay Girls found ourselves at Sushi California after a morning of bridal shower and bachlorette planning for Sangria's wedding! Unfortunately, everything is now being put on hold until the madness is over. Side note, my thoughts are with all the brides getting married this summer, it really sucks.
I actually haven't been to this Sushi California location until now. I found this location to be less busy than the original Lougheed location. Parking may be a bit hard to find since this is such a busy area, but it is a minute away from Broadway/City Hall station.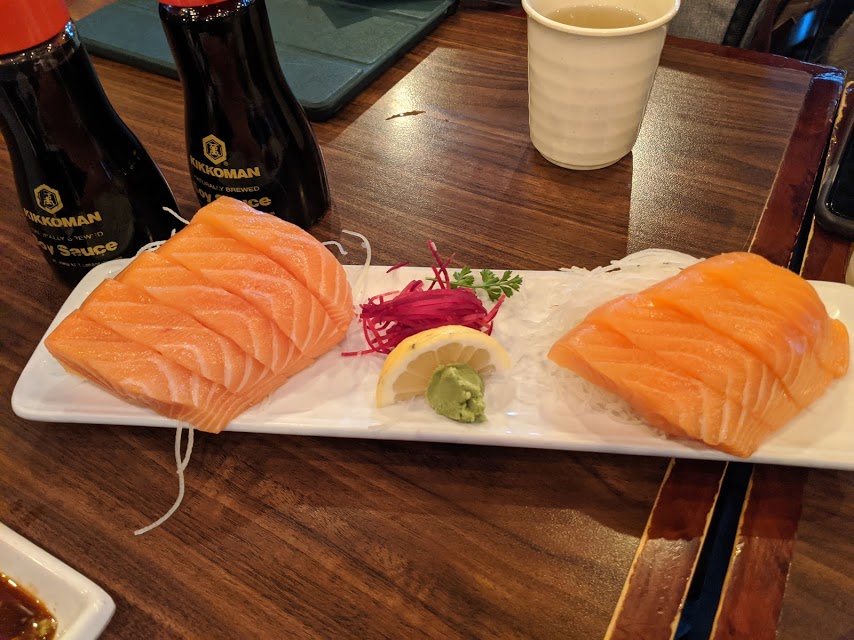 Salmon sashimi: The salmon sashimi was delicious and satisfied my sashimi cravings. The sashimi was very fresh and the pieces were very large too!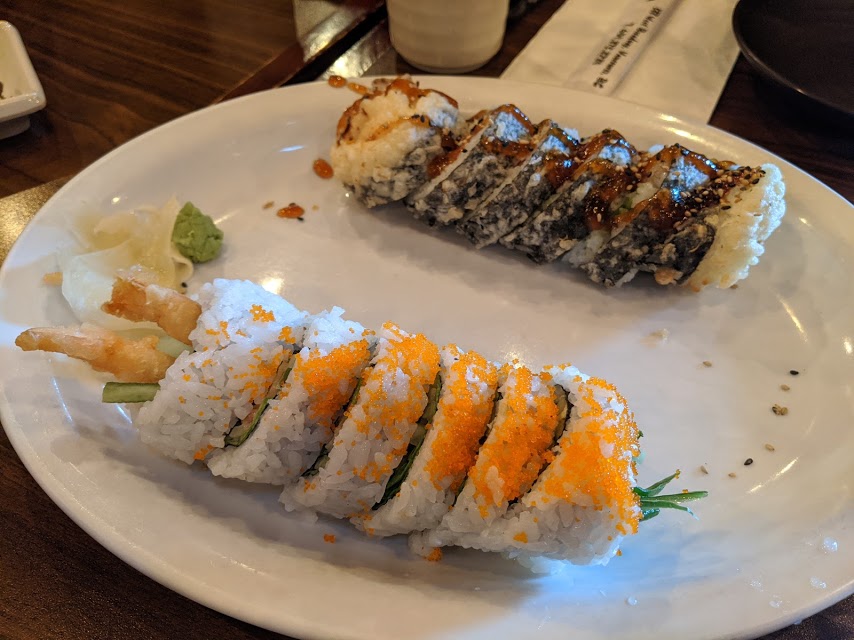 Dynamite roll: The dynamite roll was alright. Nothing too special about it. I found it underwhelming compared to the other dishes we ordered.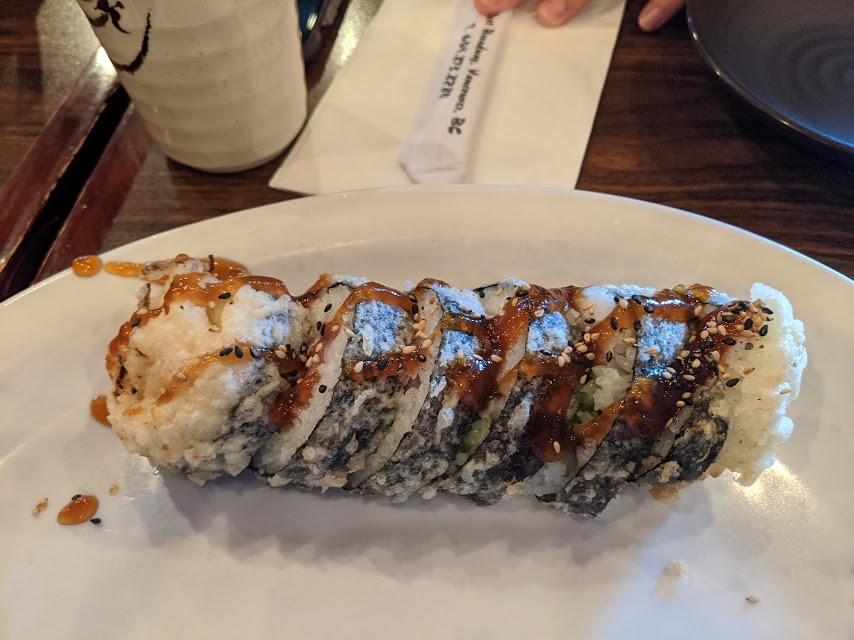 Crunch house roll: The crunch house roll was delicious! It was a deep fried roll with crab meat, avocado, tuna and salmon sashimi. The teriyaki sauce was a pleasant, sweet addition to the roll.
Although the roll was deep fried, it didn't feel too heavy or greasy to me, and had a light crunch.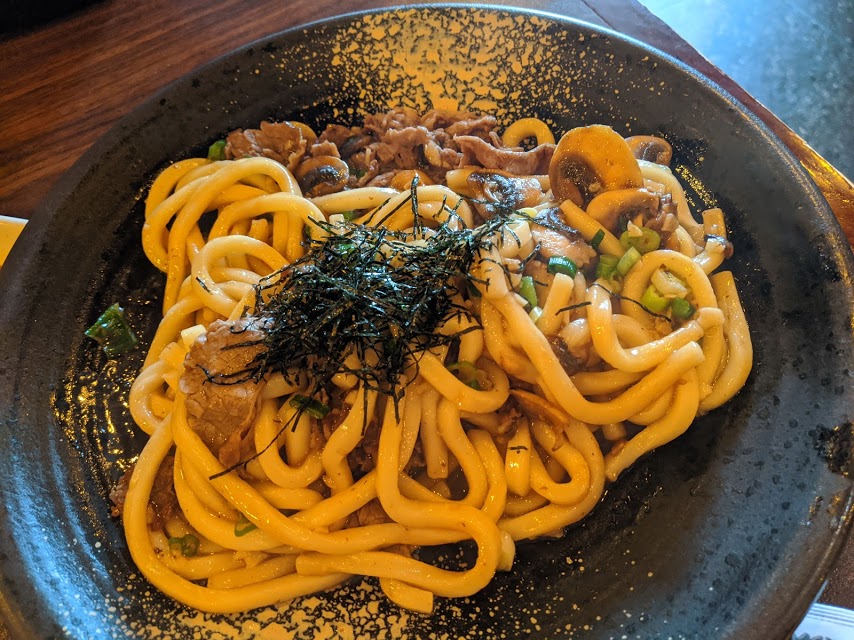 Beef yakiudon: The yakiudon was delicious, with a creamy, mouthwatering sauce. I thought I tasted a bit of butter in the sauce but not too sure.
The only disappointing thing about this dish was that it was quite small so I didn't find it worth the price. The photo is deceiving because it makes it look bigger than it was.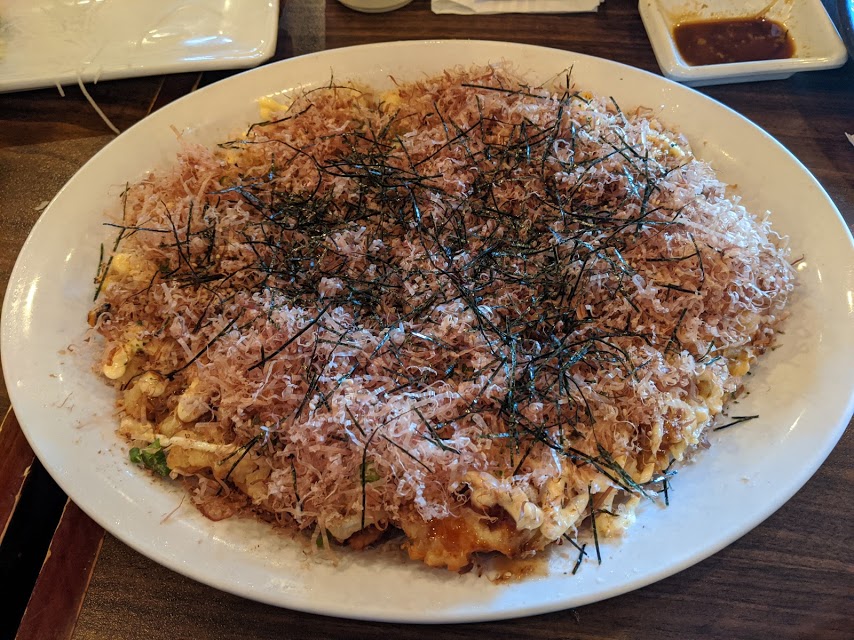 Okonomiyaki: Last but not least, the okonomiyaki! The okonomiyaki was delicious and very filling.
Overall, I enjoyed this location of Sushi California. Reliable, straightforward sushi at reasonable prices.