I love poke but I normally don't get it from a restaurant, preferring to make it at home because it is actually really easy! We like to buy the sashimi from Fujiya, then add some simple seasoning sauces and toppings. However, I was browsing on SkipTheDishes one day when I saw that Pacific Poke was having a deal for free delivery and a free coconut drink. I was sold!
DIY medium combo: For the DIY medium combo, you get two scoops of protein and three scoops of toppings with a choice for the base. I chose the salmon and ahi tuna for the protein, seaweed salad/diced mango/basil tomato for the toppings, and traditional sushi rice for the base.
The salmon and tuna were fresh and tasty! The toppings were okay, I wish there were some more sweet toppings at no cost other than diced mango. I wasn't a fan of the basil tomato so I wouldn't get that again.
As well, the sushi rice was slightly sour due to the vinegar. There was too many different flavours going on (sweet, salty, sour) that they didn't taste good mixed together, but that's my fault for choosing this combination. I did better on my second visit!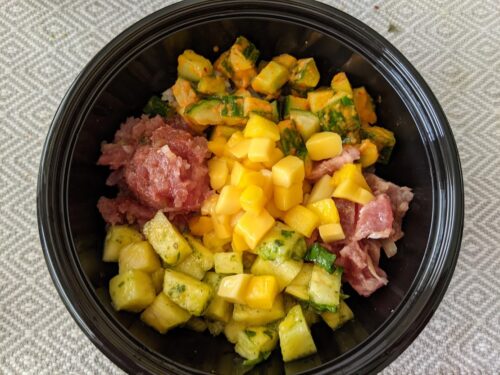 DIY medium combo: The fiance was at work so I guessed what he would like. I picked the negitoro and spicy ahi tuna for his protein, cucumber kimchi/pesto pineapple/mango for the toppings, and sushi rice.
The negitoro was really good and I wish I ordered that for myself instead. The toppings were interesting but I wish they had some plain ones instead of the mix, such as plain cherry tomato, cucumber or pineapple.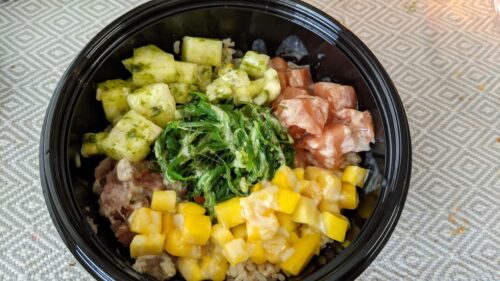 DIY medium combo: On the second visit, I had a better idea of what combinations I would like. I got the salmon and negitoro for the protein, mango/seaweed salad/pesto pineapple for the topping, and brown rice.
This time, the flavours went better together. I preferred the brown rice over sushi rice because the brown rice didn't add a sour vinegar taste. Normally I love sushi rice but it was just too many flavours going on!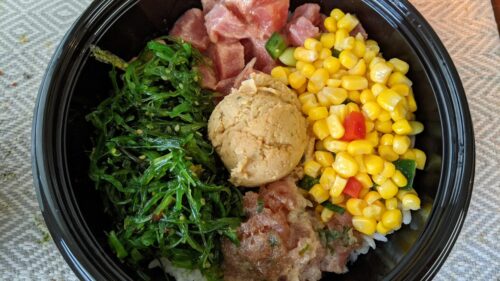 DIY medium combo: On the second visit, the fiance picked negitoro and tuna for his protein, corn/seaweed salad/miso hummus for the topping, and sushi rice.
The miso hummus was unique and the fiance said he would order it again.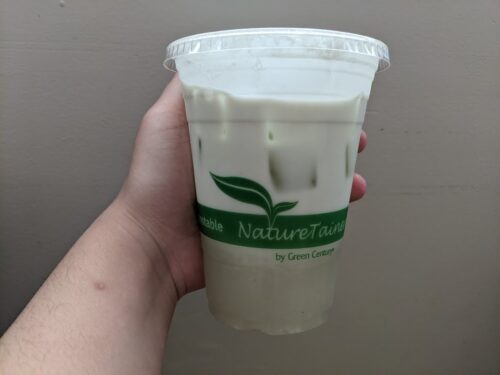 Cocopanda: We ordered this drink on both occasions! There was a promo where this drink was free over $25.
You have to be careful though because Skip automatically charges you for two drinks, and gives you one free. I realized this on the first order but we forgot on the second order, which was fine because we loved the drink a lot.
The cocopanda was a blend of coconut milk and coconut water, and was delicious. It's pretty simple and easy to make, but delicious and refreshing. It wasn't too creamy since they use half coconut milk and half coconut water.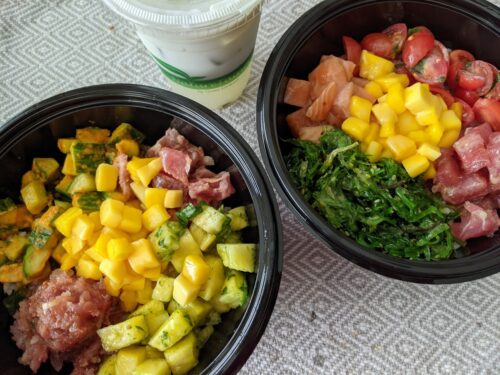 Overall, we both enjoyed our two delivery meals from Pacific Poke. We will probably continue to order from them more often, especially since they have the printing with Skip