Greetings everyone!
I'm continuing my travel journal today, with what I did during my second day in the beautiful city of Kelowna!
One of the top things that we wanted to do in Kelowna was horseback riding. Prior to the trip, I had done some research and narrowed it down to a small, horseback riding company due to the significantly lower price they offered.
We went with Pegasus Riding School & Trail Rides, which was about a 30 minute drive from the main part of Kelowna, on the other side of Okanagan Lake. You have to take some small, windy roads up a mountain to get there, but the reward is that the view is a bit nicer from up top.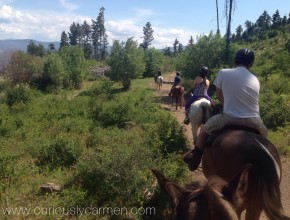 A one hour ride was $40, compared to most places in central Kelowna that were around $60-80 a hour. So much cheaper! To some people, it may be a bit out of the way but we didn't mind driving a bit extra. The only thing we didn't like was that we weren't able to book a reservation, so our plans were up in the air until the day before.
They also only take requests through the traditional telephone (no text or online booking), so you'll have to call the owner and let them know which day you want and time. Even if you tell them, they can't guarantee that time for you and tell you to wait and see if other customers call. If others call for the same time, they'll open the spot up but if not, unfortunately you'll have to find another time.
This got a bit tedious but oh well, we were able to save money!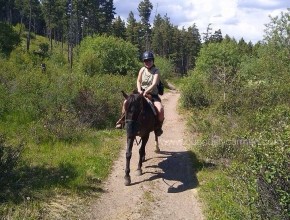 After giving you a helmet and riding boots, you're on your way! One person from Pegasus leads the way, I really liked our guide that day.
Monkey was the slowest horse in the entire group, so we were pretty behind most of the time. He also has to stay in the back because our guide told us that one of their white horses loved to bite Monkey in the back during trail rides. Now, Monkey does not like white horses or behind in front of any other horses – poor guy! Nonetheless, I really liked him – he was a very sweet, shy, and gentle horsey =)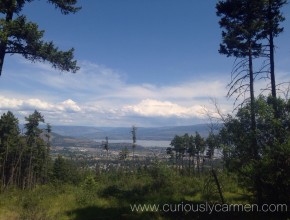 After around 30 minutes of riding, we reached the view point! I'm glad that the weather was cooperating with us, so we had a nice clear view of West Kelowna and Okanagan lake.
Some tips I would give to others would be to wear comfortable, stretchy pants. Your legs may be sore as they get stretched out due to how wide the horse's body is. Also, as the horse trots along, your body bounces up and down a bit so you may end up with a sore lower back as you try to balance. Personally, I was okay though!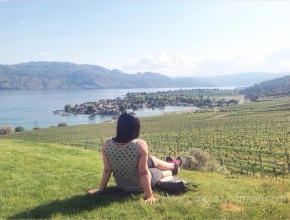 Afterwards, we went to explore West Kelowna's winery region, the Westside wine trail. The most popular one there is the famous Mission Hill winery, but we didn't really have a great experience. It was too busy and staff weren't that friendly.
Our personal favourite from the Westside region was Quail's Gate. It wasn't as busy as Mission Hill but had fantastic service, and one of their wines was served with chocolate – yum!!! My favourite part was the view though. They have a big, grassy hill for visitors to relax in and soak in the beautiful Okanagan view, which is what I certainly did.
Have you been horseback riding before? How did you like it?
Thanks for reading!
-Carmen