Ever since Winter came along, my skin has been pretty dry. I've been finding myself wearing more moisturizer and using less abrasive skin products. I thought I would talk about my current night routine, as I don't think I have before and I always like to see what products other people use before bed!
This routine will probably change once Spring comes – can't wait for the sun to hang around longer each day! This getting dark at 4 pm business is no bueno…
Also, this is my full face routine that I'll do after wearing a full makeup look. When I'm just wearing eyeliner or no makeup at all, I often won't do all these steps.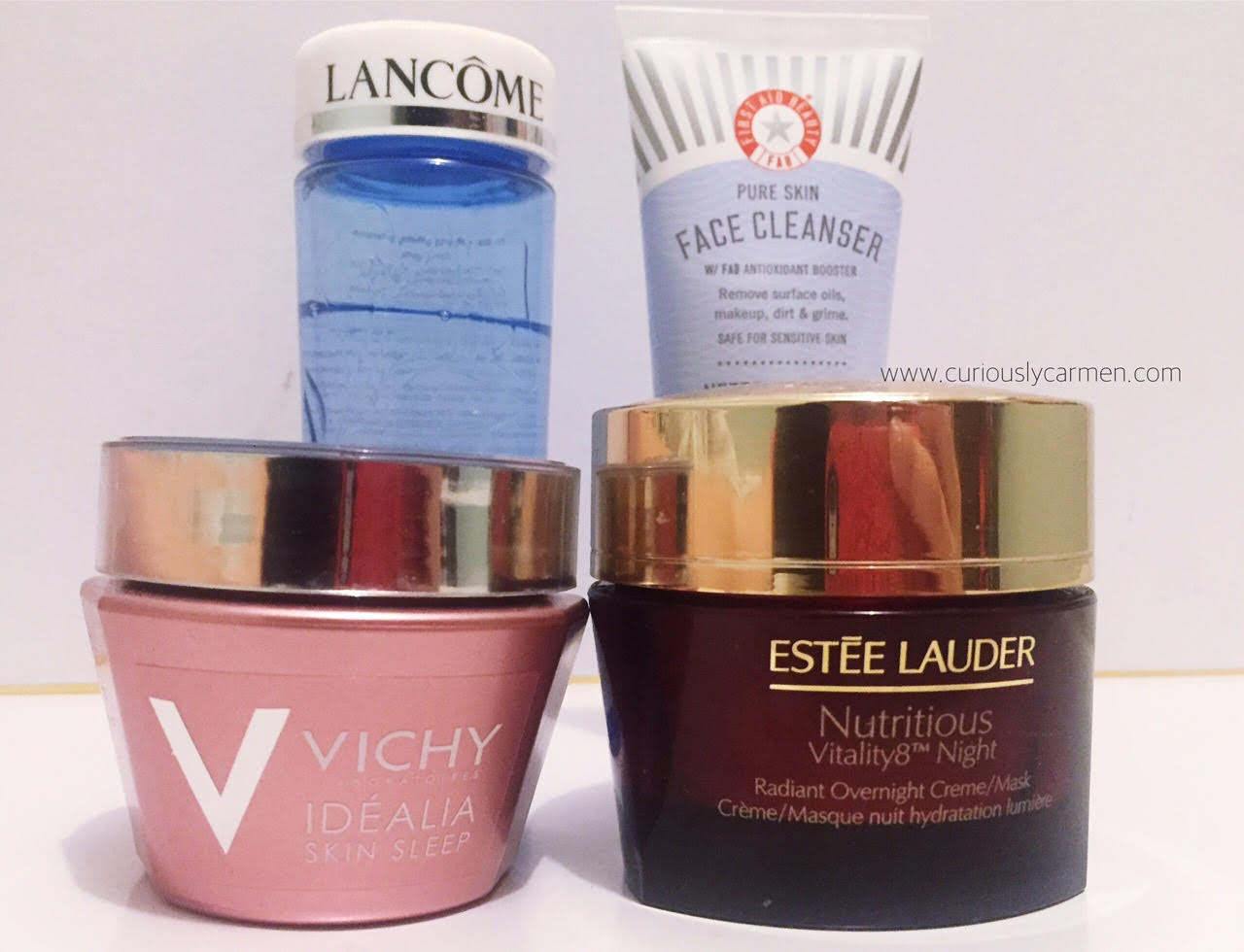 1) Lancome bi-facil eye makeup remover: I've tried many makeup removers, but the Lancome one is the best I've used for getting ready to bed. This easily removes ALL your eye makeup, even when you have primer and waterproof product on!
2) First Aid Beauty cleanser: I wrote a review about the First Aid Beauty cleanser last month, and it has currently been my go-to. It effortlessly removes all foundation and leaves your skin feeling moisturized without overdrying.
3) Vichy Idealia Skin Sleep: I only recently started introducing this into my skin regime, but I love it so far! I use this for days when I feel that I need only light moisturizer. The lotion is also a nice, soft pink colour and smells wonderful! It reminds me of a garden.
4) Estee Lauder nutritious vitality8 night cream/mask: I've been using this for awhile now! My skin is normally pretty oily so I don't need heavy moisturizer. However, this has been a saviour in the winter because it is so intensely rich and moisturizing. My skin feels nice and plump when I wake up in the morning, no matter how cold/dry it is!
Thanks for reading!
Carmen