Two years ago, I wrote a delicious post on Bai Bua Thai Cuisine! Thai food isn't something that I normally eat, but I always enjoy it nonetheless. Coupled with my digestive problems now, it's even harder to find Thai food I can eat because a lot of Thai food is spicy or rich (coconut milk).
But after spending a weekend of watching Hairy Biker's Asian Adventures on Netflix and seeing them explore Thailand, the boyfriend really wanted Thai food! So I checked the menu at Bai Bua and they had a clear noodle soup I could eat, so off we went.
Then, I came back with Takoyaki a week later because I was craving Thai food again! So, this post features 2 revisits.
It's been two years since coming to Bai Bua, but the restaurant and good service still remained the same.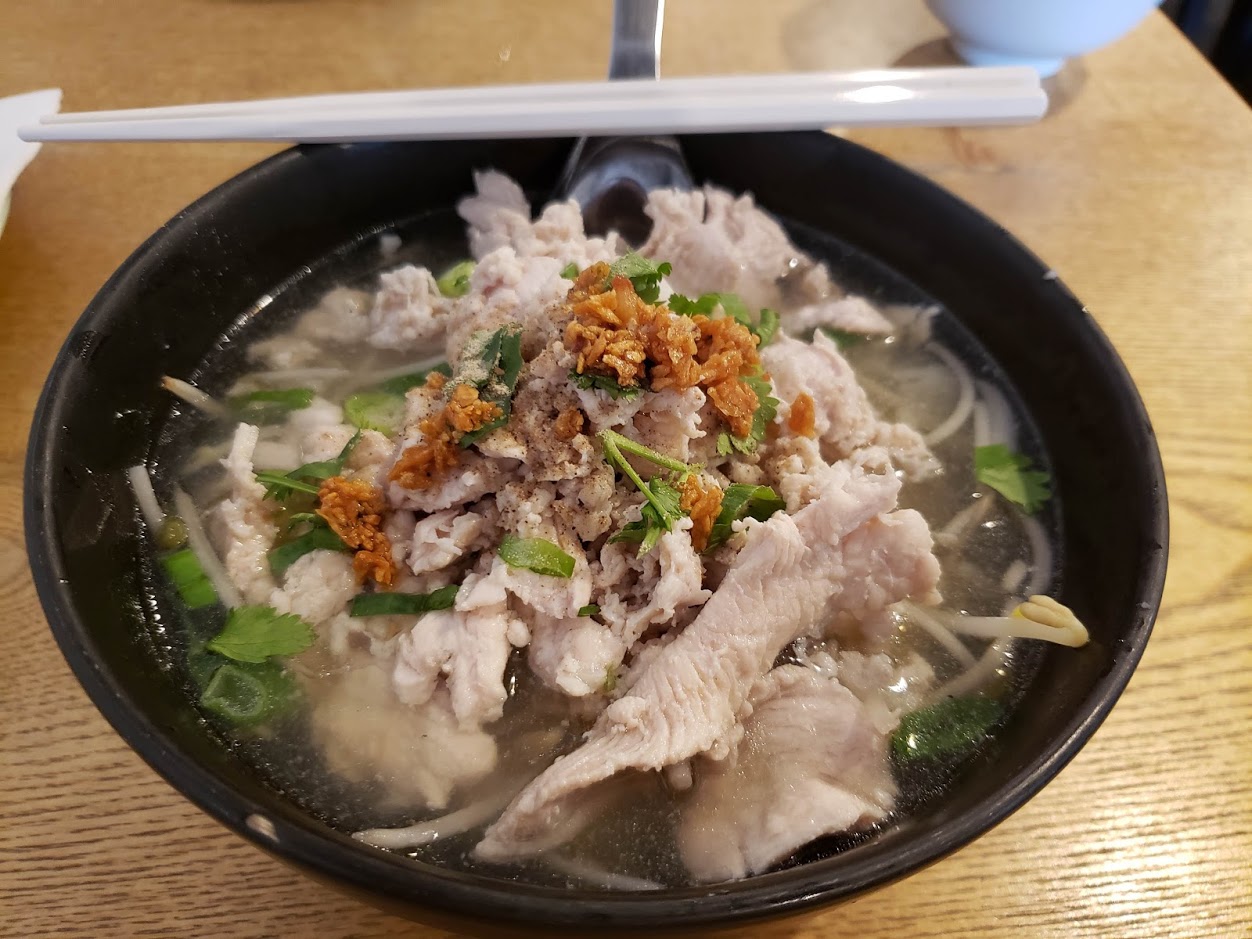 Thai clear soup with chicken: I didn't really have high hopes for this soup, since usually clear soup translates to not much flavour.
However, I was really surprised at how delicious this was! If one day my digestive problems subside and I can eat all the food I want again, I'd still order this clear soup.
The soup had a lot of depth to it and the flavour was well rounded. In particular, I enjoyed the mix of fragrant chicken broth and garlic. It came with a lot of plain boiled chicken which was juicy. The noodles were similar to the Chinese flat noodles aka 'hoa fun'.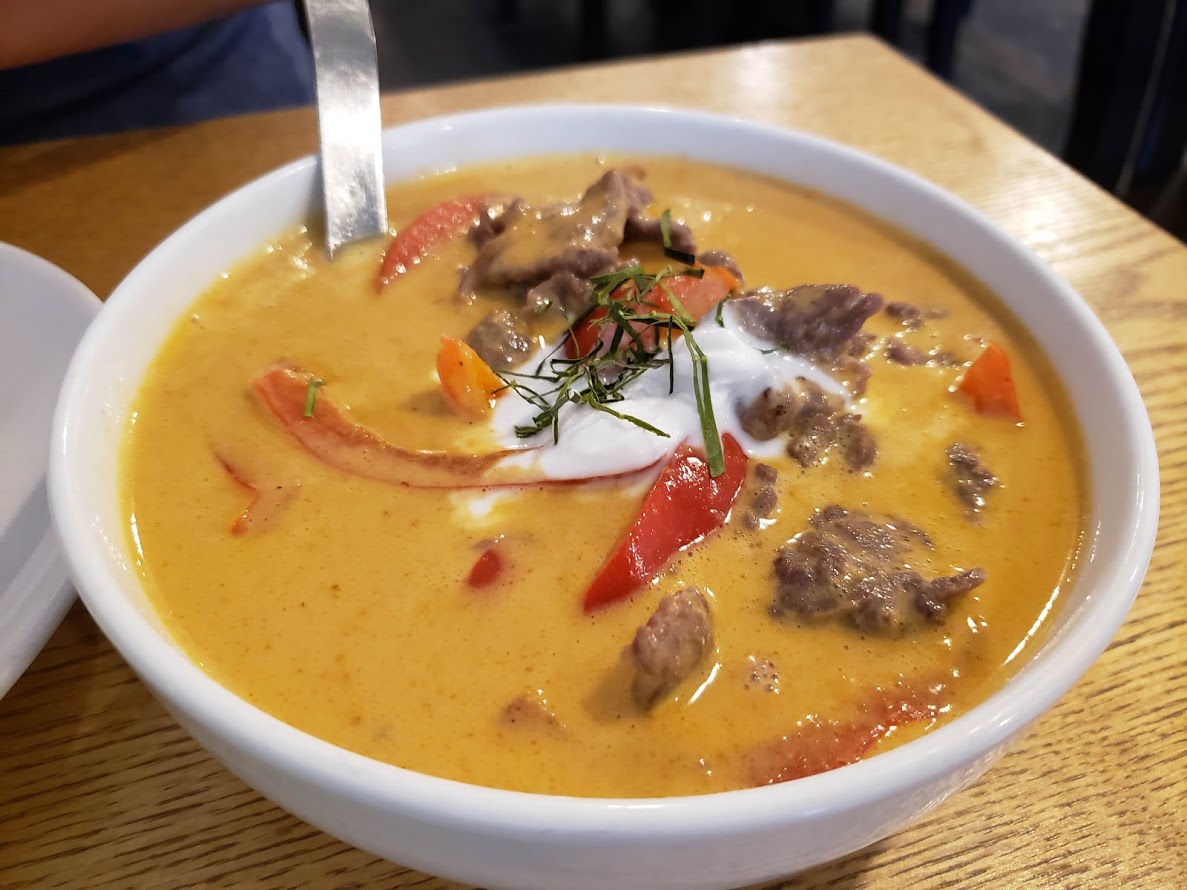 Red curry: The boyfriend went with a red curry and side of coconut rice. The spice level was subtle, but gradually sneaks up on you after many bites. He really enjoyed the red curry and it satisfied his Thai food craving.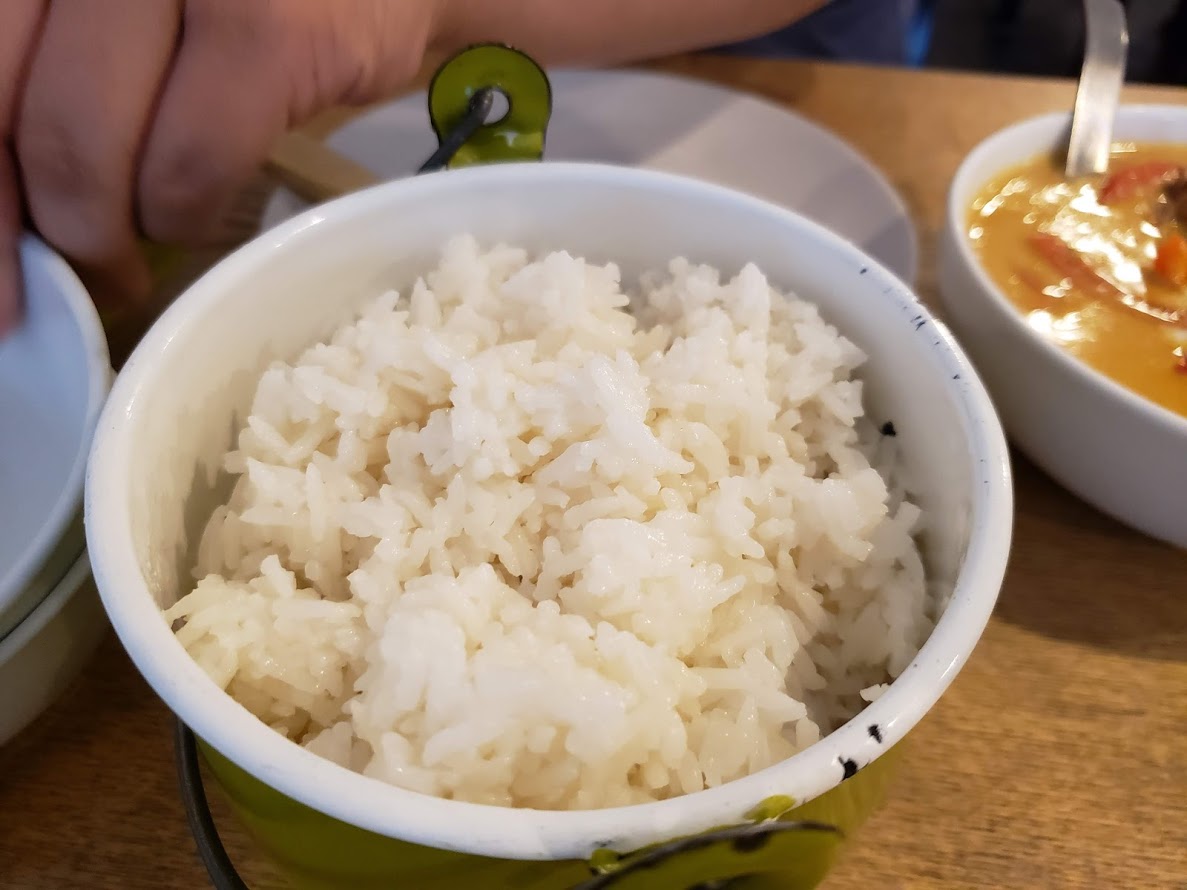 Coconut rice: A must order for us when we have Thai! The coconut rice here was yummy and full of sweet coconut flavour.
We left very satisfied with our food, and had also had enough red curry and coconut rice left to bring back.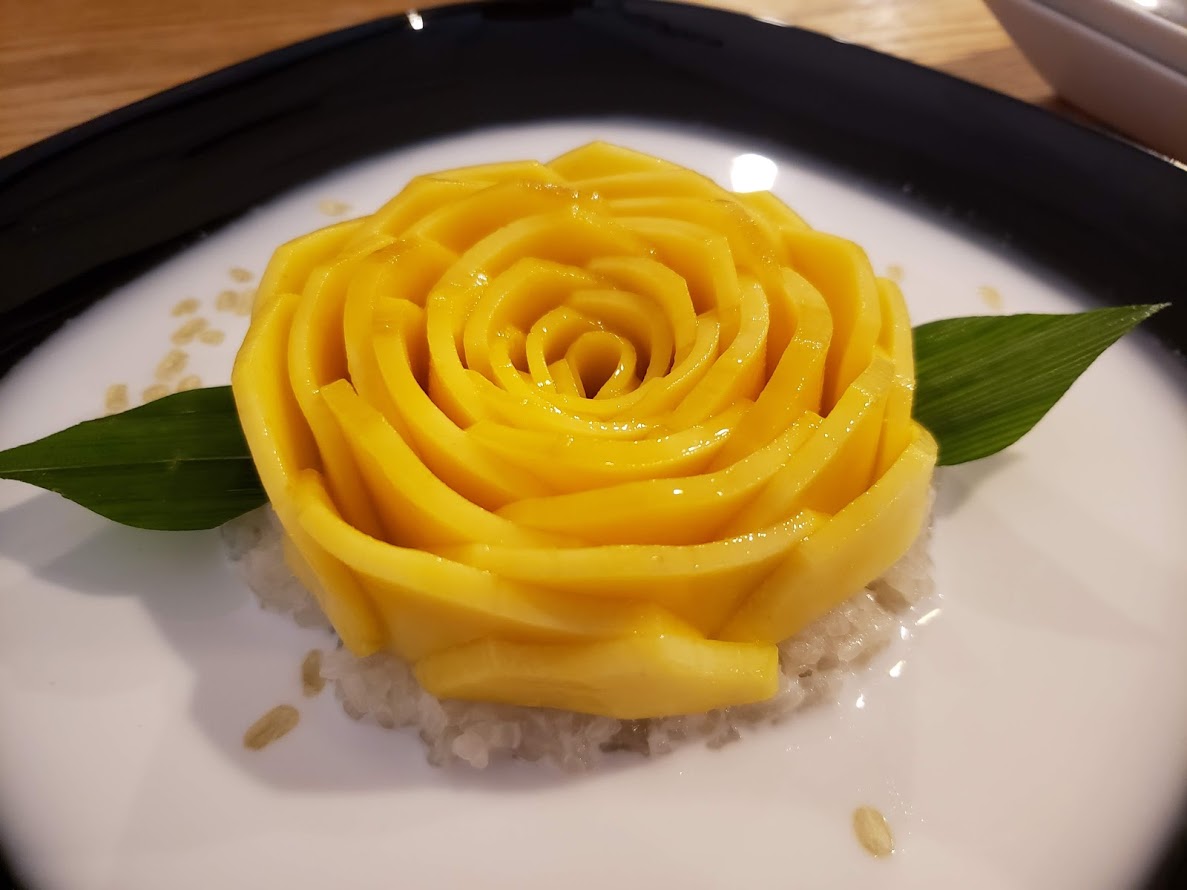 Mango sticky rice: OH MY – I seriously could not stop thinking about this sticky rice the next day. It was my first time trying mango sticky rice, and after checking that it was completely dairy free (eg. no condensed milk on top or evaporated milk etc), I was really excited!
This was so good! The sticky rice was …well, sticky, for lack of better description… like glutinous rice. The mango that was so delicately cut into a flower shape was very sweet and ripe. Both the rice and mango went so well with the coconut rice.
---
Now, on to my second visit with Takoyaki!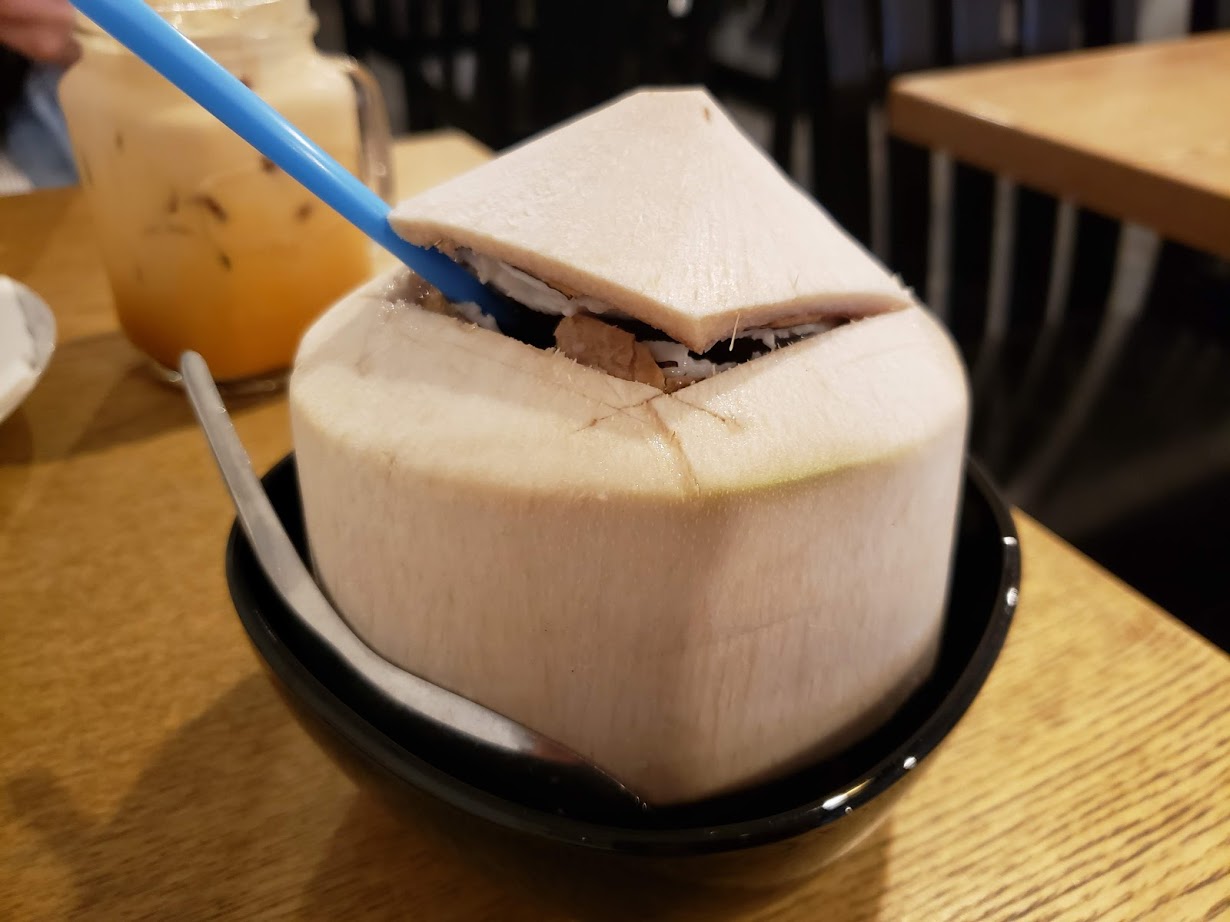 Coconut water: I was really thirsty that day so I reluctantly got a fresh coconut water. Why reluctantly? Because it was $6 and I wanted to also get a dessert!
Anyways, the coconut water was very refreshing and light. They also give you a metal spoon so that you can scoop off the coconut meat and eat it. I had a few pieces while waiting for my noodles, but the meat doesn't have much taste.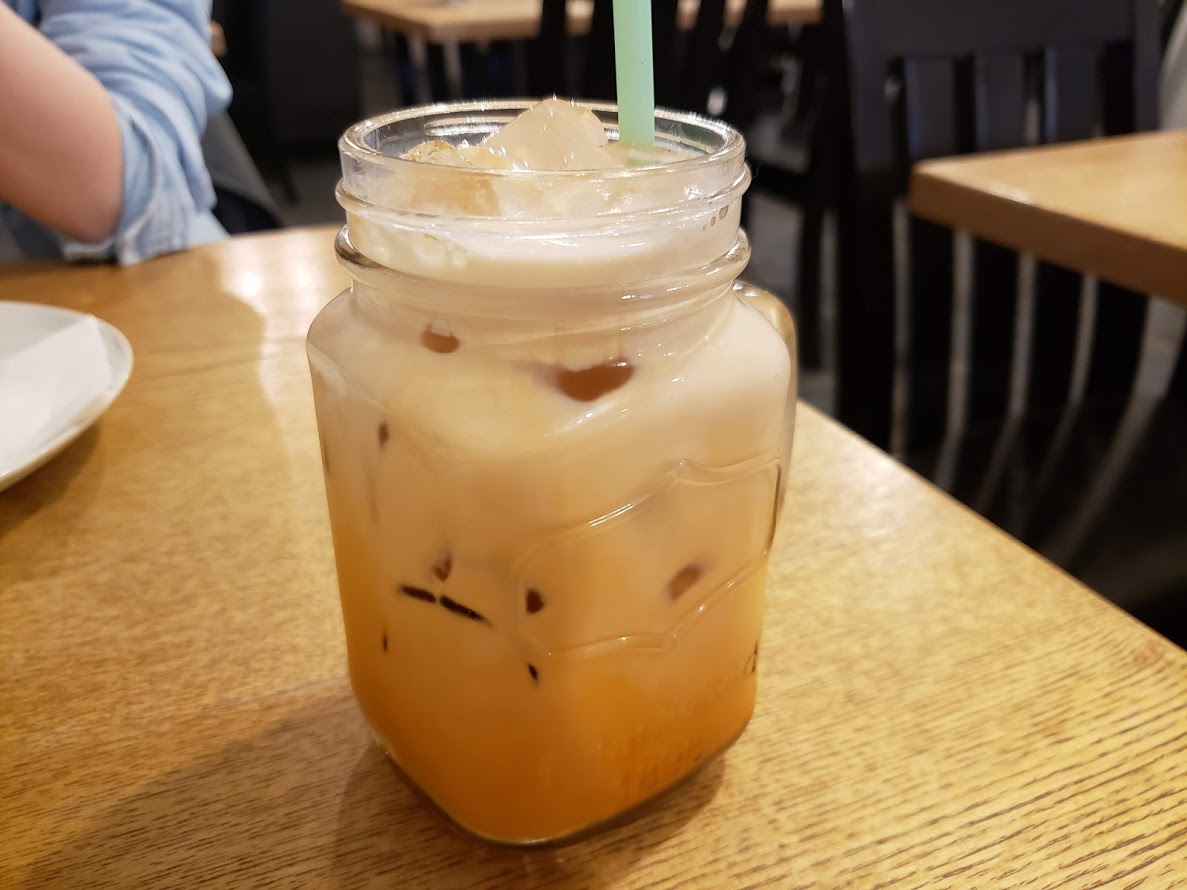 Thai iced milk tea: Takoyaki has been here before, but only ordered a drink – the Thai iced milk tea. She remembered that it was really good so she ordered it again! It did not disappoint.
Thai fried rice: After checking to make sure this was not spicy, Takoyaki ordered this. She really enjoyed it. The rice was well seasoned and fragrant. There was too much to finish alone, so she packed it up for lunch the next day and said it tasted even better! Some foods taste better the next day (eg. chili) because the spices/herbs get to settle in.
I forgot how good Bai Bua was and I'd love to come back more often. I'm glad that there were safe dishes for me to eat there still!
There aren't as many Thai places in Vancouver compared to Japanese/Vietnamese/Korean places, but Bai Bua would be one of my top picks for Thai.