Hi everyone!
In May, some friends and I met up to chat over some happy hour appies. I've heard great things about Hapa hour, so we decided to go to the Coal Harbour location. Although our conversations were great, we all left slightly disappointed with the food.
With my horrific experience at the Kits location in January in mind, Coal Harbour was not as bad. Actually, my experience at Hapa Beach was probably the worst restaurant experience I've had in the past year or more. When I think of bad food and bad service, my mind automatically goes to Hapa Beach. You can read about it here…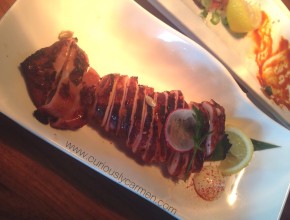 We ordered the grilled squid, which came with a garlic soy marinade. I didn't really taste the marinade, and found it to be very bland and overly chewy. The only flavour the squid had was a slight smoky flavour from the grill.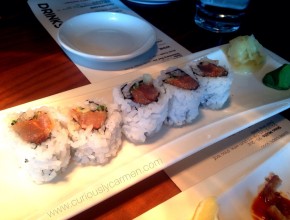 Next up was the spicy tuna roll. This was also very bland and the quality of the ahi tuna was very poor. It lacked flavour, and didn't taste fresh.
This was probably the worst spicy tuna roll I've had. For a higher end Japanese restaurant, I expected a lot more as I can go to a cheaper place for better tasting rolls.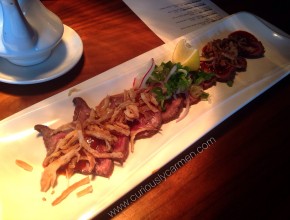 Continuing along with the disappointment, came the beef tataki. Again, the beef lacked any flavour and was very dry. Although the menu said 'lightly seared', the edges of the beef were seared so much that it was chewy and rubbery.
The beef was also shriveled up due to how poorly it was seared.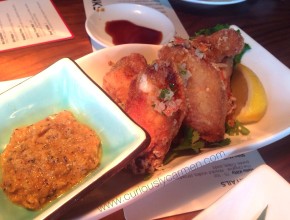 The hapa hot wings were perhaps the worst of all. Seriously, this dish was a huge mess and we all weren't sure what they were trying to make. To start, the only good thing about the wings was that they were crispy and fresh. There was no flavour at all in the wings.
It also came sprinkled with some sort of chopped tomato/salsa mix which made us really confused??? Like why? It did not go with the chicken wings at all!
Then, the side dipping sauce was even weirder and did not go with the already weird salsa mix/bland chicken wing combo. We weren't even sure what it was, it tasted like a cold puree slop of some kind????
LOL. As well, the menu had said they were 'hot wings', yet there was no hint of spice or even traces of pepper. Did the kitchen staff blindfold themselves and chuck whatever was available into the chicken, and not bother to season it? This dish was just so weird, tasteless, and random… we really weren't sure what was going on here.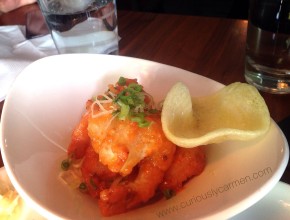 The only thing that we liked that day was the ebi mayo. The prawns were big and fresh, and had a nice snap to them. They were also nice and crispy and the sauce was flavourful as well.
Safe to say that we will not be coming back to hapa hour and we were all really disappointed with the food. In fact, I'm not sure if I want to go back to the Hapa Izakaya chain in general as it seems the food quality has diminished at a fast rate. Two years ago, I really enjoyed my dinner at Hapa but I'm not sure what was happened recently.
In a city like Vancouver where there are LOTS of  competitors for Japanese cuisine, Hapa needs to step up their game or they will become  lost in the sea of Japanese restaurants.
Thanks for reading!
-Carmen