Maki and I have just returned from a much needed vacation to Las Vegas! It was my first time being on a plane again since COVID. This year has been incredibly stressful, so I am glad that I was able to finally able to escape reality.
Special shoutout to Maki for being such an understanding and great travel companion. I am not easy to travel with and have weird needs which is why I do not travel with people normally, so this was actually a big deal for me. Thank you for letting us have solo days, understanding the need to have our own rooms, my stomach issues, checking my location when apart etc.
Now, onto the review!
---
I fell in love with the Venetian hotel during my trip to Vegas in 2019. This was my first choice hotel when returning, and I am glad Maki liked the hotel too.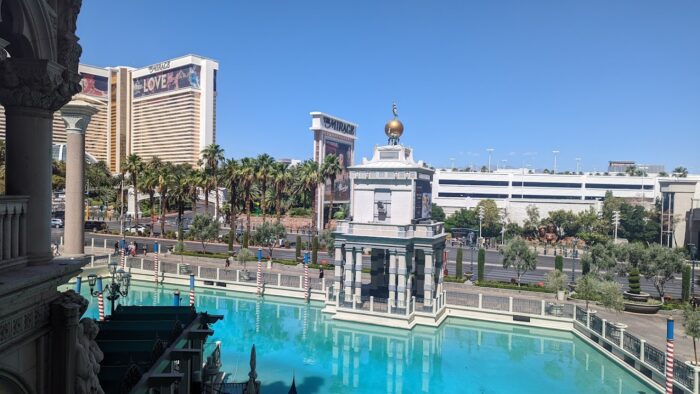 The Venetian is a Venice-themed resort, and it is seriously gigantic. There are plenty of restaurants and a mall called the Grand Canal Shoppes. They even made a "river" so that you can book a real gondola ride from a trained gondolier. We thought anyone could be a gondolier, but we learned that you actually have to go to gondolier training school!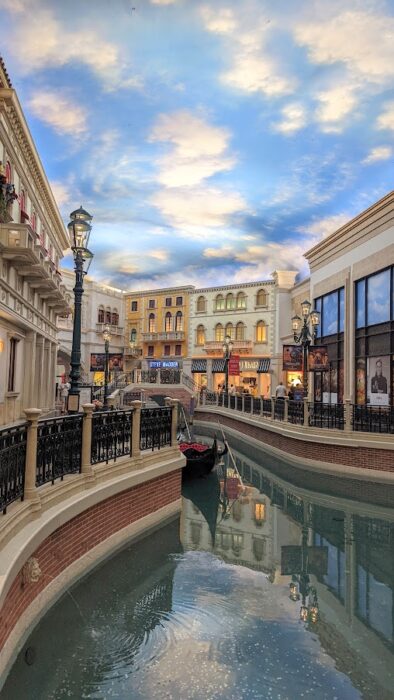 You could just stay in this hotel for a few days and not be bored – that is what I did actually! For this trip to Vegas, I mostly wanted to take it easy and spend my days at the pool (which there were plenty of pools!).
Room – Standard Luxury King Suite
Maki and I both don't like sharing rooms for many reasons, which we realize is odd. We each booked a room and then paid a bit extra (I believe around $15USD a night) to have a connecting room request.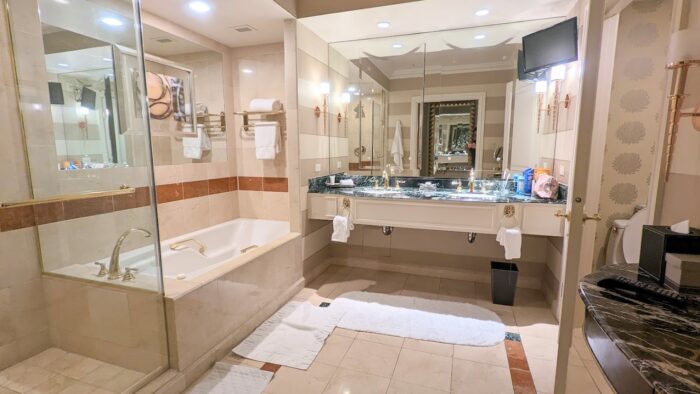 The Venetian rooms are luxurious and very spacious, probably the nicest hotel I have ever stayed at. The ensuite was grand and relaxing. There is a walk in shower, marble countertops, a wide deep soaking tub, two sinks, a makeup area, and a private room for the toilet.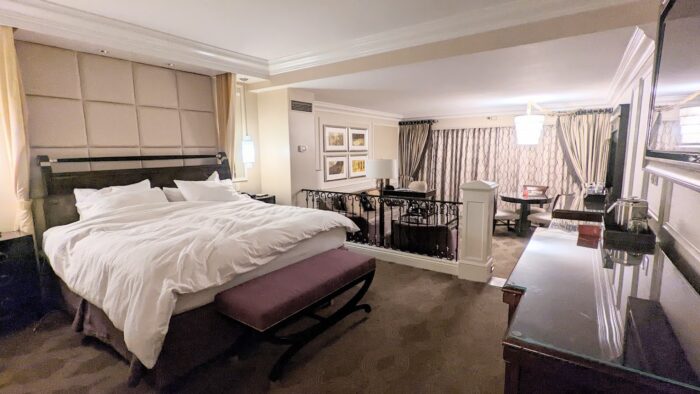 The king sized bed was incredibly comfortable, and the pillows were fluffy and soft. This was a very big bed for one person so I enjoyed sprawling on it.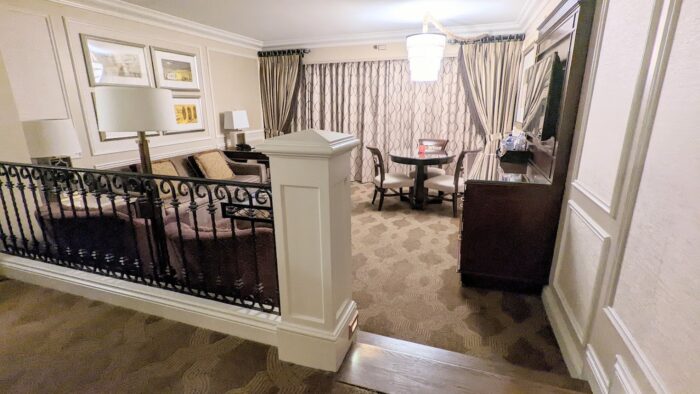 To give a bit of separation, the living room/lounge area is lowered by a couple of steps and a balcony rail, which adds a nice touch!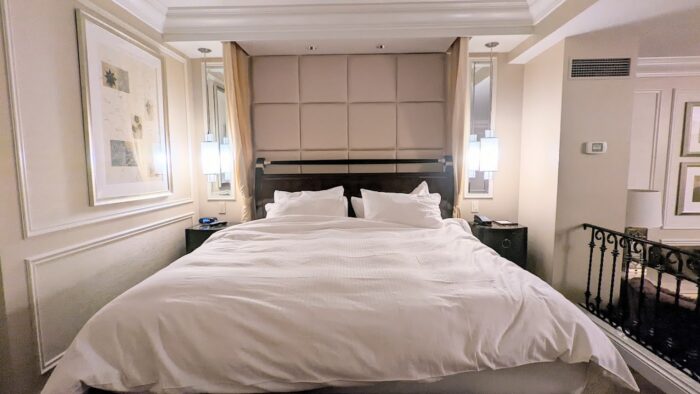 I really liked the electronic curtain blinds, which added more of a luxurious factor. The blinds are controlled only by a switch at the side of the bed.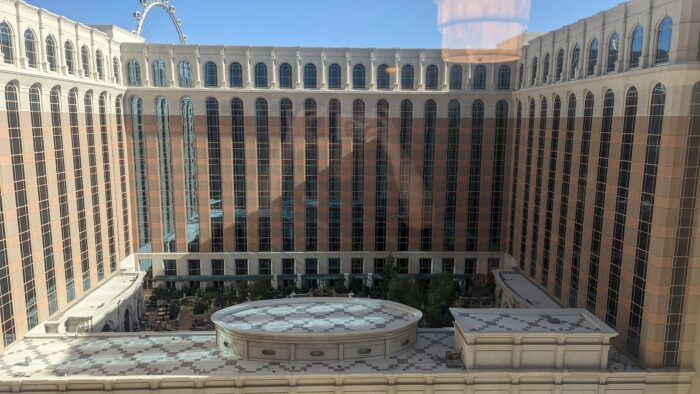 Our rooms overlooked one of two sister hotels, the Venezia, as well as the Venezia's pool area, and the Linq Hotel's ferris wheel.
Pros
-The convenience. As I mentioned above, The Venetian is huge and you do not have to step foot outside your hotel for a few days if you don't want. There are plenty of restaurants, fast food places, cafes, shops, activities (such as Madame Tussauds Wax Museum, Canyon Ranch – a world-class spa, Tao nightclub, Walgreens, aesthetic photo opportunities, virtual reality, art exhibitions, nightly performances, massage, casino, endless shopping options). The Venetian connects to the sister hotels, the Palazzo and the Venezia. The Palazzo also has a lot of shopping and galleries inside.
-The room. The room was very grand and luxurious.
-The security. The Venetian is a very big resort, with many non-guests shopping and walking around also, as one does in Vegas. You can spend days walking around each of the hotels. The security did a good job of making sure that the pool and guest area were for guests only – there are guards by these entrances and you have to scan your card to get in.
-The safety. This kind of relates to the above point I guess! I went to the pools by myself, but my stuff felt very safe. I saw that other guests would leave their e-reader, phone, etc on the pool chairs when going for a dip in the pool. I was not daring enough to leave my phone, but I did leave my e-reader, Pixel buds, sunscreen, sunglasses etc out on my pool chairs on three different days and they weren't stolen.
-The pools. More on that below! There are three different pool areas – The Palazzo, The Venetian, and The Venezia pool areas. I spent all of my afternoons there soaking in the sun and listening to an audiobook, living my best life.
-The aesthetics. Seriously, this hotel was just so pretty! We love taking photos, and there were many different photo opp areas in the hotel.
Cons – I gotta keep it real!
-Issues with check-in. The check-in process was very frustrating and we had many issues. Firstly, as mentioned above, we had paid extra to have connecting rooms. This can be paid a maximum of 14 days in advance, which we did, and was confirmed. We also had to get up at 3am for our 6am flight, so we decided to also pay extra for an earlier, 10am check-in so that we could get in a good nap before exploring. Upon arrival, we were told that we could have *either* – not both. Apparently, when we paid for the early check-in, their system deleted the connecting room request without notifying us. We were told that we could either 1) check in now at 10am and not have connecting rooms for the trip OR 2) we could have connecting rooms and check in at 3pm. We were not happy with this news as we were sleep deprived from waking up at 3am and having a red eye flight, and desperately needing a nap. Then, I was also told that my hotel check-in did not go through when I did it 24 hours before and even received a confirmation number. In the end, we decided on having the connecting rooms so that we could be close to each other for the rest of the trip. As the Venetian acknowledged this was their mistake, they put in a request to have housekeeping clean our rooms asap and refunded the early check in fee. They told us that we would get a text message when the rooms were available – which we never did. After lunch, we decided to go back to the desk to check, where another representative told us our rooms were already ready but the text never came….
-The noise. For such a luxurious room, you would expect that the walls are thicker. We could not hear each other when we were in our rooms with the connecting doors closed, but we could always hear the hallway noise. We could hear the door slamming in the other rooms, people talking in the hallway, luggage wheels rolling around, knocking on other doors, etc. For that reason, we both woke up multiple times during the night and disrupted our sleep.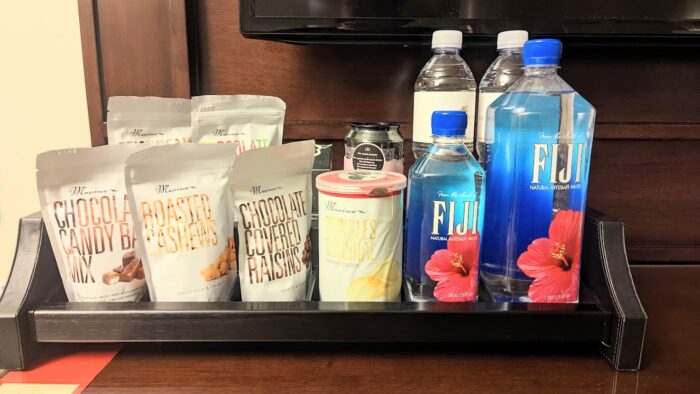 -Room amenities. I heard that this is common in Vegas hotels from friends who have stayed in other hotels, but it was inconvenient not to have a mini-fridge, coffee/tea maker, or microwave.
Pool – The Venetian pool deck, The Palazzo pool deck, The Venezia pool deck
Now, on to the good stuff again! There are 4 pools on the Venetian deck, along with a restaurant, bar, and snack shop. A 2 minute walk away, you'll find the Palazzo pool deck, which has 7 pools. A quick elevator ride to the 10th floor and 5 minute walk away from the Venetian deck, you'll find the Venezia pool deck which has 1 pool and 3 hot tubs.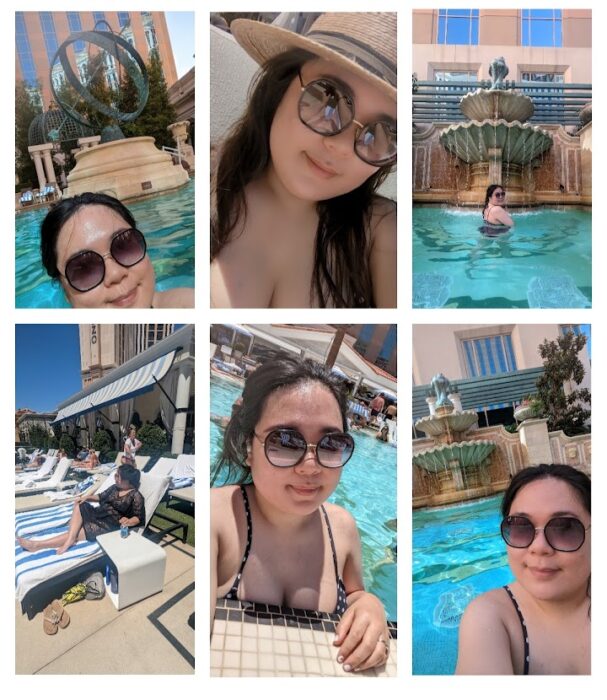 The pools were quite crowded and it could be hard to find a chair at times. It was also a steady 40 degrees (plus/minus a few degrees depending on the time), so it was only bearable in the shaded areas for me. The Venetian and the Palazzo pool decks are more vibin', with more crowds, drinks, and louder music. The Venezia pool was calmer, and had more shade and greenery.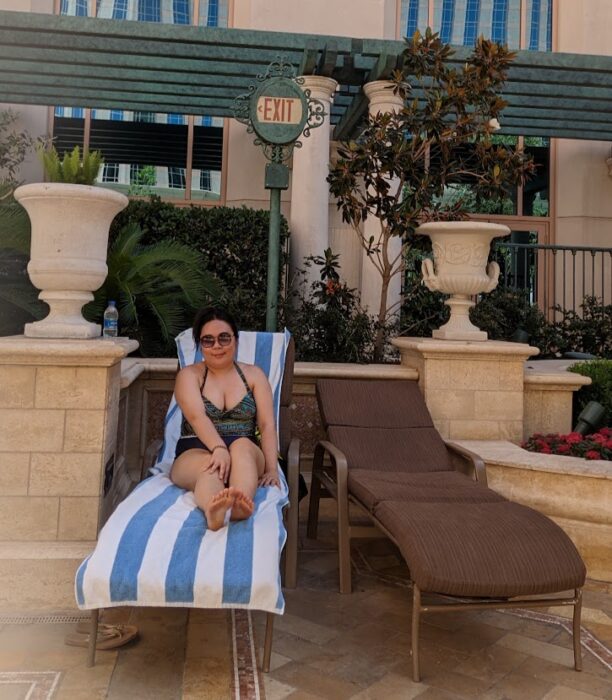 The Venetian and Palazzo pools are more suited for groups, and since I was at the pool myself while Maki went shopping, I wanted some relaxing sun tanning time with my audiobook!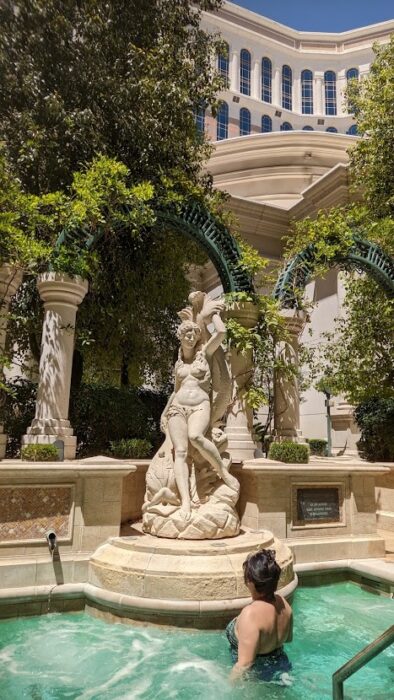 The hot tubs at the Venezia pool were also very beautiful, with ornate Roman statues and greenery. I took many self-timer pictures here, and saw boyfriends taking aesthetic photos for their girlfriends at the hot tubs.
Restaurants at the Venetian and Palazzo that we ate at
We ate at many restaurants/fast food places at the Venetian, and did not get bored of the food options for the 5 days we were there! Honestly, the food options here are endless and this is just the tip of the iceberg of dining options. Here are the places we ate at:
–Grand Lux Cafe – A sister restaurant of the Cheesecake Factory. It was delicious here and Maki came back again on the last day (while I was sleeping in hehe).
–Black Tap Burger – One of the Venetian's most famous restaurants! They had delicious burgers and great service. They do not take reservations though, and the wait could get long. We waited about 30 minutes but spent that time walking around the Grand Canal shops upstairs.
–Noodle Asia – With my stomach issues, I was able to have some clear soup noodle options here. The pho was mediocre and expensive compared to Vancouver (not surprising), but the Szechuan beef soup noodles were good. I came here twice!
–Mott 32 – This was our fine dining splurge, but unfortunately, one of the staff ruined the experience with her terrible service.
–Illy Cafe – They had delicious lattes!
–The Alley – It was nice to see the Alley here! They offered oat and soy milk at no extra charge which was nice. I love the Alley in Vancouver also, but I found this location to be even better!
–Popeyes – This was also located in the food court. I love Popeyes in Vancouver and wanted to see how it compared. I found the Vancouver one to be better actually! The batter/oil tasted a bit old and stale to me here.
–Panda Express – This was located in the food court. We never eat Chinese fast food, but for some reason, were craving it during the trip!
–Walgreens – Ok, I know this is not a restaurant, but just listing another quick food and cheaper option here! I picked up a sandwich and salad here for one of my pool days. I also found the tap water in Vegas tasted bad, so I picked up one of those Mio water enhancers.
Conclusion
If you made it this far without skimming through everything, congratulations! Lol!
Overall, we had a great stay at the Venetian! My main complaint would be the hallway noise. I am glad that we stayed here and do not regret it at all. Seeing how there are so many other resorts on the Strip, I would like to experience other hotels on my next visit but I would recommend staying here also!