Disclaimer: In light of COVID-19, I just wanted to say that I am doing my part by social distancing and only going out when necessary. This is a review based on contact-less delivery.
We are now in phase 2 which means restrictions are slowly lifting. It is crucial that we still limit our social circle, and wear masks when out. Yes, you may feel fine but you could be passing on the virus to someone who is immunocompromised or elderly that may not survive this virus. I know it's summer and we want to go out and enjoy the sun, but let's all remember to be safe and protect those most vulnerable.
---
Last weekend, the fiance and I were craving pizza, but not fast food pizza (although fast food pizza is delicious too!). After a great experience with Straight Outta Brooklyn pizza, we decided to look for another pizza place on DoorDash.
We browsed a few options and ended up choosing Ignite Pizzeria. However, we were a bit disappointed with it and should have gone with another place instead.
When our pizza arrived, it came in an unsealed box without a bag. In normal, non-COVID times I wouldn't have thought twice as that is usually how pizza is delivered. But during a global pandemic, we would have felt more safe if the pizza had a sticker sealing the box or was in a stapled bag like most delivery places we order.
I realize this is a highly unlikely chance, but there are stories out there of delivery drivers coughing and spitting on food or property. Perhaps the restaurant is trying to be environmentally friendly, but to us, during a global pandemic, it made us feel iffy knowing our food could have possibly be tampered with. I asked the fiance if I was overthinking or being crazy, but he also agreed (which he doesn't all the time) that during a pandemic, that seems a bit unsanitary.
It soured our first impression and we ended up heating the pizza in the oven again just to be safe.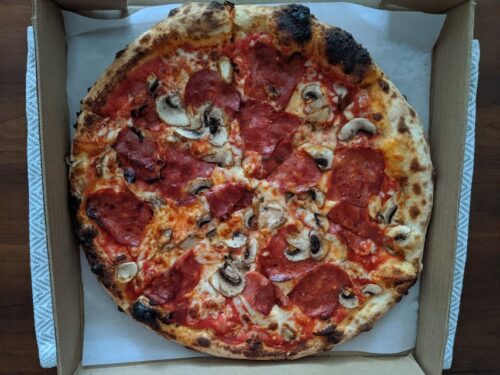 So Fun(Ghi): This pizza came with tomato sauce, mozzarella, salami, and mushrooms. There was a decent amount of toppings. This was a thin crust pizza and the dough was soft and light. Out of the two, we enjoyed this pizza more.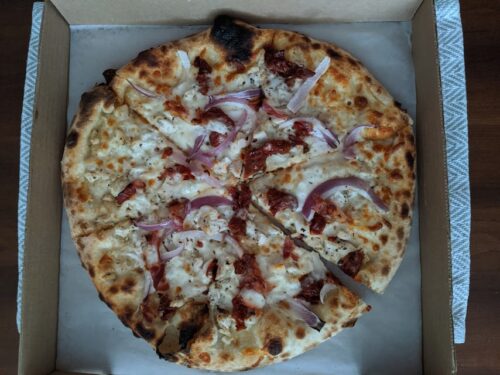 Farmer: We also wanted to try a white based sauce, so we went with the farmer. This pizza came with alfredo sauce, mozzarella, chicken, red onions, sun dried tomatos, and pancetta.
While writing this post, I looked up the menu online for reference and just realized the menu said this pizza came with pancetta (aka pork belly)! I had no idea while eating it because it was so sparse! That was the theme of the pizza as we were quite disappointed with the lack of chicken on top. What little amount of chicken there was, was chopped in very small pieces.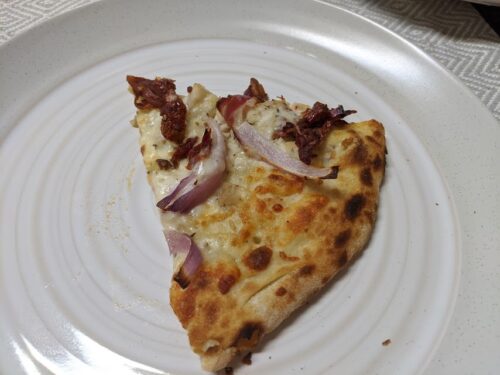 We were not impressed with this pizza because of how stingy they were with the toppings, but at least the alfredo sauce was tasty.
Overall, Ignite Pizzeria was disappointing. We had a DoorDash coupon so good thing we didn't have to pay full price because it wouldn't have been worth it.
It was quite forgettable to us and there are plenty of other pizza places out there that are better.
My rating: 2.5/5