During our trip to the Kansai region of Japan earlier this year, we stayed in Kyoto for 3 days! Since we were only here for 3 days, we picked a very central location to stay at. You can read my review on the hotel, Grand Bach Hotel Kyoto, here! A major plus was that we were close to so many food options such as Nishiki Market and Teramachi Street!
Here's some of what we ate during our time in Kyoto! I didn't include all the places we ate at because I don't remember the name of or didn't take a picture (gasp!).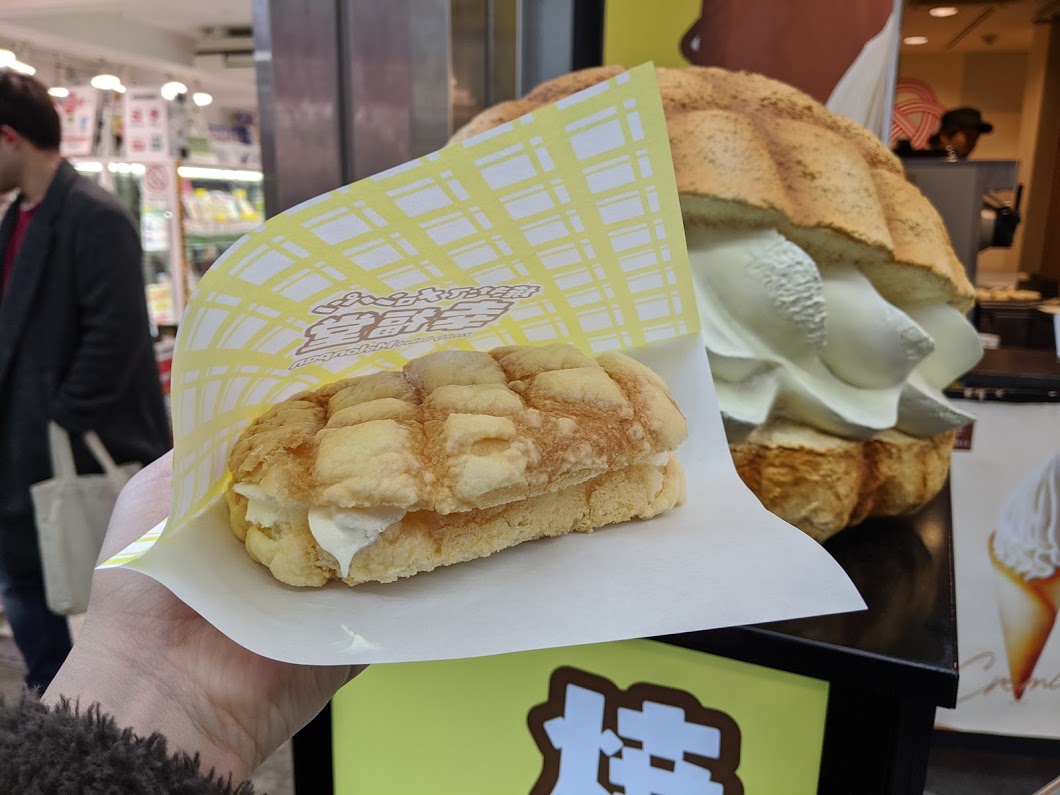 Freshly Baked Melonpan: Yes, this is the name of the food stand! Melonpan is a popular type of Japanese pastry which is a bun topped with sugar in the shape of melon, hence the name. I saw the Freshly Baked Melonpan stands quite a few times throughout the trip, and it did not disappoint. The melonpan was warm, fresh, and so delicious. You can also add soft serve!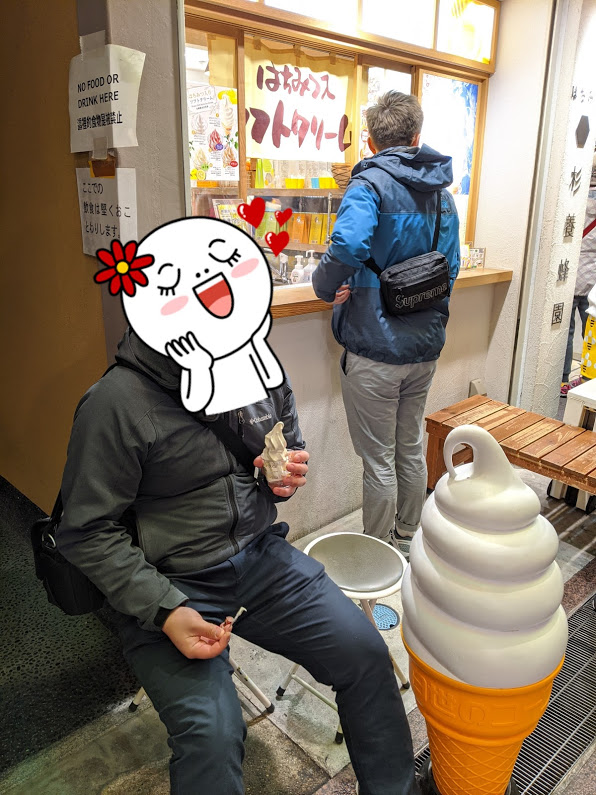 Sugi Honey Shop: This was located in Nishiki Market, where there are tons of food stalls! Although this place specializes in premium honey (which was very good, by the way), they sell soft serve on the side drizzled with their honey. We really enjoyed the yuzu honey soft serve and came twice during our 3 day visit!
I contemplated including this place because this was the only picture I had (why didn't I take a picture of the soft serve?!), but in the end, I want to look back at my posts and remember this lovely shop!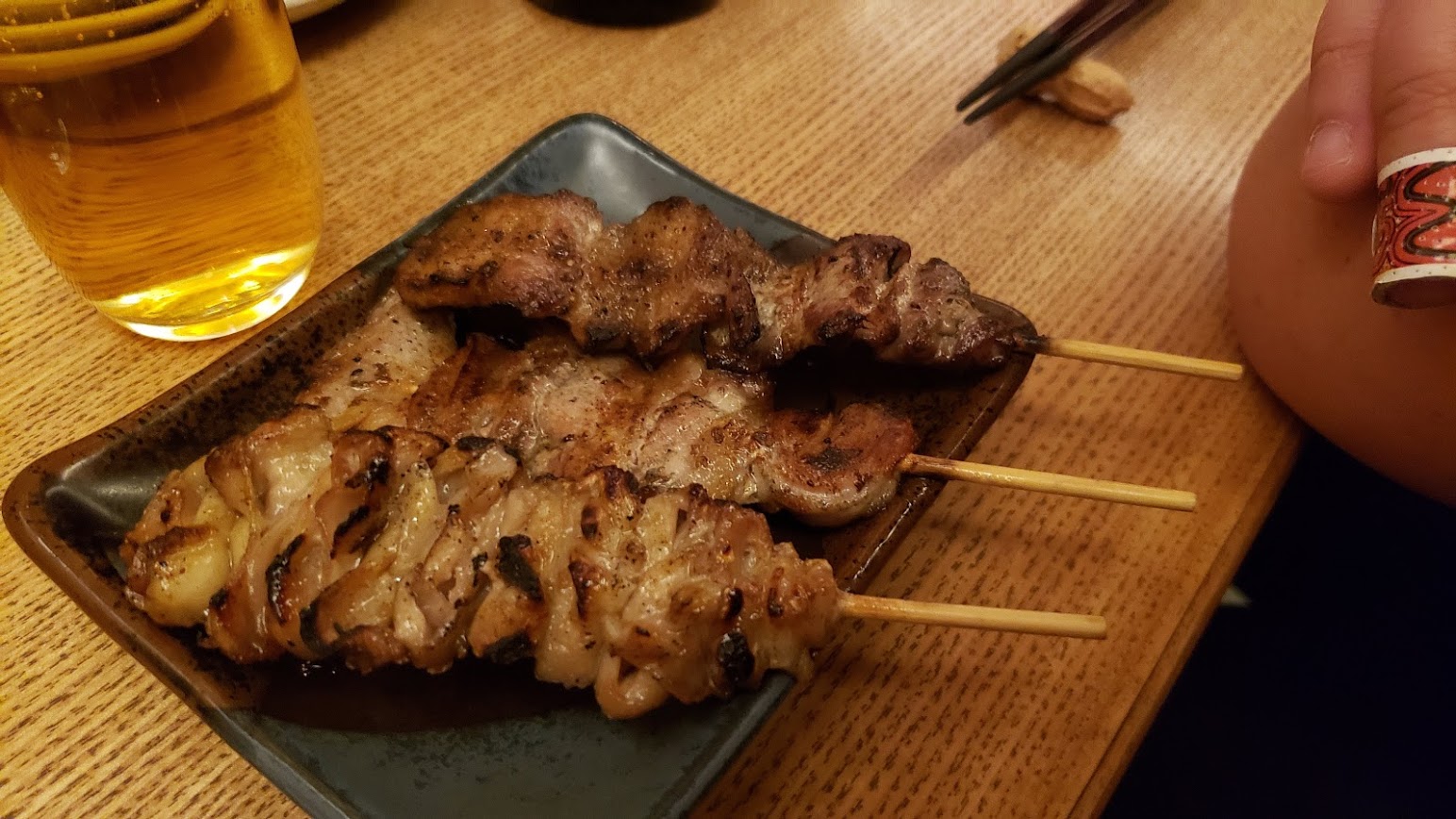 Yakitori Kanazawa: Since we were a mere 20 footsteps away from Teramachi Market, the fiance looked up some yakitori places around there and picked Yakitori Kanazawa. Props to him because it was a great find! The yakitori was juicy, delicious and full of that grilled, smokey flavour.
One of the chefs/waiter (it was a very small place, probably only fit 10 customers) was really funny and liked to scare customers. He would talk normally and then all of a sudden, scream AH!!!!! which was startling to us, but then entertaining as we saw him do it to other customers, LOL!
Katsukura: Oh my GOD, the best meal we had in Kyoto! We still talk about Katsukura to this day. Katsukura specializes in tonkatsu. The tonkatsu was so delicious and the best we've had so far. I ordered a set that came with shrimp tempura above. Just writing about this makes my mouth water and I'm hungry again.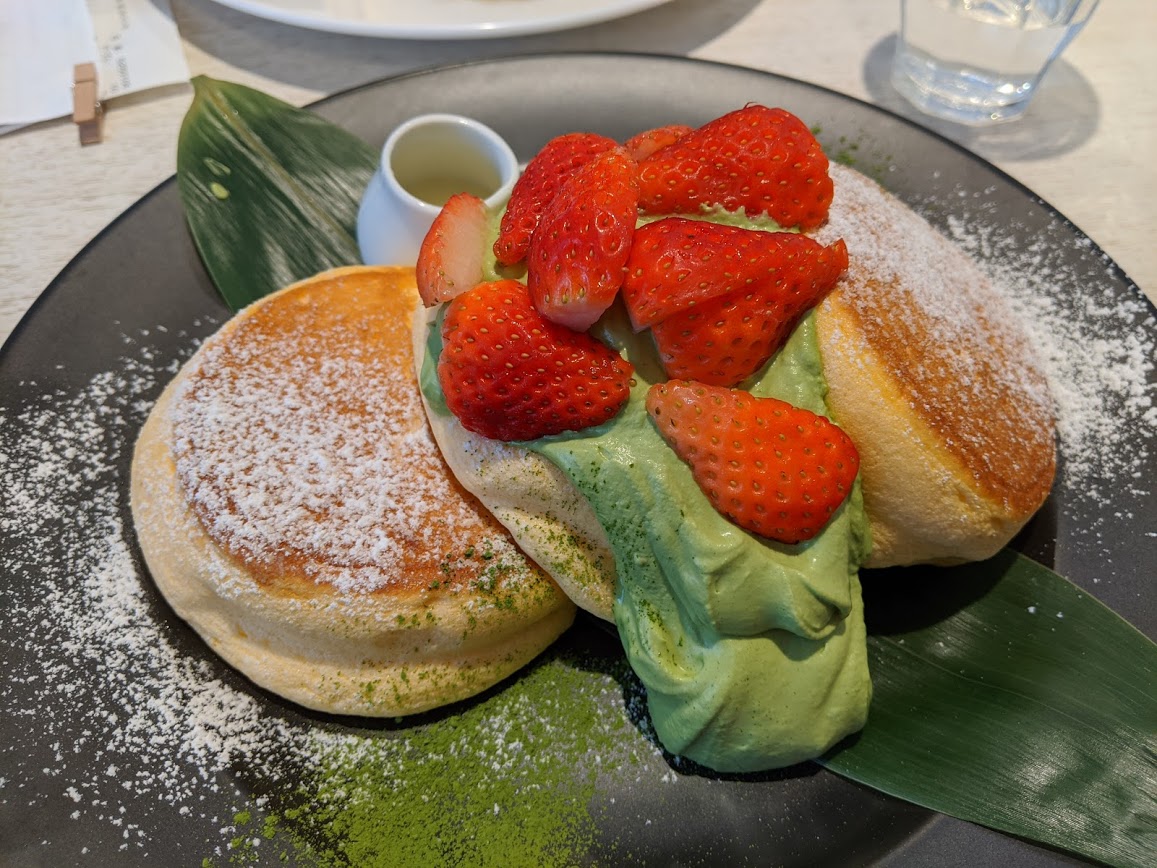 A Happy Pancake: A Happy Pancake isn't new to us, as we tried the location in Tokyo in 2018. We were happy to see a location in Kyoto and came here for lunch before heading back to Osaka. A Happy Pancake is known for their fluffy pancakes. The pancakes were delicious here as well but be prepared to wait! Luckily we came right when they opened so there wasn't a line yet.
To be honest, I didn't enjoy Kyoto as much as I thought I would because the city was over crowded with tourists. I don't want to be one of those people who complain about tourists because I am also one, but it lacked an authentic vibe to me. However, the food was really good and memorable.
I enjoyed the quieter cities of Kobe and Kurashiki more. I published my post on Kobe earlier this week, which you can read here. I will be publishing a post on Kurashiki soon!