La Foret is one of those places where I seem to be the last person on earth (or at least in my network) to try. I've heard great things about La Foret and while looking for a new place to try, the fiance and I finally came here.
La Foret is located close to Metrotown, inconspicuously disguised as a garage. You wouldn't expect it to be a popular, bustling cafe with Korean influences from the outside.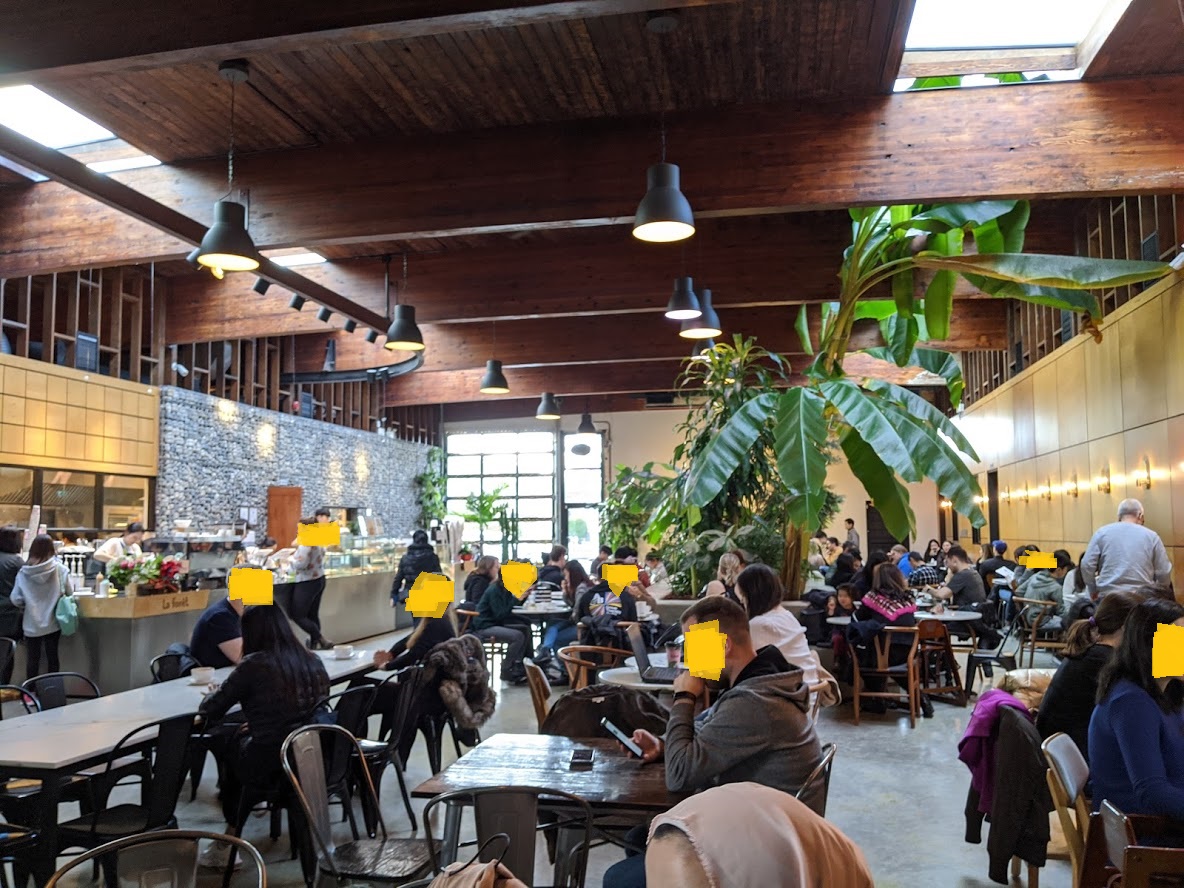 We had a bit of trouble looking for the cafe because it was so low key from the outside. But once we opened the doors, it was bumpin'! All the tables were full, people buzzing around, with upbeat music.
Although all the tables were full, the large ceilings and layout made the cafe airy and comfortable to sit in. The rock wall was pretty cool and I haven't seen anything like that before.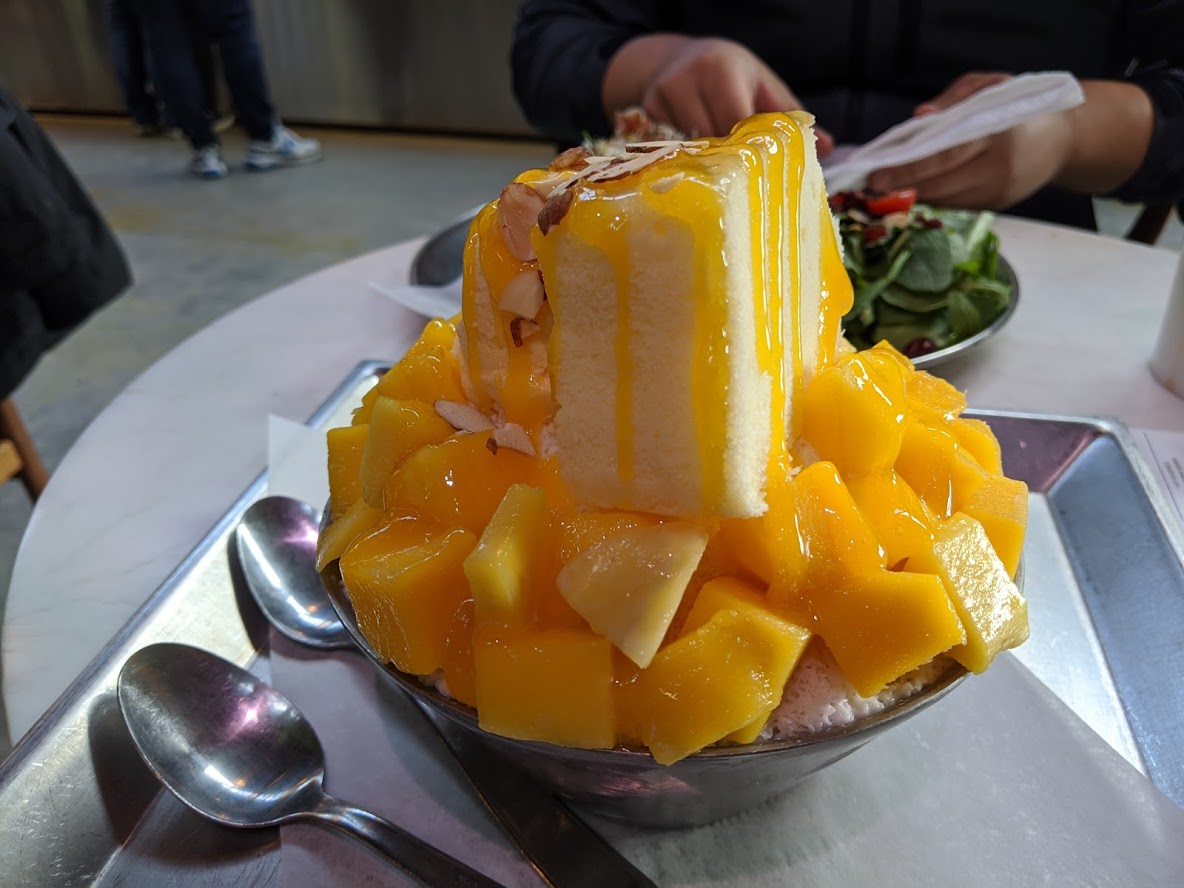 Mango bingsoo with cheesecake: I believe this is a Korean owned cafe since they served bingsoo and bulgolgi lunch dishes. It's been awhile since we had bingsoo so we decided to get this. You can pick from either cheesecake or mochi.
The bingsoo was delicious! The shaved ice was airy, fluffy and slightly creamy. To keep things interesting, there were some mango chunks hidden in the middle. The mangoes could have been sweeter, but that's probably because it is currently off season.
We really enjoyed the cheesecake topping as well. I was not expecting such a large slice of cheesecake on top. The cheesecake was made Asian style, in the sense that it was light and fluffy. The almonds were a nice touch as they gave the dessert a crunchy element.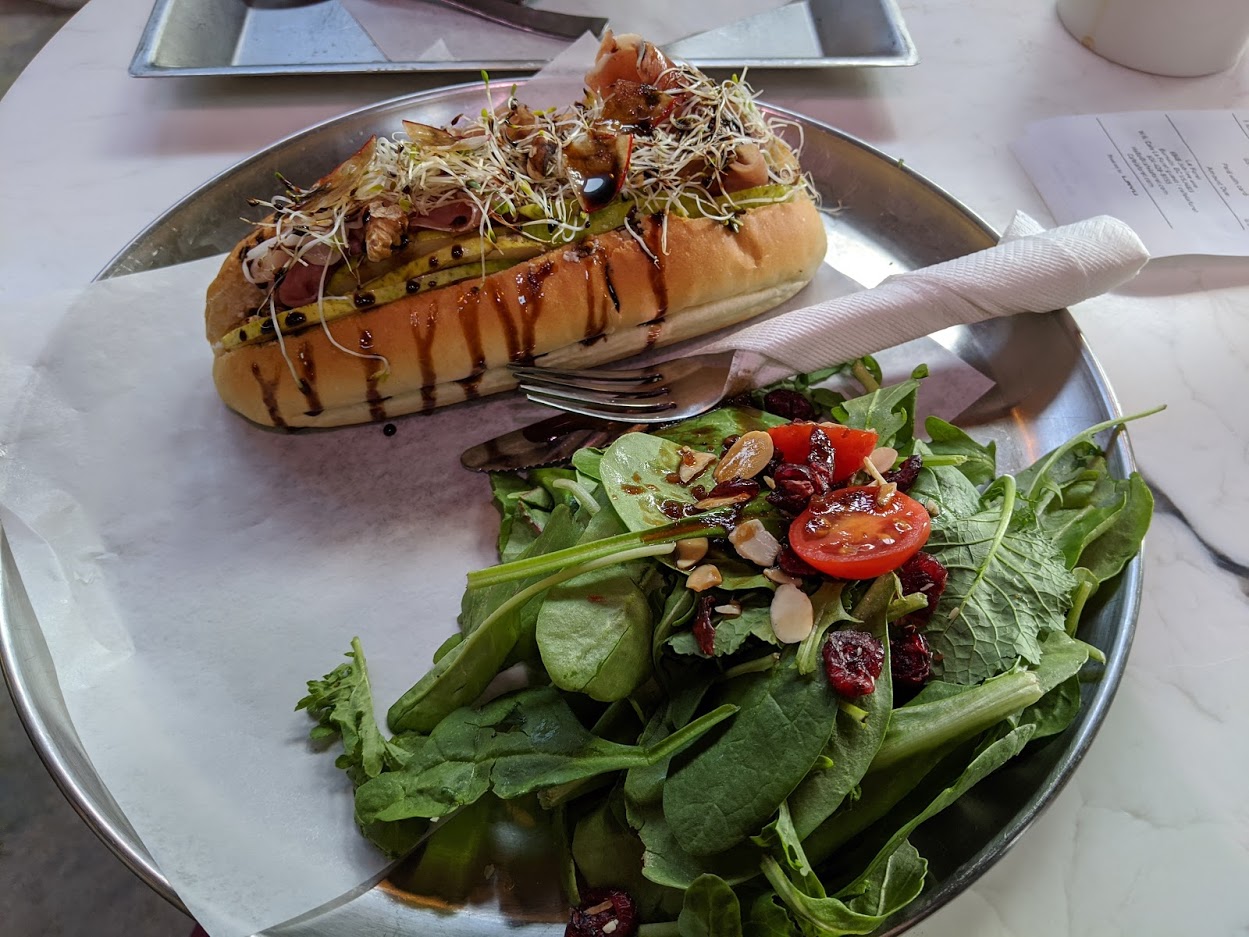 Pear & prosciutto sandwich: The sandwich was quite delicious as well, you really can't go wrong with pear and prosciutto. It was a good balance of savoury and sweet. Meanwhile, the balsamic vinegar gave it a slightly sour touch.
Although there were a lot of ingredients going on (pear, prosciutto, vinegar, walnuts, sprouts, honey ricotta cheese), everything went together perfectly and wasn't weird or overwhelming.
I really enjoyed our first visit to La Foret, and there definitely will be more. The atmosphere and ambiance was great, and the food was delicious. It's in a very random spot but it's a gem!