Samurai Sushi is a classic in Vancouver, known for their super cheap ginormous rolls. I've had take-out here many times for family gatherings over the years, but have yet to write a review on it which I found a bit surprising!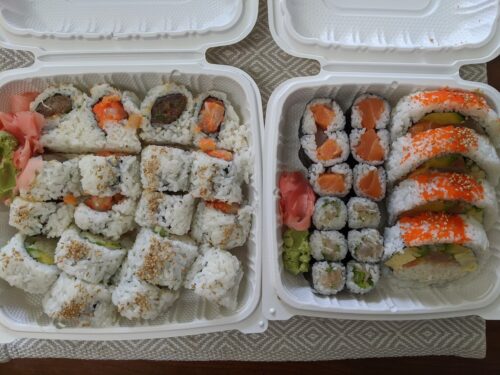 It's been awhile since I've had Samurai Sushi, I want to say maybe at least a year? I totally underestimated how big their normal rolls were. I remembered that their house rolls were huge, so we only placed a half order, but the normal rolls were GINORMOUS!
This ended up being our lunch and dinner because the pieces were so big with so much rice.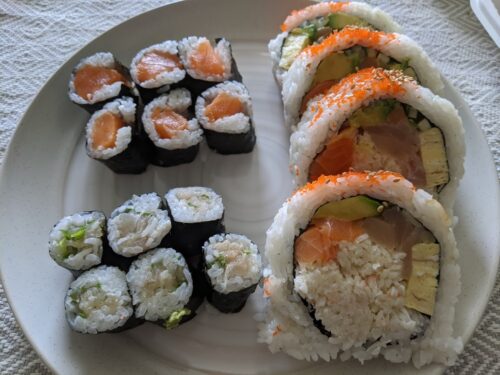 House roll: The house roll is what Samurai is known for. They were the size of my palm! Taste-wise, the salmon, tuna, avocado and tamago were fresh and yummy, but the imitation crab meat wasn't. The crab meat, which took up majority of the roll, was a bit dry.
Salmon roll: The salmon roll was decent, with no complaints. The salmon pieces were quite big.
Negitoro roll: No complaints about the negitoro roll either.
Here is my palm for comparison. I wasn't joking when I said the house roll was huge!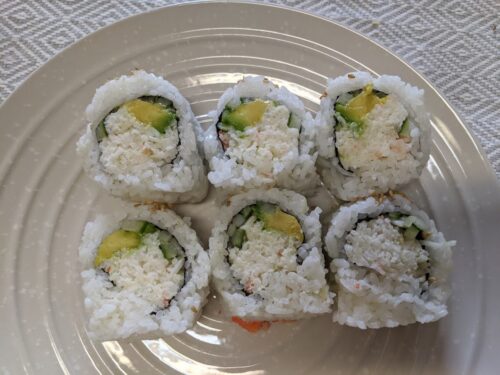 California roll: This doesn't look that big, but this is one of our large plates that normally serve steak. So yeah, it was actually really big. Again, the imitation crab meat was a bit on the dry side but the avocado was ripe.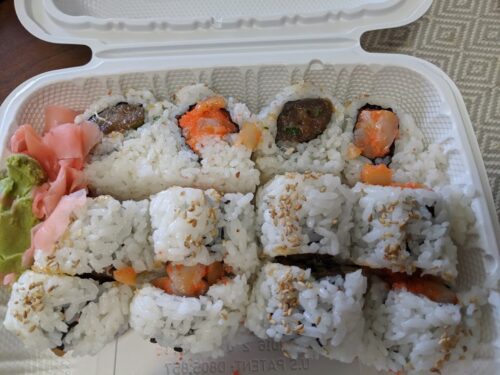 Spicy tuna roll: There was so much food that I didn't end up trying the spicy tuna roll. The fiance enjoyed it though, and said the tuna tasted fresh.
Scallop roll: We were quite impressed with the scallop roll! The roll was bursting with scallop. In addition, the scallops tasted very fresh too.
Overall, Samurai Sushi is a major bang for your buck restaurant. Sushi rolls do not get bigger or cheaper than this. It is all about quantity here so if you want large, filling portions of sushi, come here!
I feel like most Chinese or Asian people in Vancouver have been here or have had takeout at large family gatherings. If you know, you know 😉