Disclaimer: In light of COVID-19, I just wanted to say that I am doing my part by social distancing and only going out when necessary. This is a review based on contact-less delivery.
We are now in phase 2 which means restrictions are slowly lifting. It is crucial that we still limit our social circle, and wear masks when out. Yes, you may feel fine but you could be passing on the virus to someone who is immunocompromised or elderly that may not survive this virus. I know it's summer and we want to go out and enjoy the sun, but let's all remember to be safe and protect those most vulnerable.
---
Simba's Grill is an African restaurant I have seen and heard of a few times from other bloggers thoroughout the years. I had been interested in trying it but I rarely go to the Denman area so I forgot about it.
I'm not sure if they moved locations or opened up a second location, but there is one in East Vancouver now! After a quick Google search, this location opened in January of this year and the Denman location doesn't pop up anymore (nor is it on their website).
Anyway, Simba's Grill serve East African dishes (the owner is from Kenya). As it was our first time trying this cuisine, we were very excited!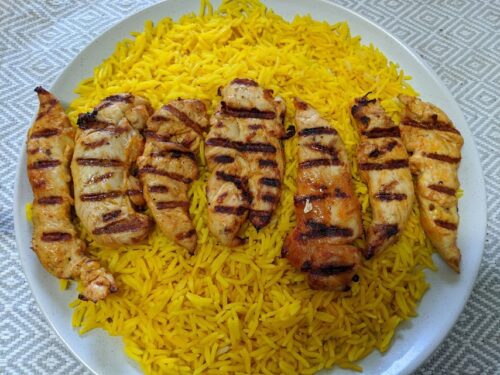 Kuku choma: I ordered the BBQ chicken breast, which came with saffron rice. It was so delicious! The chicken was juicy and flavoured with many spices and herbs. There was a very generous portion too. In addition, the saffron rice was fluffy and fragrant. The portion was HUGE!
My only complaint would be that I wished it came with some vegetables, as it was just meat and carbs. If I was writing this review 2 years ago, I wouldn't have cared about the veggies but I actually enjoy eating veggies now and crave it LOL! We ended up making a side salad ourselves to get some greens in.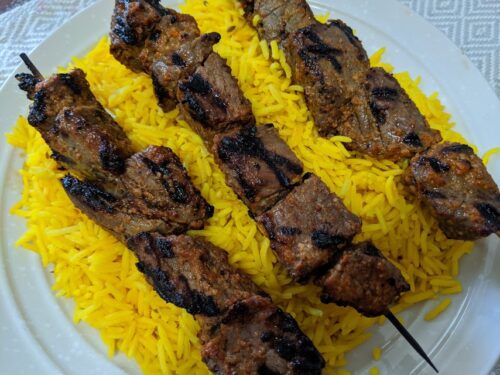 Mishkaki: The mishkaki was a marinated beef kebab also served on saffron rice. There were 3 skewers which was really generous! The cubed beef was tender and cooked to a medium rare. This was a flavor explosion and was so good. The fiance was in love with every bite.
As with my dish, the mishkaki didn't come with any veggies as well. I wonder if this is just a delivery thing or they forgot because I saw some veggies on Google with dine-in photos.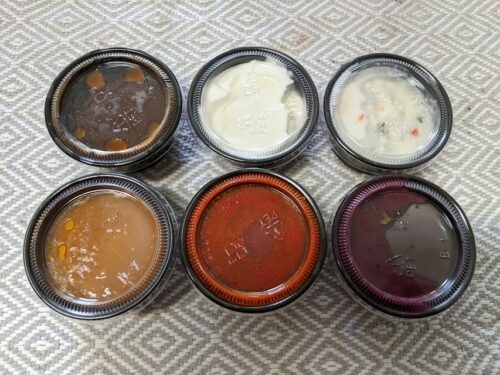 Sauces: Our order came with 6 different sauces, which jazzed up our food even more! We were able to switch the flavours up with the sauces and they all complimented each other. My favorite was the mango chutney (bottom left). At first, it is a bit sweet and fruity but then suddenly you get a spicy kick.
The other sauces included a tamarind hot sauce (top left) which had a mild spice. The red one was there spiciest of all (bottom middle) and it was quiet fiery. There was also a purple-ish one, the texture looked like a blueberry puree (bottom right) but it was spicy and a bit sour.
To cool things off, there was a thick yogurt sauce (top middle) with the texture of tzatziki without the garlic flavor. There was also some sort of chopped coconut sauce (top right) with preserved veggies. Both of these sauces were necessary to combat the heat of the spicy ones!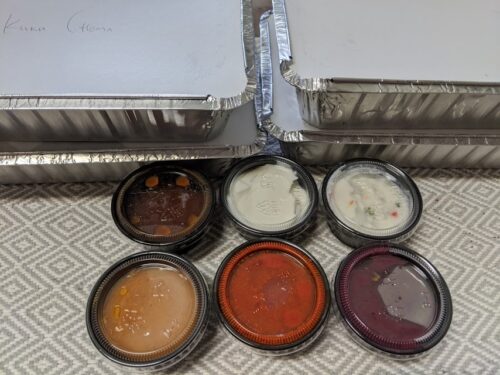 African food is not that popular in Vancouver, but after trying these dishes, I definitely want to try other places!  This doesn't speak for the entire continent, but if I was to describe East African food to someone who's never had it before, I would describe it as a mix between Indian and Middle Eastern.
All in all, we loved our delivery meal at Simba's Grill and would re-order again. I can't say how authentic it is since it's my first time having African food, but the food was so flavourful and portions were huge. I'd love to go to the restaurant as well when we finally go to eat out again!