Originally, Cola, the fiance and I had plans to go to Pho Tan but while we were in this area, Cola saw Greek food and started to crave it so we came to Olympia Pizza instead. This area of West Broadway is also known as Greektown!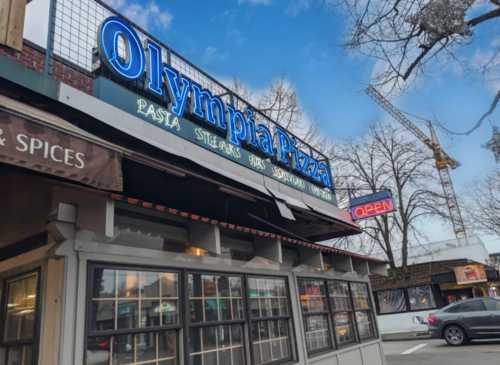 Personally, I love these types of family run, Greek-Italian restaurants that have been around for decades. Olympia Pizza has been around for a long time but renovated the inside so it was modern and nice. I really liked the decor in here, with the old family photos on the walls and the tiled floors.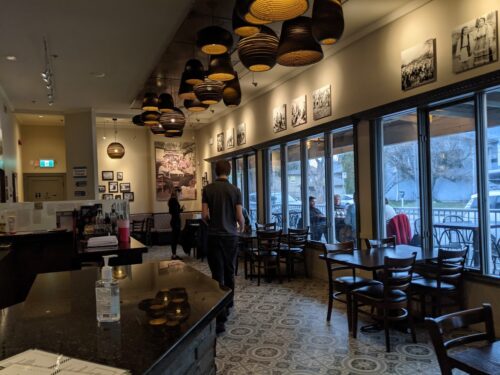 While writing this review, I also found out there is a location on Denman Street, and an express shop on Granville Street.
Sagnaki: Cola has tried this in the past and enjoyed it, so we ordered it here. Sagnaki is a big piece of pan fried cheese, served with freshly squeezed lemon juice on top. I'm not sure how they pan fry the cheese to perfection but this was good. The outside was crispy while the inside was cheesy and stringy.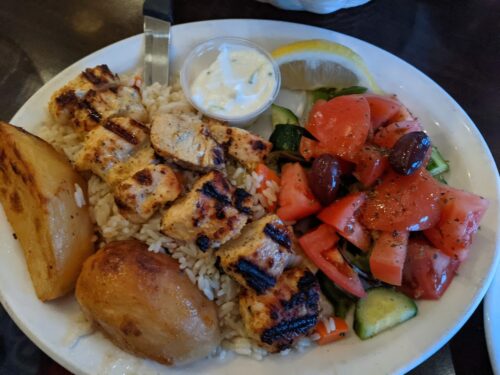 Chicken souvlaki: The chicken souvlaki here was delicious and did not disappoint. The chicken skewers were grilled perfectly and full of flavour.
The vegetables in the Greek salad were fresh and crunchy. The rice pilaf and potatoes were tasty as well.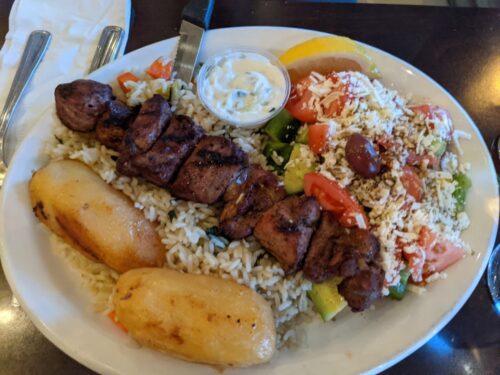 Lamb souvlaki: Cola ordered a lamb souvlaki. She had no complaints about her souvlaki either.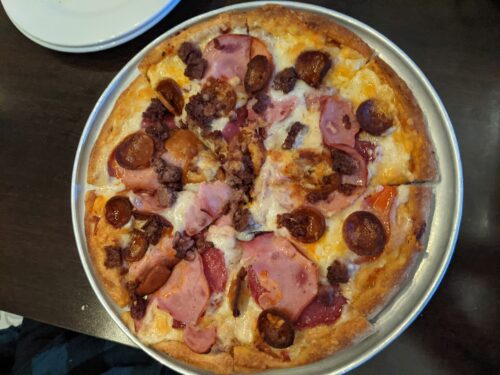 Meat lovers pizza: The fiance decided to go the Italian route and ordered a pizza instead. I had a bite and found it to be underwhelming. There is definitely better pizza elsewhere. However, the fiance liked it.
Overall, we had a good meal at Olympia Pizza! The service was friendly too. If you're craving Greek food and in the area, I would recommend coming here.