My apologies for the slight absence on the blog! I am currently in New York City, so I have been quite busy exploring the concrete jungle. I can't wait to sit down and write about all my food and sightseeing adventures!
—-
Back during Winter Break, a few of us decided to go for Korean food and what we ended 2015 with. Cinnamon had been here before and liked it, so we went ahead and made a reservation. Unfortunately, we didn't leave that satisfied and were pretty disappointed with our meal.
We were running late for our reservation, but gave them a call for a heads up. We were glad that they still saved the table for us, seeing that there was a big line up at the door. We really appreciated it!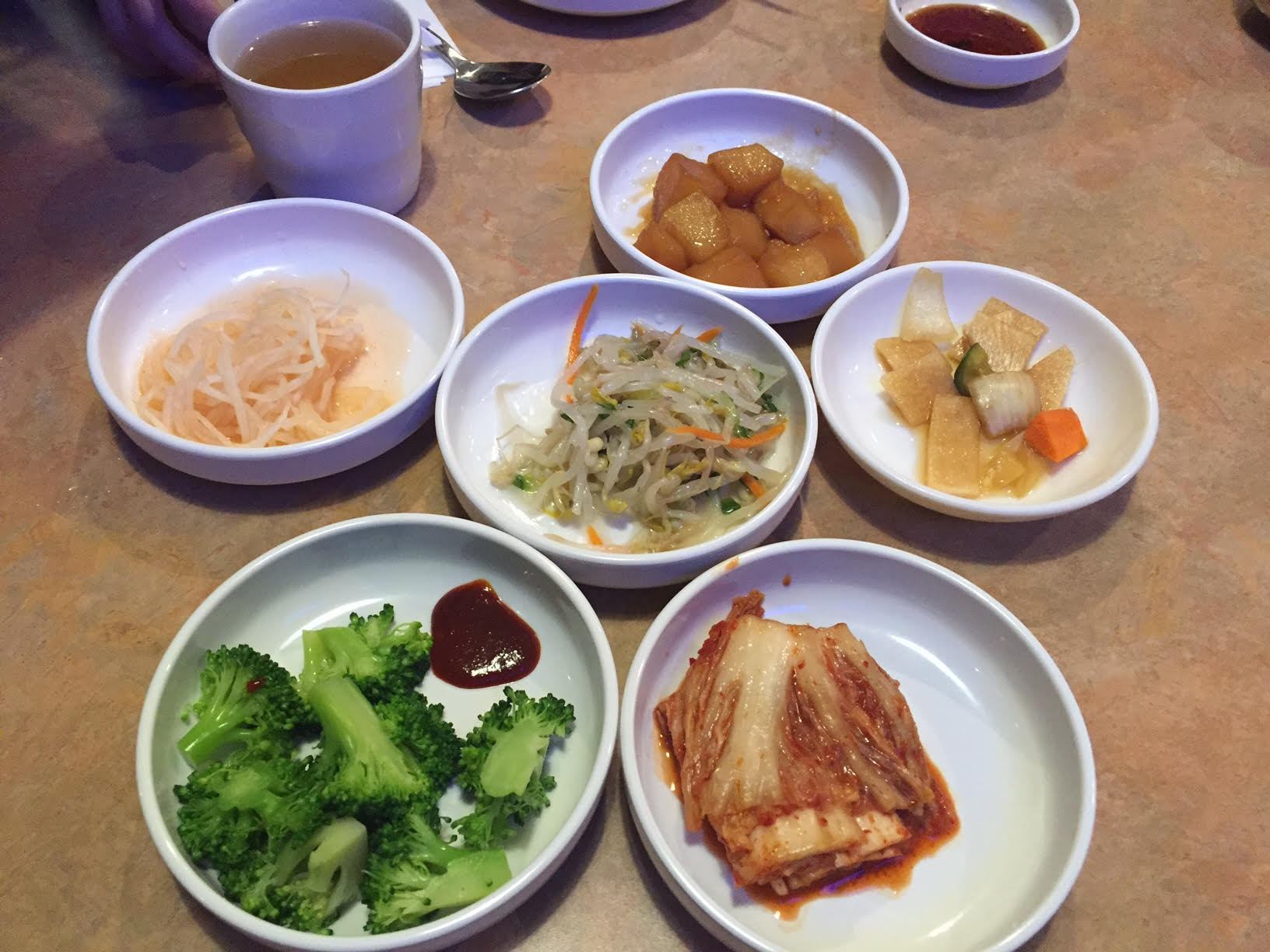 Banchan, free: To start, we received our complimentary Korean appetizers. Nothing too special here, just your average banchan with no complaints.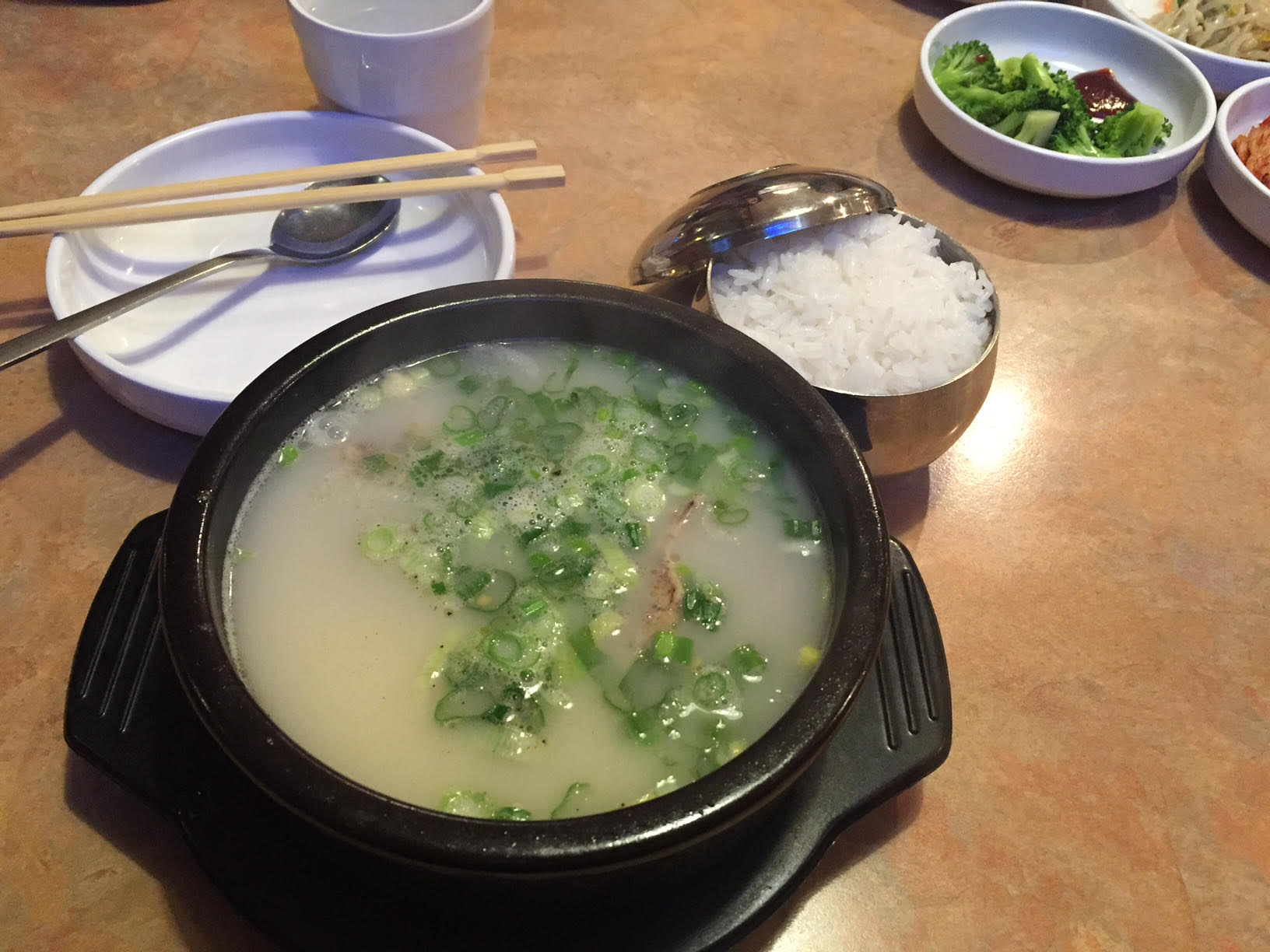 Ggorigom tang, $14.95: Slow simmered ox tail and bone marrow broth with brisket. I ordered this because I had this at Jong Ga and it was really delicious, and wanted to see it it matched up. Nope, not even close. The broth had no taste, it felt like I was just drinking cloudy water with a chunk of bone and some green onion flavour. There was also barely any brisket inside, I think I managed to find a couple tiny measly pieces.
They also forgot my rice, which they eventually brought after. I'm glad I had the rice to fill me up, otherwise I would have been really hungry with a bowl of cloudy water and flavourless broth. I ended up adding a lot of salt to it, which made the flavour improve. I heard that Korean restaurants tend to leave their broth unflavoured and that each person usually seasons their own bowl to their liking?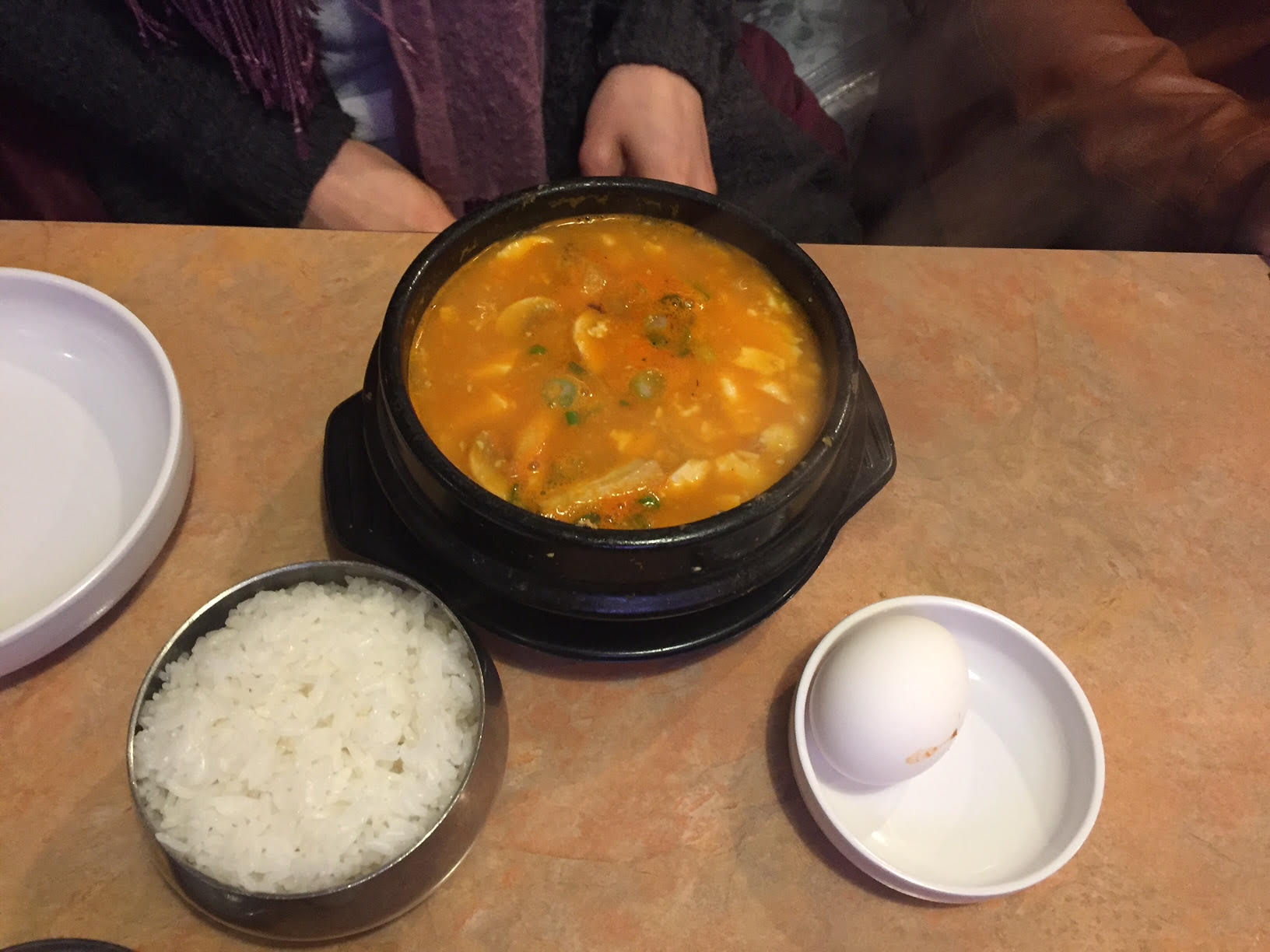 Soontofu jigae, $10.95: Continuing on with the disappointment, Cinnamon was shocked when her 'seafood' tofu soup arrived with barely any seafood! There were a few pieces of shriveled up seafood, all of which could fit on her small spoon. When she told the staff about this, they brought it back with a couple more pieces of seafood but it was still a very tiny portion. The seafood also did not look fresh at all, judging from how shrunken and shriveled they looked.
Luckily, she had rice and tofu to fill her up!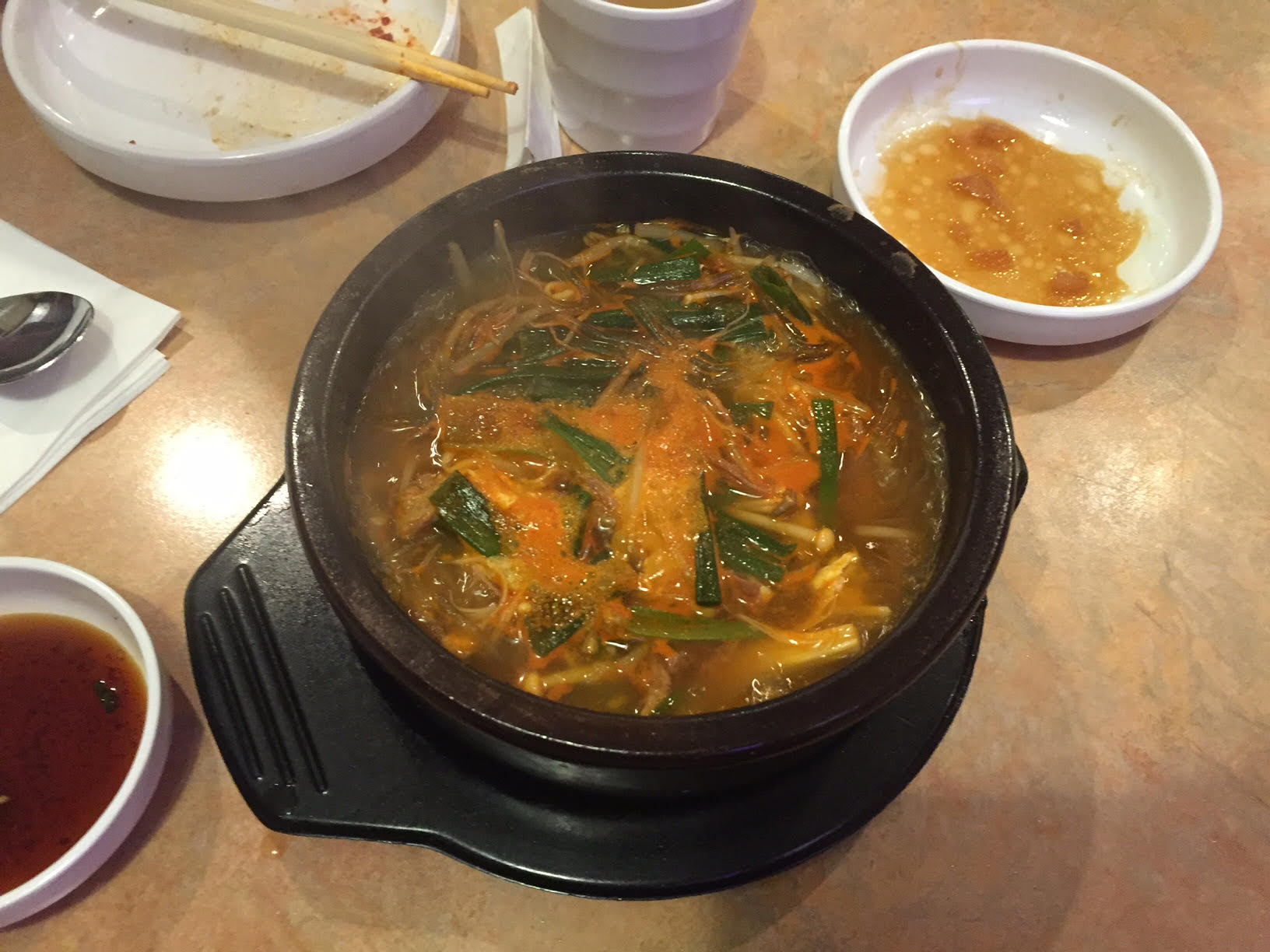 Yukgaejang, $10.95: Finely shredded beef stew with mushrooms and vegetables in a spicy beef broth. Although Lollipop shouldn't be eating spicy food, she couldn't resist! Again, the protein in her bowl was lacking. She didn't find it super spicy either, and thought that it would have come with more spice.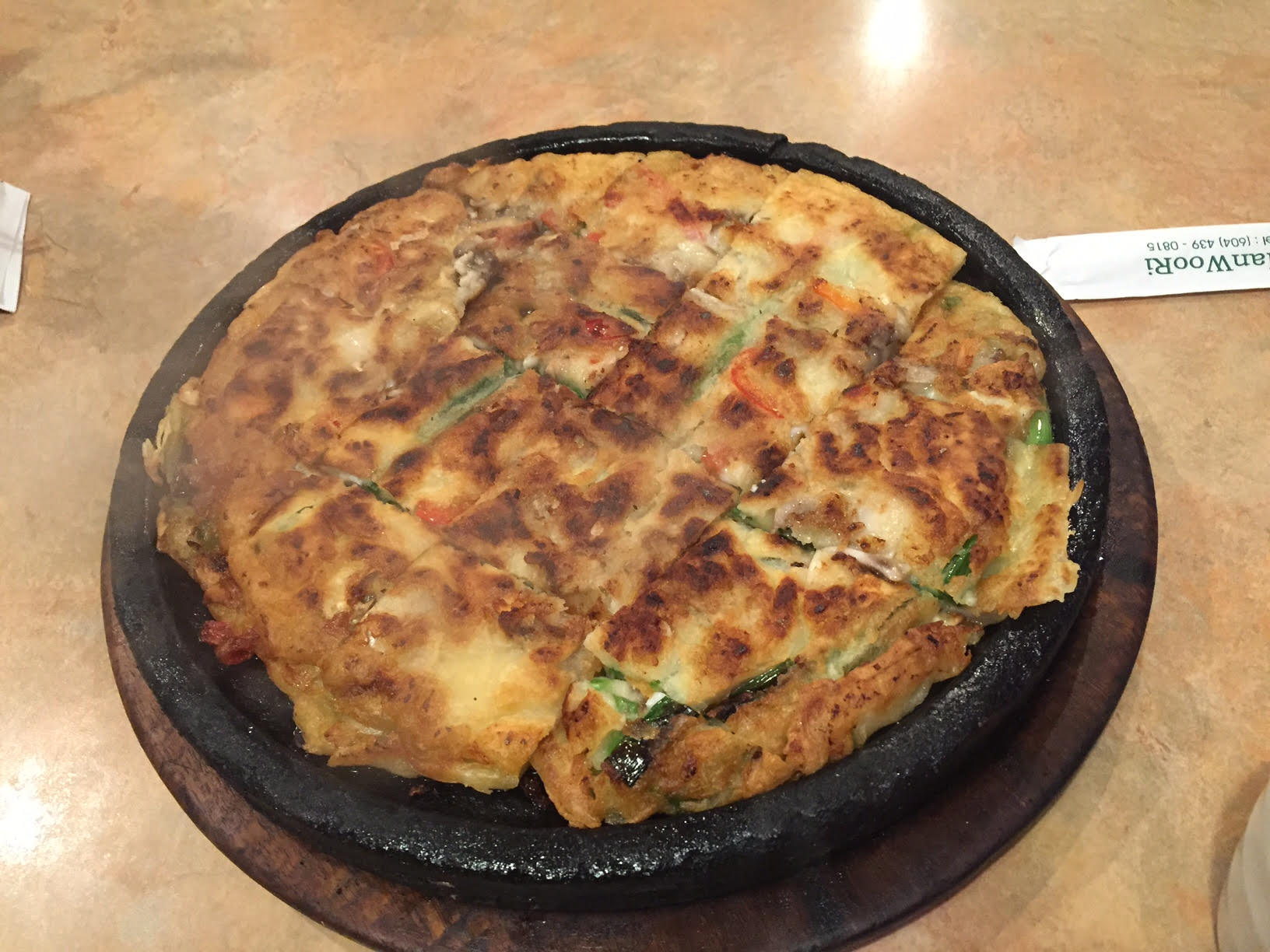 Seafood pancake, $21.95: This was probably the only decently delicious order that we had of the night. The seafood pancake was filled with a generous amount of seafood, that looked a lot fresher than what the seafood they put in the tofu soup.
At the end of our meal, we were all just full from plain rice and/or noodles. It wasn't satisfying at all and left our tastebuds wanting more. Judging from the plethora of Korean restaurants in Vancouver, I am not too inclined to try Hanwoori again. I much prefer House of Tofu Soup, Jong Ga, Royal Seoul House… or pretty much any Korean restaurant I've tried in Vancouver.
Hanwoori definitely falls to the bottom of the ranking, which is a shame because I've heard such good things about this place and it has a good rating on Zomato.