I am back with another contacts review! After reviewing the Angelcolor Circle Lens earlier this year, I wanted to try some other brands. Since I don't wear contacts often, I like to order dailies. I ordered these off Clearly Contacts (not sponsored) but you could get these anywhere in Canada.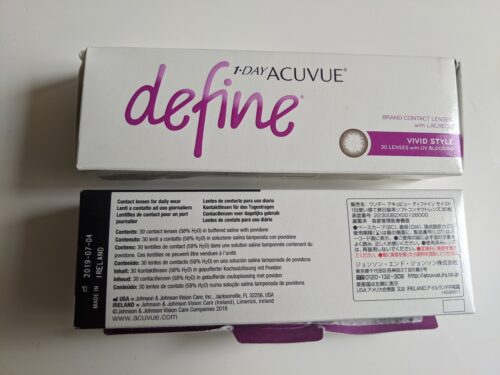 Compared to the Asian market, the Western market does not offer nearly as much colour contacts or circle lenses, making my selection quite limited.
The Acuvue Define line has 3 different "colors". I say "colours" with quotation because they are mostly just brown or black. There used to be more colours but they have been discontinued.
I decided on the vivid style for my first order (middle). The accent style looked similar to my Angelcolor contacts, and I wanted something different. However, if you are looking for circle lens, I would recommend the accent style as you will soon find out why!
Base curve: 8.5
Diameter: 14.2
The reason I don't wear contacts often is because my eyes get quite dry and uncomfortable with them. Over the years, I have found better brands that don't bug my eyes as much, but I find that the next day, my eyes feel quite dry sometimes.
On first look, the vivid style contacts were very comfortable, natural and light. Daily contacts are also thinner and more fragile, so you have to handle them with care.


After putting them on, I was a bit disappointed because I couldn't notice much of a difference. Only if I looked super closely, would I have noticed a difference. My pupils did look clearer and more defined up close. If I am purposely buying coloured contacts, I would like it to show up more.
On the plus side, I did find these contacts to be super comfortable! Since I purchased a 30 pack, I wouldn't mind continuing to wear them.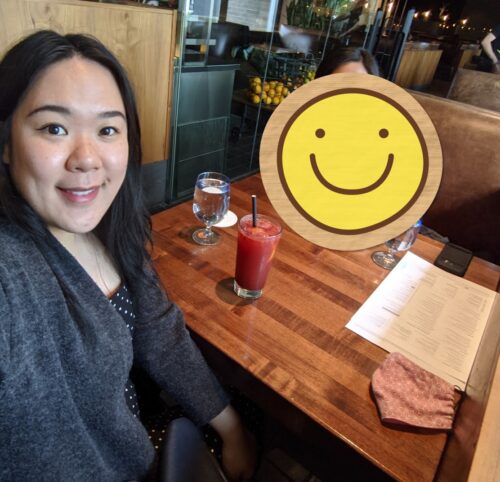 From afar like in this selfie, you can't tell that I'm wearing them. If I'm wearing coloured contacts and paying more for them (they cost more than your regular contacts) I'd like them to be more noticeable.
In addition, my eye diameter is the same measurement as these contacts so if your diameter is 14.2 or less, your pupils will probably show up slightly bigger…… but I doubt the difference is noticeable.
All in all, these were very comfortable but I wouldn't recommend them as they are barely noticeable as circle lenses. I'd be more inclined to try the accent style (see above for picture) next time.