No, I did not spell cook wrong! Kook Korean BBQ is a relatively new restaurant that opened up earlier this year in First Avenue Marketplace. I have been eyeing this place for awhile but have yet to come until now!
We enjoyed this place so much that we came back a few nights after for dinner! Since it was only the two of us, we ordered non-BBQ dishes which were still great. It would be nice to come back with some friends to share the BBQ platters.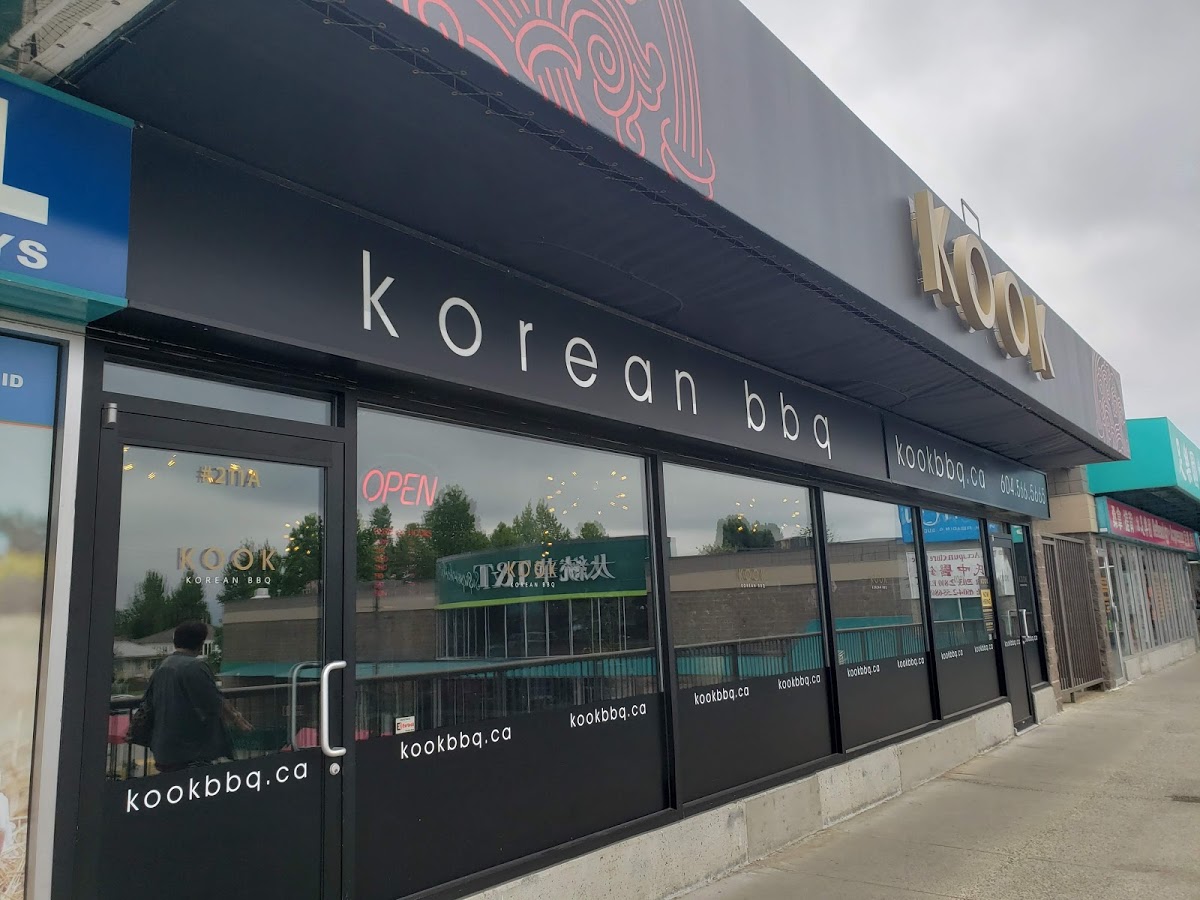 Kook is a nice addition to the other restaurants in First Avenue Marketplace, and the only Korean restaurant in this area (apart from Yook which is about a 5 minute drive away).
Seafood pancake: We always like to order a seafood pancake when trying a new Korean restaurant, although we always get too full and end up packing most of it home (such was the case this time)!
Anyways, the outside of the seafood pancake could have been more crispy. Only the outer edges were crispy. Other than that, it was a delicious pancake with a good amount of ingredients inside.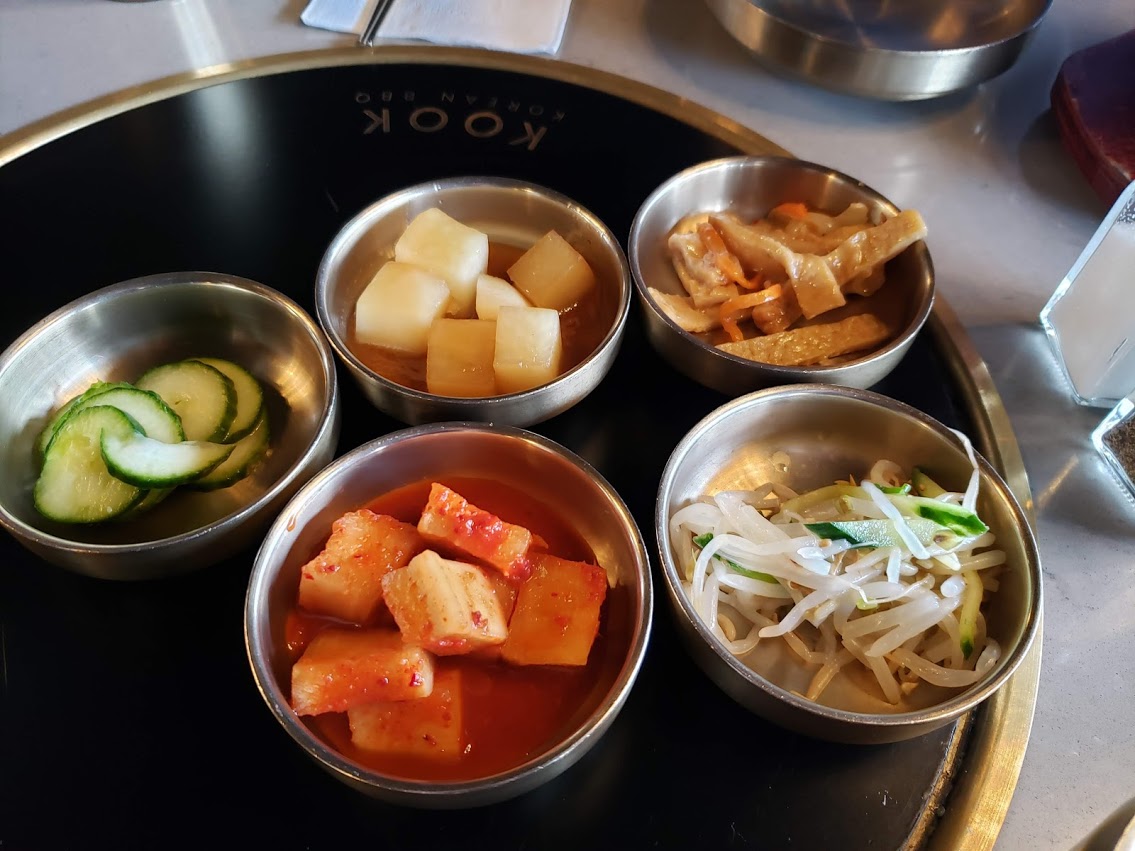 Banchan: Our meal started off with 5 different types of banchan. If you order a BBQ platter, you get a whopping 15 different types of banchan!
My favourite was the potato marinated in a sweet sesame oil sauce. We ended up getting a refill of the potato and the sliced fish cakes. My least favourite was the picked cucumbers. I personally thought it was a bit too sour to eat it plain.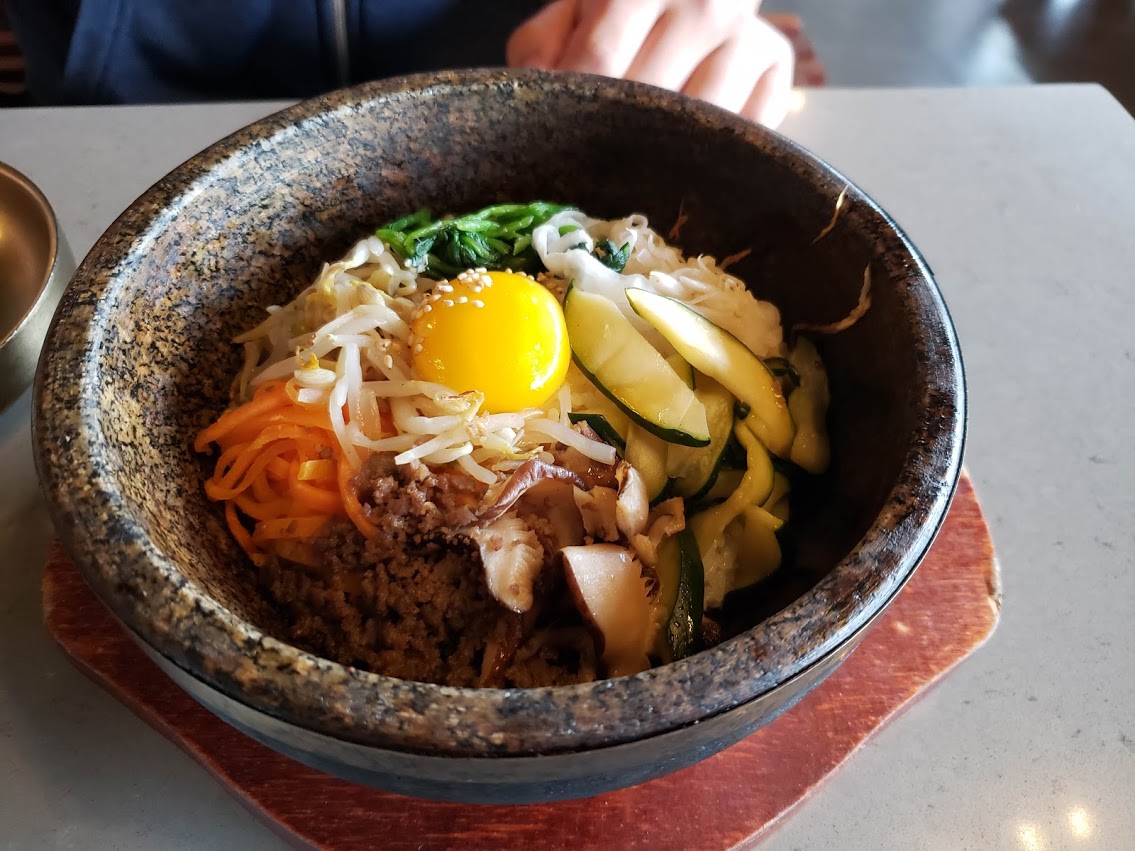 Bibimbap: The boyfried decided to try the stone bowl bibimbap. It was a generous portion and very filling. The first thing you should do when ordering a stone bowl is to spread the rice thinly all over the bowl, so that you can have delicious crunchy rice!
The bibimbap didn't come with sauce, but the beef was seasoned enough to give the bowl lots of flavour. I usually order noodle soups when having Korean food, but I wouldn't mind ordering this myself next time we come here because it was pretty good.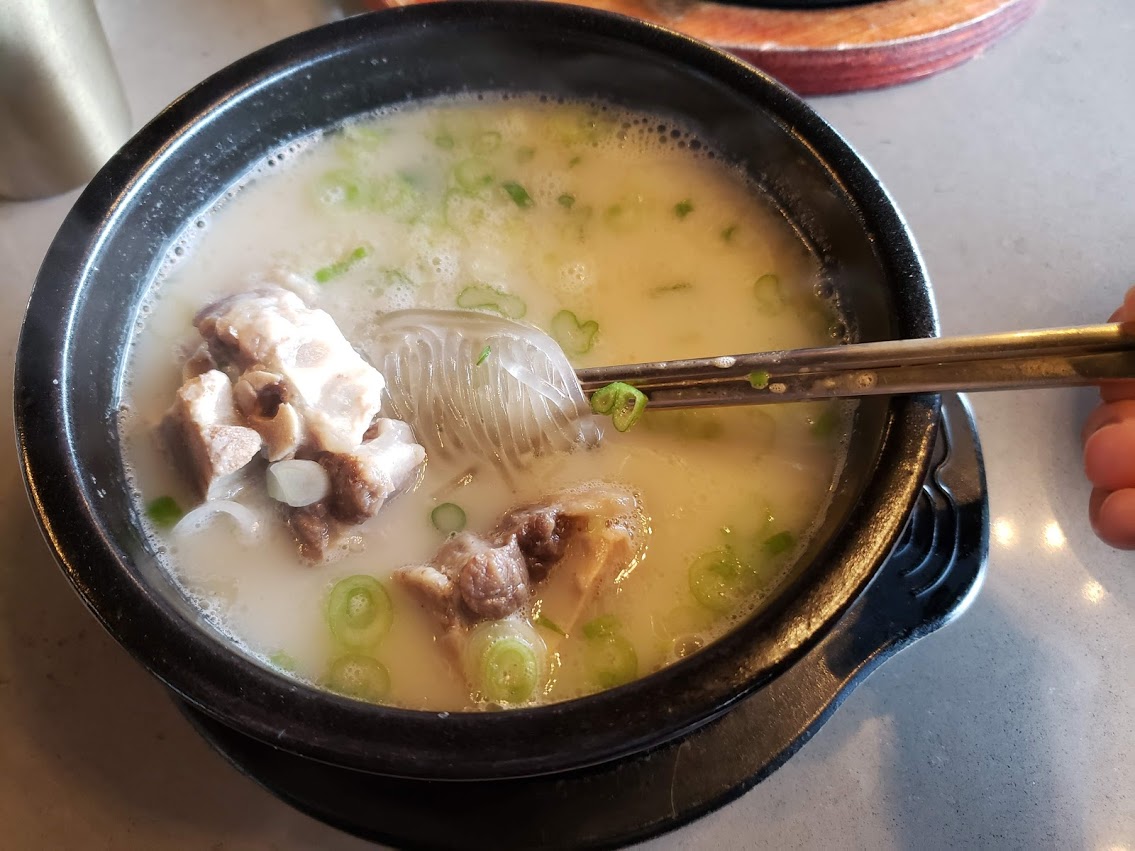 Korean oxtail soup (Ggori Gomtang): Typically, Korean noodle soups don't come seasoned with any salt. It took a few disappointing visits at a few different restaurants before I figured this out. Instead, your bland soup comes with a side of salt to which you season to your own taste.
After adding enough salt to my liking, I really enjoyed the soup. The slow simmered bone made the soup milky. Meanwhile, the meat was incredibly tender and melted in my mouth… soooo good. The soup also came with some Korean crystal noodle and a bowl of plain rice.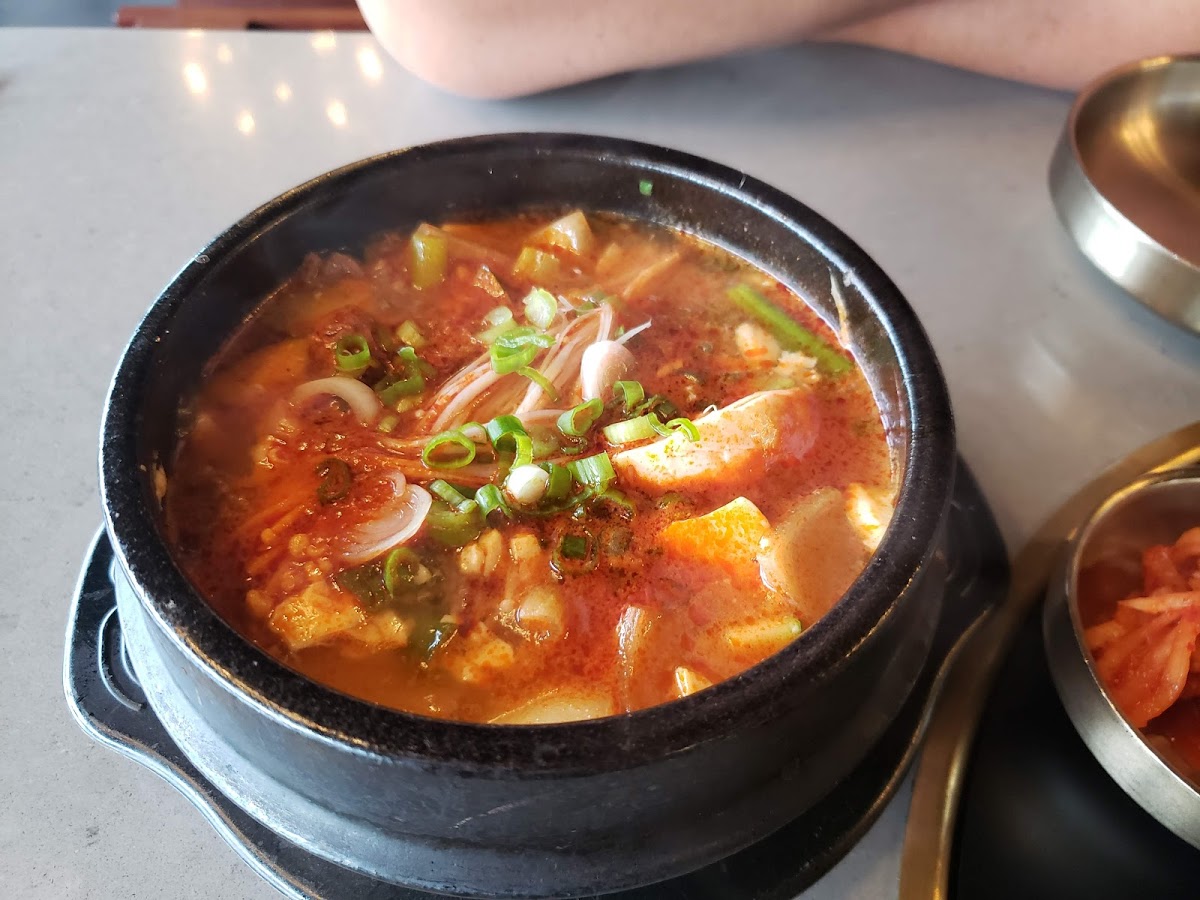 Soon tofu jigae: One of the most popular and comforting Korean dishes. You can pick between seafood or beef, the boyfriend went with beef. There was a nice, spicy kick to the soup but he would have liked it to be even more spicy!
The bowl looked a bit small, but there was a lot of tofu and beef in there to make it a filling meal. It also came with a side of rice.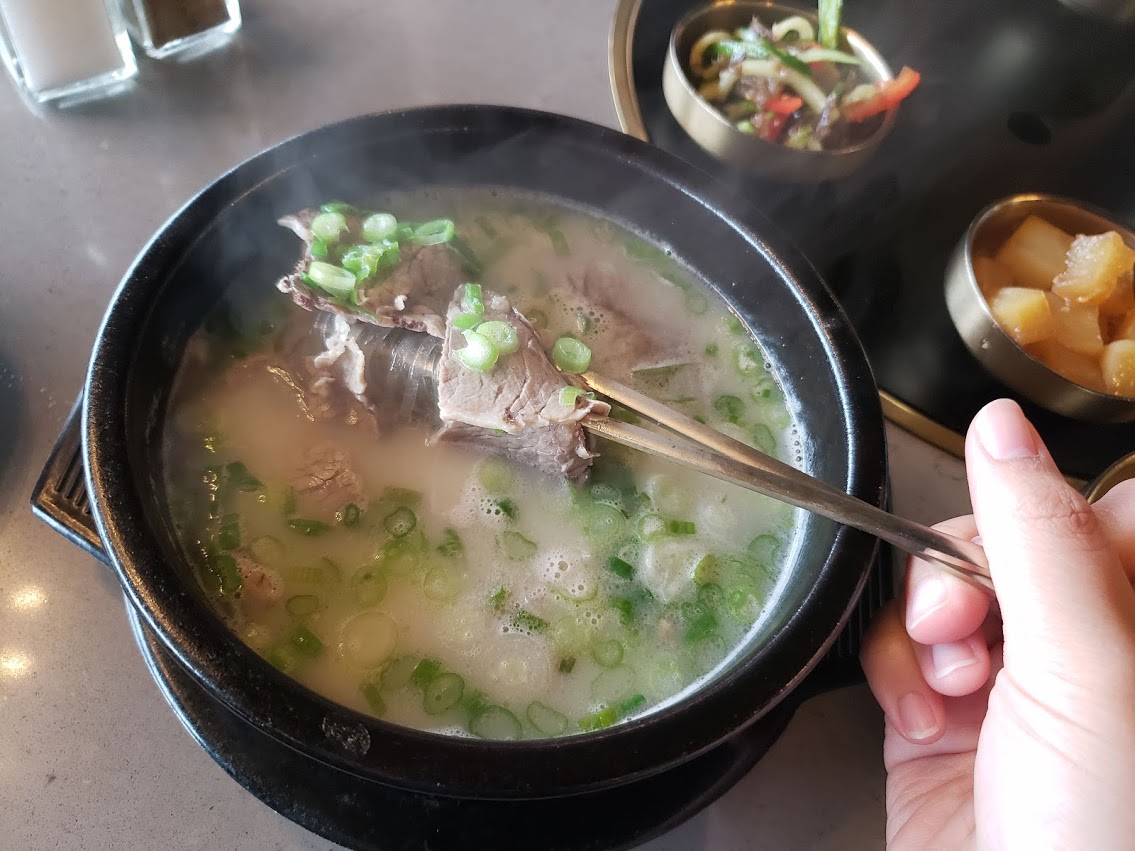 Sul lang tang: Since I tried the oxtail soup (Ggori gomtang) last time, I wanted to see how the ox bone soup tasted. They seemed to be the same broth, the only difference was the meat.
The beef slices were nowhere as tender and flavourful, probably because it was a different cut. For $4, I'd probably get the ggori gomtang instead because I love my tender beef.
All in all, we left satisfied and happy with our two visits. We will definitely be back, seeing how close and convenient this location is for us as well!