What kind of food blogger am I if I told you I am not crazy about going out for brunch? One that'd make you stop reading this blog? 😉 Anyways, I do enjoy going for brunch once in awhile and eating something that isn't easily cooked at home. For example, eggs, toast, sausage, pancakes, waffles etc are so easy to make at home.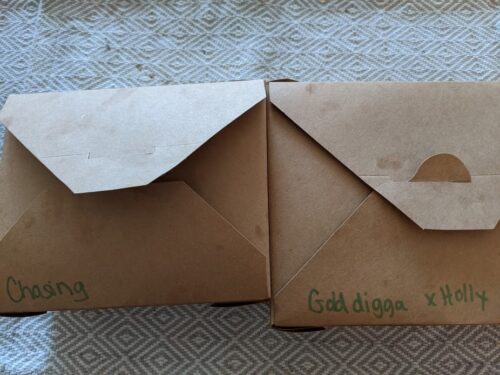 But after hearing that OEB served duck fat fried potatoes from Cola, I knew we had to try it out as it's not easily replicated at home!
I was actually invited here last summer when they first opened as a media guest, but turned it down because my stomach problems were absolutely horrible last year. Fast forward to now, I can finally try it as a paying customer!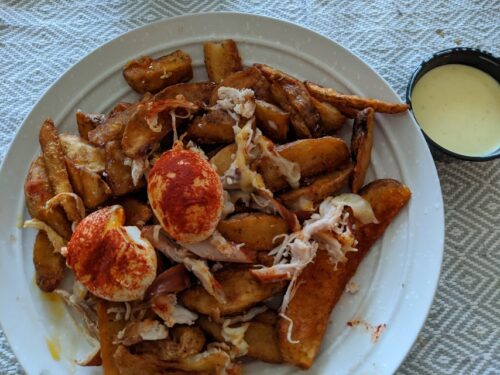 Chasing chickens: Cola recommended the breakfast poutines, which I had my eyes on already. My poutine came with poached eggs, duck fat fried herb potatoes, Saint Cyrille curds, smoked pulled chicken, and brown butter hollandaise.
This was heaven in a bite. The duck fat fried potatoes did not disappoint, they had a nice flavour and aroma to it that was different than other potatoes I've had.
In addition, the smoked pulled chicken was juicy with some grilled flavour to it. The poached eggs were disappointing though, the egg whites were kinda rubbery and tasteless.
However, the star of the show was the hollandaise sauce! I am usually just okay with hollandaise, but this one was just spectacular. It was better than the duck fat fried potatoes imo. The hollandaise was very buttery and lemony. I'd come back just for the hollandaise sauce.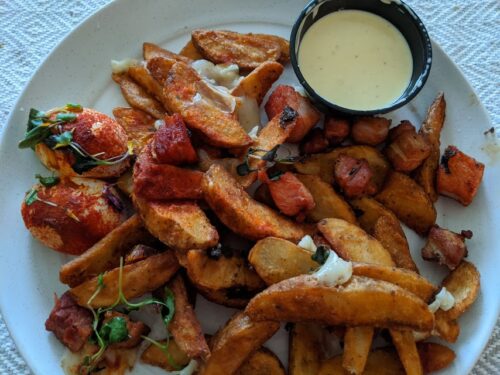 Gold digga: The fiance ordered a breakfast poutine as well, but with a different meat. The gold digga came with poached eggs, duck fat fried herb potatoes, Saint Cyrille curds, Berkshire roast pork, black truffles, and brown butter hollandaise.
Most of our poutine was the same and equally as delicious. The Berkshire roast pork was tender and seasoned with rosemary, my favourite herb! It was absolutely lovely.
The fiance is a huge hollandaise fan, and often bases brunch ratings according to their hollandaise. He was really impressed with OEB's hollandaise too, and it was one of the best he's had!
All in all, we were very impressed with OEB. The main item I wanted to try was the duck fat fried potatoes, and they did not disappoint. We were also very blown away with their amazing hollandaise! The price point is a tad high compared to other places, but the quality and taste is there.