I was looking to try a Korean restaurant that I haven't been to yet, for the sake of this blog. I came across Wang Ga Mah and it looked good, so we went to try it for dinner one day. After our visit, the government banned indoor dining again. I was going to wait until the restrictions are lifted to post but I did a poll on Instagram and looks like you all prefer to read it now!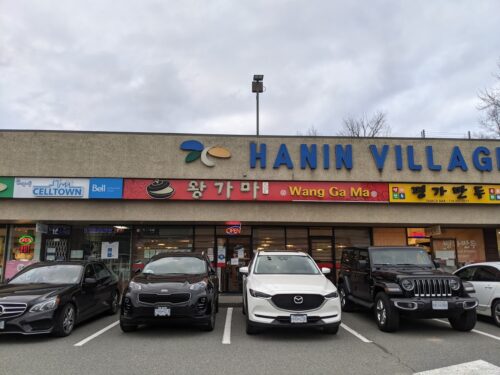 Wang Ga Mah is in Hanin Village where HMart is, and has a homestyle, simple feel to it. The restaurant is quite dated and could use a facelift, with everything looking like it was from the 90s.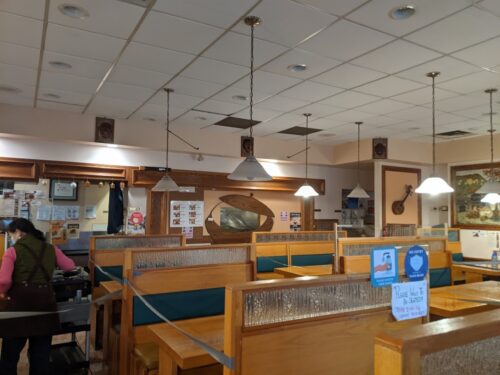 Nonetheless, we all know not to judge old looking restaurants because often times, they are delicious. There was relaxing classical music playing as well, which was nice.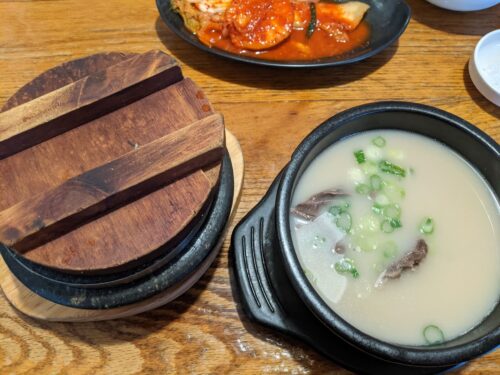 Seolleong-tang: I had a hard time deciding between this beef bone soup and the ox tail one. I really wanted the stone bowl rice but it is an additional $3.00 here, so I decided to go with the cheaper soup noodle option. Our go-to Korean restaurant is Jong Ga across the street, where they have stone bowl rice at no additional cost.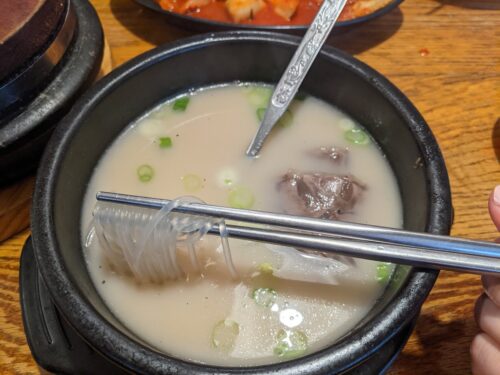 I haven't seen many places offer salt on the side for the soup noodles these days. I used to see that a lot a few years ago, but it seems like most places stopped. Without the salt, the soup was flavourless and definitely needed salt because the seolleong-tang broth isn't as flavourful as the oxbone. The salt helped and gave it more flavour. There were also some slices of beef and crystal noodle inside.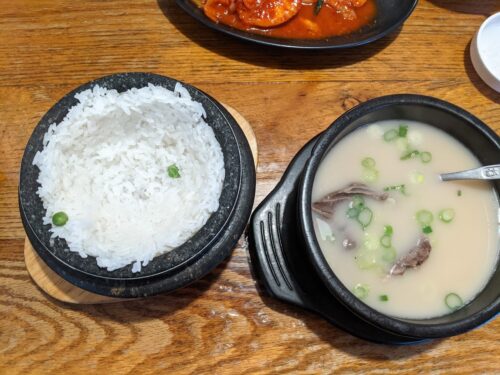 The stone bowl makes the rice crispy and super delicious, and then I spoon some of my soup to eat with the rice in the end. Delicious!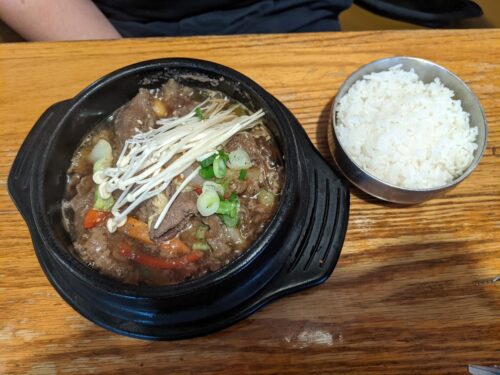 Ddukbaeki-bulgolgi: This dish was something that the fiance and I haven't tried before, and he absolutely loved it! I would describe it as a beef bulgolgi but in soup form, if that makes sense. This was a noodle soup filled with lots of beef and crystal noodles. The broth tasted like beef bulgolgi. The fiance couldn't stop raving about this for the next few days and would come back for it.
Overall, we had an enjoyable dinner at Wang Ga Mah and it was good to expand our options in Koreatown. We used to have a hard time wanting to try other Korean restaurants when we loved Jong Ga so much and felt like a wasted opportunity for not going there when in this area! Our top spot remains to be the small and homey Jong Ga, but Wang Ga Mah was good as well.