EDIT: This was my first post on this Hapa location, but it has since gone downhill. You can compare this post with my second visit here.
———-
Hi everyone!
I have seen many posts on social media during the last couple of weeks on Dine Out Vancouver (#DOVF). However, for whatever reason, I was not that excited to check it out this year, probably because I had a lot on my plate already (pun intended). Anyways, I was bored one day and decided to browse through the restaurants. I ended up making a reservation for 2 at Hapa Izakaya for Friday, Jan 24th.
There were a few other Hapa Izakayas in Vancouver, but my boyfriend wanted to go to this one because parking in downtown can be stressful and expensive. We arrived, and overheard some customers asking for the approximate wait time without reservation, which was roughly one hour. We told the server my name but she said we didn't have a reservation. Turns out we failed and accidentally made a reservation for the wrong night!
After hearing that, we were both pretty bummed out as we did not want to wait a hour like the customer before us that asked her. However, much to our surprise, she was really accommodating and asked us if we wanted to walk about the neighbourhood for a bit, and that she'll give us a call when the next table is ready.
I guess since we actually made a reservation (just on the wrong day), she was willing to help us out which I really appreciate! We waited roughly around 15 minutes. The waitresses themselves were really friendly and answered questions that we had. Our food was delicious, I have no complaints about it and neither does my boyfriend. Here is the dine out menu for Hapa Izakaya Kitsilano: (Bolded are the ones we chose)
First Course 最初のコース (Choice of one)
Sesame cucumbers
Gomaae
Edamame
Kimchi
Second Course 第2クール (Choice of one)
Karaage
Ebi Mayo
Corn Croquette Corn
Popcorn Pork Panko
Third Course 第三のコース (Choice of one)
Spicy Tuna Roll
Dynamite Roll
Fish n' Chips Roll
Veggie Roll Daily
Fourth Course 第四のコース (Choice of one)
Spicy Pork Ishiyaki Rice
Kinoko Ishiyaki Rice
Chipotle Beef Curry Ishiyaki Rice
Teriyaki Ishiyaki Rice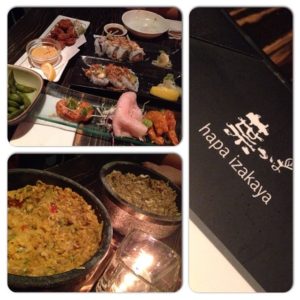 I would highly recommend trying Hapa Izakaya during Dine Out festival. I honestly have no complaints for this restaurant For what you are served, it is truly a great value as we would probably have spent $20-$30 MORE if we ordered each item during regular season.
Despite this being a generic menu, in the sense that the kitchen probably prepares all the Dine Out dishes ahead of time, they all the dishes tasted really fresh and delicious. The ishiyaki rice is essentially "cooked" in front of you, individually by your server- the rice, meat, veggies, and raw egg are put in a hot stone bowl, but the server is the one who mixes it in front of you and tells you to wait  few minutes so that your rice is crispy and egg is thoroughly cooked. Effort is put into each dish and it really shows.
Thank you for reading!
-Carmen