I am so excited and happy to finally be doing an empties post! The first ever on my blog! Well obviously I have finished products before this but there weren't ever enough at once to write a post about it.
Why am I so excited? Because excluding my daily products of brow pencil and eyeliner, it takes me a super long time to finish products! I'm talking like… a year… or more because I only use my brow pencil & liner everyday, and I like to switch up my face products, foundations, etc.
I find that if I use the same moisturizers, face wash, deodorant, etc.. it slowly minimizes their effect because my skin has gotten used to it. And I know I'm not the only one because I've heard about it from Youtubers!
Anyways, enough rambling… Even more great news, I managed to have enough empties to do TWO blog posts! So I will be doing a part 2, because I hate super long blog posts!
Estee Lauder DayWear Matte cream: I have been using this on and off due to trying and testing new moisturizers. But when I don't have any new ones to try, I can always rely on this to moisturize my skin! This cream is more of a gel and feels very light weight.
Would I repurchase? Yes!
Weleda Almond Soothing Facial Lotion: I talked about this product three months ago. It is a bit odd that I can finish a moisturizer in three months, but this thing is super tiny! It is a very gentle moisturizer, with a hint of almond scent. Here is my original review on it.
Would I repurchase? Yes!
Sephora Waterproof Eyeliner: This product has been tossed around from makeup area to various makeup bags, traveling, etc… that the print is completely gone and the smudge tip is long gone. It wasn't one of my favourite eyeliners because it smudged easily. By the end of the work day, I would have a bit of a raccoon eye. Honestly don't know why I kept using it, but at least it's finally done.
Would I repurchase? Nope!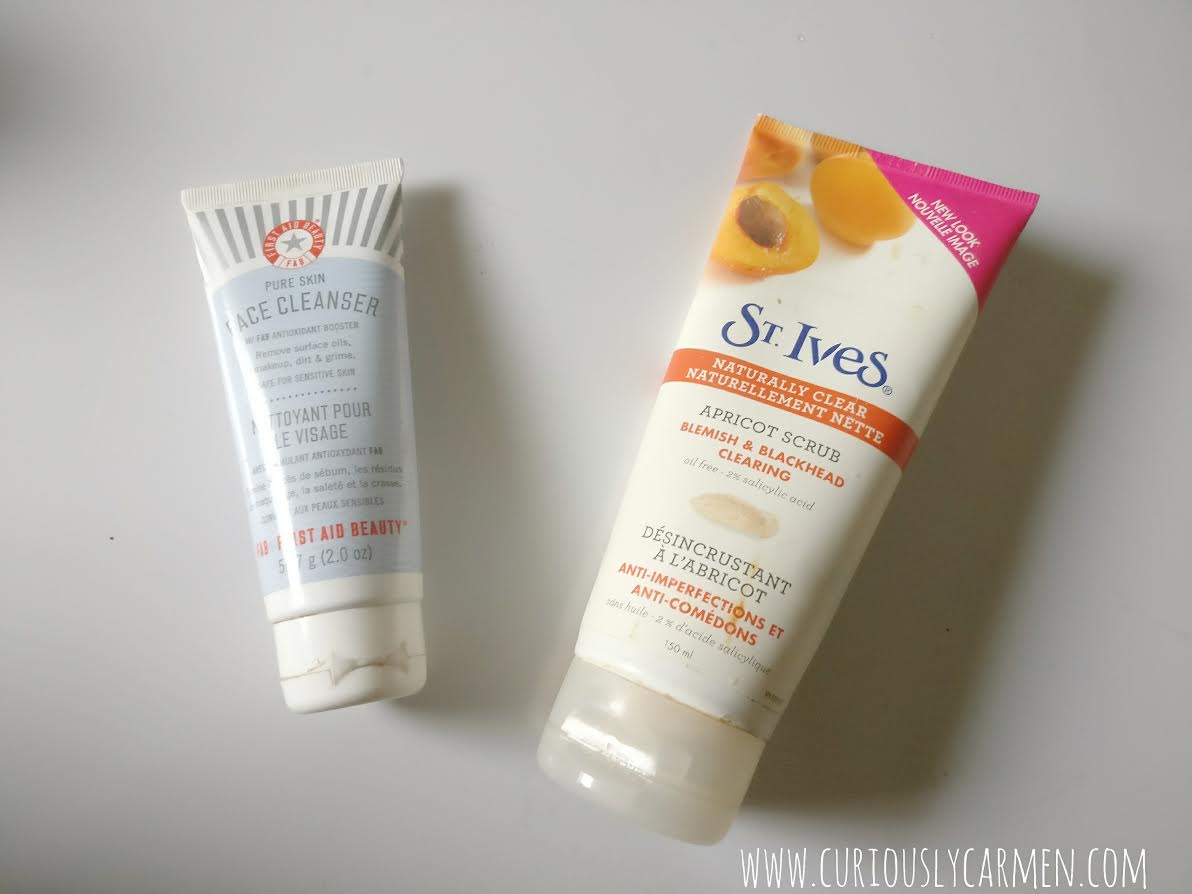 First Aid Beauty Face Cleanser: I received this as a present 2 Christmases ago, and I finally finished it! I LOVED this cleanser. It's very gentle, but also removed my full makeup looks effortlessly. As well, it never dried out my skin. I liked to "save" this for occasions when I wear a full face of makeup because it's $15 for a travel size. Although now that I think about it, that's cheap compared to other face products at Sephora. Here is my original review on it.
Would I repurchase? Yup,  in fact I bought another one two weeks ago!
St. Ives Apricot Scrub: Okay, this is like a washroom staple… I say this because I've seen many homes carry this product (Yes, I notice what products people use when I go to their washrooms LOL). Plus, it's a very affordable price and works really well! I started off using this scrub on my face, but over the years, my skin became slightly more sensitive and this was too harsh.
So, I ended up using this as an exfoliator for my body to prevent ingrowns, pimples, etc.
Would I repurchase? Yup, I ended up buying it in a jar format because it's easier to use in the shower. As well, in high school, I bought this many times so you could say it's definitely a staple for me!
———-
Stay tuned for part 2 of my empties! On a side note, I didn't know that talking about empties was considered a weird thing to people who aren't interested in beauty. In one of the Facebook groups I'm in, one blogger joked how we like to take pictures of our garbage and share it with others who love to see our garbage. LOL!!!