Hi everyone!
About a month ago, I attended the EAT! Vancouver Festival at BC Place. It was an afternoon filled with being introduced to lots of different food trends, food supplies, healthy alternative food – basically, everything to do with food!
From their website: EAT! Vancouver attracts Canada's culinary stars, food producers and restaurants, from Vancouver, North America and beyond. Consumers, from across North America, will come to the EAT! Vancouver Food + Cooking Festival to participate in Vancouver's vibrant food culture and experience great food from around the world.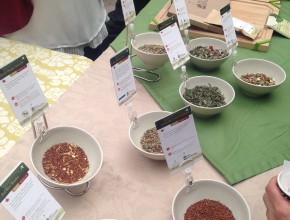 After getting our tickets, we headed down to the main floor of BC Place. What usually holds football games and concerts was transformed into a food lover's paradise. As this was our first time coming here, we were really surprised at how many stands and how big the festival was.
Instead of purchasing products by cash or card, guests purchase tickets which they can then use to pay for things they want.  We decided to walk around once and purchase tickets afterwards.
The first stand that caught my eye was the vendor,  Tea Sparrow. Each month, Tea Sparrow will deliver four teas to your door, which have been tested and approved by their staff before delivery. I sampled some of their rooibos tea, which was delicious!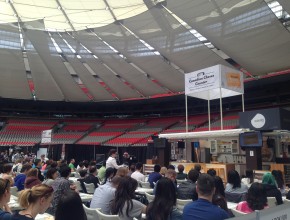 There was also a cheese seminar presented by the Dairy Farmers of Canada happening. Unfortunately, all of the seats were already full but it looked like an interesting show. For all you cheese lovers, this one is for you.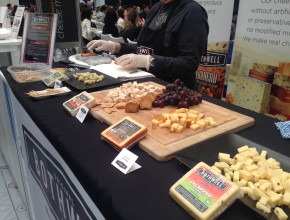 In front of the cheese seminar, was a long lineup where you can sample many different types of cheese. I don't think I've had that many different types of cheese in one sitting  before. I'm no cheese connoisseur, but I think that cheese lovers would really love this!
I certainly enjoyed all the different sorts of cheese and it was nice to sample them all. You normally don't get to sample all these types of cheese, so it's good to keep in mind what you may want to buy when you are grocery shopping in the future.

Some free dark chocolate samples from Urge Chocolates. Some samples required tickets, which was up to the individual booth. Since we didn't buy tickets yet, we were only able to sample the freebies.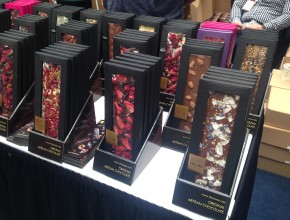 More chocolate from President's Choice. I believe they were giving these bars out for free when you sign up for a President's Choice MasterCard.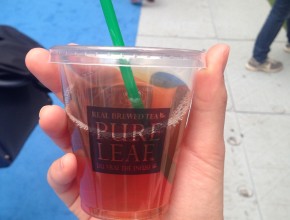 I normally avoid tea that has caffeine but I've always wanted to try Pure Leaf. They had a few flavours to choose from that day – raspberry, lemon, regular, and unsweetened.
I didn't find the sweetened flavours to be overly sweet or sugary, which is a plus.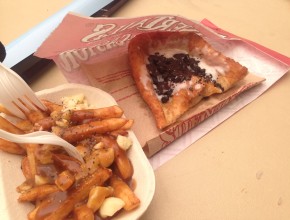 Apart from all the different vendors, there was also a 'food' area for visitors to eat and featured different eateries in Vancouver. A food area within a food festival!
We ordered an oreo BeaverTail and poutine, which were both very good.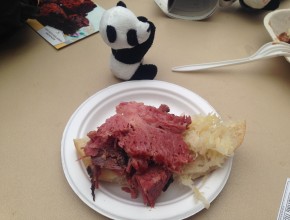 We also tried the Montreal smoked meat sandwich from Dunn's. I've never been there before, but I think it would have been better at the actual restaurant and not a mobile stand. Some parts of the smoked meat were cold, while other parts were slightly warm.
The worker there was also not wearing any gloves and handled the bread and toppings with her bare hands. She was also the one that was taking care of the ticket payments from customers…so touching all of the customer tickets (where you don't know where it has been?!) AND then touching the food with your bare hands?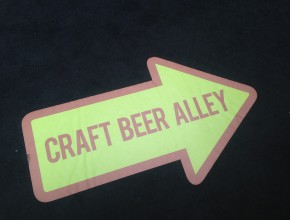 After all our samples of food, we decided to check out the alcohol section. We didn't know this at first, but you exchange a ticket for a wine/beer glass and will receive the ticket back after you return the glass.
This was slightly annoying as we were left with one single ticket that we didn't know what to do with in the end, we wished that we could have applied that ticket to one of our wine tastings but not a big deal.
The carpeted floor was also very static-y that day, and everyone would get zapped when accidentally brushing shoulders. At first, I thought it was only me who kept zapping everyone but I heard a lot of other people complaining, and one of the staff members told us that it was due to the carpeted floor. =(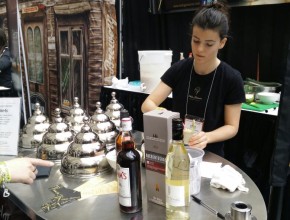 One of my favourite gelato places, Bella Gelateria, was serving gelato martinis!

Scotch served with freshly grounded espresso beans and Bella Gelataria's salted caramel gelato in a shot glass. It was very creamy and rich, but wasn't very strong. This stand was definitely one of the most popular stands at the festival.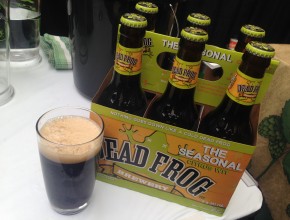 There were also a lot of BC-based craft breweries at the festival! The craft beer samples were pretty cheap, at $1 a sample and they were also a pretty generous size too!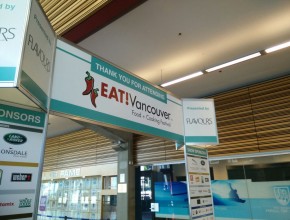 Originally, we planned on staying no more than 1.5 hours, but were shocked when we checked our phones and saw that 3 hours had passed by! We were also given a goodie bag filled with some samples at the end of our visit.
There was definitely tons to discover at EAT! Vancouver, and lots of new food to try. The festival is held each year around the end of April/beginning of May so I recommend that you check this out if you love trying or learning about food!
Did you go to Eat! Vancouver 2015 as well? How did you like it?
Thanks for reading!
-Carmen