Andamiro Korean Bistro has been on my to try list for awhile now. While looking for a place to have dinner with Sangria and Lager, I suggested this place. It was a delicious meal and we left very full and satisfied.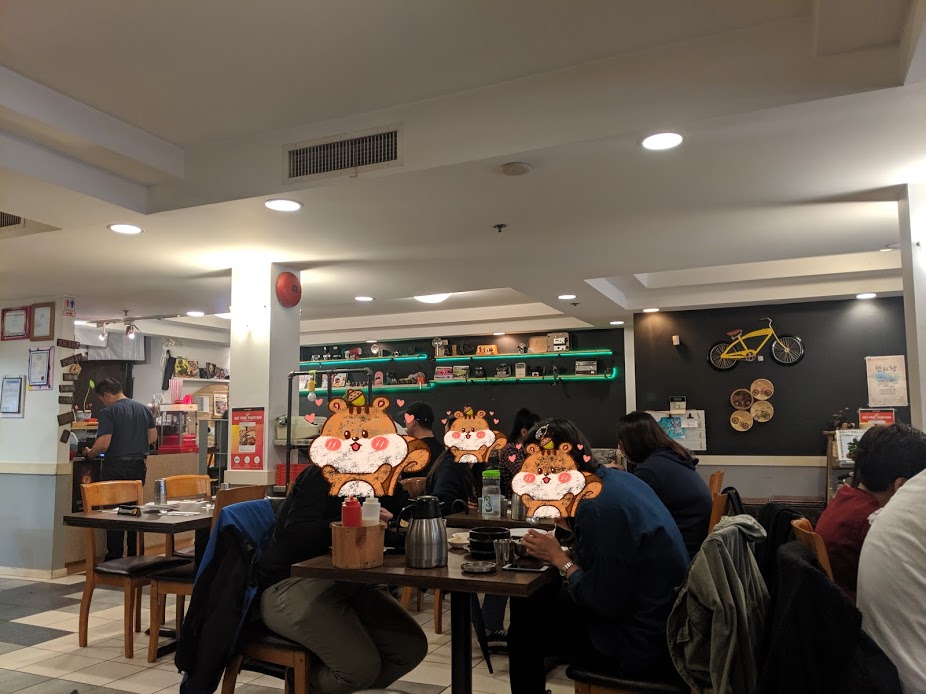 Andamiro is located in East Van along Kingsway Street. Parking was a bit hard to find because it is all street and residential parking. There are many other restaurants around so you'll probably have to drive around a couple times during peak hours.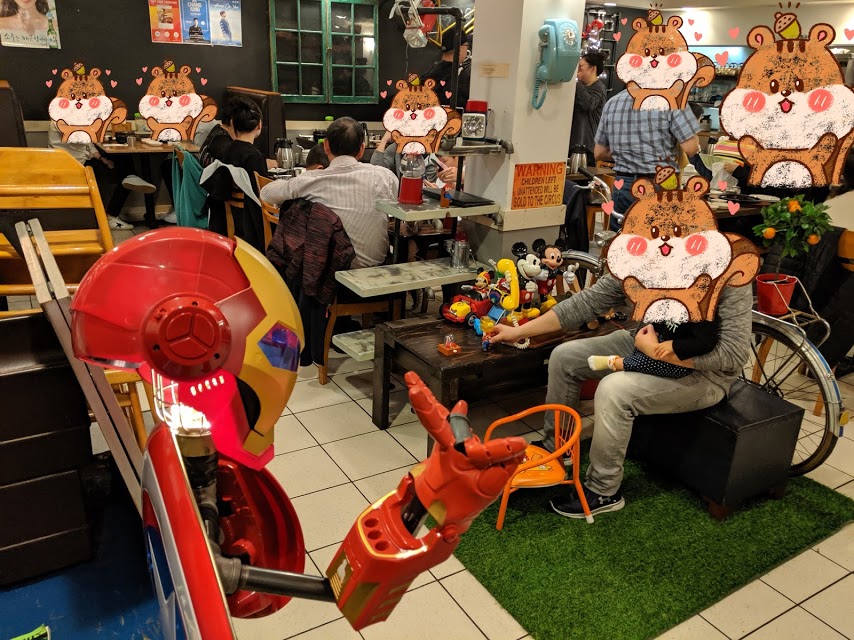 Walking in, the restaurant was cutely decorated and very Korean style. There was also a little play area for kids which I thought was awesome!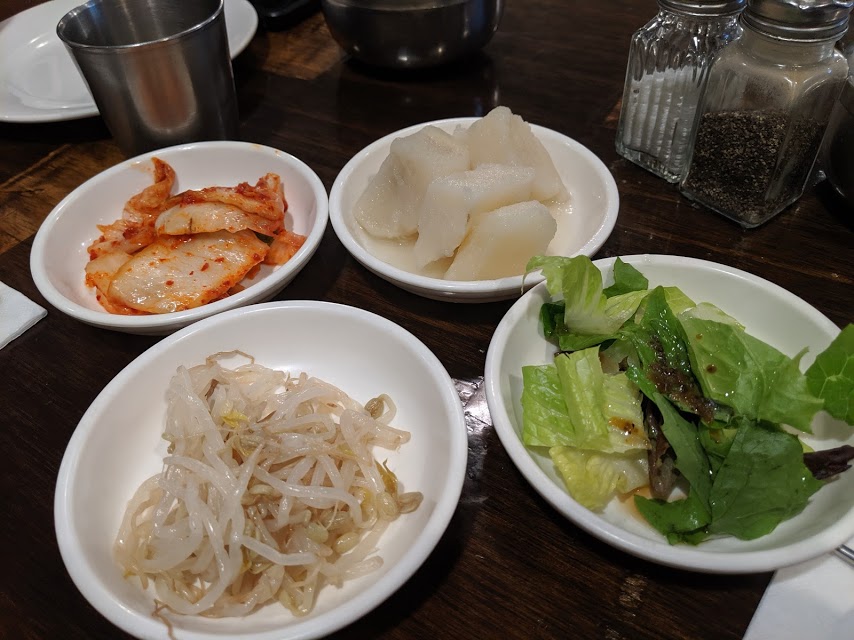 Banchan: The banchan was disappointing and I was worried this would set the scene for the rest of our dinner. The sweet potatoes were very bland and flavourless. You could probably tell judging by the colour, usually they are a nice, golden brown.
I haven't been served lettuce as banchan before and it just seemed cheap to me (or maybe I don't know banchan well enough). A single piece of lettuce cut up into small pieces. The beansprouts were alright but could have used more flavour. The only good thing was the kimchi, which had a nice kick to it.
Anyways, Sangria, Lager, and the fiance went with a set menu which was a pretty good deal. I wasn't sure how my stomach would fare, so I ordered my own soup but had a bite bites of their items.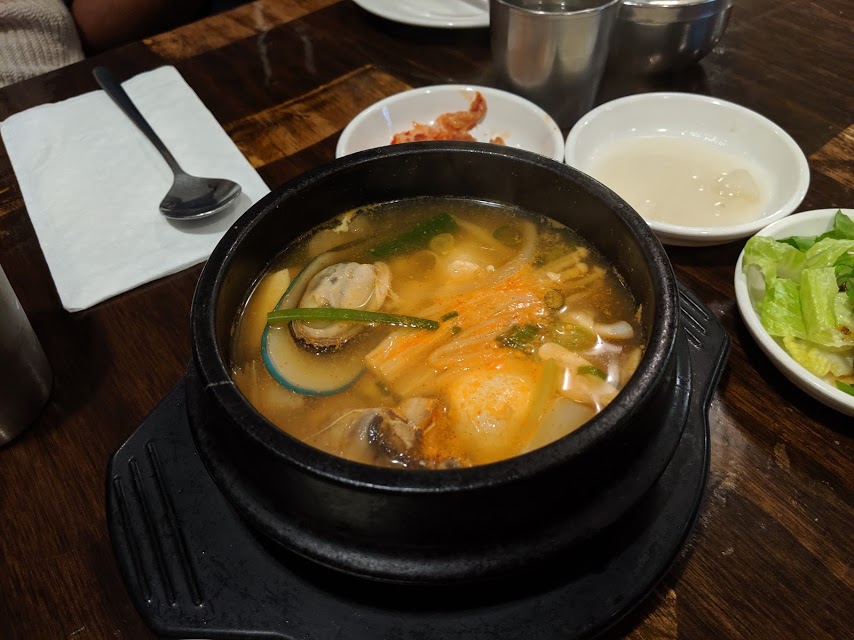 Seafood tofu soup: The first dish in the set menu. Although they ordered a mild spicy level, it still packed a good amount of heat. The broth didn't look that spicy which was deceiving!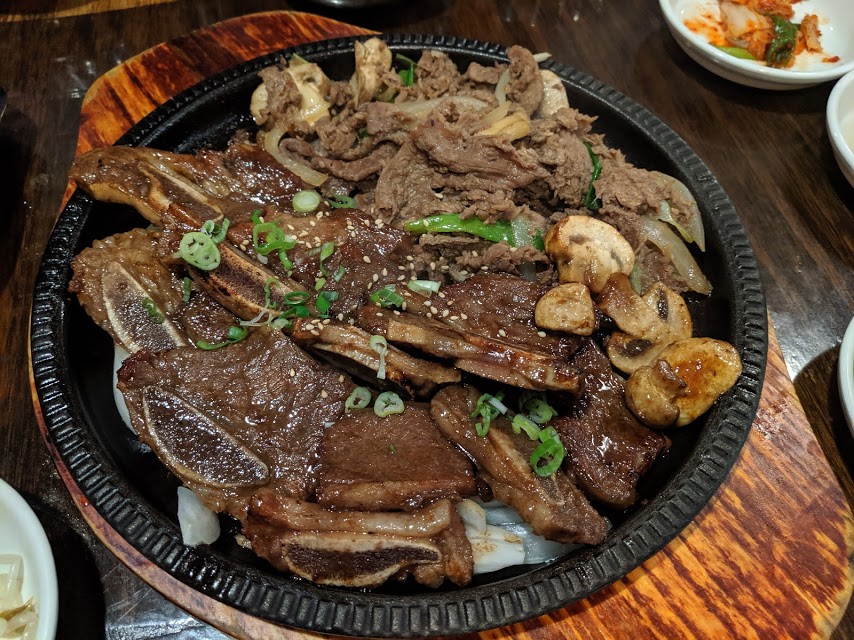 Short ribs & beef bulgolgi: The MEAT! This came sizzling hot and smelled delicious. It did not disappoint either! The meat was juicy and thoroughly marinated with a nice sweetness to it due to the bulgolgi sauce.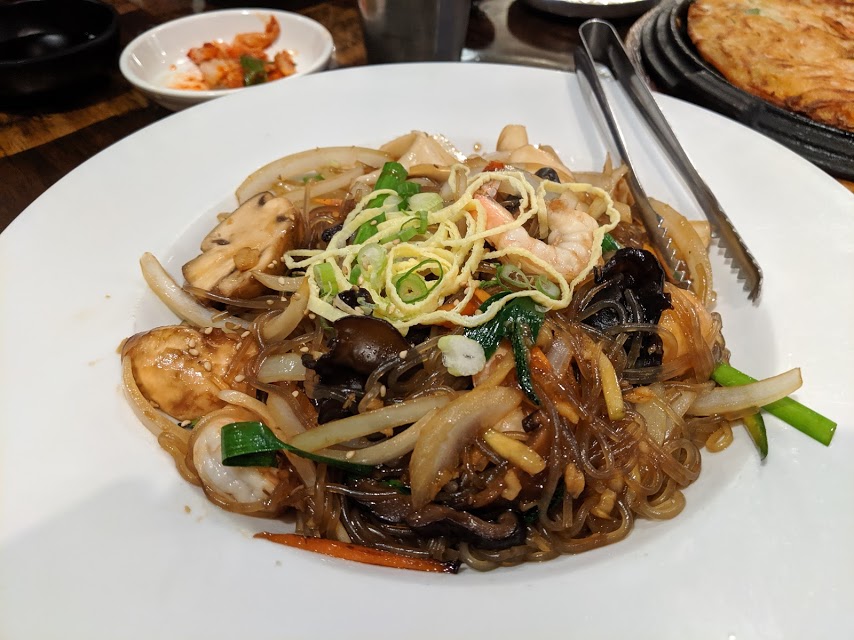 Royal seafood japchae: The japchae was delicious as well. I love crystal noodles – actually, all noodles in general, I don't discriminate 🙂 The noodles soaked up the flavour nicely and it came with a good amount of ingredients.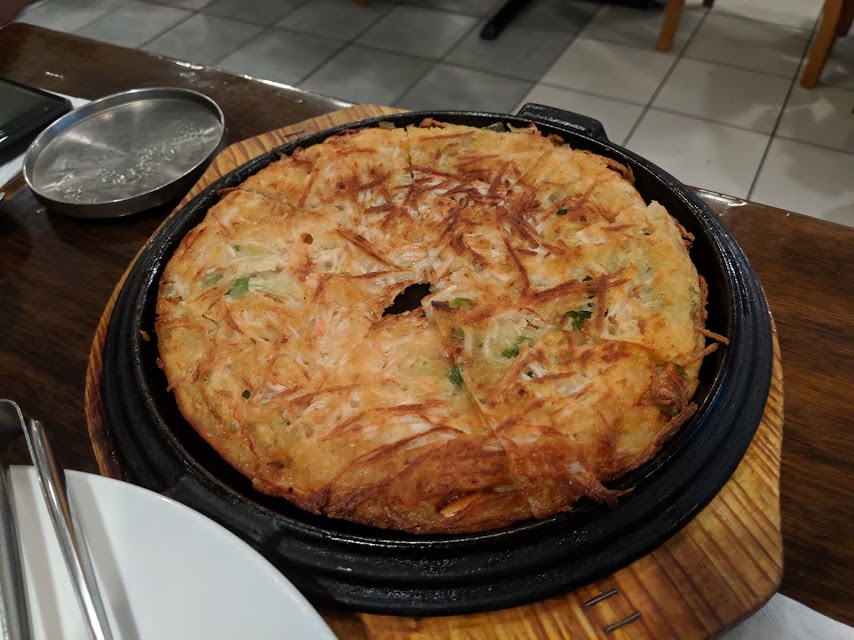 Seafood pancake: The seafood pancake was a bit on the smaller side compared to other Korean restaurants, but it was a good amount to share. The pancake was crispy on the outside, while the inside had a good amount of ingredients.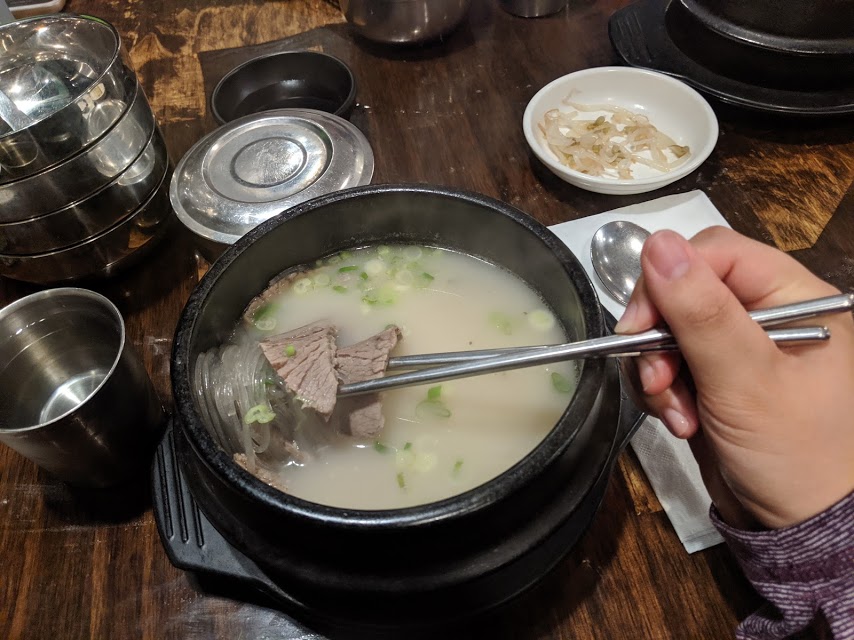 Ox bone soup: I love my Korean oxbone soup! I was expecting to have to season this myself with the salt and pepper provided as with most Korean places, but this was already seasoned. The broth was very flavourful and milky due to the ox bone.
There was a very generous amount of sliced beef inside as well. The beef was soft and delectable.
However, near the end, it got a bit too salty for my liking. I kept needing to drink water.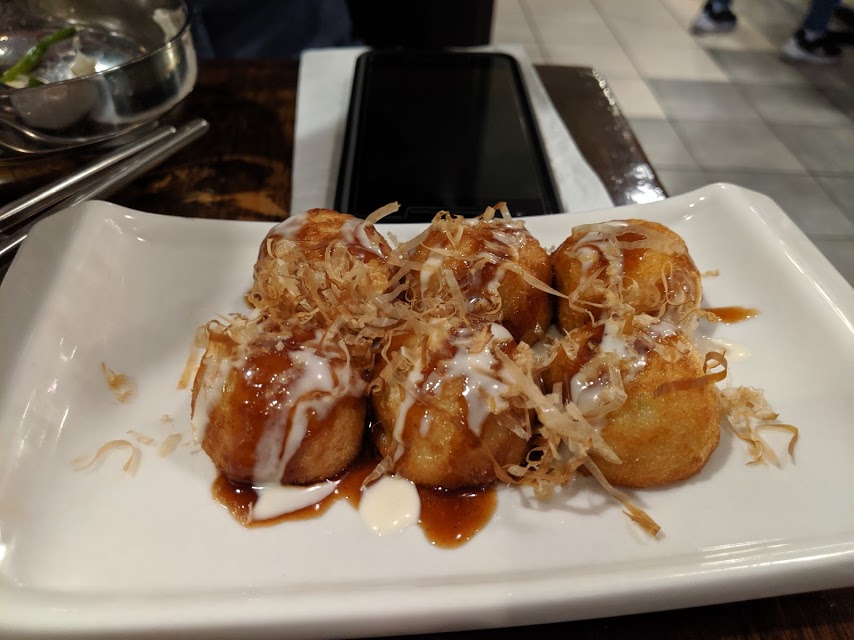 Takoyaki: Lager noticed that you could get a free plate of takoyaki if you posted a photo on Instagram, so obviously we did that! I didn't have any, but the rest of them had no complaints about it.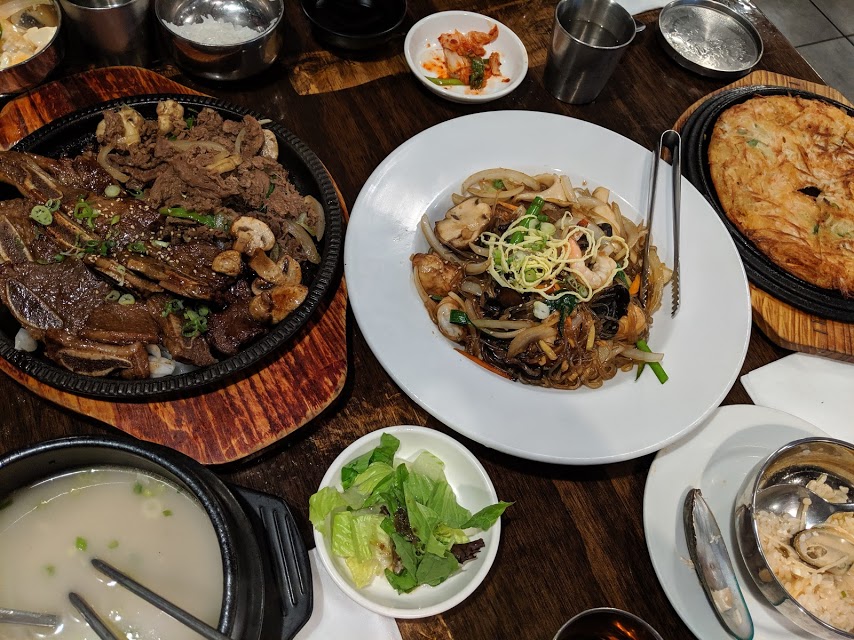 Overall, we left Andamiro with leftovers and very full tummies. I did find some of their items to be very salty though so just a heads up on that. Service was friendly and attentive, decent prices, and tasty food – I would come back!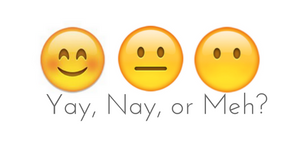 Yay!