Hello everyone!
Archimallows is a pop-up marshmallow shop, with their kitchen located in South Vancouver. They're probably best known for being the adorable pop-up stand at Pacific Center's Holt Renfrew in Downtown Vancouver, but they do private functions all over town.

At the social, Kyle had a small little table decorated with cute pieces of fake moss, fresh marshmallows in mason jars and white rice, finished off with polka dots! I LOVE POLKA DOTS, so naturally we were off to a great start. In fact, I'm wearing my polka dot printed PJs and have my polka dotted phone case to my left right now.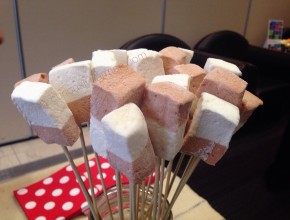 His flavours rotate depending on the week. At the event I attended, he had dark chocolate salted caramel, lemon meringue, vanilla sprinkle, and cola float (pictured above).
After lightly torching the marshmallows, you have a selection of finishing it off with a quick dip in coca-cola or Bailey's (yes, the alcohol). You can see the bowl of Bailey's in the first picture, the cola is a bit hidden behind the marshmallows =)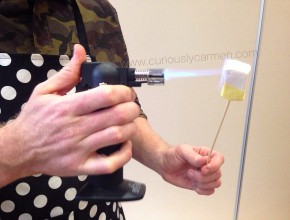 Here is Kyle lightly torching the lemon meringue marshmallow. Each of the marshmallows are individually torched in front of your eyes!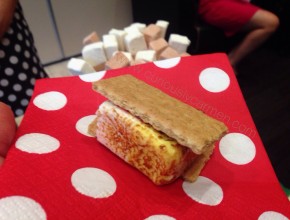 After toasting, Kyle asked if I wanted to try it as a s'more… the answer was a 100 percent YES!
Oh man, this was heaven in a bite. The graham crackers were crunchy and had a light flavour to them, so that it did not steal the spotlight from the marshmallow. The lemon meringue had a slight lemon taste, but it wasn't super sour. It was soft and melted in your mouth, but had a nice, thin crisp exterior.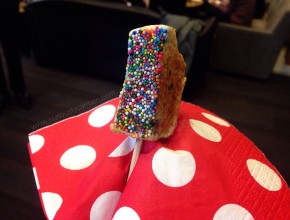 Vanilla sprinkles! Just like the lemon meringue, it tasted really fresh and the marshmallow was very soft. This was dipped in Bailey's so it had a slight caramel taste to it, which enhanced the lightly torched exterior. There isn't much Bailey's on the marshmallow, it is definitely not enough to get you drunk if you're worried about that.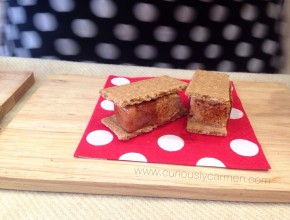 Kyle was also nice enough to make more s'mores for my friends and I! I had the salted caramel s'more, and it was probably my favourite flavour of the night. It came with dark chocolate flakes which were slightly melted due to them being torched. I liked how it was slightly salty and had a caramel taste, even before it was dipped into the Bailey's!
My marshmallow experience before trying Archimallows went only as far as jumbo-puffs, or those generic store brand marshmallows. I got to try and see a whole new wide of fancy, quality marshmallows!
The best bet to find Kyle and his pop up stand is at Holt Renfrew! If you've ever been there, you might recall seeing his stand right near the bridge/tunnel that connects Holts and Pacific Center. Next time I'm in the area (which is often considering I work closely), I am definitely going to try to find Archimallows!
Which flavour sounds the best to you? Dark chocolate salted caramel, lemon meringue, vanilla sprinkle, or cola float? Let me know in the comments down below!
Thanks for reading!
Carmen