It was Lager's birthday and a celebration dinner was in store! Zefferelli's was chosen and being the considerate and good friend Sangria was, she called to check there were dairy free options for me before placing the reservation.
After knowing there were dairy free options, I was quite excited to try it out! It has been at least two years since I've ate Italian food out due to my dairy restriction. Italian food kinda loses its charm once you can't have dairy.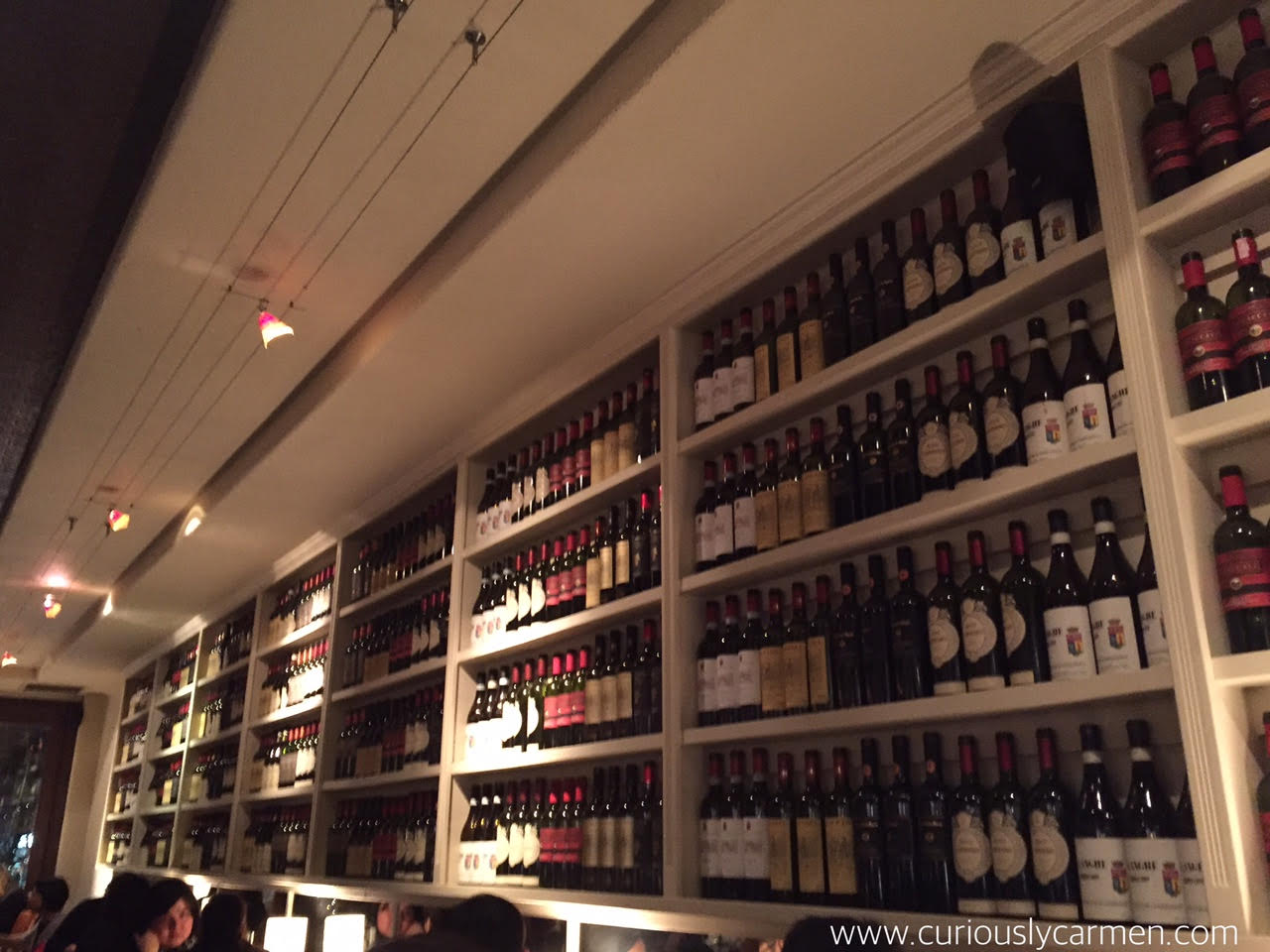 Zefferelli's is located on Robson Street, on the second floor. Immediately walking in, I loved the cozy and classy atmosphere. It reminded me of having a fancy dining party at a rich person's mansion.
The front has wide windows that overlook the trees on Robson, which were still lit up. It felt like Christmas again!
Also, check out that impressive wine wall!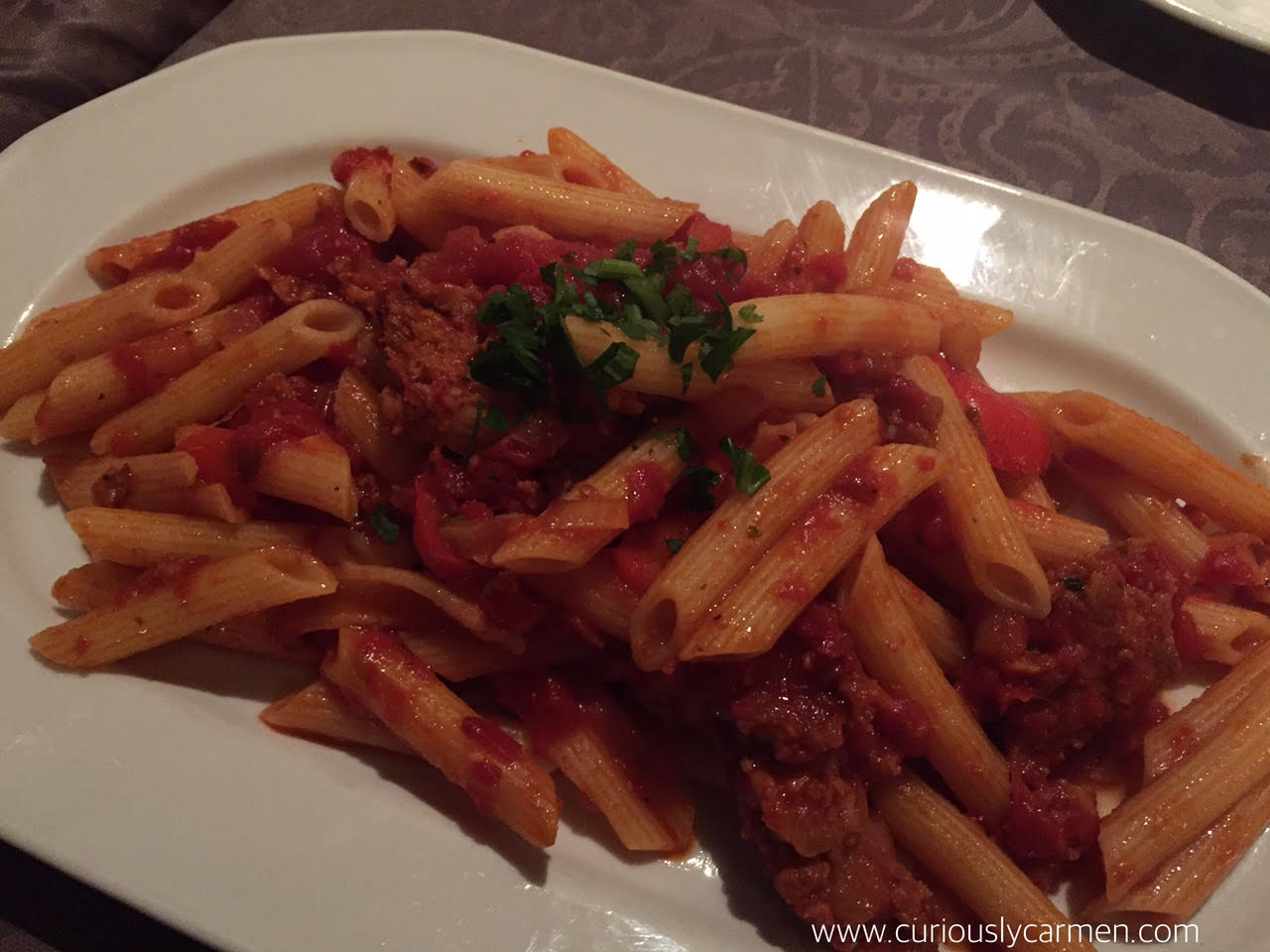 Penne con salsicce, $19: Although our very friendly server told me that all the pastas were able to be modified with a non-dairy sauce, I decided to not make any custom requests. Since I don't eat Italian food often, I wasn't sure if changing a sauce would complement the flavours.
The penne con salsicce already comes dairy free, with roasted peppers, tomato sauce, and italian sausage. The penne was cooked al dente and there was a decent portion. The roasted peppers added some sweetness to it and tasted fresh.
However, the sausage was very salty and I found myself constantly drinking water. Luckily, each table had their own big glass of water!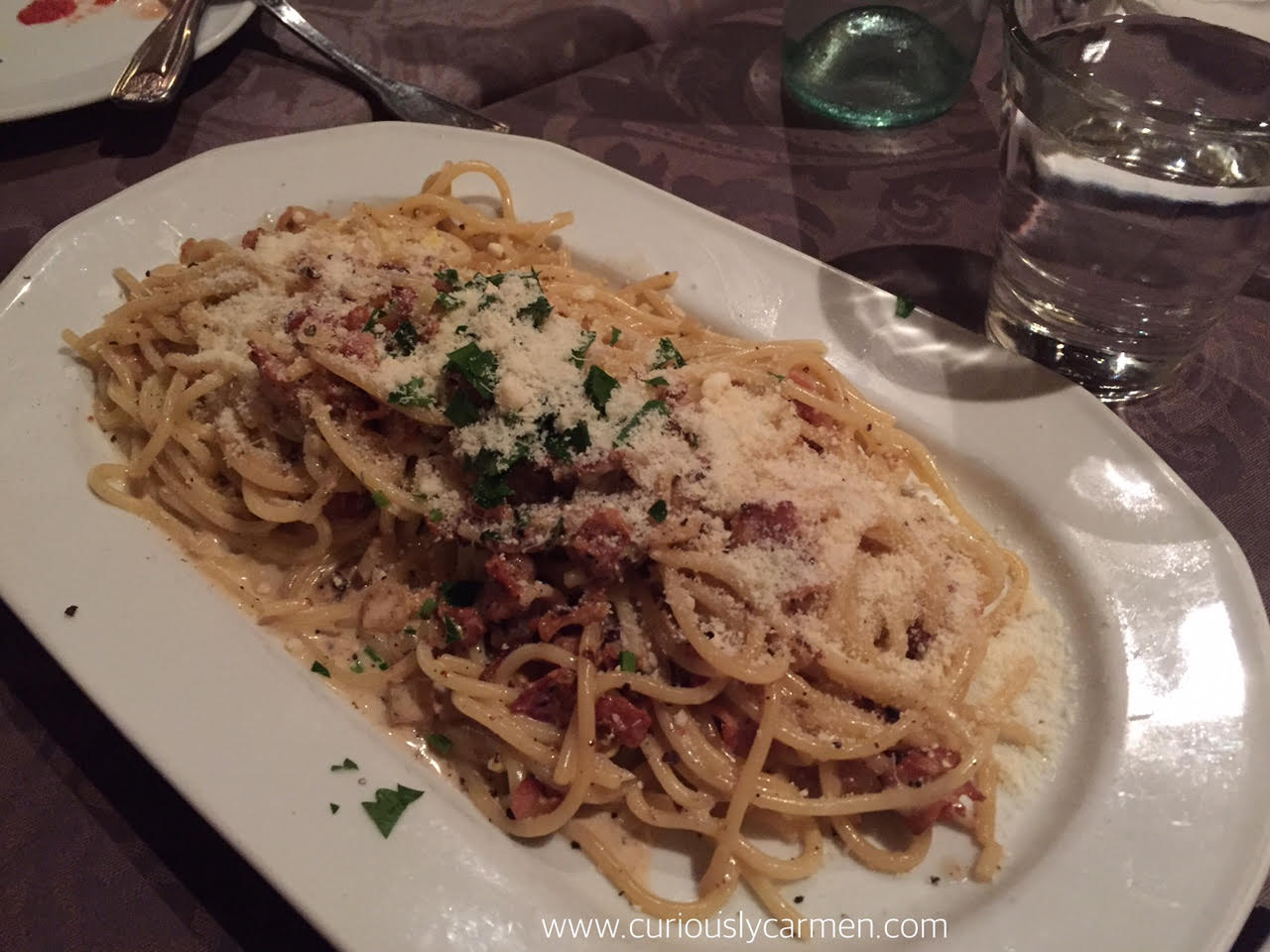 Spaghetti carbonnara, $19: The boyfriend's spaghetti carbonnara came with bacon, egg yolk, black pepper, and cream topped with a copious amount of parmesan. Since I would have died a dairy death from this, I didn't try it.
The boyfriend said it was alright, nothing too special but nothing horrible about it either. He ended up adding lots of chili flakes and regretted it afterwards because it was too spicy. For our table of 10, we drank most of the water and were the ones asking for it to be refilled! Whoops.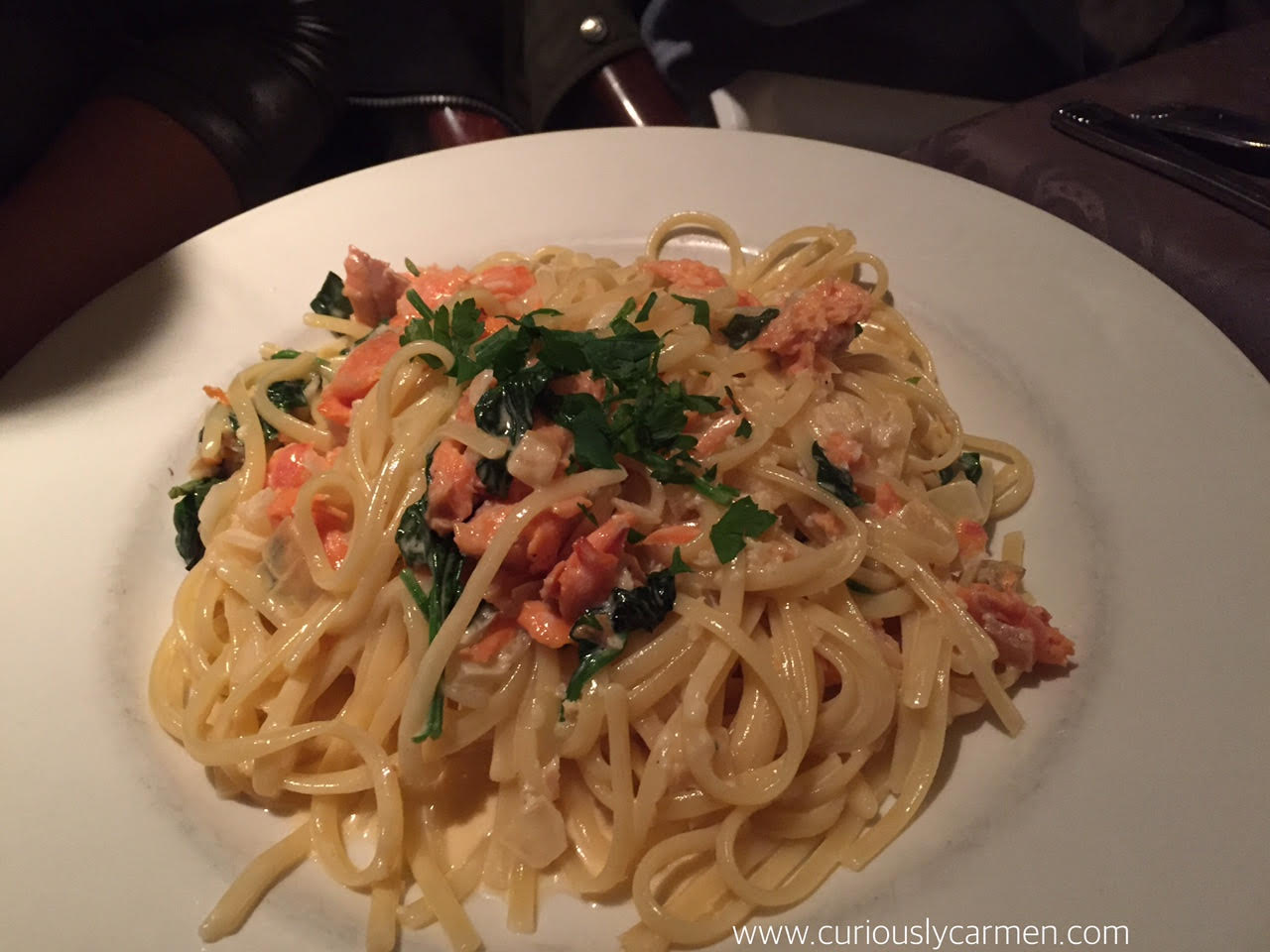 Linguini al salmone, $19.50: Sangria's dish looked very tasty, although I might be bias because I love salmon! This came with BC smoked salmon and spinach in a pernod cream sauce. I learned from writing this post that pernod is a type of French liqueur.
She had no complaints about her dish. The portion was pretty big and she ended up packing some of it home!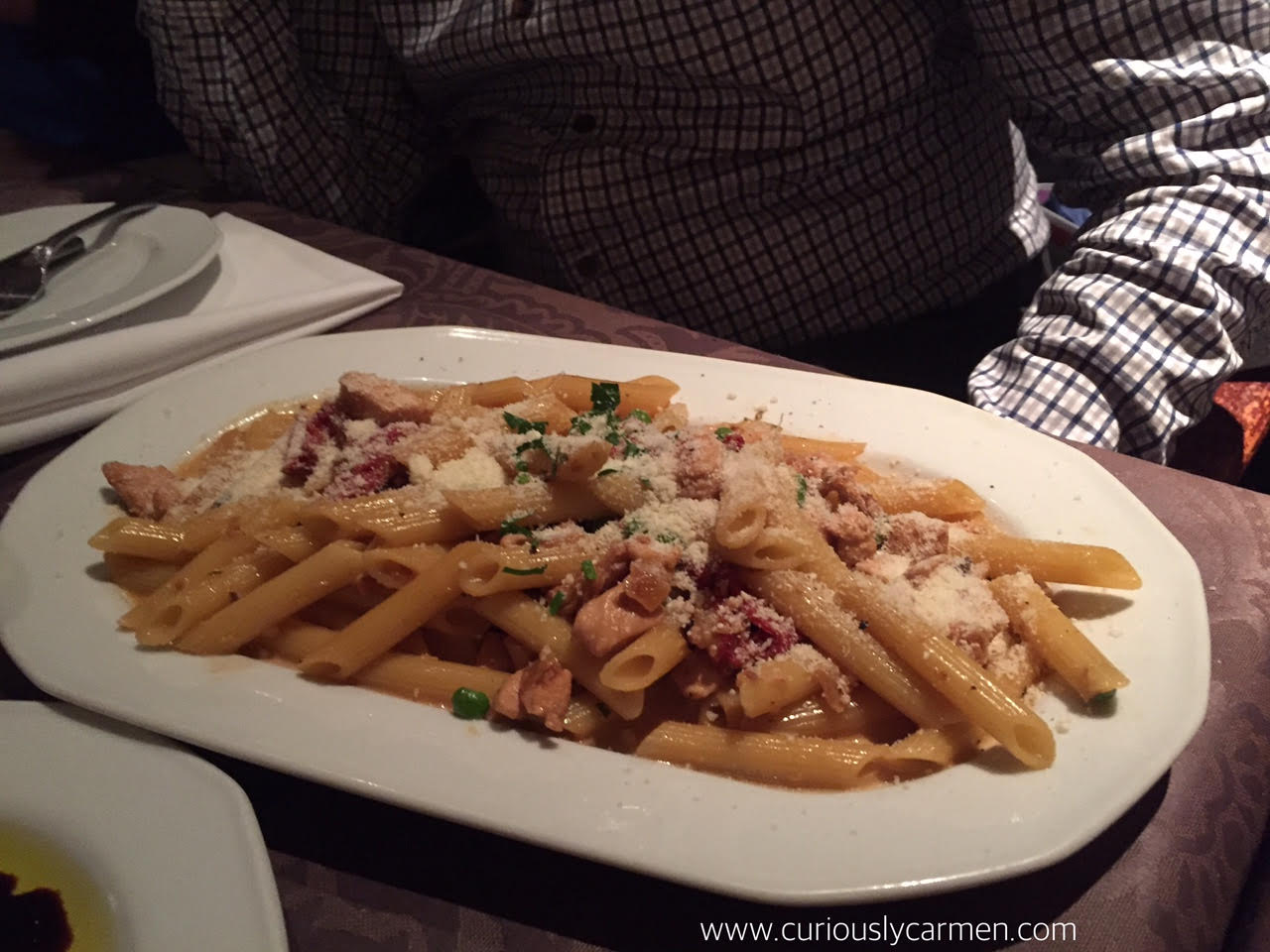 Penne Michelangelo, $19: Lager's pasta came with chicken, sundried tomatoes, peas, and cream. Again, I didn't try it but it looked really good, and he had no complaints!
Service throughout the night was amazing! Our server took note of my dairy restriction, and made sure that my dish would not come into contact with any dairy. He answered all of the questions from the others as well.
While I normally don't eat Italian food out, it was nice to try Zefferelli's and I enjoyed the atmosphere, service, and food. It was a very nice change from my usual food and I would definitely recommend this place for date nights or celebrations.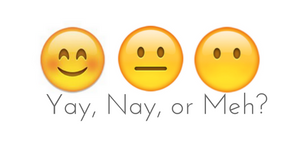 Yay! (Especially for romantic dates)