I have yet to do a makeup bag post because honestly, I don't keep much in my makeup bag. Compared to other videos or blog posts I've seen, my makeup bag is quite minimal. However, I wanted to do a different type of beauty post today so I figured I would talk about it!
These products are in my makeup bag on a daily basis. But if I'm going to a nice event or something, then I would add some touch up products in my bag. I hate carrying many items in my bag so I try to keep it as light as I can!

Hand cream: The hand cream I'm currently using is a Nature Republic one, and was a gift from Korea. It has a nice, light floral scent and is very moisturizing.
Mirror: A tiny mirror is very handy on the go! I have a tiny, two sided bunny mirror that was gifted from Hong Kong.
Advil: You never know when you'll get a headache… so I just keep some incase.
EmergenC: Honestly, I'm not sure why this is in here LOL. I must have brought it with me one time and forgot to use it. Anyways, now I just ended up keeping the pack in there. It'll be good to have if I'm feeling a bit sick.
Tweezers: For that ONE pesky hair that suddenly appears from nowhere! Ugh.
Bandaid: For saving your feet from painful blisters! Or cuts in general.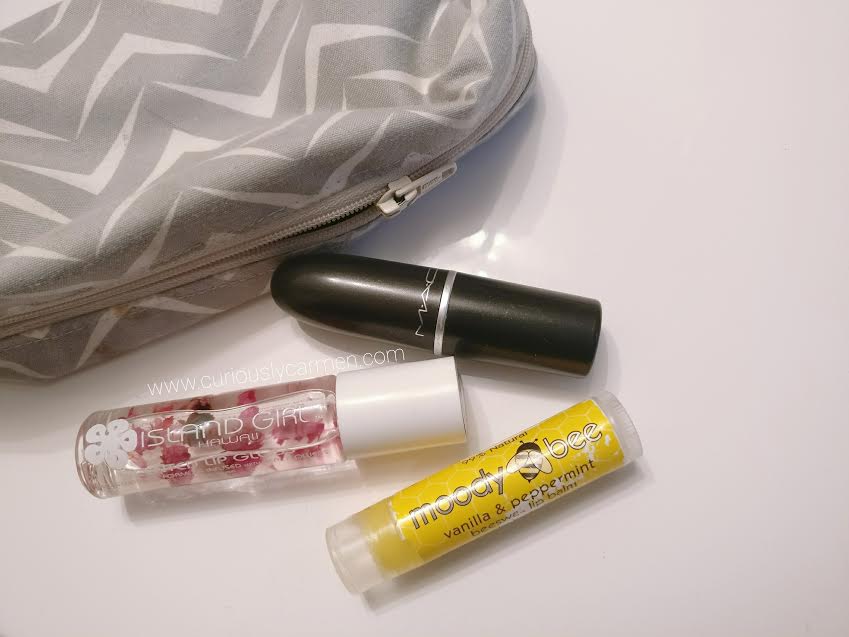 Lip balm: I purchased the Moody Bee lip balm on a whim at work one day, when my lips were super dry and I didn't have lip balm with me. Surprisingly, it's been one of the best lip balms I've used and I use it daily! It's also a local brand which is nice.
Lipstick: I used to carry 3+ different lipsticks in my bag, but that was overkill so now I just have my MAC lipstick in ladybug. It's a nice, classic red that you can't go wrong with!
Lipgloss: Sometimes I like to just use this Island Girl lipgloss for some shine. I also like to layer this with my MAC lipstick above.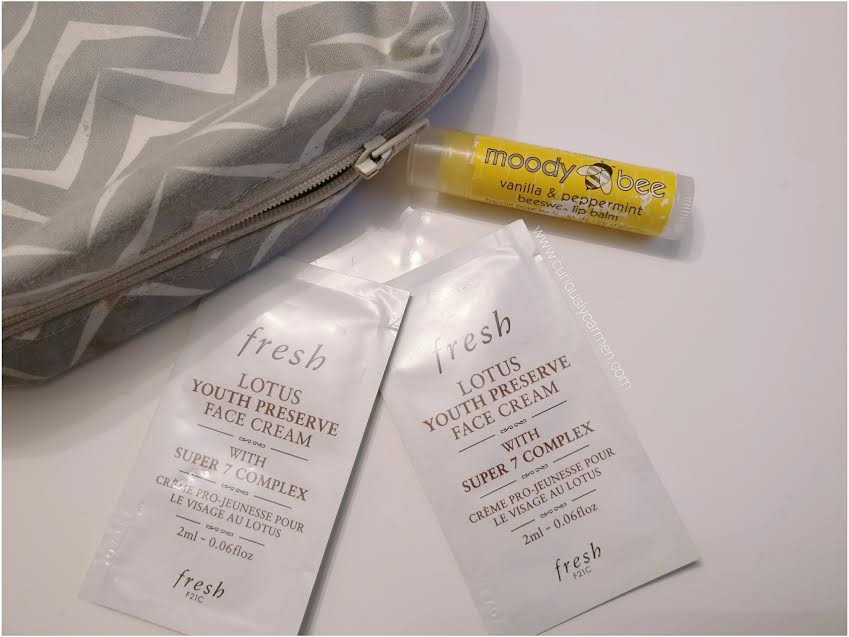 Face cream: Last but not least, I keep a few Fresh face cream samples from Sephora! My skin goes through random dry periods so it's convenient to have this in my makeup bag.
When listing them out, it seems like quite a few products but it really isn't. All of the products are very light and compact, which is what I'm looking for when carrying it around on a daily basis.
What's in your makeup bag?