Hi everybody!
Another noodle shop post today… can you tell I like noodles yet? I stumbled upon this restaurant while looking for Taiwanese noodles to eat around Oakridge back in April (Oops, super late post, sorry!). I was in the mood to try a new place, and the trusty Urbanspoon app told me that Tony's had fairly good ratings and was right across the street from the mall. Wait, what?! I've been to this mall and driven by so many times, yet I've never seen this restaurant.
Turns out the restaurant is located across Oakridge on Cambie street, on the main floor of the building. Honestly, I thought that Tony's was a Chinese herb/medicine store… half of their glass wall is securely gated by a white fence, and I never saw any food pictures!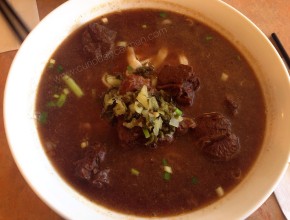 The inside is pretty cramped and seating is not comfortable. Space was maximized for as many tables as they can possibly shove, leaving customers and staff to squeeze in between. Not a good place for a relaxing sit down meal, but somewhere you would go while in a rush and just wanted to fill yourself up with some delicious noodles.
I ordered the standard beef brisket with thick noodle. The soup was good, but I've had better at Wang's… the flavour wasn't as rich here though. The noodles had a nice bouncy and chewy texture to it. Initially, I was starving, but was really full and satisfied by the time the noodles were all gone.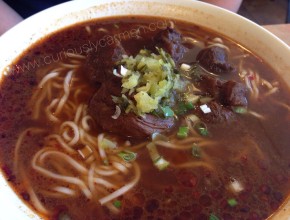 Le boyfriend ordered the beef brisket as well, except with thin noodles and spice. It was only a tad bit spicy for our taste, but he enjoyed his bowl too. We found that the beef brisket here is the winner, and why we would want to come back. It was amazingly tender and came with a generous portion. A lot of times, the brisket contains a lot of tough tendon or fat which is a turn off to eat, but the pieces here were quality, tender brisket pieces.
Service was slow and rushed, but that was to be expected since they were busy. In a city where Taiwanese noodle joints are plentiful, Tony's does not stand out but it's not bad either. I wouldn't mind coming back here if I was in the area, but it's not a place where I would crave their food and drive here just to eat.
Thanks for reading!
-Carmen