Hola! I am back in cold and foggy Vancouver after a beautiful, fun and relaxing vacation to Cancun! I was planning on doing some blogging over there, but unfortunately my laptop charger broke and was rendered useless. 🙁
Stay tuned for some travel posts on Cancun! The first review will be on our resort, Iberostar Cancun! It was both of our first time going to Mexico and doing an all-inclusive.
Can't believe four years has passed since our last vacation, this trip was much needed!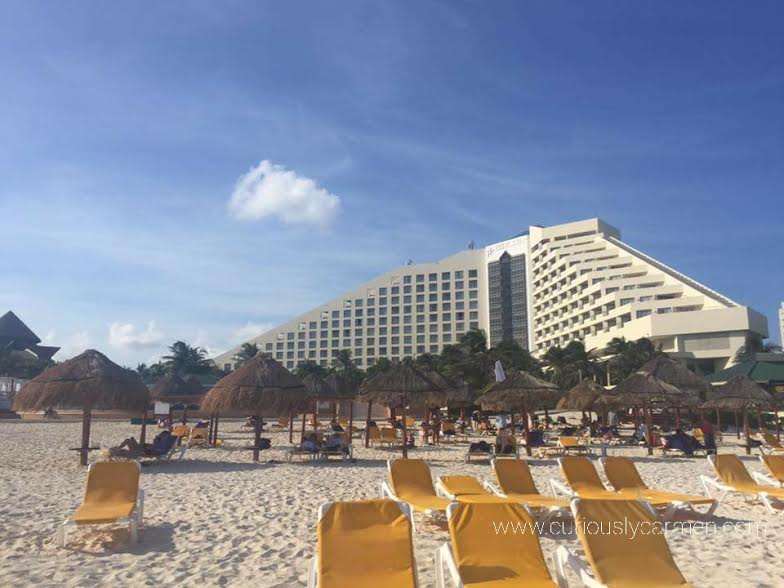 While looking for a place to go, Cancun was surprisingly not our first choice, nor was Mexico. I actually did not want to go to Mexico at all originally, due to all the bad food poisoning stories I have heard. However, we found some really nice resorts, did lots of research on preventing food poisoning and before I knew it, we had booked our tickets to Mexico!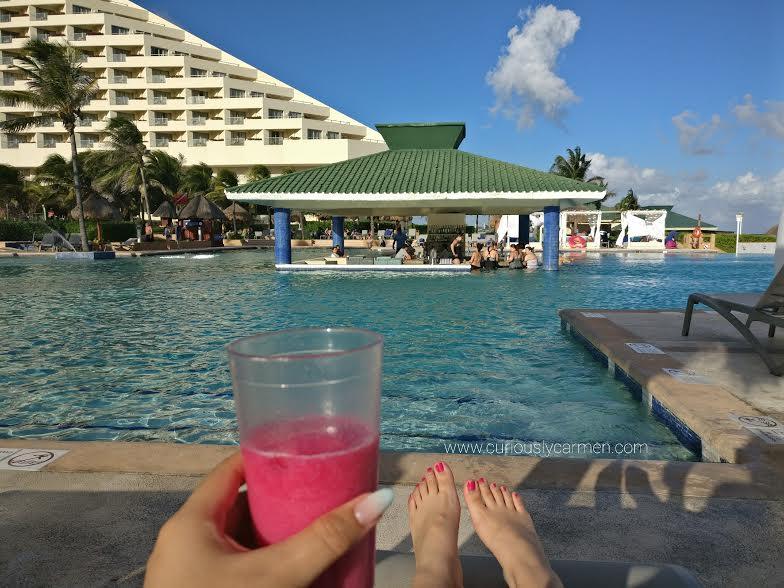 The boyfriend was the one who found Iberostar Cancun online. We were debating on going to Cancun or Puerto Vallarta but decided on Iberostar Cancun because it looked really nice. The trade off was that our trip was shortened 2 days because Iberostar Cancun was more expensive.
I am not even sure how to begin this review because I don't think I will do it justice. Iberostar Cancun met and exceeded all our expectations. It's hard to clearly articulate my thoughts on the resort because all I want to write is IT WAS AMAZING AND BEAUTIFUL YOU NEED TO GO BYE but that isn't too informative now is it? LOL! So let's break it down into five categories: resort grounds, service, beach/pool, entertainment, room, and food.
Resort Grounds
Situated right on the coast, the resort ground was stunning. Infinity pool, swim up bars, endless beach chairs, manicured lawns, palm trees… they did a fantastic job curating the perfect tropical getaway. The resort was clean and spotless, and they used hawks as a natural pest control.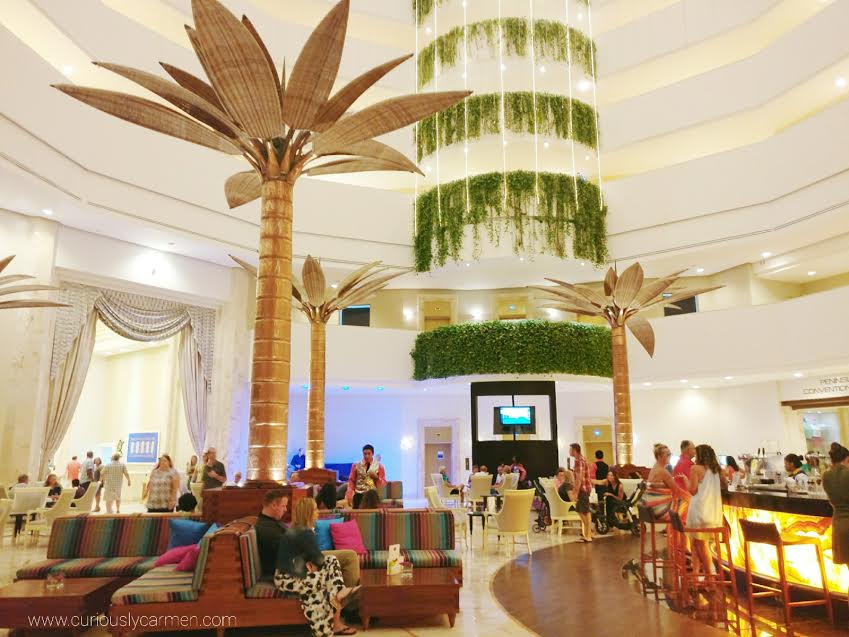 Service
Service was impeccable. The staff at Iberostar Cancun worked really hard to upkeep the beautiful resort grounds, especially the dining staff. We were always greeted by staff while walking around the resort. Over the week, we started to recognize the dining staff as well as the other way around. The only time we didn't have good service was at their Japanese restaurant.
They had a large number of staff working each day to meet the needs of the guests. There was a server on the beach, many waiters/waitresses, groundskeepers, towel staff, bartenders, front desk, and maintenance.
Beach/pool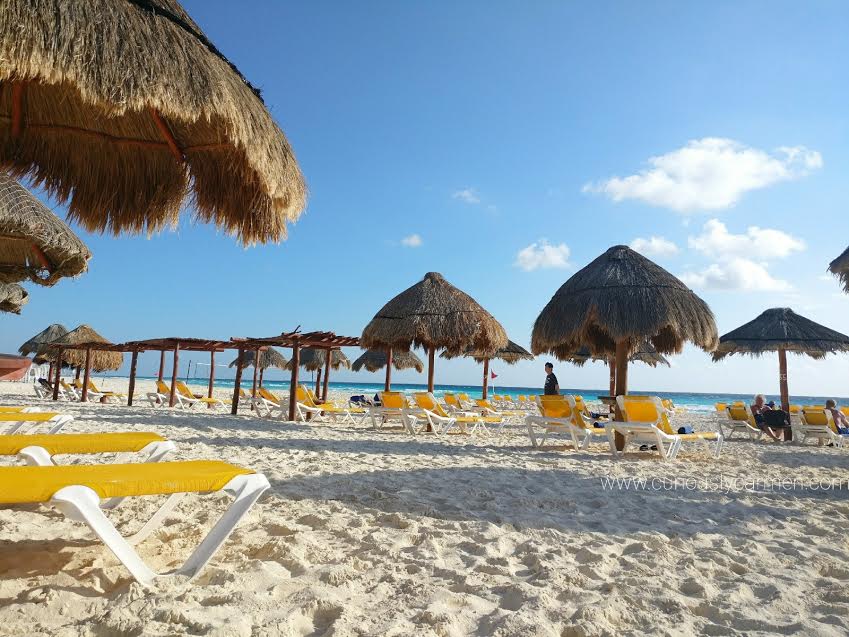 It was my first time on a tropical vacation, and I kept asking myself if I was dreaming or not. The beach was tastefully planned for the ultimate relaxation. I lost count of how many times I drifted off on the beach despite party music playing a few meters away.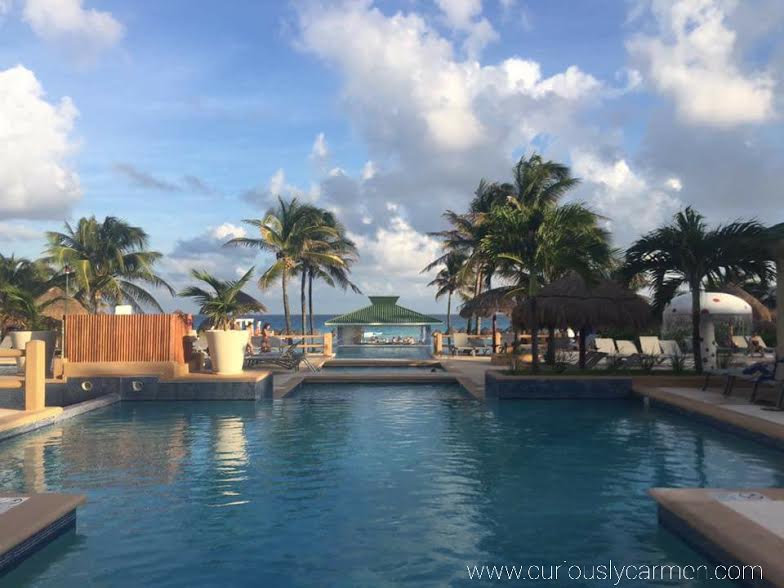 The pool seemed endless as well and planned with thought. There was a swim up bar so that you could chill in the pool while getting drinks. This bar was the most crowded and loud though, I preferred to get my drinks on the beach. The pool only went up to my shoulders and I am 5'3, I think they designed it like that so that guests can just chill with a drink in the pool.
Entertainment
For the first five nights, we didn't take advantage of their nightly entertainment options. We went to the night shows for the last two nights, which start promptly at 9:45pm. The first one we went to was their magic show, which was really impressive and not disappointing at all. The second one was a live Disney musical, where they played clips of certain Disney movies and performers would come out in costume and do a dance routine.
Before the shows, they also had hilarious segments with the audience. It had us cracking up and almost in tears! I wish that we went to more of the shows!
Room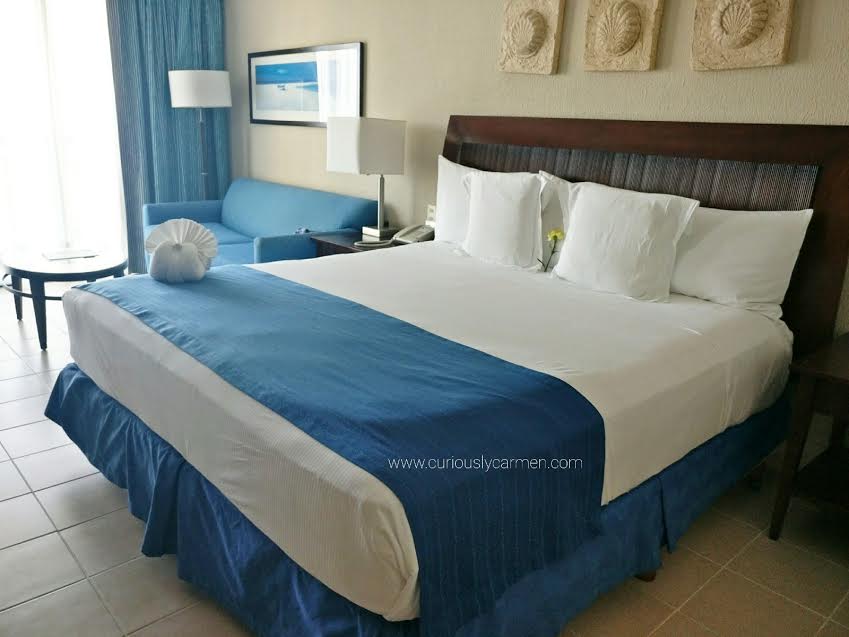 Each room at Iberostar Cancun faces the ocean, so you are guaranteed an ocean view no matter which room type you select. They do not have rooms on the other face that face the street.
Despite having the most basic room, it was very comfortable and relaxing. The king sized bed came with what seemed like an endless supply of pillows, which I had no idea what to do with. The wifi in the room was very strong as there is a router in each room.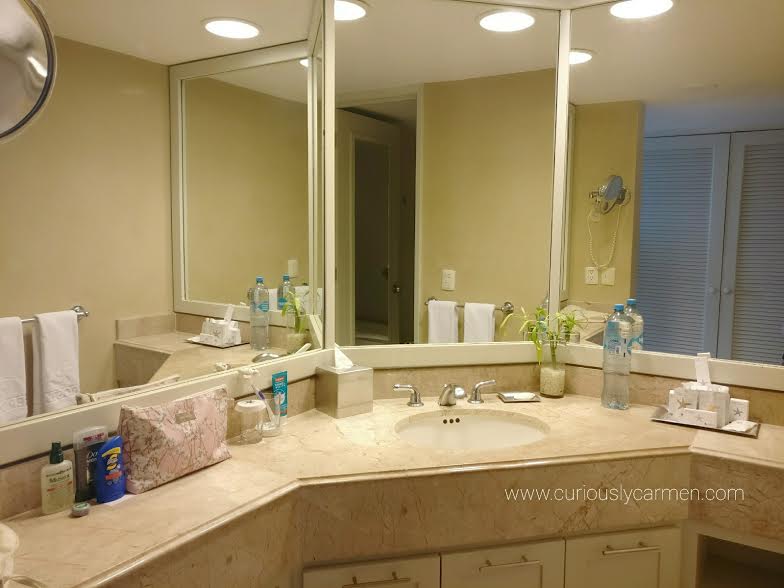 The bathroom is separated into two sections: one area with a large counter and sink, the other with a toliet and shower.
We took advantage of the room service numerous times! It was great after a long day of exploring and when we just wanted to chill. Although they always told us it would take 30 minutes, the food would arrive in under 20 minutes.
Food
Food!!! Iberostar Cancun had many food options… buffet, a fine dining French restaurant, steakhouse, Japanese restaurant, Mexican restaurant, burger bar by the pool, and room service. This does not include the numerous drink bars either!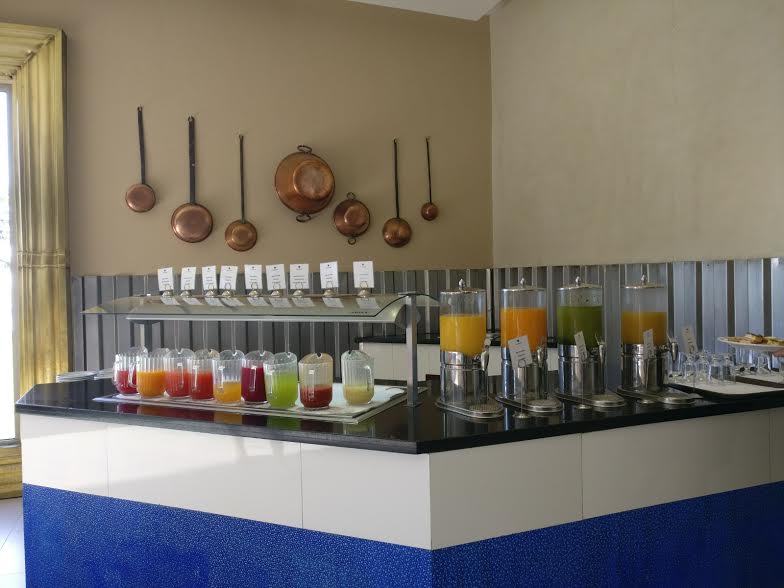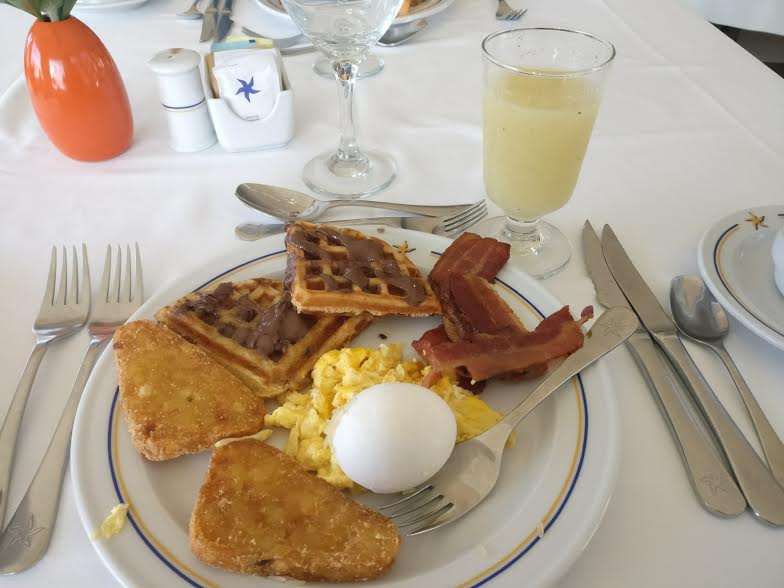 We mainly ate at the buffet and the food was delicious. Main highlights of the food buffet were the fresh guava juice, freshly baked croissants, and guacamole.
The Japanese restaurant was also good, it was teppanyaki so we were able to see the chef cook our meal. It was entertaining and fun.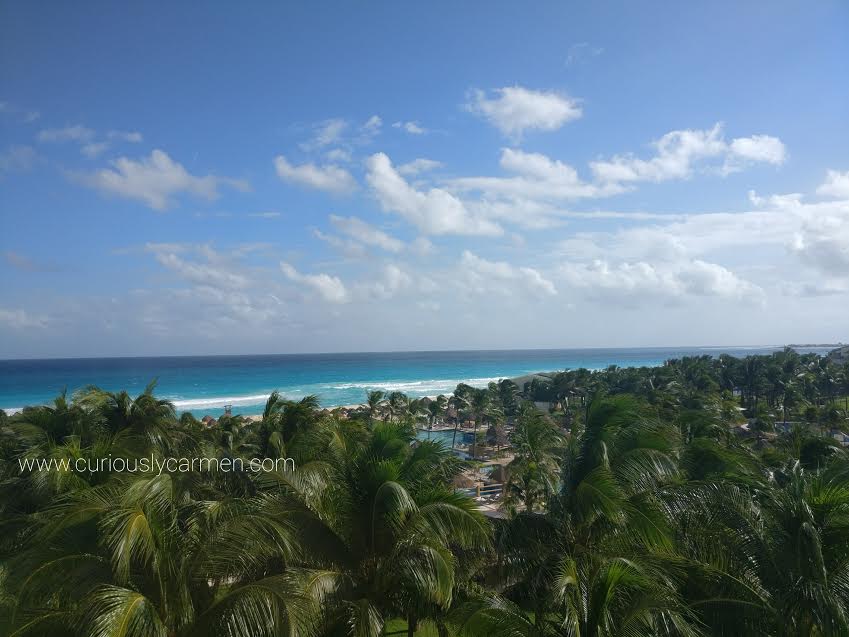 If you're thinking of doing an all-inclusive in Cancun, I would not hesitate one bit to recommend Iberostar Cancun. It was such a great experience here and exactly what we wanted on a tropical getaway. Even though our vacation has ended, I constantly find myself daydreaming about relaxing on the beach under their straw huts with a pina colada in my hand.
Disclaimer:Resort stay purchased by myself. Opinions are own.