The husband and I have been eyeing Gram Cafe since they opened in Canada. We loved the fluffy pancakes in Japan, having been to A Happy Pancake in both Tokyo and Kyoto. Fluffy pancakes aren't as common in Canada, so we were excited to try it when Gram Cafe finally opened at the new Amazing Brentwood!
Gram Cafe is a chain cafe from Japan, which originated in Osaka. They have been slowly opening up a few locations around Vancouver. This review will be for the Brentwood location. At the time of writing, there is also one in Aberdeen Center and in East Vancouver on Kingsway.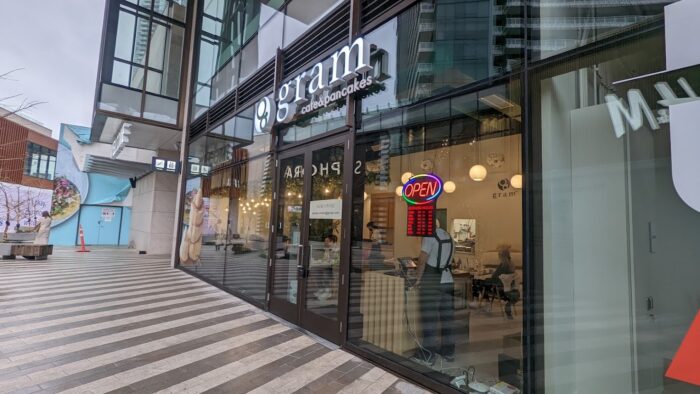 Gram Cafe is located on the street level of the Amazing Cafe, entering through the outside. It is across from Sephora and H&M. As a general rule, I try not to visit restaurants immediately upon opening (usually I like to wait a few months for the restaurant to iron out the kinks) but we were too excited this time around.
The cafe was tastefully decorated and felt spacious. However, I found the chairs to be a bit uncomfortable.
We ended up waiting a really long time for our pancakes. I also noticed that the table next to us, who were here first, did not receive their pancakes until after us (when they ordered the same thing). This wasn't that surprising considering it's a new place, and more on that soon below.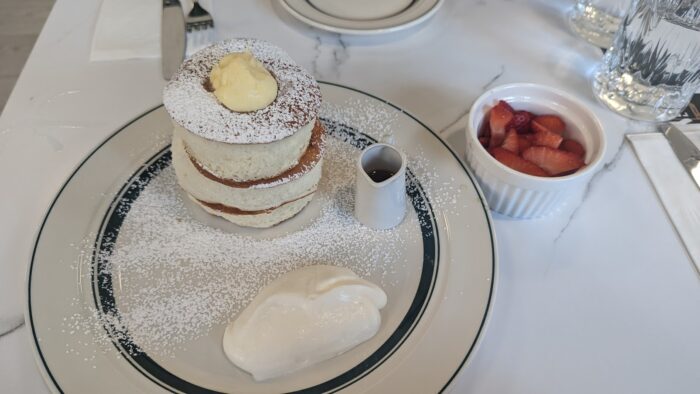 Fluffy pancakes: I went with the fluffy pancakes and ordered whipped cream and strawberries as sides. I found the fluffy pancakes to be alright, but definitely not comparable to the ones in Japan. They weren't as jiggly here, when I shook my plate the pancakes didn't jiggle. Taste wise, they were not bad. For the price, I probably wouldn't order again.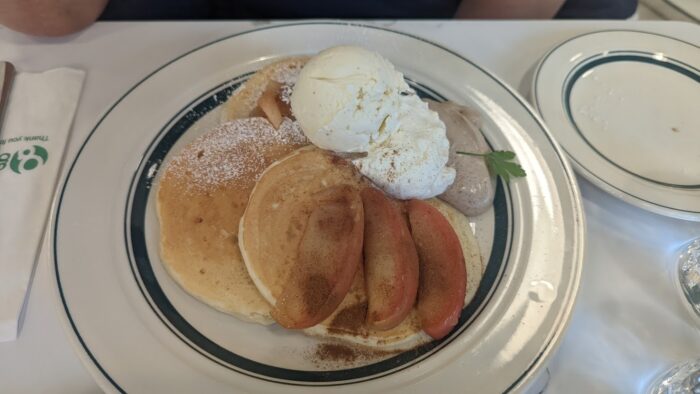 Apple and tea cream pancakes: Surprisingly, the husband didn't get fluffy pancakes! He changed his mind last minute when he saw the Earl Grey whipped cream, which the fluffy pancakes didn't come with.
As mentioned above, the wait was really long for both our dishes. To add to it, my pancakes came about twenty minutes before the husband's. At first, I only had a bite but then my food was getting cold and I was getting hungry, so we ended up sharing it together. Also as mentioned, even though we sat down after, the table before us didn't get their fluffy pancakes first.
The husband thought that the pancakes themselves were nothing special, but the Earl Grey whipped cream was delicious.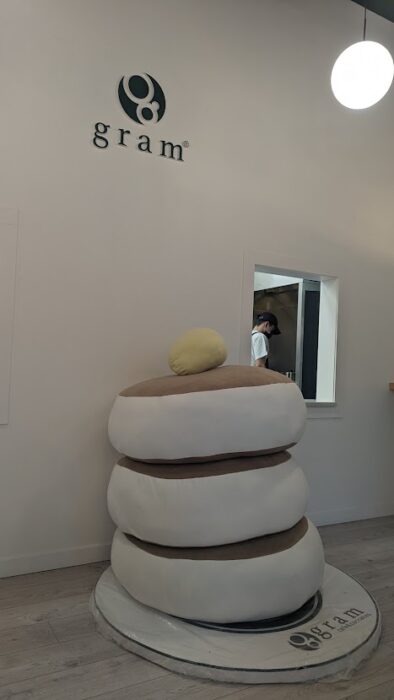 ---
All in all, Gram Cafe definitely had some growing pains to experience as with most new restaurants, so I won't be too harsh on them. By now, it's been half a year since they opened so hopefully the wait and flow has improved. Although decent, we both found it to be overpriced for what it was. I think we will save our fluffy pancakes experience when Japan opens up to tourists again (without having to go on a group tour).