Earlier this year, I found a Groupon for Minoas Greek Taverna! It had decent reviews and looked enticing, so I bought it and forgot about it. In true Groupon fashion, we finally went to try this place a couple of weeks before it expired.
The deal was $30 towards dinner, which I purchased for around $12 because there was an additional 20% sale. For the sake of this post, I will include the regular price as there doesn't seem to be a deal anymore.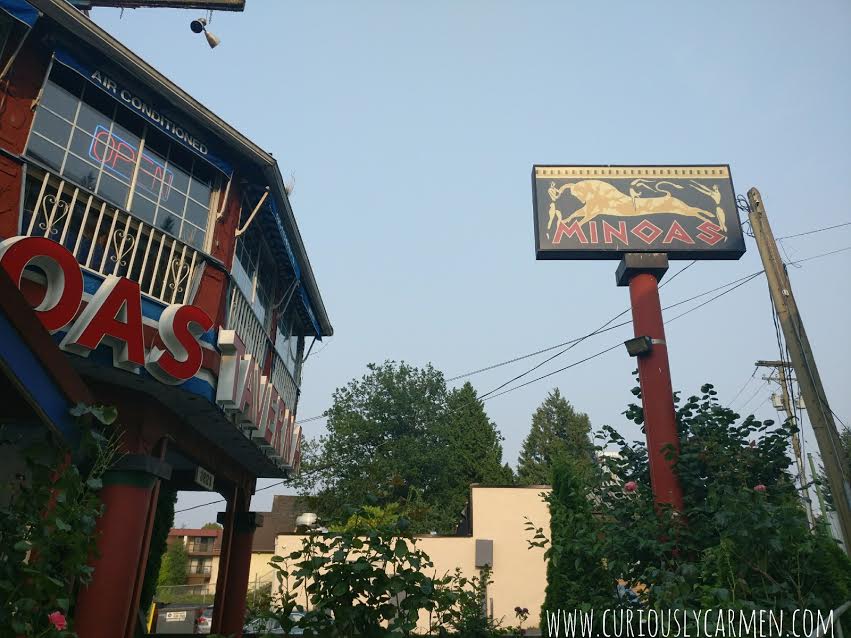 Minoas Greek Tavern has been around for a long time now, since the 80s or early 90s I believe! It is slightly hidden behind some trees and the Skytrain covers it a bit. It is located just off Boundary Road, across from Central Park.
There was parking behind the restaurant which was nice! The restaurant used to be a house in the 60s/70s, as we saw old pictures in the restaurant to commemorate their past.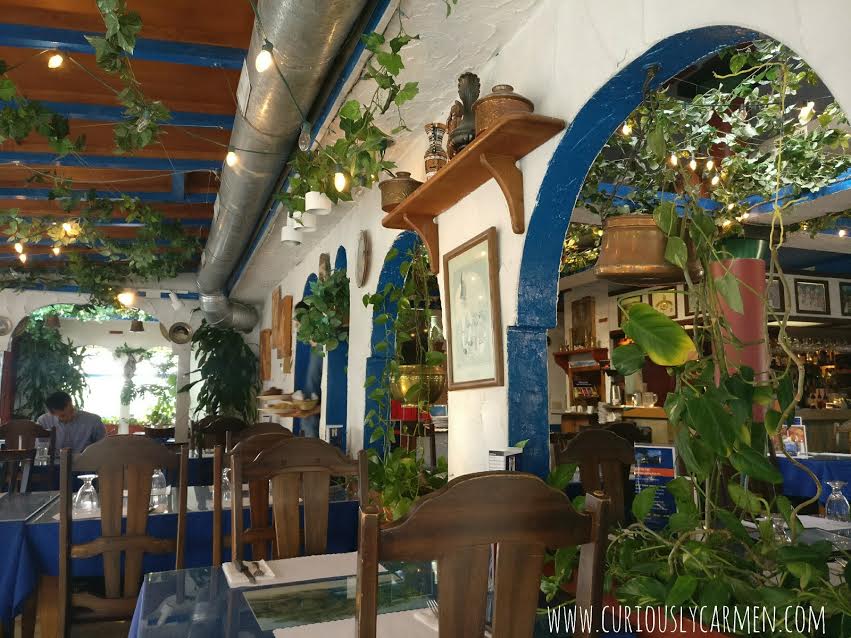 I love the decor of Greek restaurants! Minoas was no different. I really enjoyed looking around at the paintings, plants, and ornaments scattered throughout the restaurant.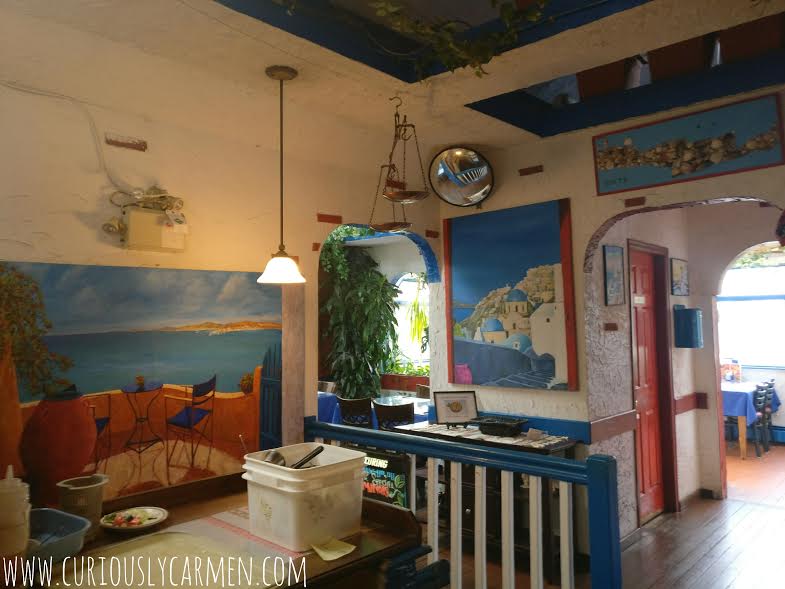 Some more beautiful paintings in the restaurant! One thing to note, the restaurant is on the second floor of the old house. The first floor is used for events and also is where the kitchen is. I'm not too sure if there is an elevator, I don't believe I saw one that day but I could be mistaken.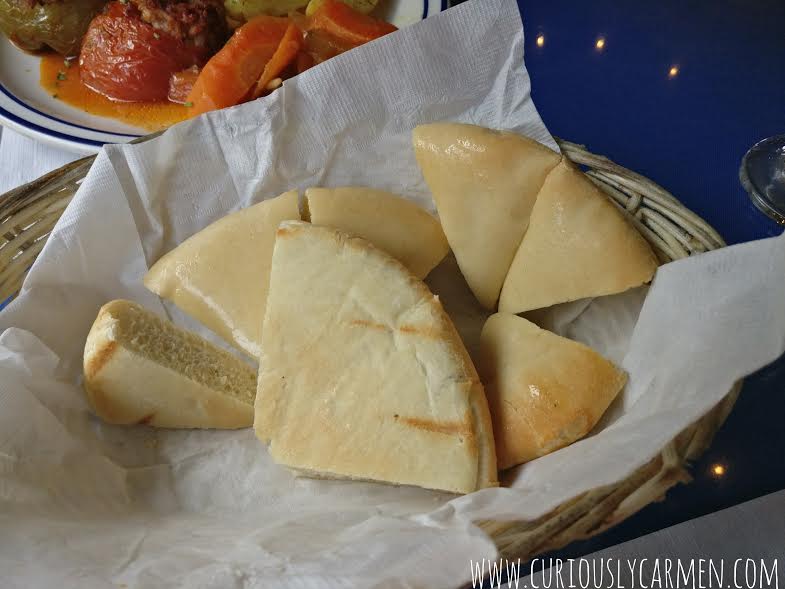 Pita bread, free: The complimentary pita bread was soft, thick and filling. It was lightly brushed in oil, I am assuming it was olive oil.
However, it could have used a bit more flavour with some herbs and olive oil/vinagrette for dipping.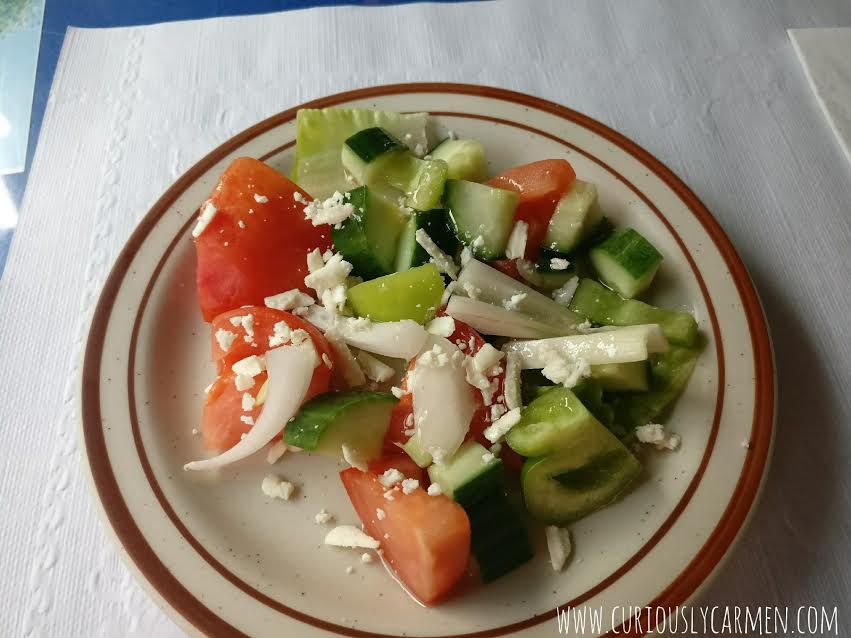 Greek salad, free: Both of our entrees came with Greek salad. This was the boyfriend's salad as I asked for a dairy-free version (so basically without the feta cheese). I enjoyed the salad as it all the vegetables were fresh and crunchy but there were some small things that could have been improved.
Just like the pita bread, we didn't find it to have much flavour. It could have benefited more with a sprinkle of herbs, salt or pepper. As well, the peppers didn't taste ripe enough.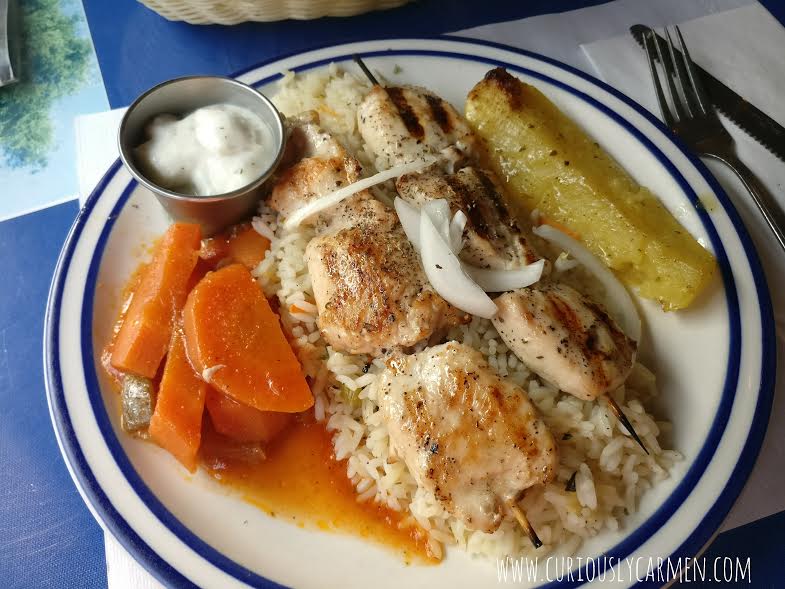 Chicken souvlaki: My go-to for Greek food! The chicken souvlaki was cooked perfectly, very juicy and had a nice grilled flavour to it. For the seasoning, it was a bit bland so I added some salt which was a lot better.
Nothing to complain about with the carrots, rice, or potato. With the Greek salad and pita bread, this was a VERY filling dinner and I ended up having to pack some of it home!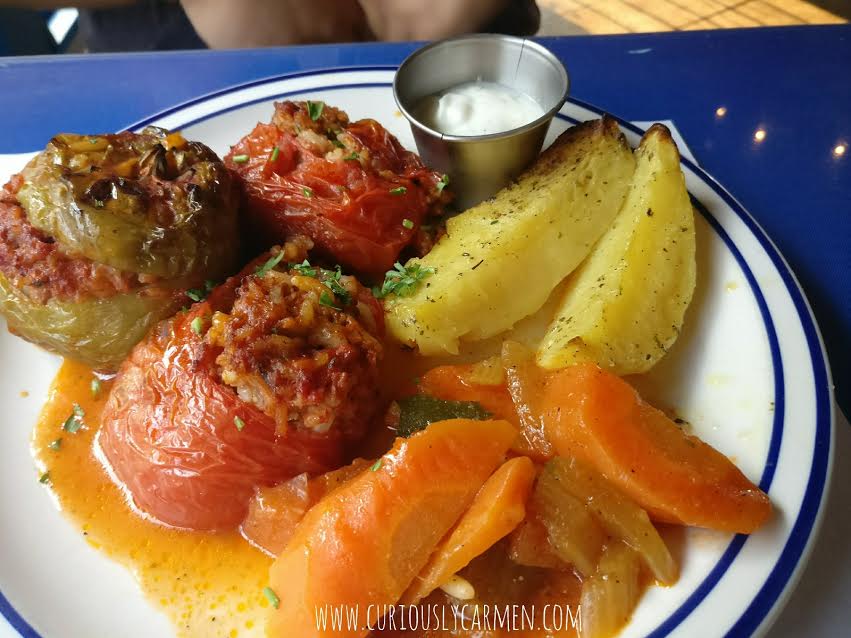 Yemista, $15.95: The yemista was peppers stuffed with beef, tomato, and rice. The boyfriend really enjoyed his dish. There was a good amount of beef inside and all the flavours went together perfectly.
Despite some of the dishes being a bit bland (pita bread, salad, and chicken), we really enjoyed our visit to Minoas. The portions were excellent, ingredients were fresh and service was good. I would definitely consider coming back even without a Groupon. The full price meals are worth it!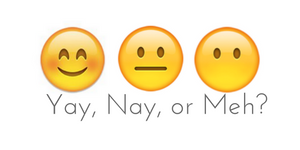 Yay!