Last summer, I stayed at my first ever Airbnb!
Even though it was my first experience living in an Airbnb, it didn't really feel like it because I was browsing Airbnb almost daily at times! Our first choice had a strict cancellation policy and we weren't entirely sure of our dates yet, so we wouldn't be able to get a full refund if we had to slightly alter our dates.
We ended up choosing this basement suite because it had a flexible policy, so we figured we could at least secure a place during the busiest season in Kelowna! I am really glad we stayed here because it was a great experience.
After finding this place and doing extensive research (proximity to attractions we wanted to go, reviews, host reviews, looking at the pictures thoroughly, etc), we couldn't have found a better deal for the price.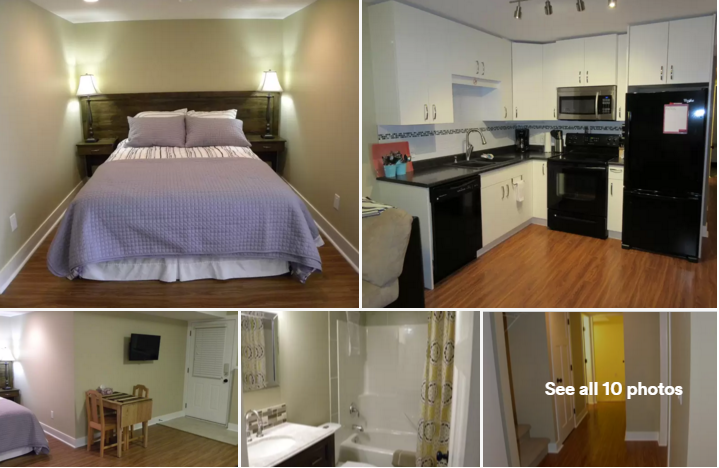 Our host, Kristine, was great and lived upstairs. She was easily accessible via the Airbnb messaging app. The place was very clean, spacious, and matched the pictures exactly. We loved how there was a full kitchen and lots of comfortable space in the suite.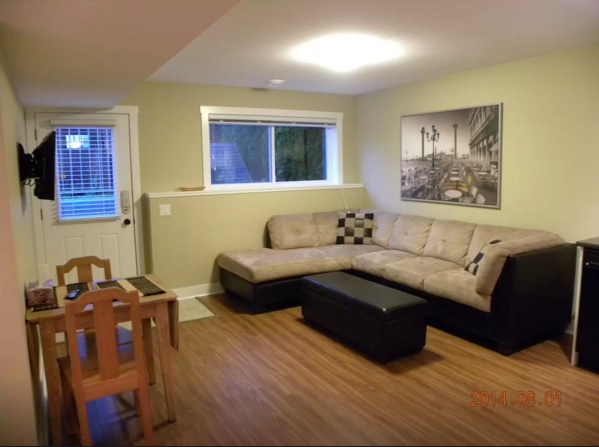 Entrance/living room: After entering through a passcode lock rather than a key, you will see the living room and kitchen. After our busy days exploring Kelowna, we spent a lot of time lounging on the couches after. There was also a HDMI cable provided, so I was able to watch Netflix/Youtube off my laptop.
However, I just went back to the review now and looks like Kristine has added Netflix to the suite!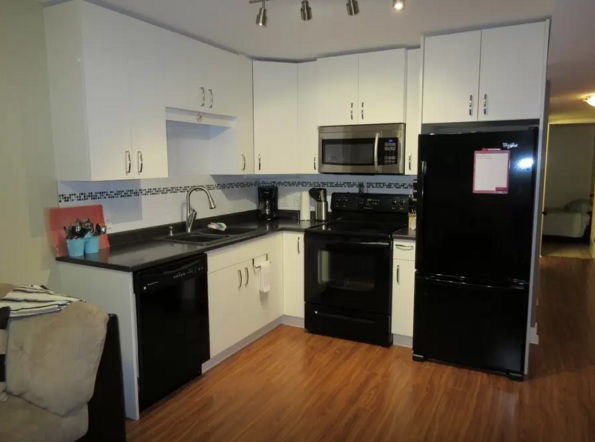 Kitchen: Directly beside the living room, is the full kitchen. There was all the supplies and spices we would ever need, and more! We cooked here once only, which was a smooth experience. We mainly used the fridge to store our leftovers and water bottles.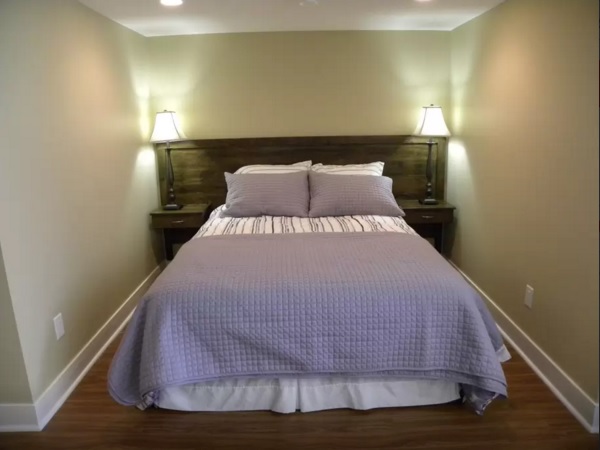 Bedroom: Across from the living room and kitchen is a small area that fits a queen sized bed perfectly. The bed was very comfortable, plushy, and I slept really well on it. There is also a small twin bed in the laundry room, which is not as comfortable as this bed.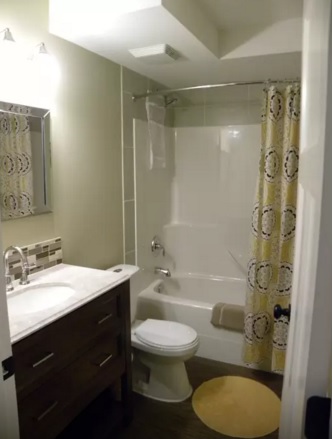 Washroom: The washroom was pretty standard, but I liked how there was a coordinating yellow theme. The shampoo, conditioner, and soap provided was also a good quality brand – Aveeno! I appreciated this small gesture because I usually find hotel toiletries to not work as well.
I would recommend this place for three people, MAYBE four if someone does not mind sleeping on the couch. This place was also very convenience to drive around town and to the attractions. The neighbourhood was very quiet and it felt safe.
It is a 3 minute drive to Orchard Park Mall, which is the largest mall in Kelowna. The longest we had to drive was probably 30 minutes to reach the wineries in the countryside. You could easily reach the major supermarkets such as Superstore and Save On in 5 minutes!
You are probably wondering how you can book this place on your next visit to Kelowna. Well, here is the link to the listing we stayed at!
 *Photos are not mine, and were taken from the Airbnb site