Hi everyone!
I first noticed Peqish in January after our office had moved closer to this area. My coworkers came here one morning, and arrived back at the office with piping hot, melt in your mouth, freshly made chocolate cookies. We decided to try this place out for lunch a few months ago in February.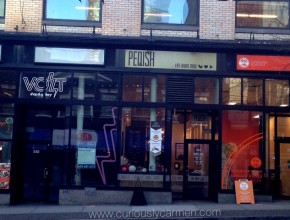 As you can see, Peqish is pretty small. The concept behind Peqish was to provide people with healthy fast food on the go. Each of their items are made fresh daily. With emphasis on the express, the place has a mere 5 bar seats which is pretty narrow. You also order your coffee/drinks on the computer and pay there, similar to restaurants that I've seen in Tokyo with the same system.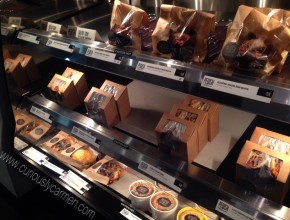 The shelves are filled with healthy sandwiches, wraps, mini salads, and smoothies. This is a picture of their hot food section, while 3/4 of the other items are stored in a fridge. There were so many to pick from and took us all awhile to decide on what to order. So many decisions.

I settled on the  "bohemian wrapsody" – shwarma beef, hummus, tahini sauce, peppers, and carrots enveloped in a Middle Eastern style flatbread. I also got one of their "protein booster" chicken snacks and the green smoothie made with kale, coconut, and pineapple. This was a lunch combo for $10.
I found both the meat in the wrap and protein snack to be extremely dry. It took me awhile to finish because it was so dry, which was disappointing. Aside from that, the vegetables were fresh and sauces were flavourful. There is a lot of potential in the wrap, but sadly the meat was just too dry to be edible.
On the other hand, I really enjoyed the smoothie and think I'll be back in the future to get this. The coconut and pineapple were really strong, and it tasted refreshing! Much healthier and cheaper than going to Starbucks, haha.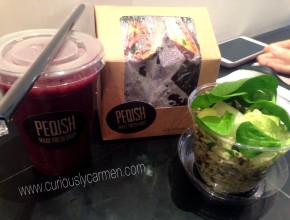 My coworker ordered the 5 spice pulled pork wrap from the hot shelf (mine was from the fridge shelf). Like my meat, the pulled pork was extremely dry.
For her side, she chose the orzo pasta salad cup which was really good. It had a good amount of herbs and the vegetables tasted fresh.
She ordered the berry smoothie, but said it was disappointing because all she could taste was the banana. It tasted exactly like a pure banana smoothie but berry coloured… but bananas are easily over powering in smoothies so it's important to get the ratio right!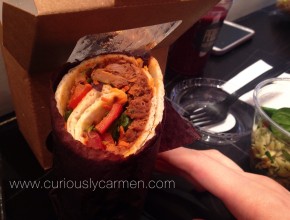 This is a close up of my coworker's pulled pork wrap, since the previous picture is just covered in condensation.
Overall, we were disappointed with the wraps since the meat was so dry and inedible, but I liked the green smoothie and she enjoyed her pasta salad cup. I'm not sure if we will be back for the sandwiches, but I did enjoy the smoothie and wouldn't mind having another one!
Thanks for reading!
-Carmen