I have a few reviews on all of the Deer Garden locations, but it bothered me that the last time I wrote a review on the Fraser St location, my go-to Deer Garden location, was five years ago! The fiance and I come here often, but I never ended up writing a revisit post until now. You can also read my previous posts on other Deer Garden locations.
We were quickly seated and asked for contact information for tracing. Service here is usually not friendly, but at least they are efficient and fast.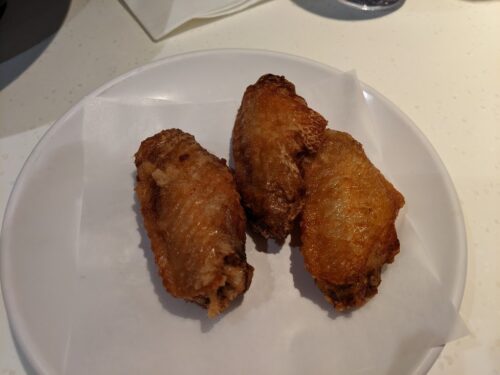 Desert chicken wings: We rarely order the sides here because the noodle portions are so big already, but we were very hungry that day!
The name "desert chicken wings" always gave me a chuckle because I'm not sure where the desert part comes in. Nonetheless, the chicken wings were delicious! They were piping hot, crunchy and juicy and reminded me of chicken karage.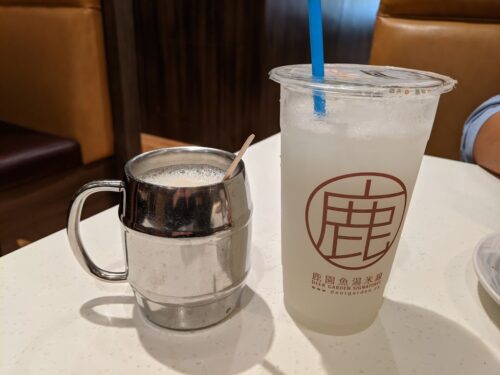 Drinks: The soup combos come with a drink too. The hot drinks are usually free unless you order one with lemon. I got the almond milk, but I should warn my lactose intolerant peeps that I'm pretty sure they add milk powder or condensed milk to it because it's quite creamy. The fiance got the cold calpis drink.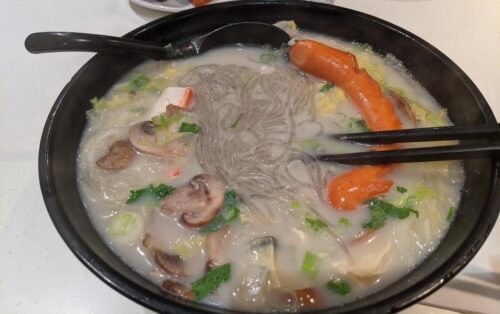 DIY Soup Noodle: I've been getting the same bowl of noodles with a few minor revisions over the past 5 years. My go to is the century egg and parsley soup with crystal noodles. For the toppings, I've been getting sausage and extra bean curd these days.
I used to get the vermicelli noodles, but about a year ago, they changed noodle brands and the new one wasn't as good. Also, they used to have fresh bean curd which I was a huge fan of… They "temporarily" sold out though, and by "temporary" I mean that there has been a hand written sign on the wall for over a year. I've pretty much given up on having fresh bean curd here anymore, which is more silky and light.
Despite the changes, the broth was delicious as usual. The sausage was nicely grilled before putting it into the broth. The portion was enormous as usual and it's hard to leave Deer Garden hungry.
DIY soup noodles: The fiance either picks from the spicy peanut broth or laksa broth. On this visit, he went with the laksa broth. I never got into laksa broth surprisingly enough, but I don't mind taking a few sips here and there. The laksa broth was creamy and flavourful with a subtle hint of spice.
For the toppings, he went with egg noodles, luncheon meat and beef. It was a very satisfying bowl of noodles.
No matter which Deer Garden you go to, they are always consistent and delicious. It's a staple Asian restaurant in Vancouver and popular for good reasons. They have the best DIY soup combos with huge portions and a decent price.