We have been enjoying our poke bowls lately! It started with ordering delivery a few times from Pacific Poke. As we know how smartphones track our every move, I received a BOGO coupon for The Poke Guy shortly afterwards. This was definitely not a coincidence, we are all being watched Black Mirror style! But I guess I got a free poke bowl from it this time?? Lol!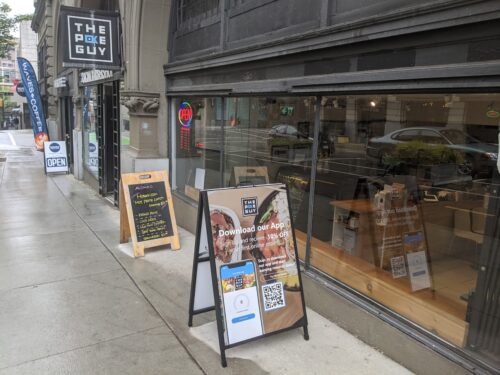 The Poke Guy is located in downtown, by West Hastings and Richards Street. I've been here many years ago briefly, when one of my friends was working here. I didn't write a review that time but I remembered the poke was good.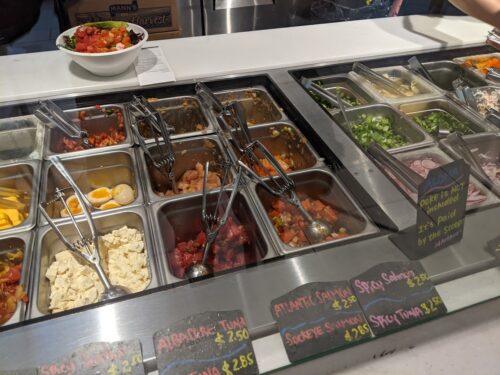 The Poke Guy can be slightly easy to miss. You have to walk a few steps down to go inside. Currently due to COVID, they are operating by take out only but they used to have some small tables. They have a menu of their signature poke bowls, or you can create your own bowl.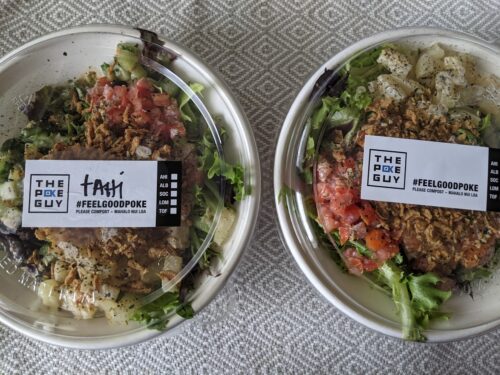 Aloha bowl: The aloha bowl was a smaller version of their regular poke bowls, and was available as a spring special. I thought it was a pretty good snack size, or if you have a small appetite, this would suffice for a meal. With the aloha bowl, you can choose between the Ahi tuna or Atlantic salmon, and a base of sushi rice or brown rice. The toppings include salad, pineapple, cucumber, tomato, green onions, sesame dressing, fried onions, and furikake flakes.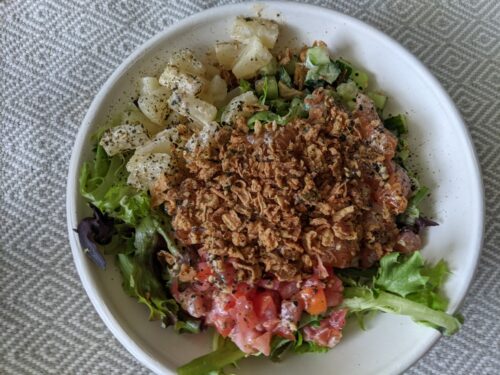 For myself, I went with the Atlantic salmon and brown rice. This was so delicious. The salmon was fresh and marinated well. The sesame dressing was creamy, and the fried onions and furikake flakes elevated the poke bowl even more. Everything went well together and I would definitely get this again.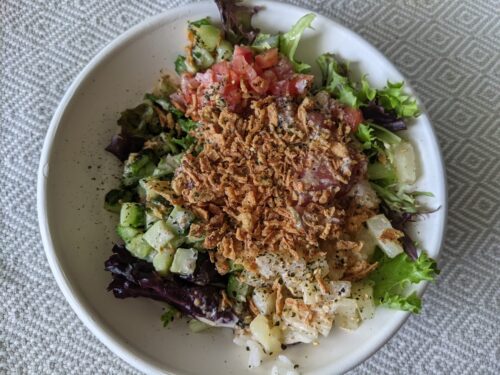 Aloha bowl: The fiance went with the Ahi tuna and sushi rice. He enjoyed his bowl as much as I did, if not even more! The tuna was really fresh and also marinated well. Apart from the tuna, he also noted that the fried onions and furikake flakes made the poke bowl taste so much better. Two simple toppings, but delicious!
Prior to The Poke Guy, we primarily ordered from Pacific Poke or made our own poke bowls. After having The Poke Guy, I actually prefer it more than Pacific Poke (although Pacific Poke isn't bad either). I found that the poke has more marinade here and is more saucy, plus the fried onions go so well with it! We will definitely be back when we are in the area.