I have been wanting to go to a small ice cream shop in Port Moody called Vashti Rose for awhile. Since we were coming to this area, I thought it was a good time to see what else was around here and saw a Korean restaurant by the name of TangMaRu.
Our favourite Korean place, Jong Ga, has sadly shut down, we have been wanting to find a new place to go when craving stone bowl rice.
We also spontaneously asked Sangria and Lager if they were free to join, so the 4 of us went together!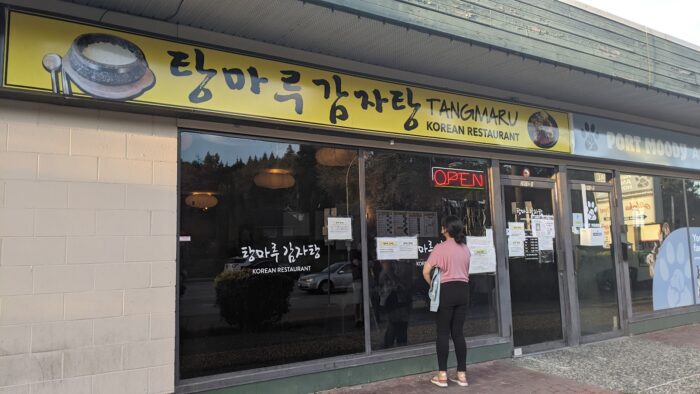 TangMaRu is easily missed if you aren't looking for it. They are in a strip mall that has parking, but it was full when we went and parked a couple of blocks down.
While waiting outside, you are instructed to take a look at the menu and decide what you'd like to order. When you're ready, you go inside and put down your name, # of people, and the item # of what you'd like to order.
The process was a bit confusing to us at first and not explained well by the server.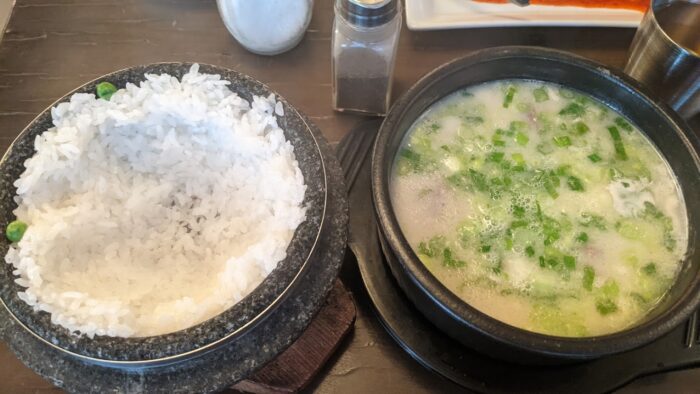 Ox bone soup: I was happy to see what they had stone bowl here for no extra cost. Most places charge an additional $3-4 for stone bowl. When the stone bowl rice comes, you should first open the lid and spread the rice evenly to the top of the bowl so that you can have more crispy rice. Then, leave it closed for about 8-10 minutes to crisp the rice, while eating other things.
My ox bone soup was good, and I had no complaints about it. You add in your own salt and pepper as with most ox bone soup.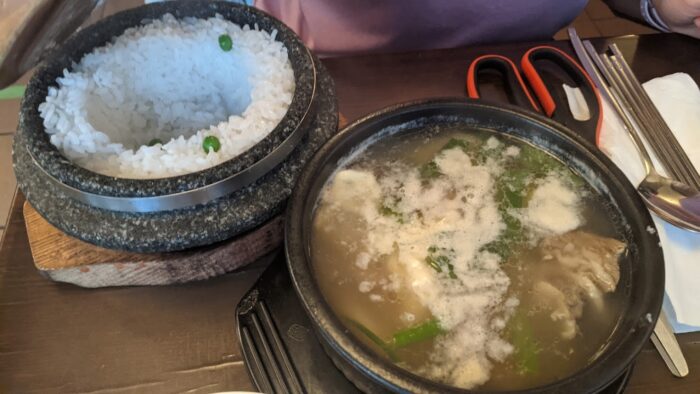 Beef short rib soup: Sangria ordered the beef short rib soup. Compared to the ox bone soup, beef short rib soup is more flavourful and you don't have to season it with salt. There is usually a more garlicky and deeper flavour with beef short rib soup.
Sangria had no complaints about it and found it delicious.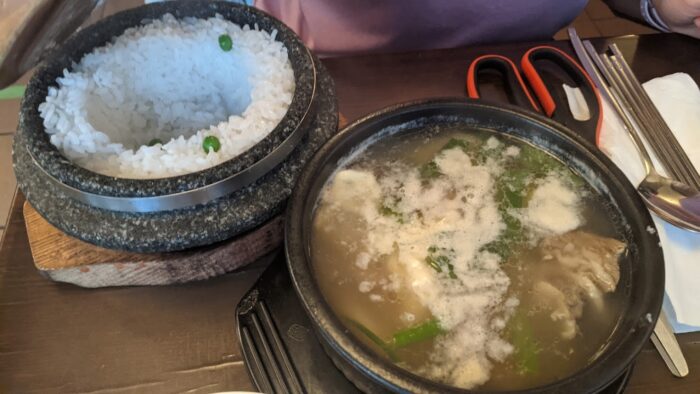 Spicy pork bone soup: Lager ordered the spicy pork bone soup. He enjoyed it and had no complaints.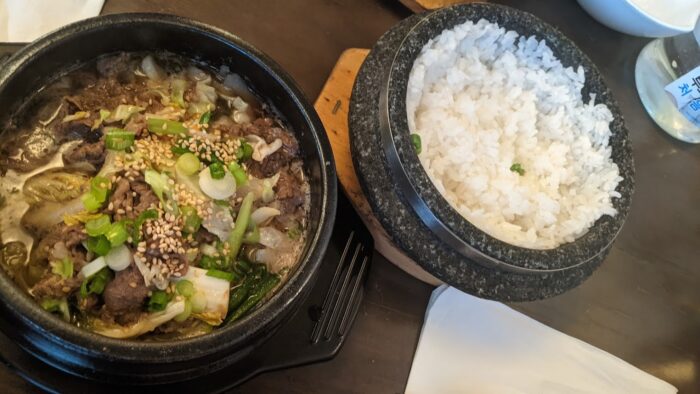 Beef bulgolgi soup: The husband had a really good beef bulgolgi soup at Wang Ga Mah, so he wanted to compare it. Unfortunately, he didn't like the beef bulgolgi soup as much here.
Overall, I enjoyed the food at TangMaRu. The service definitely could have been improved though. The main server lady was not really nice, and didn't explain the ordering process to us clearly and seemed exasperated.
Also, as we were finishing up our meal, she came by to tell us that there was a line outside. A few minutes passed, and we were getting ready to leave and finishing up our water, when she came again and told us rudely this time, that there was a line and that we had to leave. We thought it was really rude of her to rush us out when we were already gathering our things to go, and that soured our experience a bit.