Poke bowls are popping up everywhere in Vancouver now! When they first started to appear, I wasn't sure what the hype was about. But now, I've grown an inkling to poke bowls because they are a healthy and filling alternative.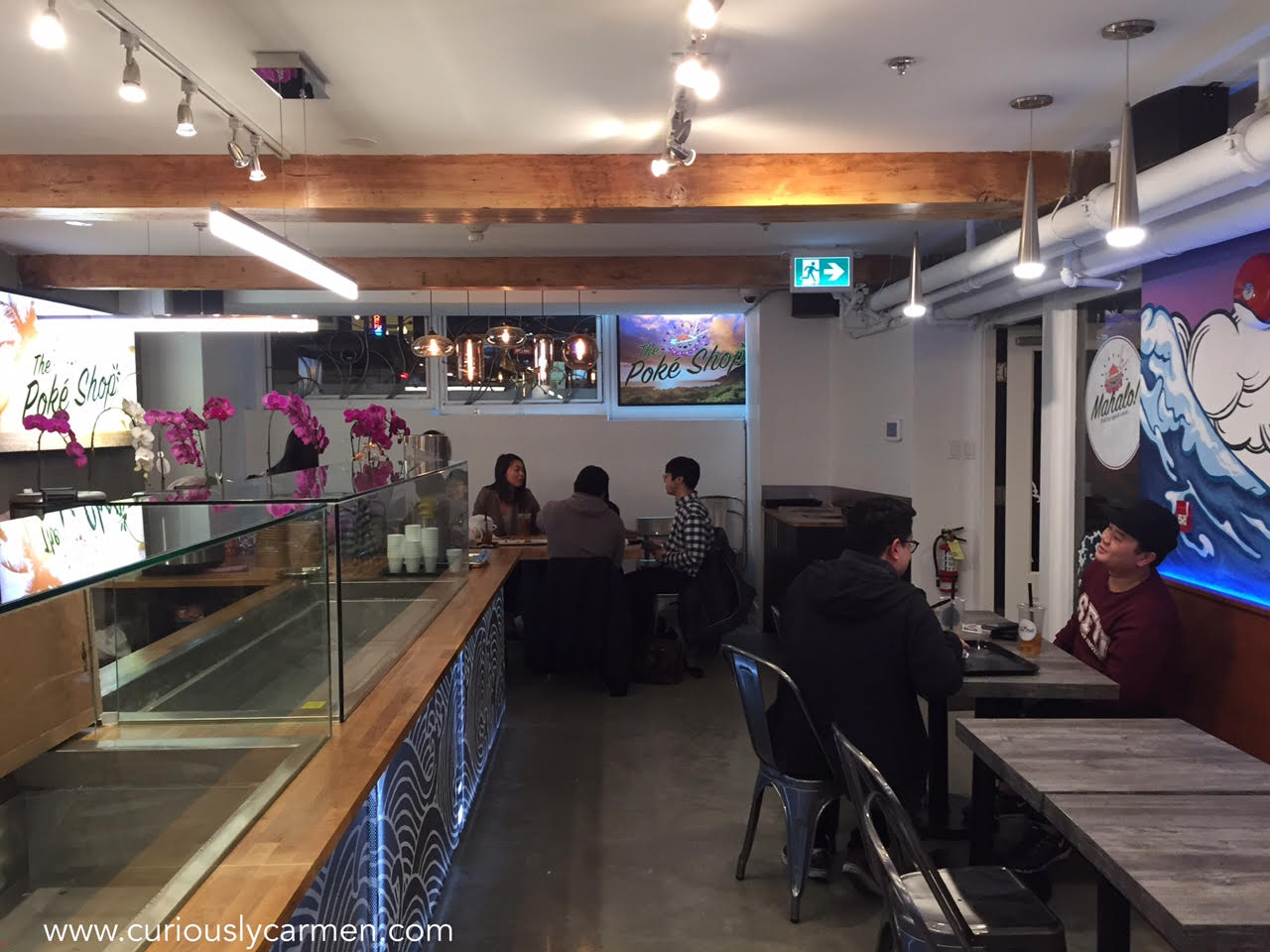 So far, I've only tried two poke places in the city. The second place I tried was The Poke Shop, which opened a few weeks ago. It is located in Gastown, just by the steam clock.
It is a basement suite and you have to walk down some stairs. Once you get in, the decor is very cheerful and artsy, with a big mural on one side of the wall!
The long wooden communal table is also custom made, one of a kind too. I really liked the interior and it was spacious and comfortable to sit and dine.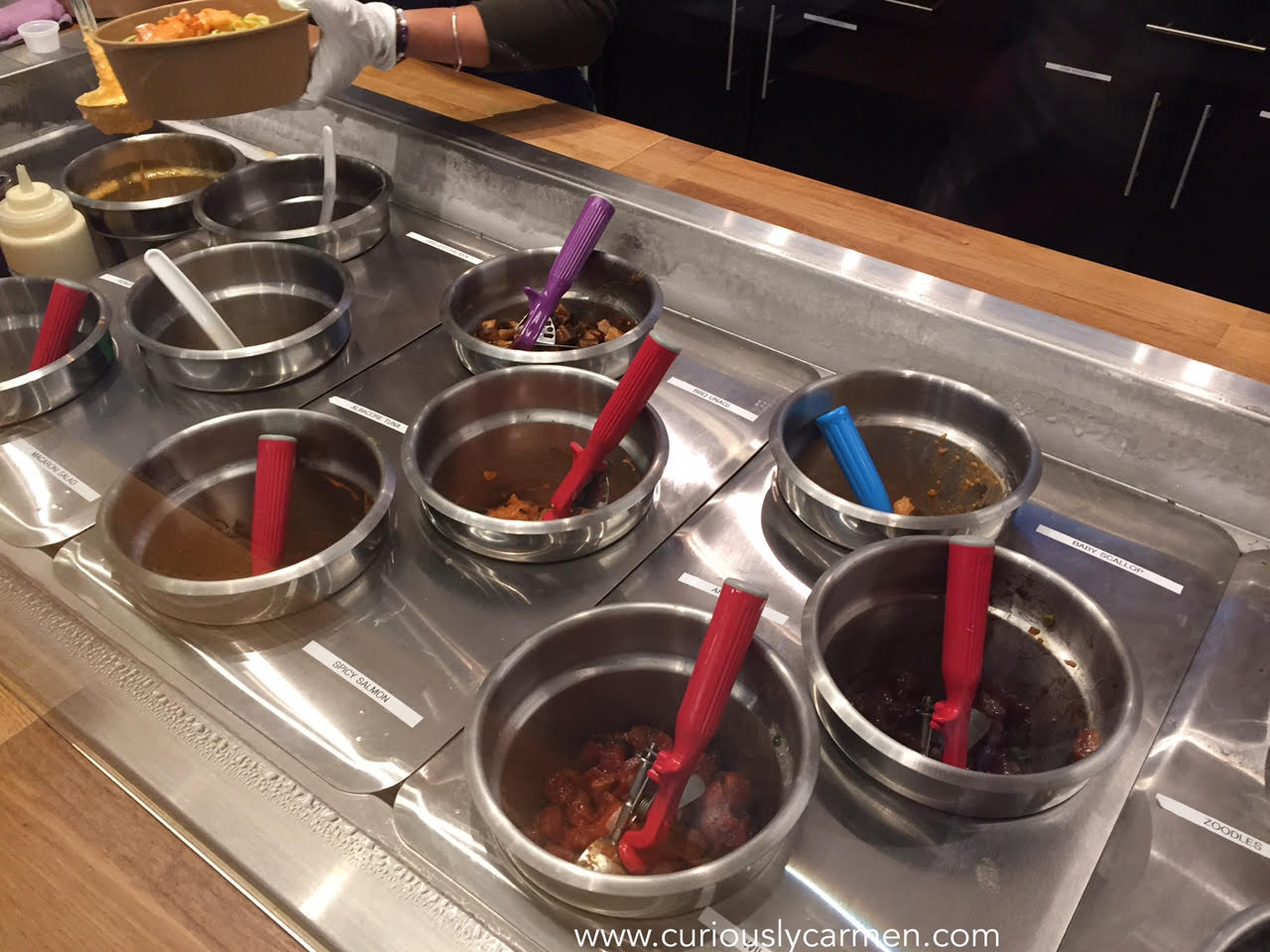 I haven't been to enough poke shops to judge the prices, but I would say it's fairly average? The only other place I've been to is The Poke Guy, and The Poke Guy is a bit more expensive because it is ocean-wise.
There are two sizes, large & super large. The large didn't look filling enough for a meal, so most of us at the media tasting ordered the super large for dinner. But you'll see soon enough that we were proven wrong!
Pictured above are the proteins! You can pick from ahi tuna, spicy albacore tuna, spicy Atlantic salmon, wild sockeye salmon, spicy baby scallop, unagi, grilled organic chicken, or roasted organic chicken.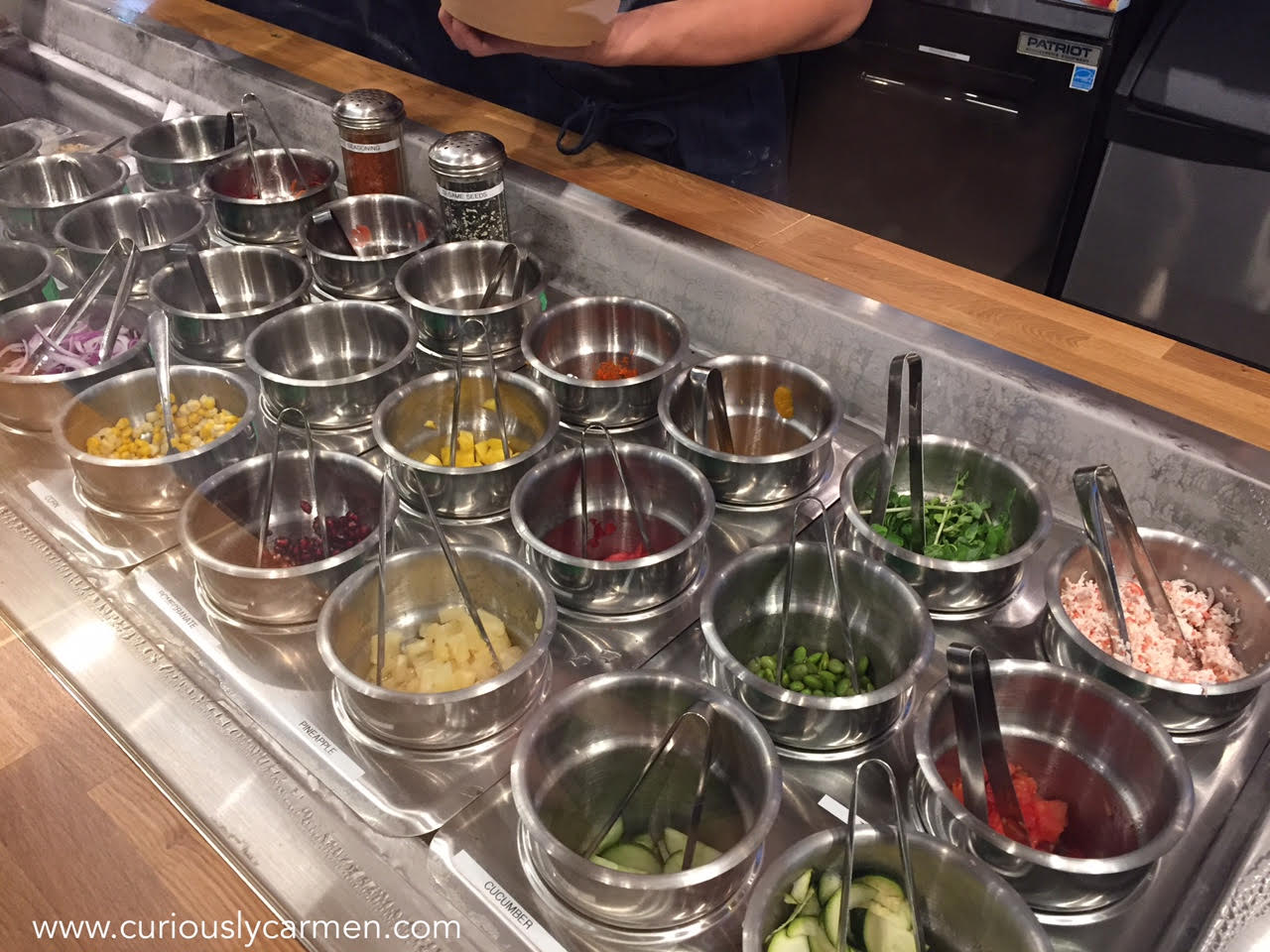 After selecting your base (purple rice, white rice, zoodles, spinach, or pick half/half) and protein, it is on to the toppings! I'm not going to list them all here because there are too many! But you can see from the picture above.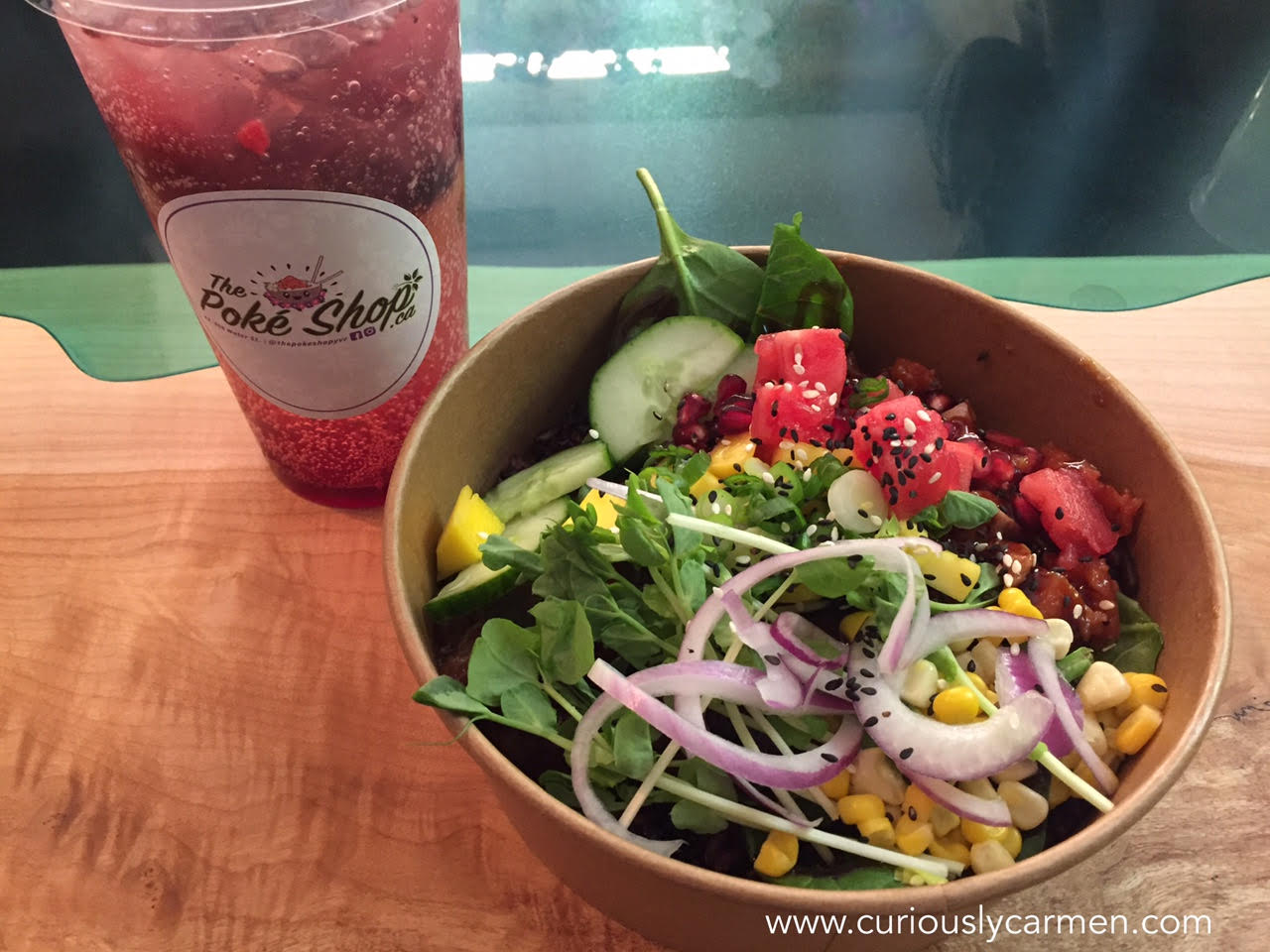 Super large bowl w/ unlimited toppings, $15.95: For my two proteins, I got the albacore tuna and wild sockeye salmon. I chose purple rice as the base. Unlimited toppings were pomegranate, mango, watermelon, spinach, cucumber, corn and topped with shoyu dressing.
The proteins come pre-marinated, which seems to be the preferred option for most as it is the authentic method of making poke bowls. I found that there was only a slight marinated taste for the tuna and salmon, it tasted mostly like plain sashimi which is not necessarily a bad thing! Both proteins tasted really fresh.
As for the toppings, I liked the inclusion of both fruits (mango, pomegranate and watermelon) with veggies. It gave the bowl a burst of sweetness!
Even though it doesn't look filling, there is a LARGE amount of purple rice at the bottom. After all, I did order the super large! I didn't end up finishing the rice because there was such a big amount, and I wanted to eat the proteins & fruit/veggies first.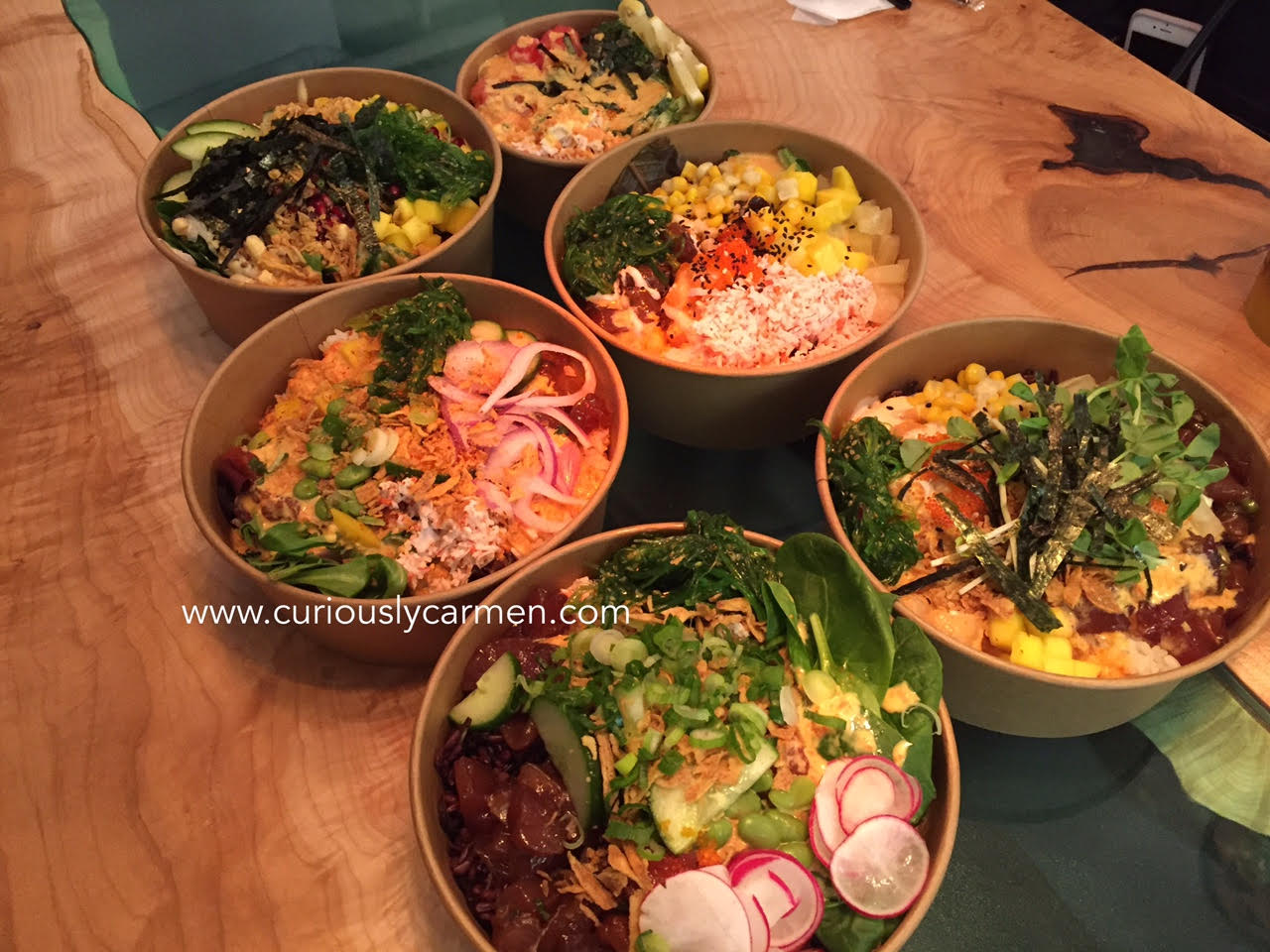 Here are other poke bowls that some of the food bloggers ordered!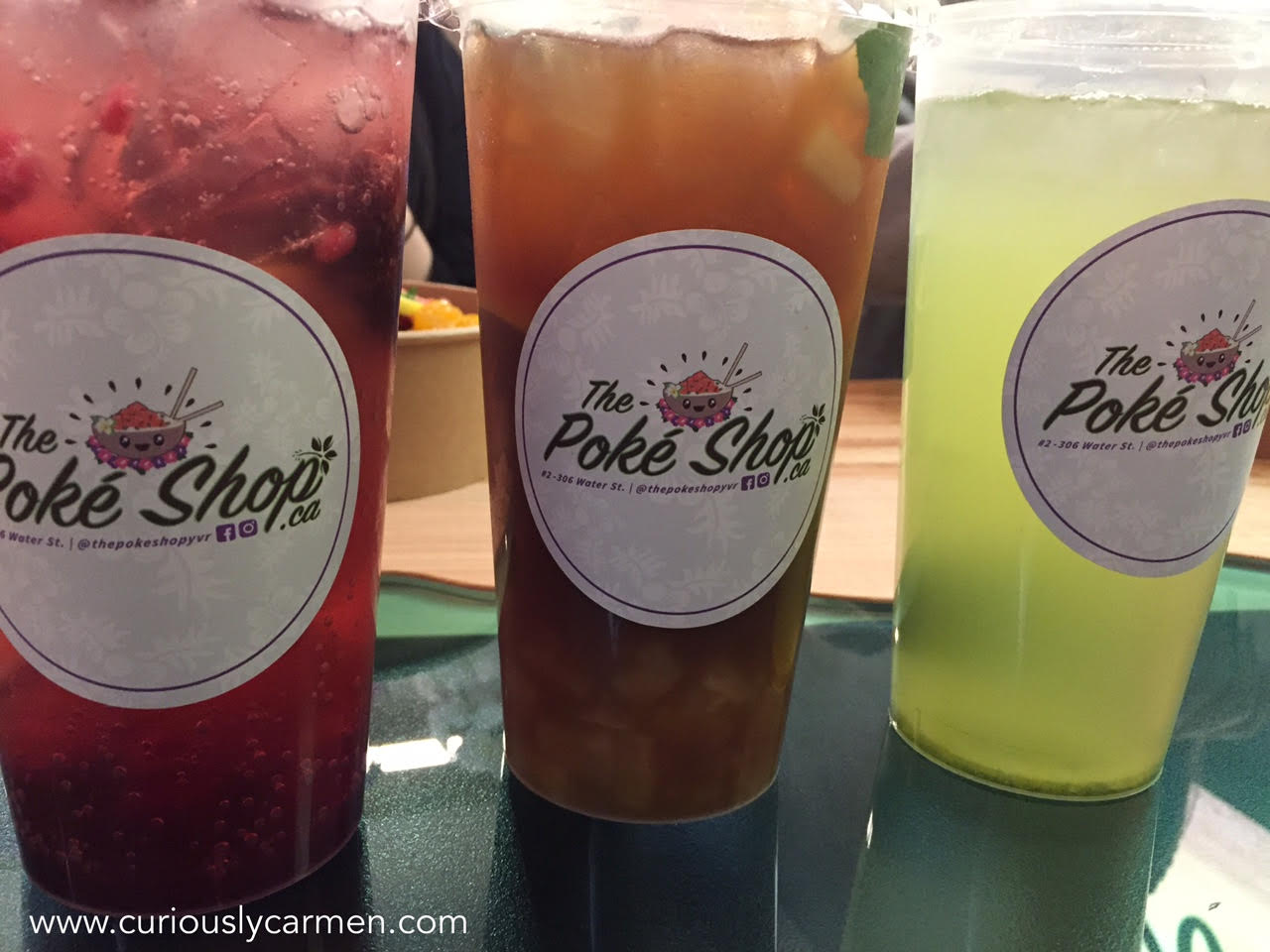 Left to right: 3 berry & lemon soda, pineapple plantation iced tea, iced matcha green tea w/ honey, all $3 w/ poke bowl, or $4.50 solo.
I ordered the 3 berry & lemon soda, which was basically berry & lemon infused 7-up. My goodness, was it delicious! I was one of the only bloggers who ordered the soda, and received many comments about how good it looked.
I didn't try the other two, but heard the pineapple plantation iced tea was okay. The iced matcha green tea was a bit disappointing, as we were expecting matcha. It tasted more like a sencha, or regular iced green tea.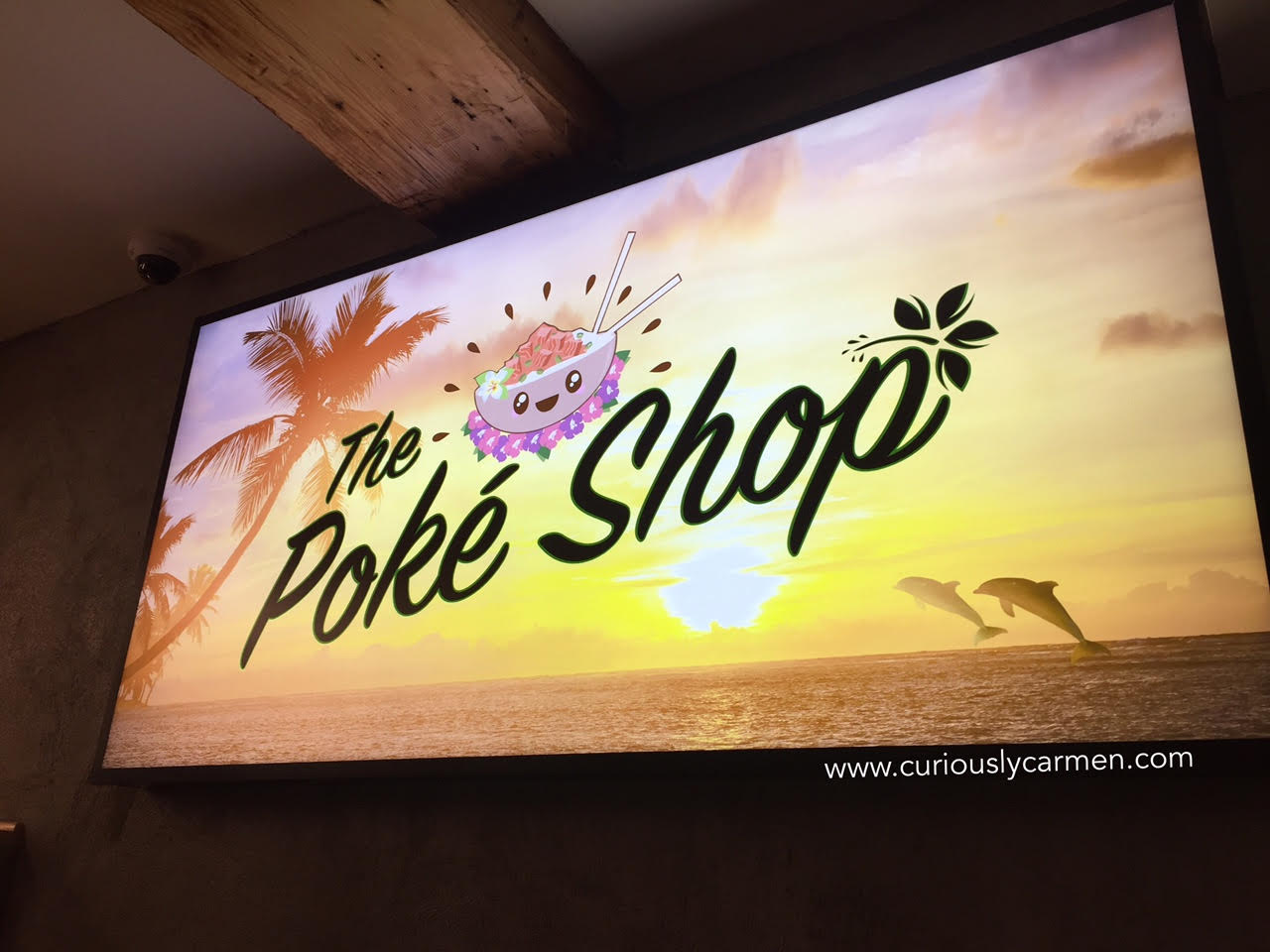 Overall, The Poke Shop was good and I would recommend giving it a try! The portions are generous, while the restaurant is spacious with great interior design (a dining experience also includes the ambiance).
I would recommend getting the large bowl, as most of us who ordered the super large bowl couldn't finish. As well, you are getting the same two scoops of protein in both sizes.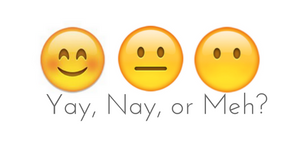 Yay!