Hello all!
I was walking around on my lunch break one day, and noticed a clean, pristine and modern looking sandwich shop that I've never heard of before. I then decided to search them up and found out that it was a healthy, alternative gourmet sandwich shop catered for those on the go. I think it's also relatively new because their website still says "now open!".  A few weeks later, my coworkers and I went to try this place for lunch and here's how that went!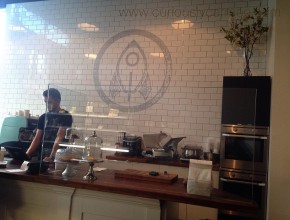 I really liked the modern, clean, and simplistic design to Rocket- that's what made me notice this place originally! As you can see, they have a white tile wall with a big rocket ship stamped on it, their company logo. They keep the colours simple and fresh, with a splash of colour- à la baby blue espresso machine. A small selection of pastries are offered behind a clean, streak/thumbprint free glass.
On the other side of the clean wooden counter was the fridge, where their sandwiches are stored. We went around 12:30 on a weekday, and the fridge was looking a bit scarce already. However, the worker told us that they were able to freshly make a sandwich that we wanted if we did not see it there!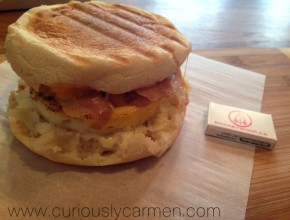 The price of one sandwich was $8.50, and I didn't feel like paying that much for a sandwich although they looked delicious. I opted for the hot egg breakfast sandwich instead, with your choice of one out of four options and was $4. I decided on the prosciutto and cheddar topping.
I fell in love with this at first bite. I loved how savoury, warm, and fresh everything tasted. The cheddar cheese was slightly melted on the prosciutto, while the English muffin was soft and lightly toasted. My favourite part was the EGG though, I'm still thinking about how delicious that egg was. For $4, this is a much better tasting breakfast sandwich with fresh, quality ingredients than getting a breakfast sandwich at a fast food joint for around the same price.
My coworker ordered the spicy shrimp sandwich. She enjoyed her sandwich as well, even though it was a bit on the pricey side for a single sandwich ($8.50 without tax and tip). Well to justify the amount spent on her sandwich, she said it's not likely that she will craft up a sandwich with this much effort in it on a daily basis – preparing, seasoning, and cooking the shrimp and making the specialty sandwich sauce.
True that, if you were to make that at home it would probably take a long time. Usually, people prepare sandwiches because they're quick and easy so I guess that the spicy shrimp sandwich at Rocket is worth the splurge.
-Carmen