Hi everyone!
I know this is a bit late… but I hope you all had a good long weekend! I sure did, I spent the weekend discovering new restaurants and playing tourist in my own city. There are so many little nooks and crannies in the Lower Mainland, you can't possibly be bored here on a sunny day.
Urbanspoon told me that The Truffle House had really good ratings, and was a popular place for brunch so we decided to stop by here!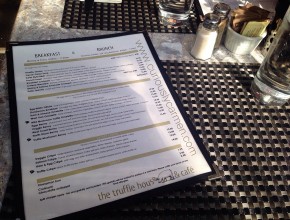 The restaurant is easy to miss, it is located in Dundarave Village on the main stretch of stores. The Truffle House was quite narrow and long too, and was full when we arrived. Luckily, they had their solarium open for overflow and we took the last spot there. The entire place was very clean and service was very friendly throughout our whole visit.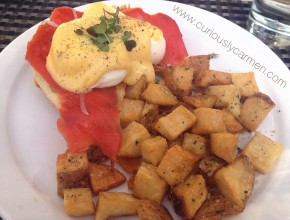 Are you surprised that when I saw smoked salmon on the menu, I ordered it right away? You shouldn't be because I am the biggest salmon lover ever! West Coast benny – house smoked salmon, two poached eggs, hollandaise sauce and home fried potatoes.
There was a generous amount of smoked salmon, and it was delicious. I requested my eggs to be poached medium-hard and it was perfect to my liking. As well, the hollandaise sauce was buttery and flavourful. The home fried potatoes were quite good as well – crispy, and well seasoned with a lot of herbs! I was satisfied and full after eating this.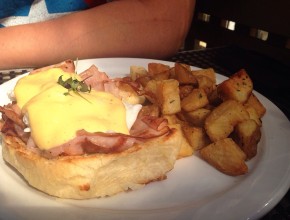 The boyfriend ordered the eggs benny – which was the same as mine but with smoked ham instead of smoked salmon. What looked good on paper unfortunately did not apply to what tasted good in his mouth – sadly, the ham was very bland and lacked flavour. I gave it a try and agreed that there was no flavour to the ham at all.
I'm glad that we got to try this place, as the service was very friendly and atmosphere was spot-on. My smoked salmon benny was delicious, but unfortunately the eggs benny could have done better with flavour. With that said, we wouldn't mind coming back if we were in the area but the boyfriend would probably order something else instead.
Smoked salmon or smoked ham – which one do you prefer? =)
Have a good day and thanks for reading!
-Carmen