Hi hi!
What type of food blogger would I be if I didn't talk about the latest ice cream shop that has been taking Vancouver's social media by storm? Can you guess which place I'm talking about? Yep, Soft Peaks Ice Cream! Soft Peaks is located in the cobblestone streets of Vancouver's Gastown neighbourhood.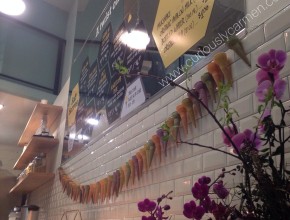 After hearing many stories of people waiting upwards of one hour for a cup of organic ice cream, I did not want to partake in that so we decided to not go on a weekend, which is probably when it'll be the most busy. Finally, the boyfriend and I found time to go one weekday evening. There wasn't much parking available and it's probably easier to commute there, we paid for parking three blocks away.
Soft Peaks has very high walls, which gives it a spacious appearance. There is also a small alcove on the second floor where customers can enjoy their ice cream. Overall, I would say seating is pretty limited if the place was packed but it doesn't feel cramped.

The girl at the counter was very friendly and had great service. We waited approximately 7-10 minutes for our soft serve, but it seemed a lot longer than that because I was really anticipating my order.
I was a bit surprised when I saw the size, I thought that for $7 it would be a bit bigger. But, quality over quantity?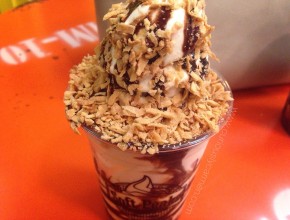 The boyfriend ordered the rocky mountain with his choice of chocolate syrup. I was secretly hoping he would order the caramel syrup so that I could try it =P
Being the milk lover he is, he really, really, REALLY loved his soft serve. He emphasized how creamy and smooth it was, and how delicious the Avalon milk was. He would be back again in a heart beat. But what about those who don't have a "soft" spot for dairy?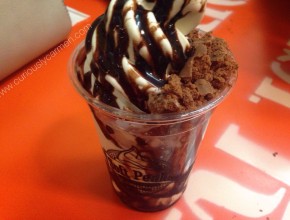 I ordered the mudslide, which came with crushed tim tam flakes. Unlike the boyfriend, I was not in love at first bite. I didn't think it was amazing, but it wasn't bad either as what seems to be the general consensus around this place.
Since the soft serve is made with organic Avalon milk instead of cream, the good thing meaning that it is lower in fat, but the negative thing might be that people aren't used to this taste. When eating soft serve, people are accustomed to super sweet soft serve like at Dairy Queen or McDonalds.
Without the chocolate syrup and tim tam flakes, I would have found this very plain. I'm really glad that I had the chocolate and flakes which gave more excitement to an otherwise plain soft serve.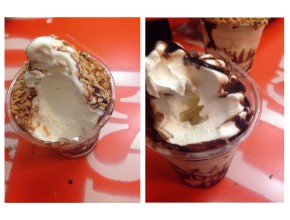 Another thing I noticed while reading reviews were that people were angry and felt ripped off because the soft serve had a giant hole in the middle! If I was paying $7 for a small sized soft serve, I would be angry too. I think they have since corrected the problem since my soft serve only had a slight hole and the boyfriend's didn't.
Soft Peaks had a great idea by re-inventing the soft serve with organic and high quality Avalon milk. The quality of the soft serve is definitely there, and it is very smooth but it is not the sweet soft serve that people are accustomed to.
-Carmen
PS.  If you haven't bought a bottle of Avalon milk before, you must try it on its own – the quality and smoothness of it is undeniable.
*Media sample provided by Soft Peaks. Opinions and thoughts are my own, and are not altered by the requests of the company.