Last month, the fiance and I went back to Japan for vacation! This time, we went to the Kansai region, which includes Osaka, Kyoto, Kobe, and Himeji. With the exception of Kyoto for 3 days, we stayed in Osaka for the two weeks of the trip. This post will contain the top five places we ate at in Osaka! I also did a similar post for Tokyo eats, if you're interested in reading that as well.
The area we stayed in was Namba so most of the restaurants will be around here. Namba is one of the central hubs in Osaka known for their food and shopping.
Osaka is nicknamed 'Japan's kitchen' because they have the most amazing food. Takoyaki, okinomoyaki, and kushikatsu were all invented in Osaka!
1) Kushikatsu Hyotan: Our absolutely favourite restaurant of the trip. We went here three times because we couldn't get enough! They serve kushikatsu, which is deep fried meat or veggies served on a skewer.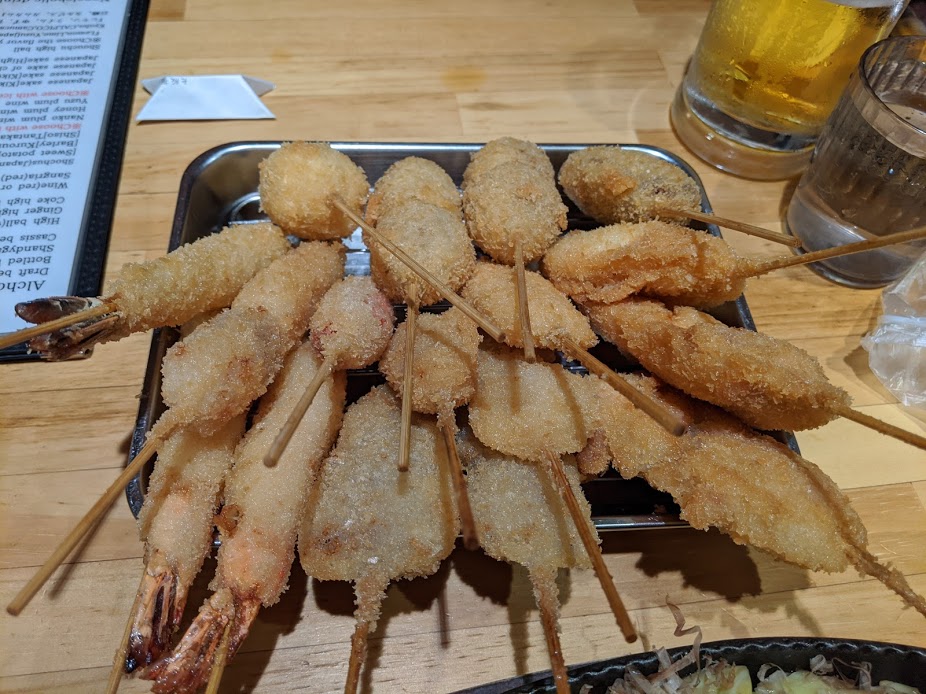 The kushikatsu breading is not like tempura breading. Tempura breading is flakier and has a softer crunch, whereas kushikatsu batter contains breadcrumbs and has a harder crunch. Kushikatsu batter is also thinner. I'm not sure if that makes sense because I'm no food expert, but that's how I'd describe it.
I like both tempura and kushikatsu, but there is currently only one restaurant in Vancouver that serves kushikatsu so we had to eat more of this while in Osaka!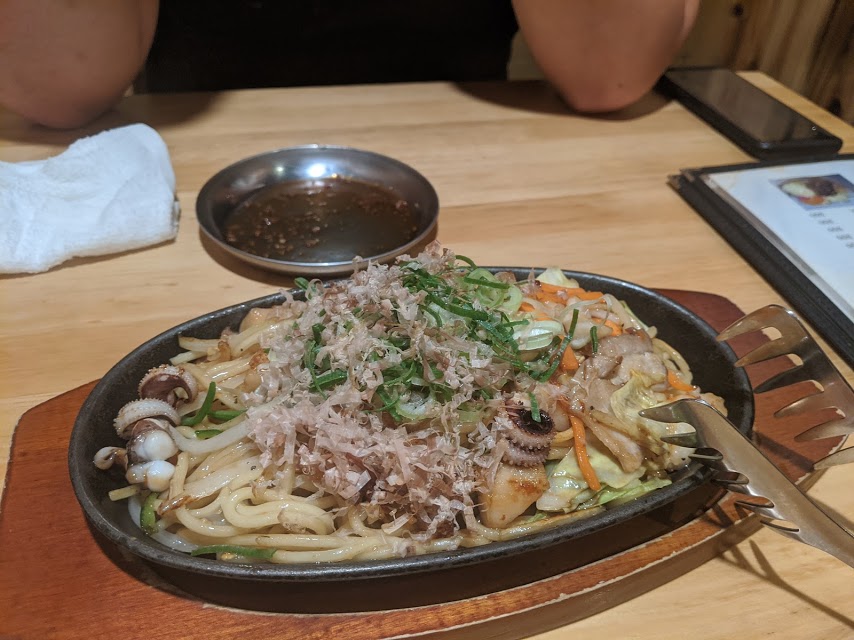 This is random, but they also had an amazing seafood yakisoba that we ordered each time to go with the kushikatsu! Equally as good as the kushikatsu!
The only bad thing here was service wasn't that friendly, but clearly we didn't mind because the food was so good.
2) Takoyaki doraku wanaka: There were a lot of takoyaki places in Osaka, especially in Dontonbori. Every few steps, you would come across a takoyaki stand. Rather than going to the first place we saw, we walked around Dotonbori to compare prices and see what caught our eye.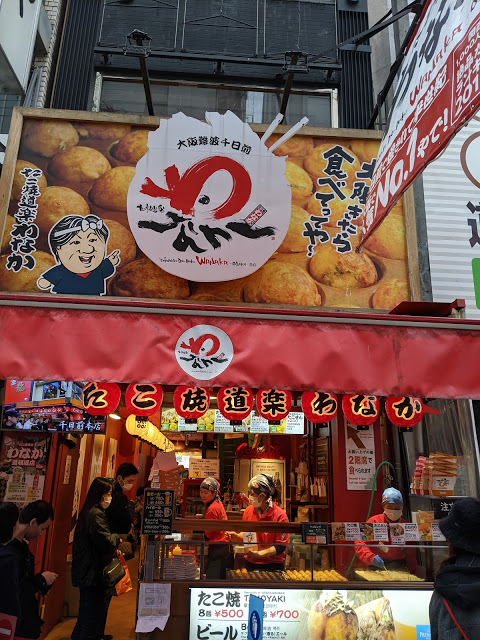 This was one of the cheaper places for takoyaki we found! A lot of places charged 500 yen for 6 pieces, but they charged the same amount for 8 pieces!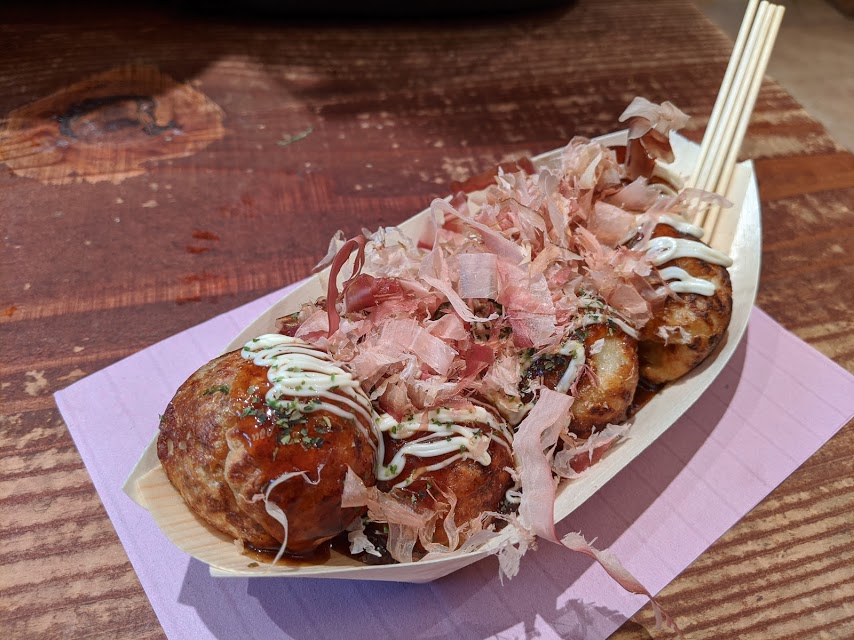 The takoyaki was big and so delicious! The batter was so flavourful. A bonus about this place was that they have a two floor seating area inside, so you could enjoy it in peace!
In Japan, it is considered rude to eat and walk at the same time and there are many signs telling you not to, so people usually stand and eat before carrying on.
3) Naruto Taiyaki Hompo: The fiance discovered this place during the second half of our trip. We wish we discovered this sooner! A bonus was that this was only a block from our hotel, on the way back to the train station!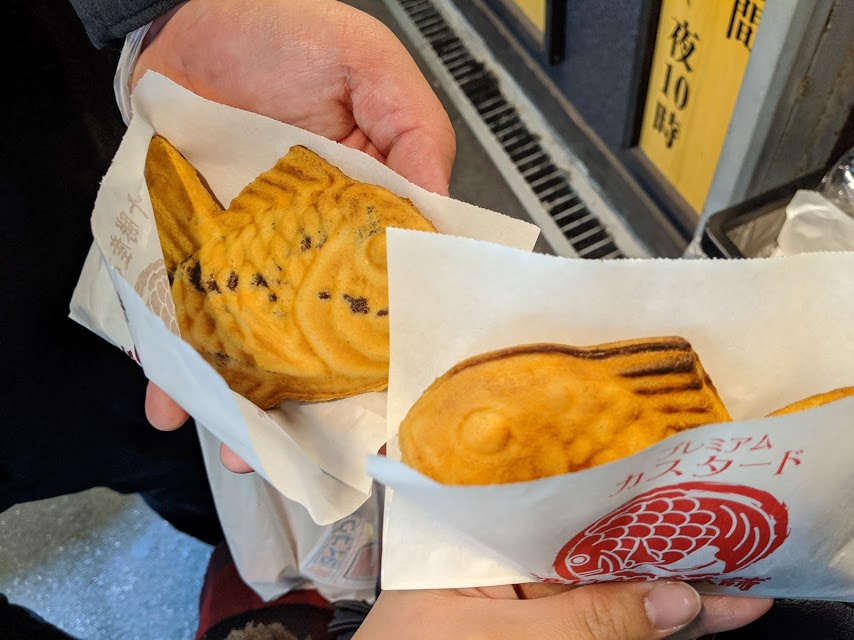 The taiyaki here was AMAZING. They make it fresh in front of you, so it is served piping hot. The outside was crispy, while the inside was filled very generously with your choice of filling – I usually went with the custard, the fiance went with red bean. The best dessert to end our night.
We also found out that this was a chain, so you can find stands throughout Osaka!
4) Torikizoku: We also love yakitori, aka grilled meat skewers! Our favourite in Osaka was Torikizoku. Torikuzoku is a chain based in Osaka that is known for their chicken skewers and cheap prices.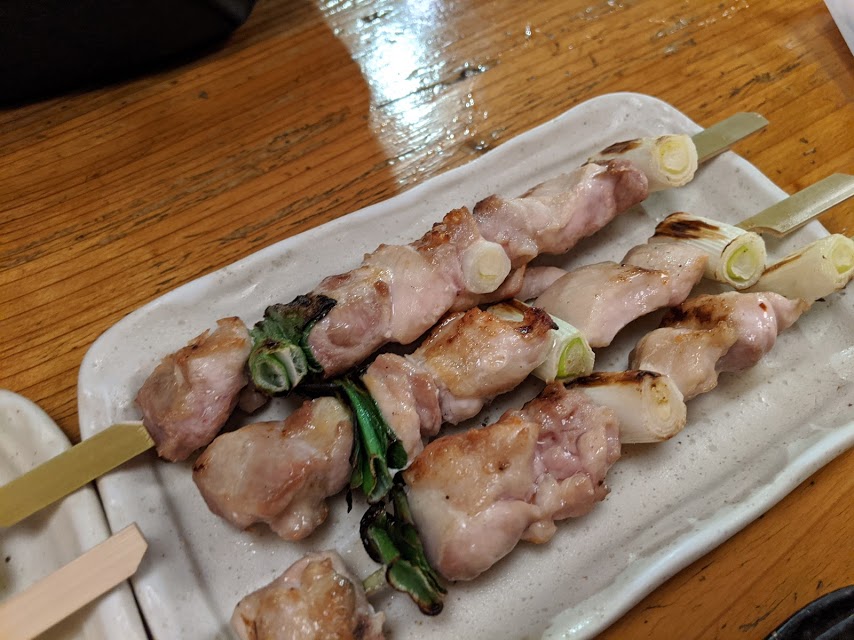 We did not know that an order includes 2 skewers! All the skewers are 300 yen (about $3.50 CAD) and it comes with 2 skewers! Such a good deal and the quality of the food was not sacrificed either.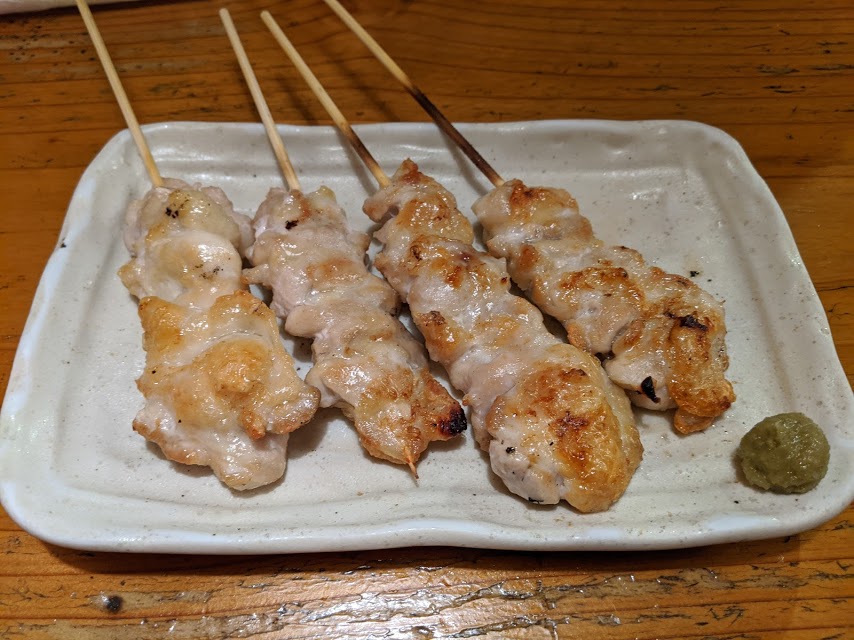 If you're not a fan of chicken, they also have other meat and veggies available. The chicken was full of umami flavour. Mouthwatering and delicious!
5) Mister Donut: Mister Donut is a popular fast food chain in Japan for donuts. I remember seeing Mister Donut in my textbook when I was learning Japanese in university, haha! So yes, I've heard of Mister Donut but we didn't try it until now, and OMG have we been missing out!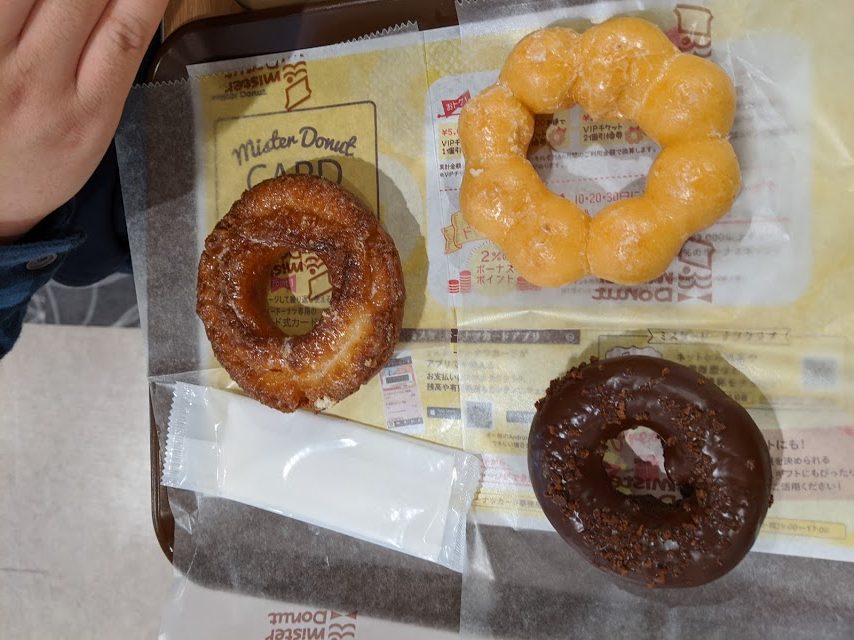 Mister Donut is famous for their pon-de-ring donut (top right), which was soooo good. They were delightfully chewy yet airy. Think of a light, airy donut mixed with mochi.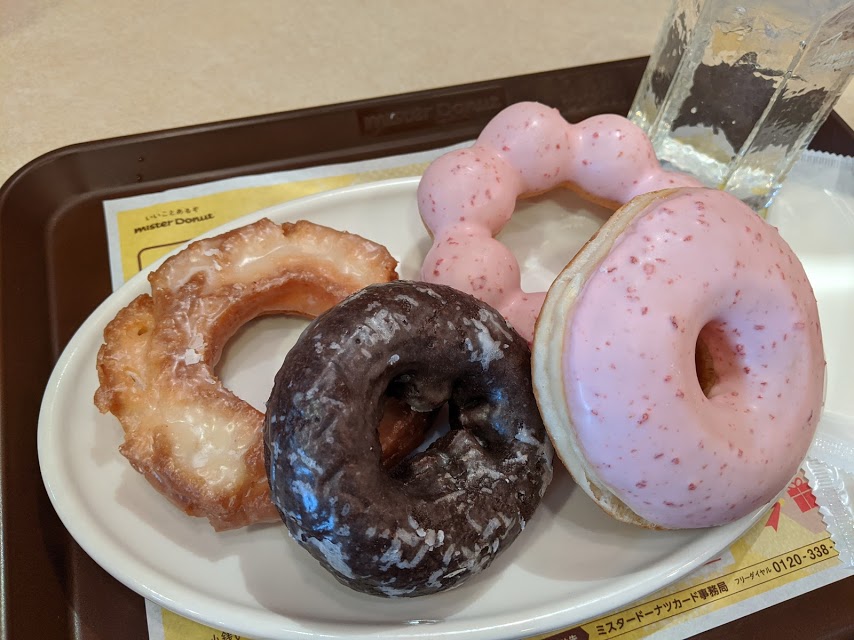 My favourite was the strawberry pon de ring, pictured on the top right! It was like their original glaze pon de ring, but with a strawberry topping that tasted like Pocky strawberry. Their other donuts were amazing too! You can find Mister Donut everywhere. We mostly ate it at the food court in local shopping malls.
We found that Osaka didn't have much to see in terms of sightseeing but made it up in terms of food. If you are a food lover, you have to go to Osaka!