Gordon Ramsay Burger was definitely on our to-try list, and seemed to also be on everyone else's list as well because it was always lined up whenever we walked by! The line up was worth it though because we left with very happy stomachs!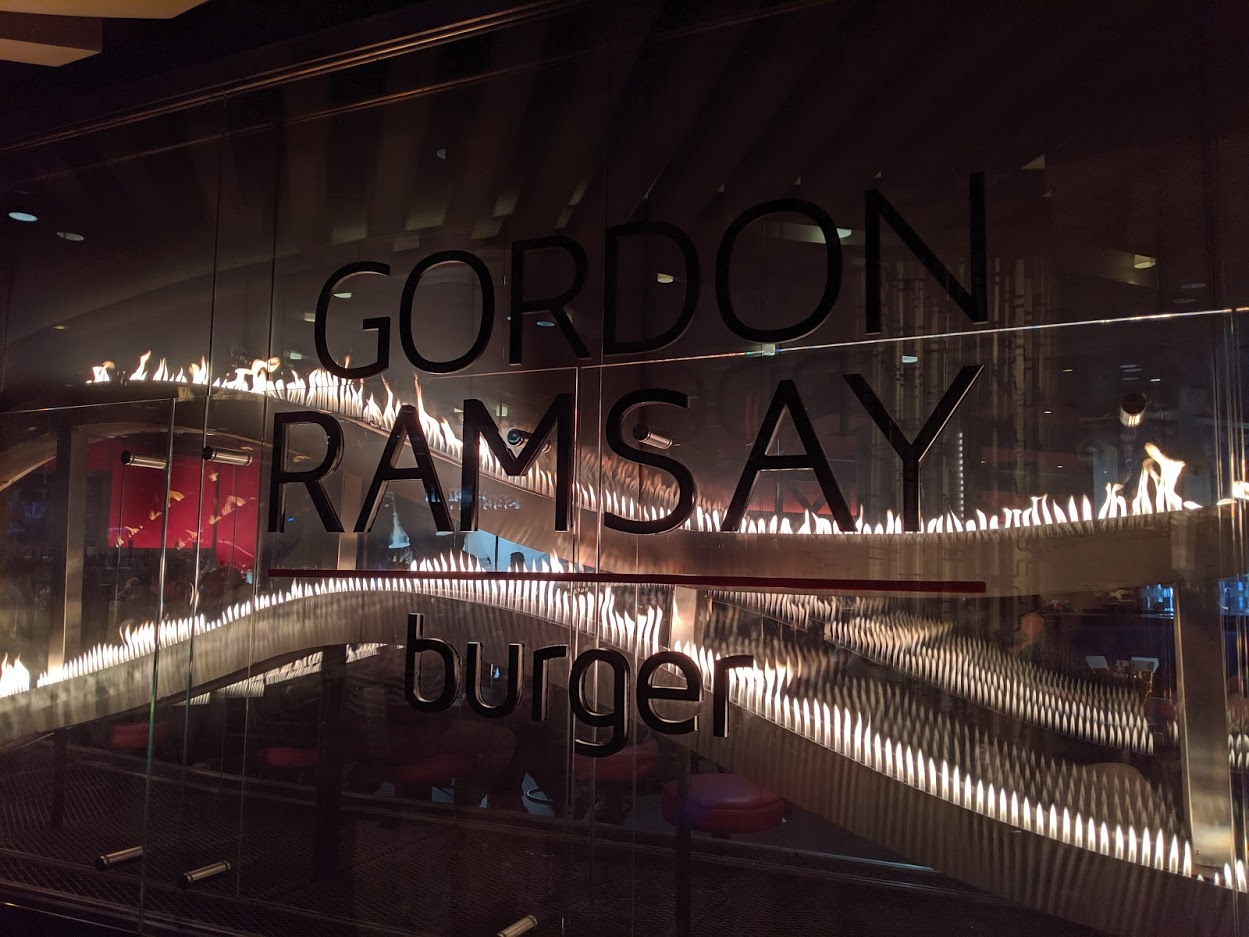 Gordan Ramsay Burger is located inside Planet Hollywood. There is a giant glass fireplace where patrons wait against. To keep people busy, there was a big touchscreen menu that you could look at while in line.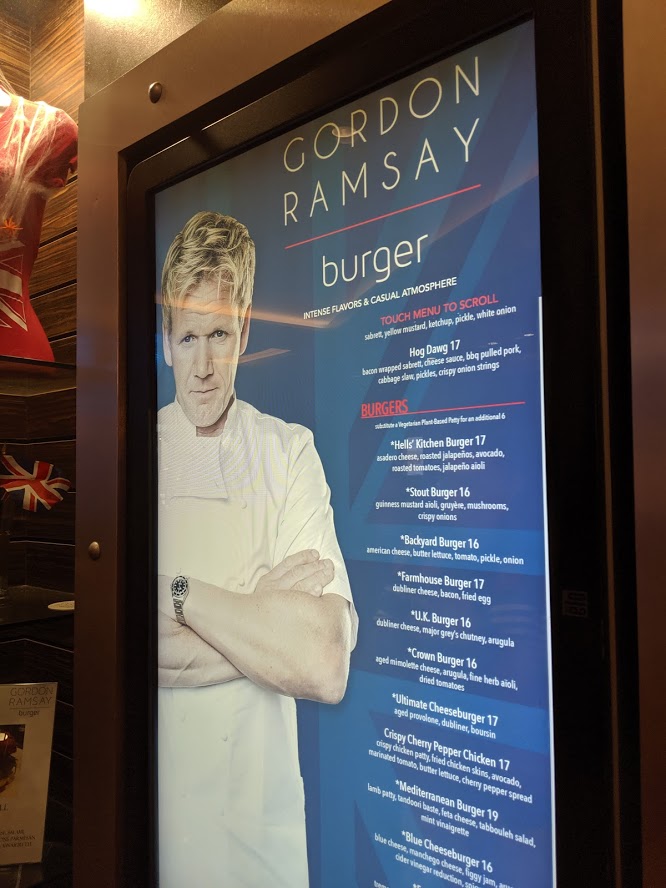 We came for a late dinner around 9:30pm, after watching a variety show at the V Theater nearby. The total wait time for us was around 20 minutes, and this was also on a weekday. If you're coming during prime dining hours or on the weekend, I would expect to wait at least 40 minutes.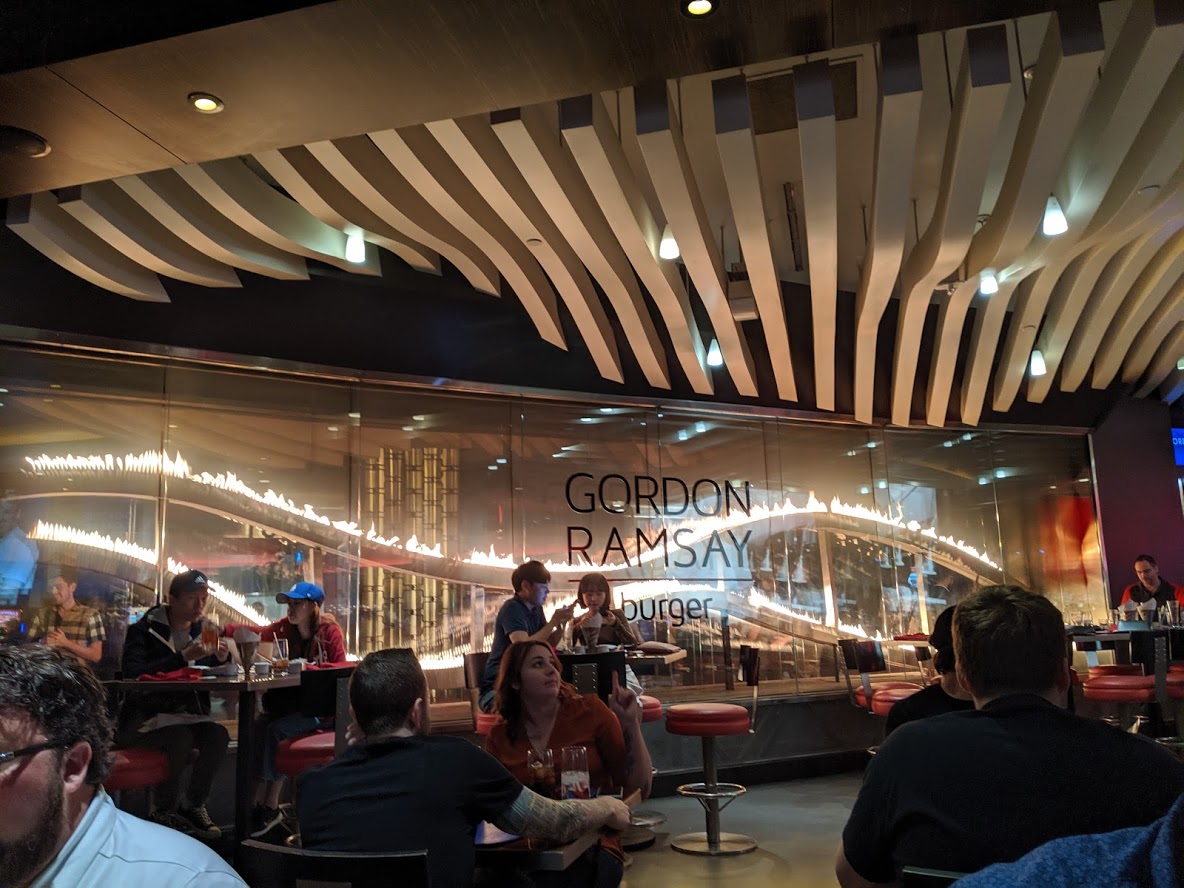 The one thing I didn't really like about this place was how pushy our server was to us for buying drinks. Since we looked at the menu in line, we already knew what we were ordering. It made me feel a bit uncomfortable to tell our server a few times that we didn't want drinks.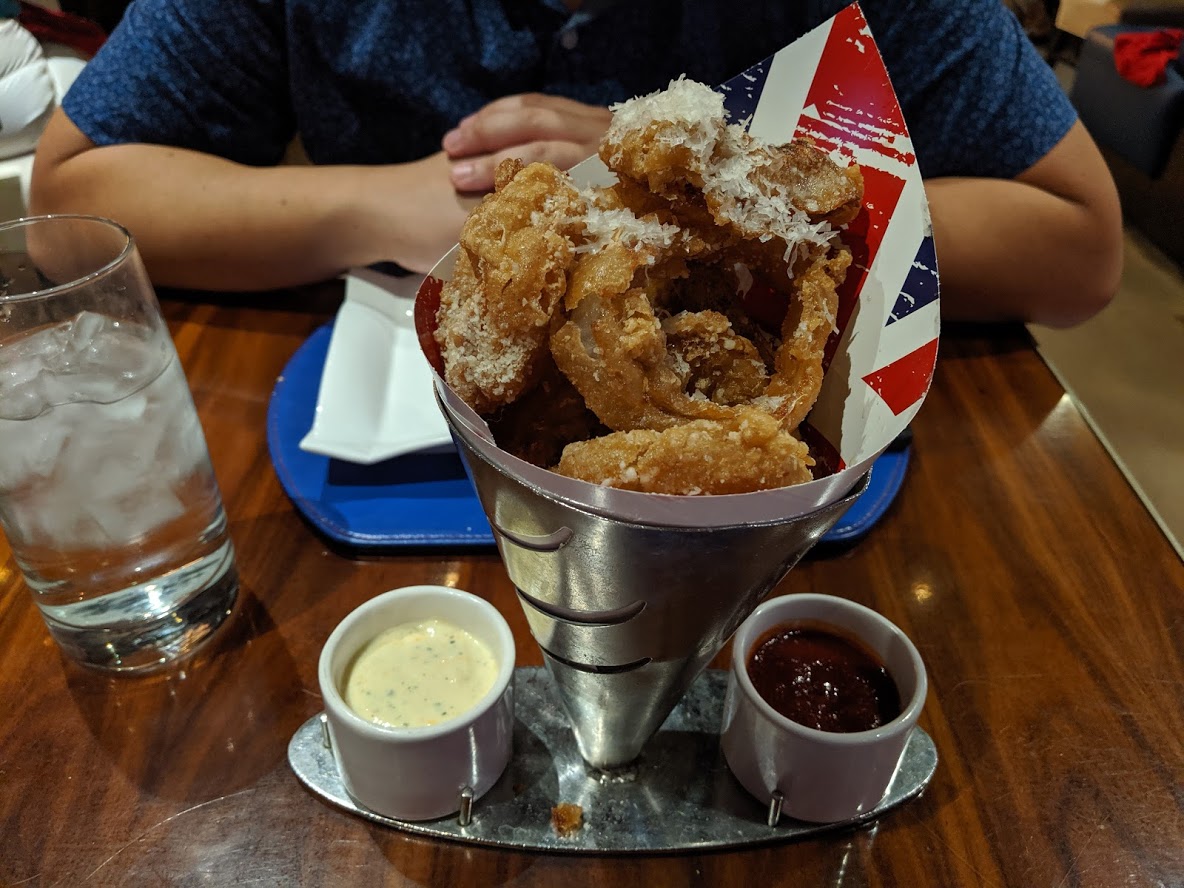 Onion rings: I was a bit surprised to see that the burgers did not include sides here! The fiance ordered onion rings to start, which set the tone for a delicious meal to come.
The onion rings were big, fresh, and crunchy. They came sprinkled with some shredded cheese which made it taste even better. My favourite part was the cheddar ranch dip, which went perfectly with the crunchy onion rings!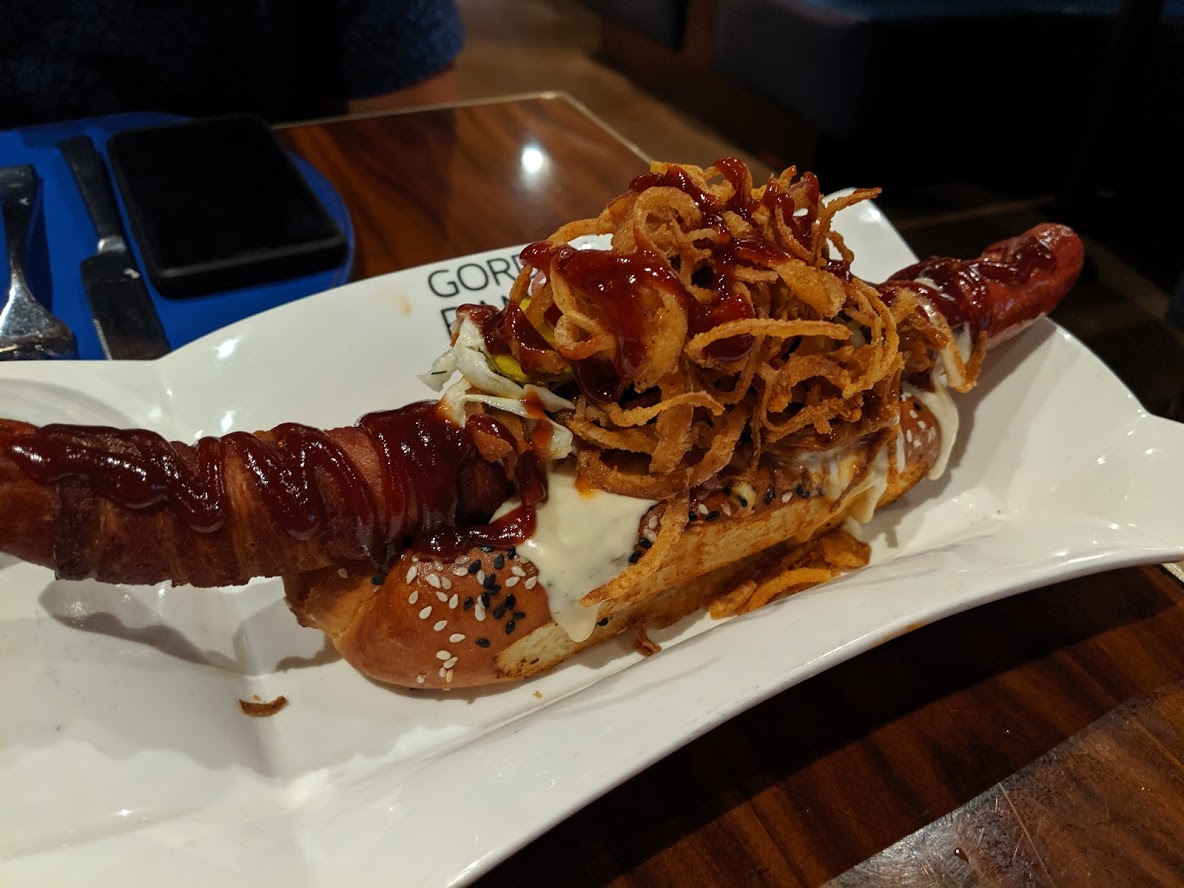 Hog dawg: You're probably wondering why on Earth we would order a hot dog at a place specializing in burgers. Well, for starters, it was definitely not a 'basic' hot dog! A lot of reviews recommended the hot dogs, so the fiance decided to get the hog dawg.
The hog dawg was a giant pork sausage, wrapped in bacon, and topped with pulled pork and fried onions. It was delicious and easily the best hot dog we have ever tried.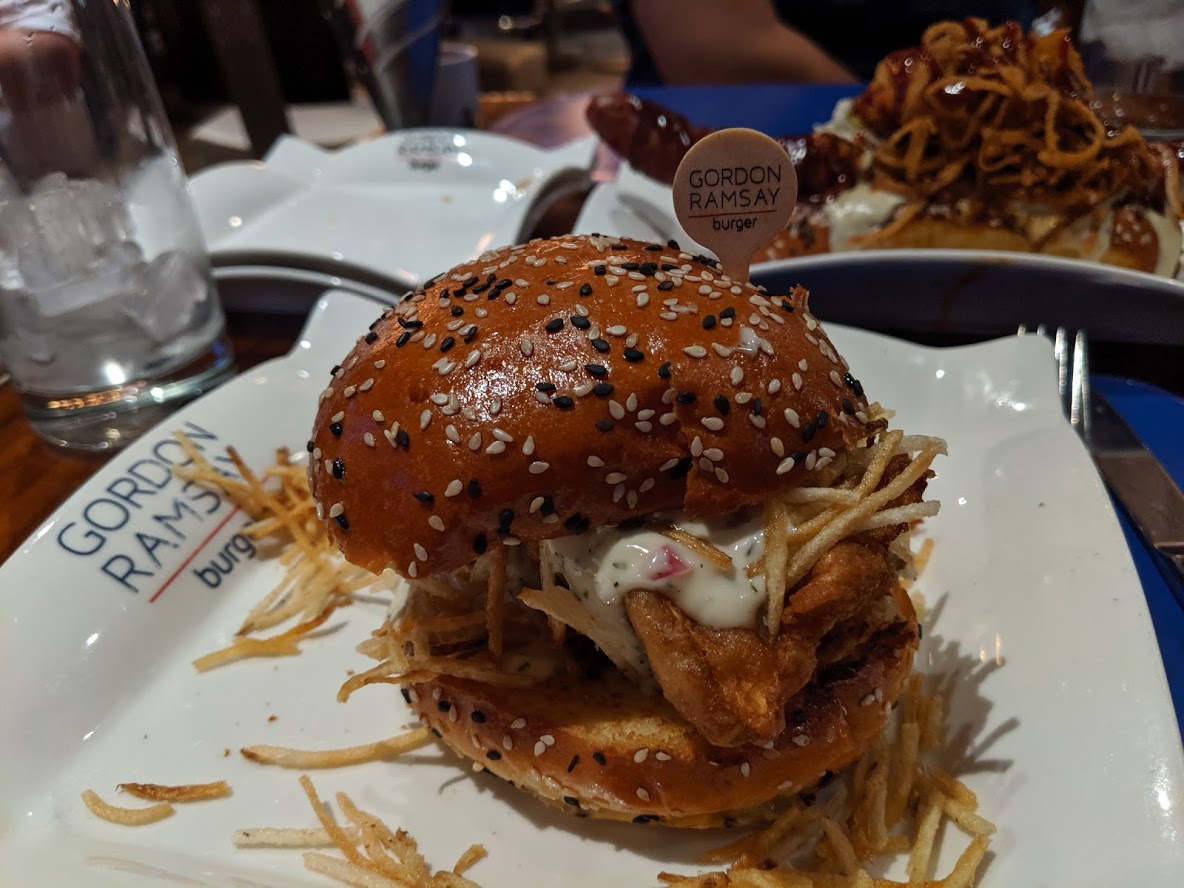 Fish and crisps burger: My fish and crisps burger was equally delicious. Fish burgers aren't something I normally order, but I wasn't feeling like a beef burger that night.
Just like the onion rings, the fish fillet was fried to a crunchy, crisp, golden perfection. The burger also contained 'crisps', which I would describe as hickory sticks but without the smoked hickory flavour. The crisps didn't have much flavour though, they were more there for the texture.
The yuzu dill mayo was absolutely AMAZING and complemented the fish and crisps perfectly. I enjoyed every single bite and would definitely get this burger if I came back.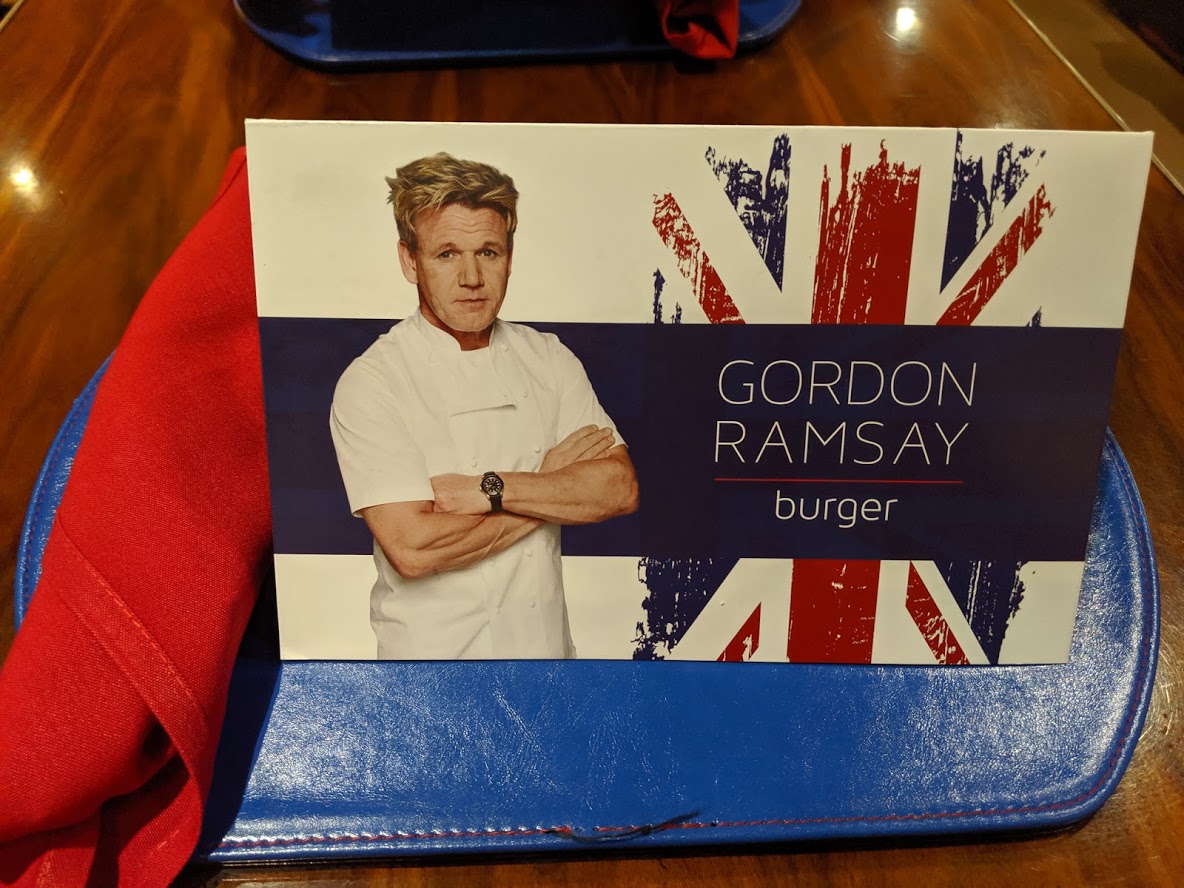 We left very satisfied with Gordon Ramsay Burger. The burgers and hot dogs aren't just your typical burgers and hot dogs – they have crafted quality, unique combinations which complemented each other really well.
They definitely know what they are doing here, and the line speaks for it.