Bin 4 Burger has been on my list of to try for awhile now! I've heard great things about it, particularly the half price deal after 9 pm (this is currently not being offered during the pandemic). I keep forgetting to try this place though, but we finally ordered some take out for a nice summer picnic one evening.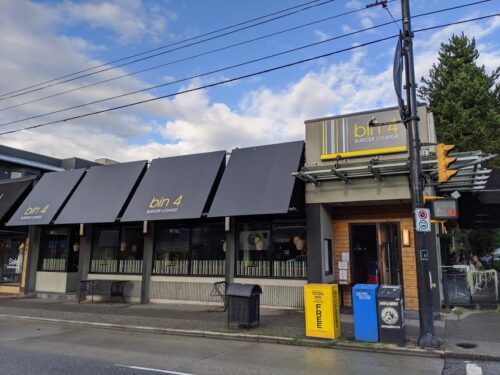 Bin 4 is located in South Granville. There are many popular restaurants in this area – The Rise, Kyo, Heirloom (which I personally didn't enjoy but alas), just to name a few.
We drove about 25 minutes until we reached the park, so I was wondering if our burgers would be soggy and gross. Fortunately, they held up pretty well (minus the fries which were not good by the time we were eating!).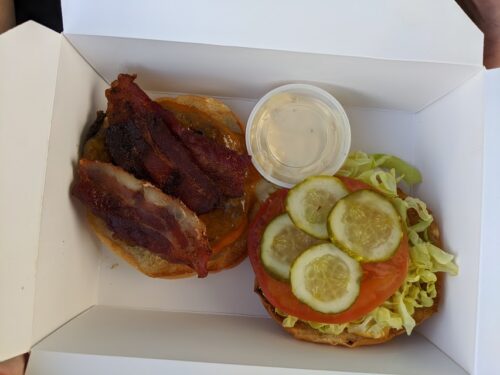 Bin 9 "Big Spenny": The fiance's burger came with Brant Lake Wagyu, aged orange cheddar, smoked bacon, pickles, Bin 4 burger sauce, shredded butter lettuce, and tomato. It was heaven at first bite for him! He marvelled at how delicious the burger was.
The burger was really big and filling! The party was juicy and cooked perfectly. It was the perfect burger with no complaints at all.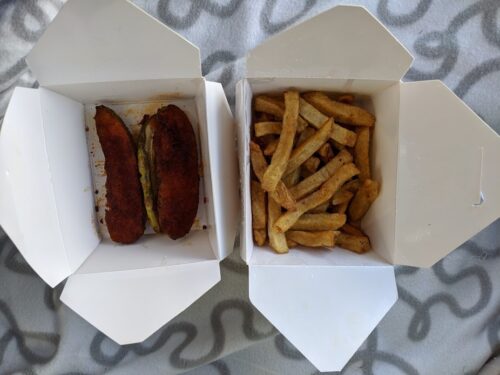 Fries: These were your average fries but since we ordered takeout, they were a bit soggy by the time we ate it. We tried to prevent this from airing out the box during the drive, but it was sitting at the restaurant for a bit already so that didn't help. I would recommend getting the spiced chips instead as you'll soon read from my order below.
Deep fried pickles: The fiance loves his deep fried pickles, but unfortunately these were disappointing. He wasn't a big fan of the seasoning that they used, and said it didn't go well with the pickles.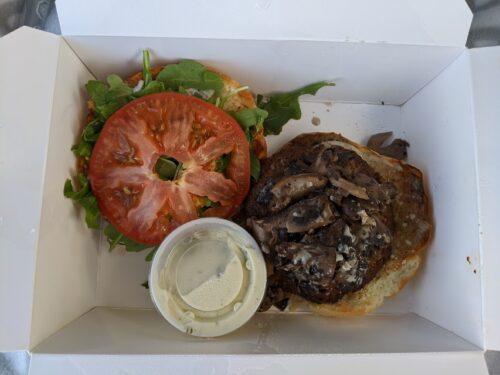 Bin 11 – "Wild Mushroom": My burger came with 63 Acres Premium BC Beef, wild mushrooms, garlic, cream, truffle oil, parmigiano, truffle aioli, baby arugula, tomato. I was sold right away with the truffle oil, mushrooms, and arugula. It was a combination that sounded amazing and I didn't even look at the rest of the burger menu after reading that one!
This burger was absolutely amazing, one of the best burgers I've had in awhile. The patty was so juicy and the truffle oil was aromatic and so delicious. The sauteed mushrooms, fresh argula, and cream, and other toppings just elevated the burger even more. Every bite was a flavour explosion! This is a must get if you like truffle oil and mushrooms.
For the sides, I selected the spiced chips and it was an excellent choice. They were like thick cut potato chips with some sort of spices/herbs mixed in. Since they were just chips, it held better than fries if you're getting takeout. Between the fries and spiced chips, I'd recommend the spiced chips since they are more unique and the fries are nothing special.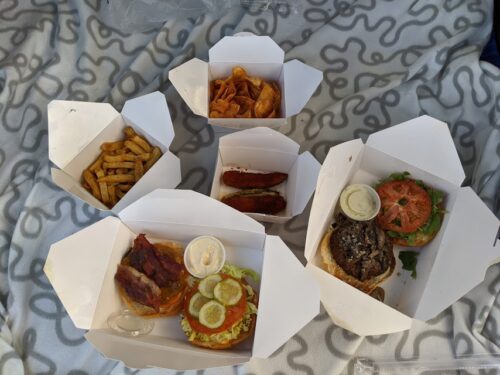 All in all, Bin 4 was absolutely amazing and I have no doubt we will be back. They really know their burgers here and I would assume the rest of their burgers are amazing too. If you're craving a solid burger, Bin 4 won't disappoint!