House of Tofu Soup has been on my list since the Spring time, but I wanted to wait for the cold and dreary weather to set in before having some comforting and hot Korean soup.
Well, unfortunately it's that time of the year again where we all have to trade flip flops for boots, bundle up and bring our umbrellas everywhere. However, I always try to think positive which means that I'm finally able to try House of Tofu Soup.
I've heard from many people here that parking is nearly impossible, so we decided to come here for a really early dinner right after I got off work. The parking lot was definitely pretty cramped, fitting no more than probably 10 cars. I can't imagine how hard it would be to park here during peak hours. Luckily, we got the last parking spot, which was a tight squeeze!
Banchan (Complementary Korean appetizer): An assortment of complementary appetizers. We both liked all of the banchan here and had no complaints.
The kimchi was pretty spicy, I would recommend that those who don't like spice steer away from it. The mashed potatoes were creamy, while the seaweed and marinated veggies (???) were both crunchy and fresh. Great food to nibble on while waiting on the main dishes!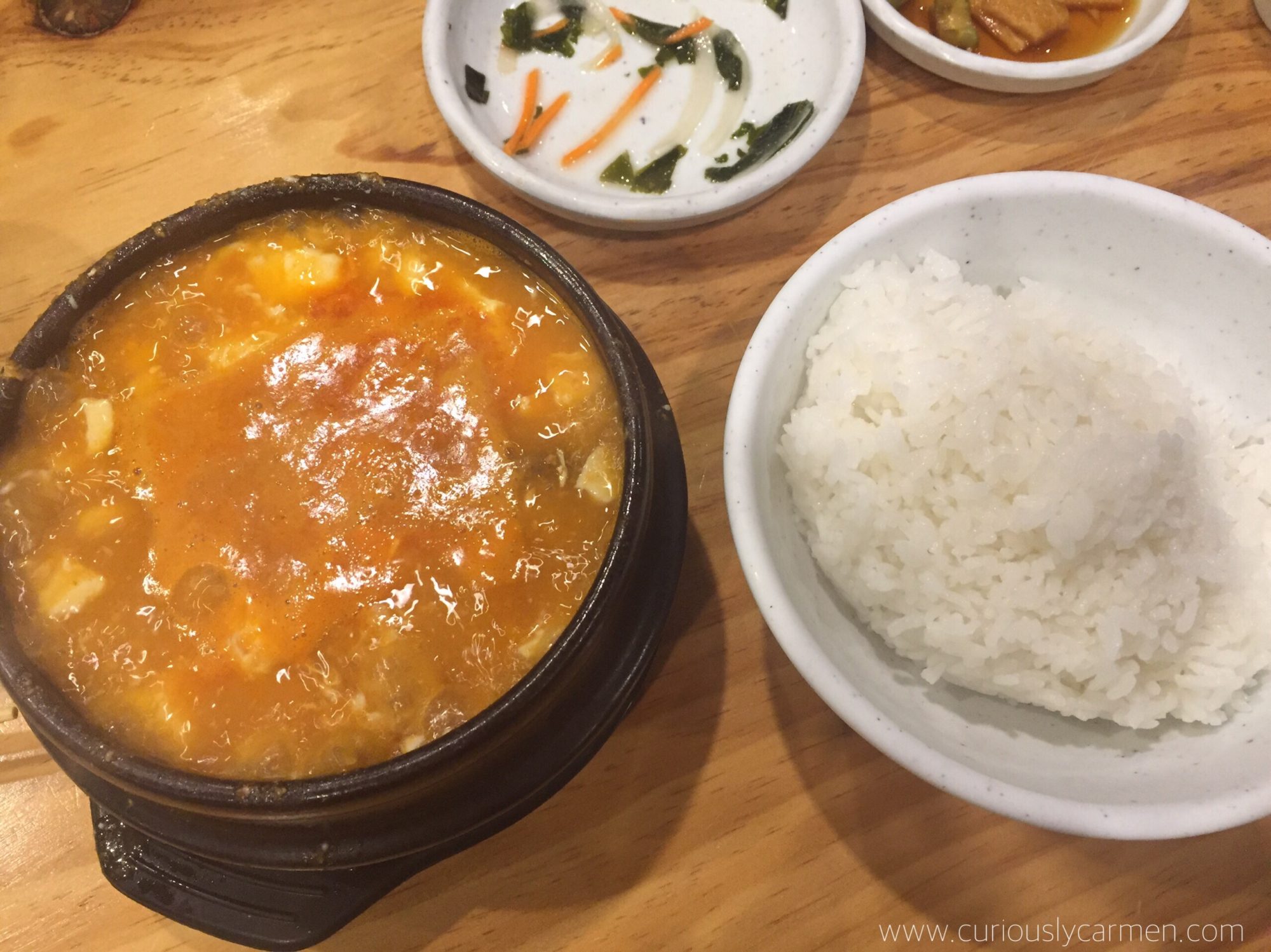 Beef tofu soup (regular spicy), $10: Originally, we were going to order two tofu soups but decided on sharing one since we wanted to try another dish as you'll see after! We ordered the beef tofu soup with regular spice, and asked to have the egg fully cooked instead of cracked raw. The menu is really straightforward and you have the choice from picking either beef, pork, seafood, pork kimchi, or a mix. The levels of spice are rated from 1-5.
There was an abundance of silky tofu, egg, and beef. It was such a comforting dish with a bit of spice, and full of flavour. Next time, I would order a spice level 4 instead of 3. We didn't want to risk the soup being extremely spicy since Korean cuisine is known for their spice! I'm glad we came here on a cold day because this definitely hit the spot.
The rice really filled us up as well, the picture above is 1/2 of the rice they served with the tofu soup.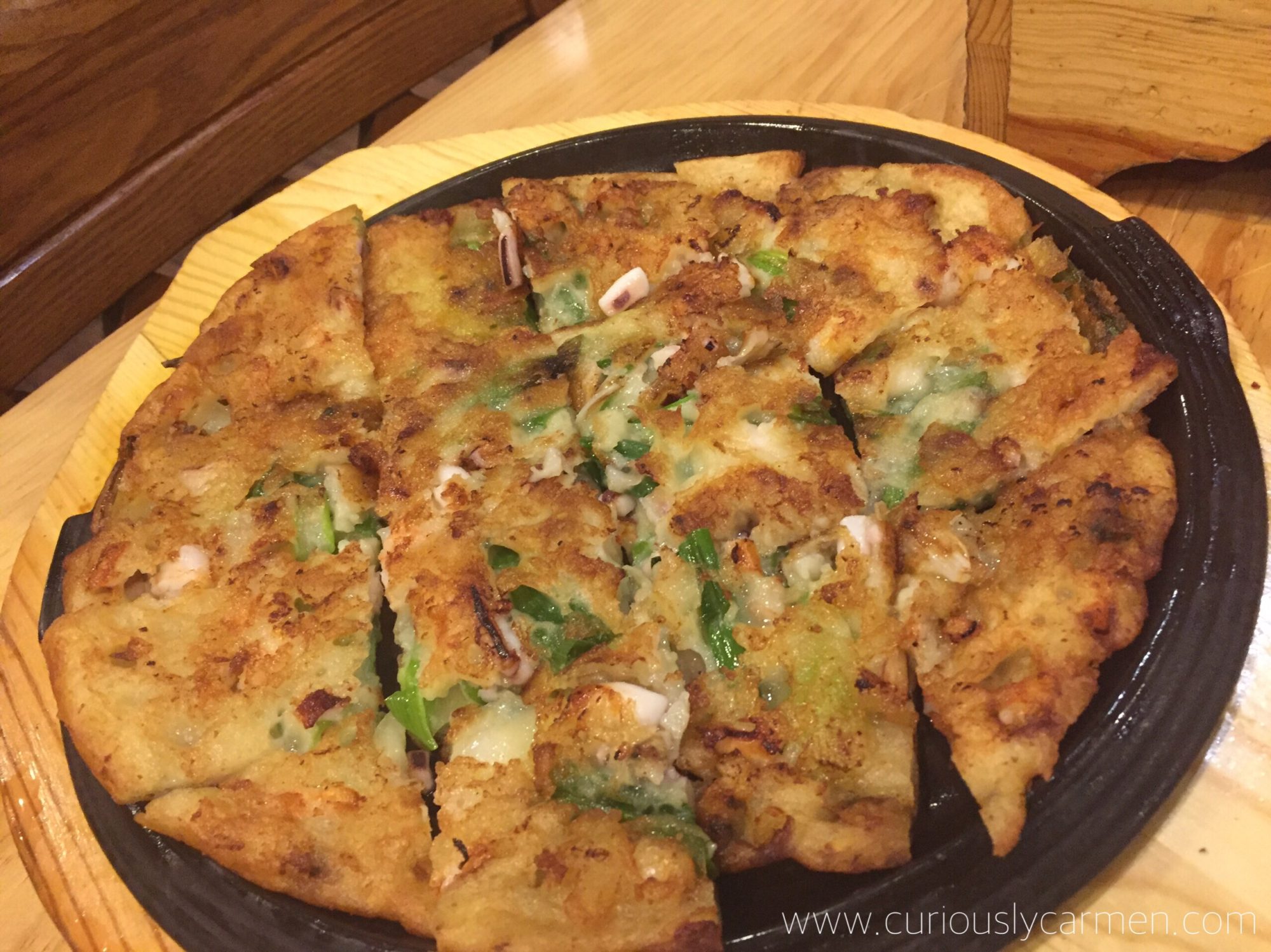 The second thing we ordered was the seafood pancake. I found the pancake to be pretty oily, and my stomach is very sensitive to oily food but I had no stomach problems afterwards.
The pancake was packed full of seafood and onions/chives, while being crispy on the outside but soft inside. This was a really big portion and after eating the banchan and tofu soup, we took some back home and enjoyed it the next day.
House of Tofu Soup is definitely the place to go if you're craving a nice, hot bowl of tofu soup (hence their name). We really enjoyed our visit here and will definitely come back when we want something warm and comforting.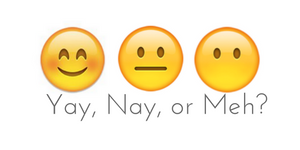 Yay!