Hi everyone,
FINALLY! I am so happy to be able to write a post on Earnest… because that means I finally tried it! The reason why I waited so long to try it is because of my pet peeve in lining up at eating establishments. If you've been reading my blog already, you know that I hate waiting in line for food.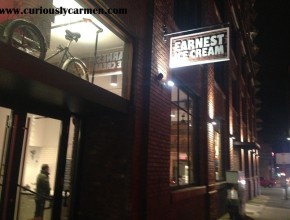 I actually sucked it up and attempted to go to Earnest twice in the summer. Both times, we drove around the store and surrounding blocks looking for parking,  for a good ten minutes before giving up.
Needless to say, Earnest seemed like a faraway, dreamy and distant land that I'll never be able to go to =( Until now! Their new location  had opened up this month right on the outskirts of Olympic Village.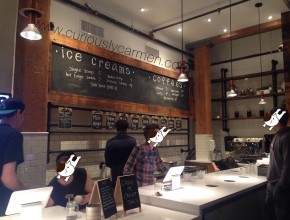 Although I haven't been to the original location, I've driven past it many times and know how small it is. This location is a major upgrade in terms of size, featuring high ceilings and almost floor to ceiling windows. It feels very roomy and spacious due to the high ceilings.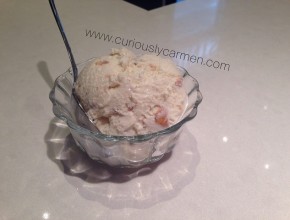 For our first visit, the boyfriend ordered a scoop of the whiskey hazelnut. It was very rich, creamy, and smooth…the epitome of what great ice cream should taste like. There were small chunks of hazelnut in his ice cream as well. The only regret he had was to order the waffle cone instead, he thought that it costed extra!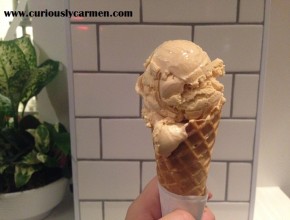 This was my heavenly scoop of salted caramel. Again, it was very rich and creamy… the caramel taste was perfect. I enjoyed every bite of this and the waffle cone tasted fresh and was crunchy.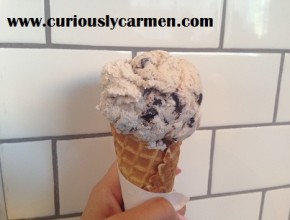 I was craving Earnest so much after our first visit that we went back the next day…. whatever! #hatersgonnahate. I ordered the same salted caramel ice cream with a waffle cone, so I won't talk about how delicious it was again!
The boyfriend ordered the cookies and cream, with a waffle cone this time! Again, it did not disappoint.
Earnest was seriously amazing, and definitely lived up to the hype. At least, I think so, but I would love to hear about those who didn't like the ice cream here. Friendly, fast service combined with quality, rich, and smooth ice cream… I'm not sure what more you could ask for.
-Carmen
PS. Since both stores are the same and carry the same flavours, here are spoon backs to both locations: