A few months ago, I was looking up different Korean restaurants around Metro Vancouver to eat at. I came across Samsoonie Noodle & Rice in Richmond, and it had pretty good reviews so the boyfriend and I went to try it one weekday evening!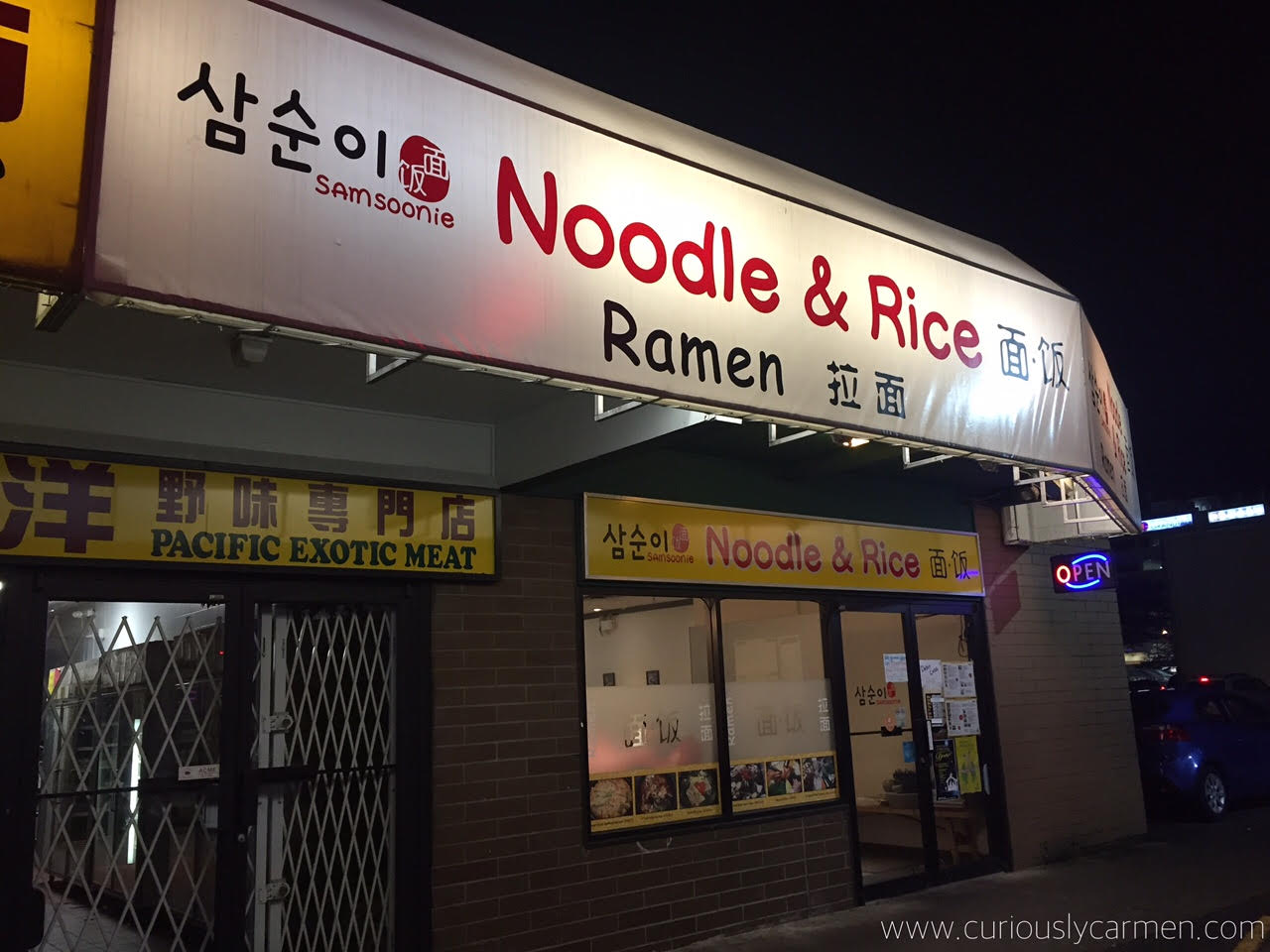 I would say that Samsoonie is pretty hard to find if you're not looking for it. It's tucked away in a plaza, the last store hidden in the corner. We ended up driving past the whole plaza and found it when we drove around it for a second time.
It wasn't too busy when we went there. Seating was comfortable and spacious.  Considering that there was only one server working that night, service wasn't too slow.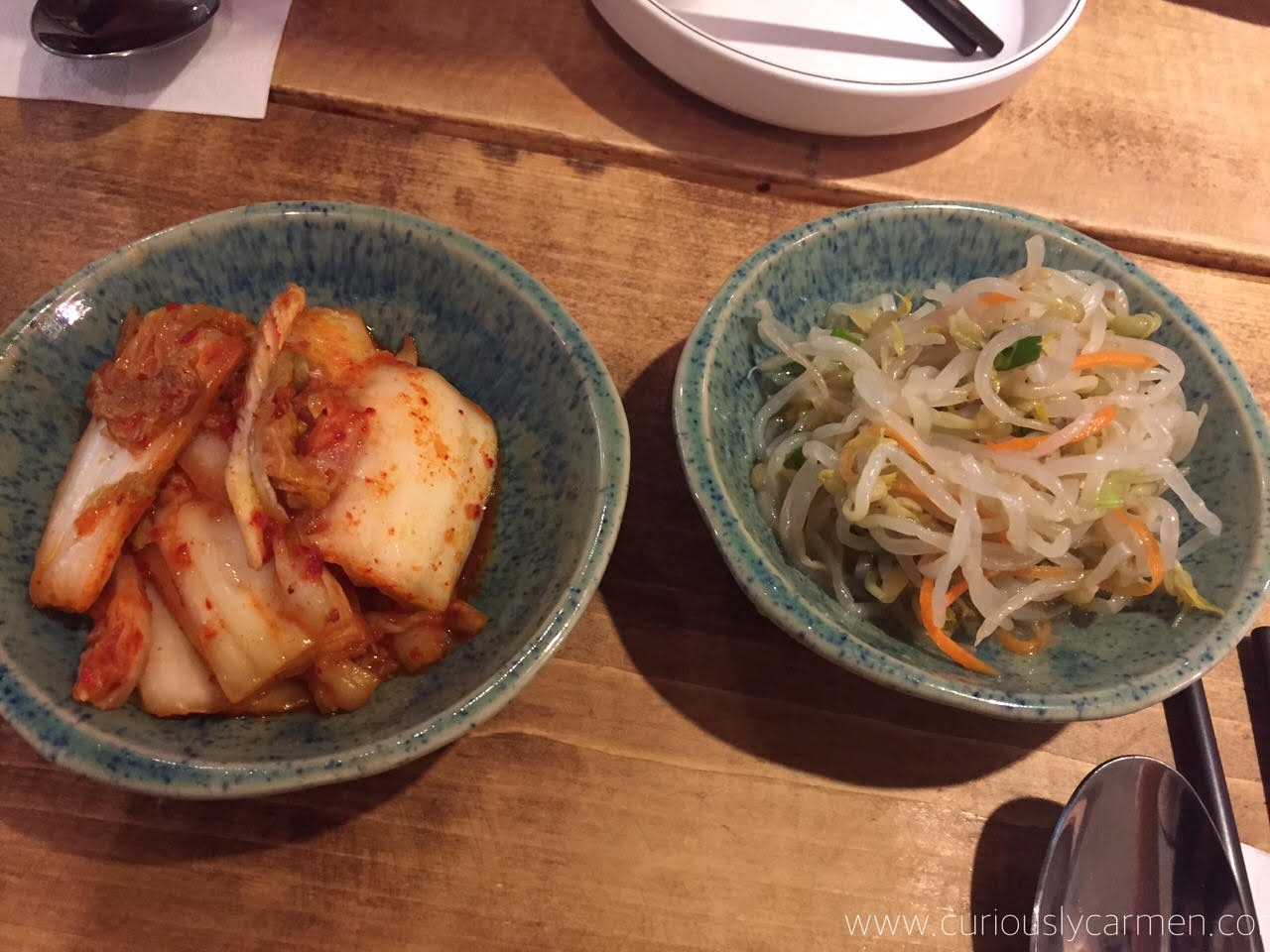 Banchan, free: Samsoonie only gave us two appetizer dishes, which is fine because we normally don't finish everything anyways. Normally, places give four places but I've been to Korean restaurants that give up to 6!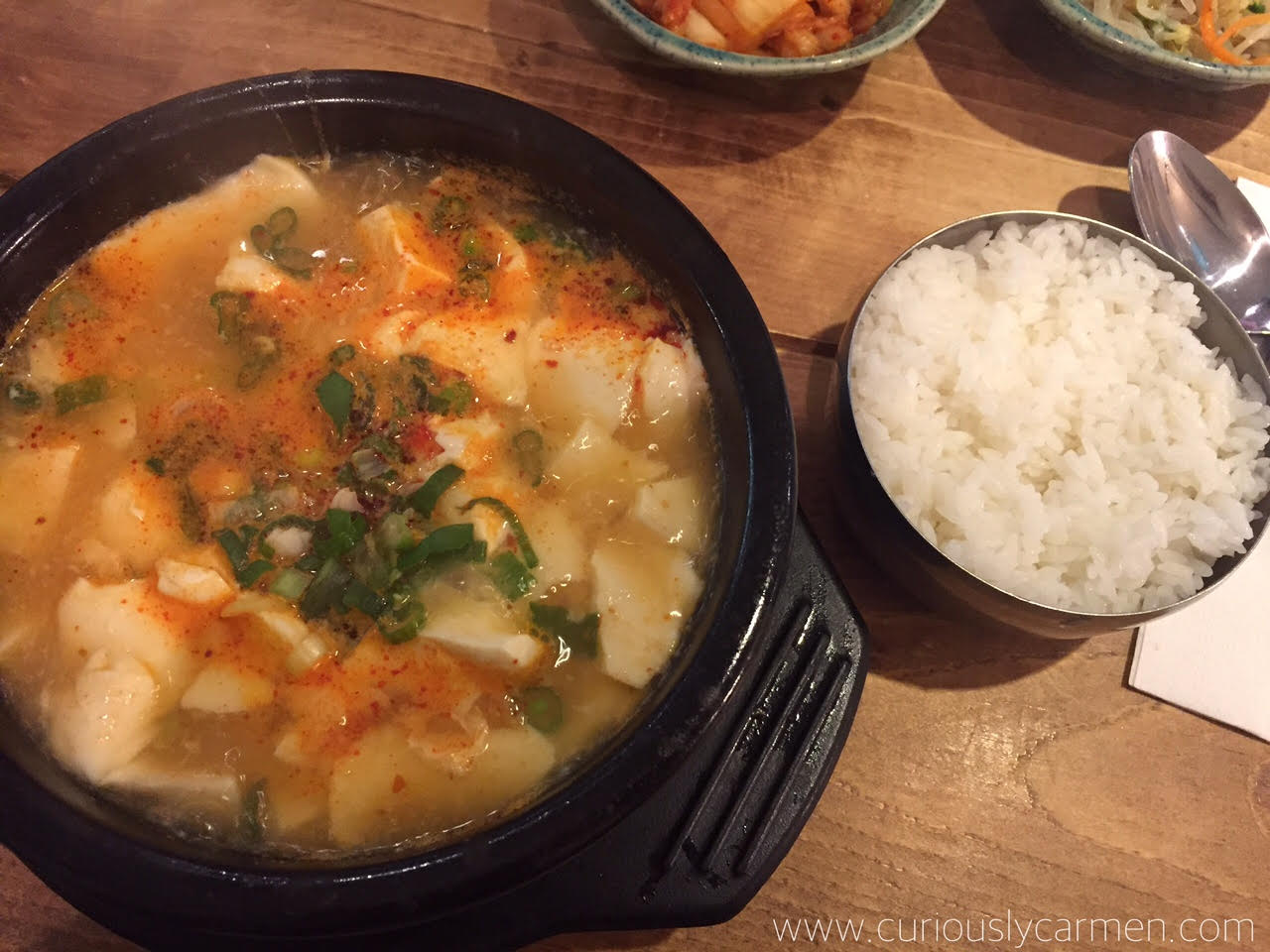 Soft tofu hot pot, $8.99: My go to dish at Korean restaurants is the sundunbu, or tofu hot pot with choice of meat. This hot pot came with an average amount of seafood but a lot of soft tofu! I was so stuffed at the end of this meal, I didn't even finish the rice!
I found that the soup was slightly bland compared to other places. It wasn't too flavourful or spicy and didn't have much depth. It wasn't entirely terrible though, and I still felt satisfied after eating it.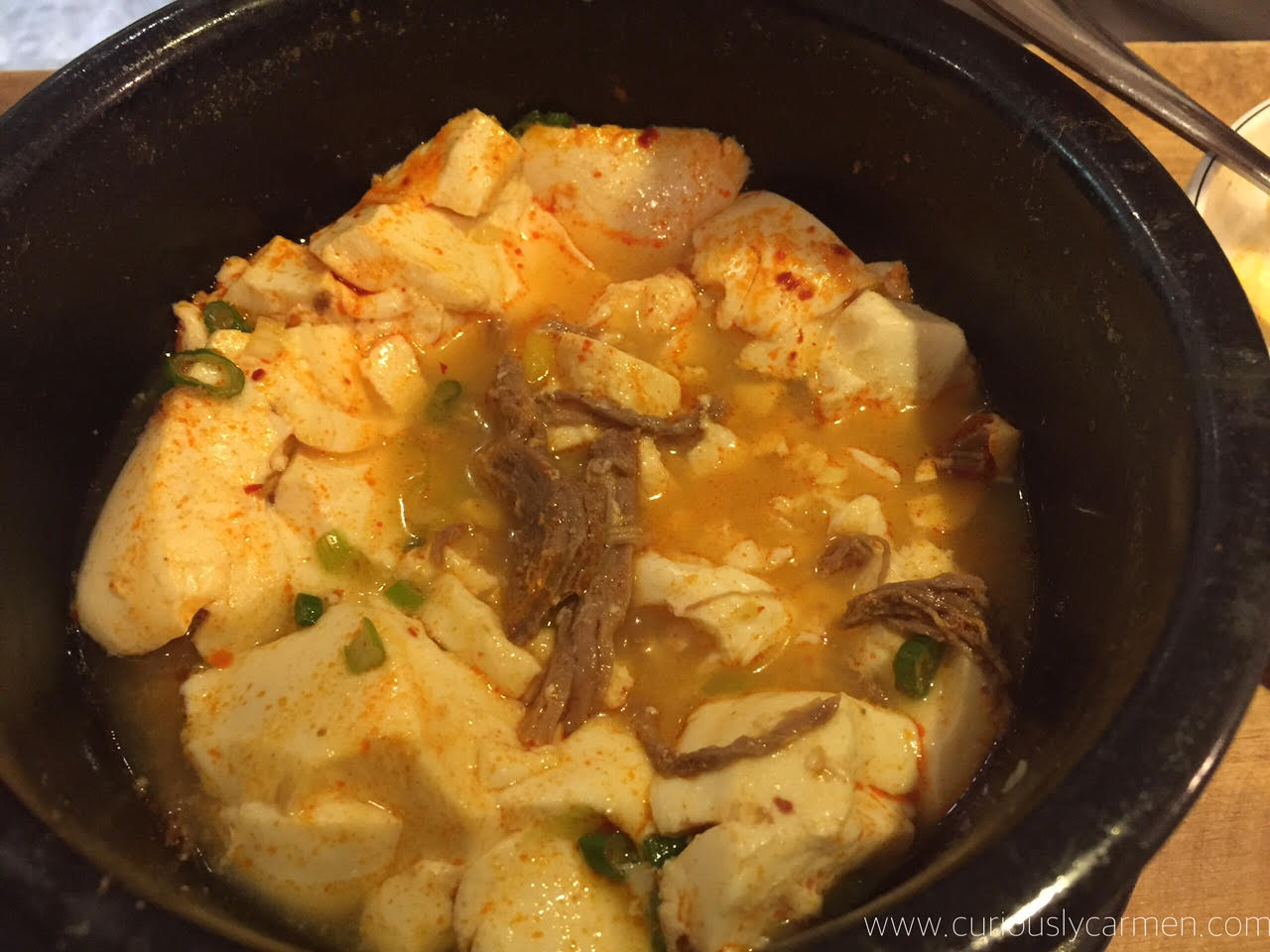 Beef soft tofu hot pot, $8.99: I didn't take a picture when it arrived because it looked the same as mine. Again, the soup broth wasn't super flavourful but the boyfriend still enjoyed it.
There wasn't much beef to the pot, but the beef itself was really soft and flavourful. It was the boyfriend's favourite part of the dish, even if there wasn't a large amount of it.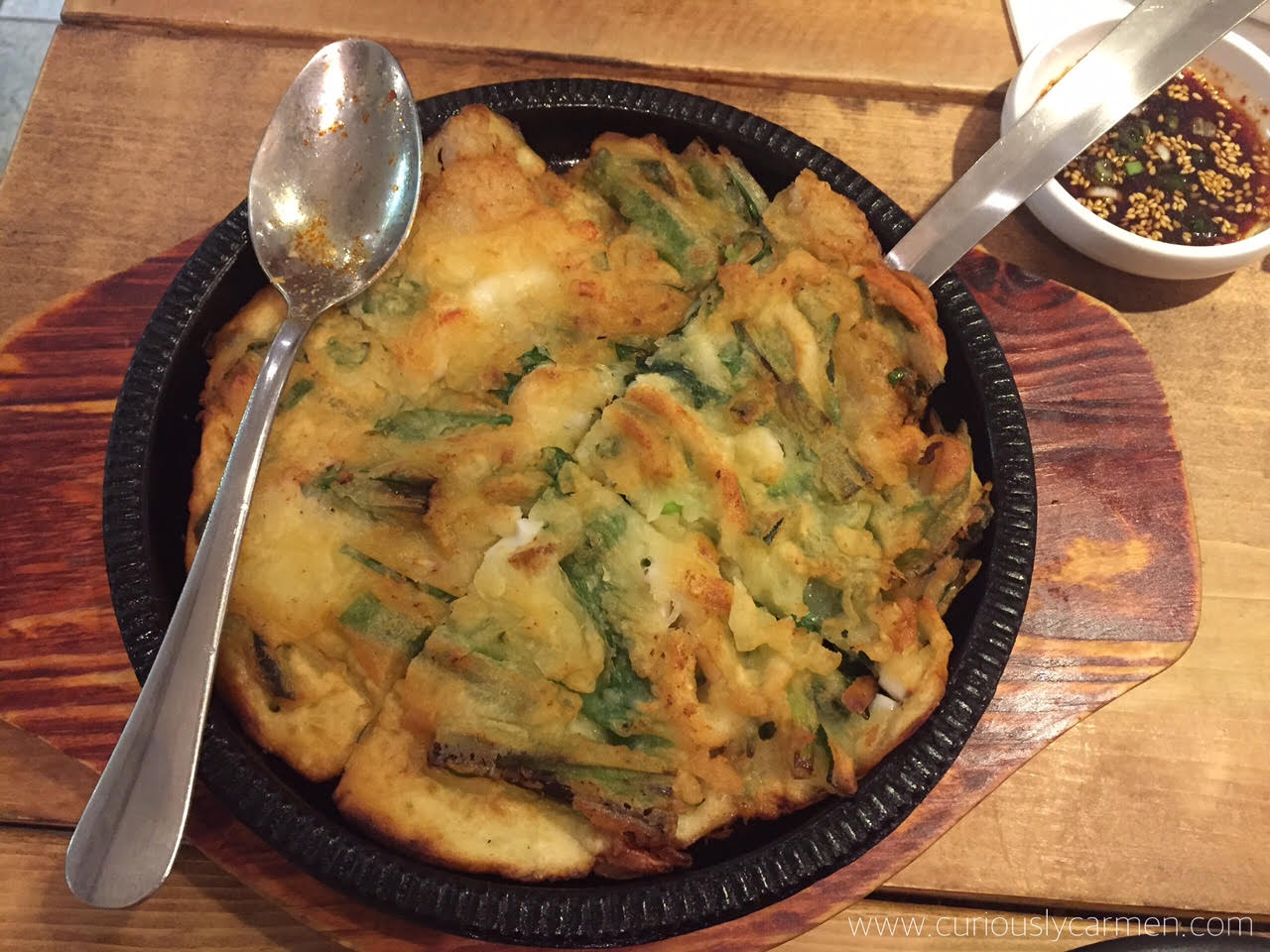 Seafood pancake, small, $9.55: The boyfriend wanted the large pancake but I knew that we would not be able to finish it. It would have just been a repeat of House of Tofu Soup, so I suggested we order the small.
The seafood pancake was delicious! It was nice and crispy on the outside, but soft on the inside. There was an average amount of seafood inside, but it was stuffed with leeks.
The spoon is there for comparison. It was the perfect size for us, the large would have been too much and we would have had to end up packing it up.
Overall, Samsoonie is a pretty decent restaurant but not one that I would crave again. I wish that the broth would have been more flavourful and less watery, but service was really friendly and seating was comfortable.
There are so many Korean options to choose from in Vancouver, so the food has to be super delicious to be able to compete with each other. I would prefer to go to Jong Ga or House of Tofu Soup, both in Korea Town.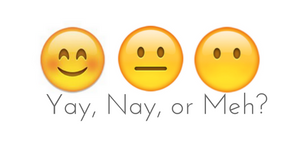 Yay!
Thanks for reading!
Carmen