Hi all!
Before I begin: I am doing a Cetaphil skincare set giveaway which is super simple to enter! Details and enter here! 
Fun fact- The first restaurant post I ever did was on Hapa Izakaya last year at Dine Out Vancouver. We had an amazing time there, from the delicious food, ambiance, and friendly servers. With that said, we were really looking back to coming here again and I booked our reservation right away.
Hapa Beach, I'm not sure what happened to you.  Change in ownership? We left very disappointed, the quality and preparation of the food comparable to all you can eat restaurants, minus the heaps and heaps of food. It was nothing like this the first time, I can't believe that it is the same restaurant we went to a year ago.
When we first stepped in, we  could tell that it was already busy. The hostess was on the phone for a few minutes before she was able to greet us, and we were sat quickly afterwards. We were also reminded a few times of the 1.5 hour dining limit.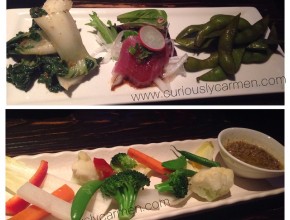 For the first choice of appetizers, we ordered the taster appetizer (above) and bagna cauda fondue (below). The taster appetizer came with bok choy gomae, edamame beans, and tuna carpacccio. The bok choy was crunchy and fresh, with a generous amount of gomae sauce.
The tuna capaccio was very fresh and the ponzu sauce was good, but the portion was really small so just a heads up there (Yes, I understand that it's an appetizer and also DOVF menu). The chilled edamame beans weren't that great. It didn't taste fresh and was over seasoned.
Ever since having amazing bagna cauda at Rajio , we wanted to try Hapa's. The sauce was not mixed well, or it sat out for too long and separated. It was also bland in flavour, and one of the veggie pieces my boyfriend had was bitter.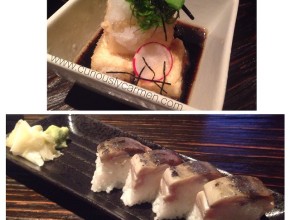 The second course was the worst and this was when it reminded us of being at an all you can eat restaurant instead of at a nice izakaya. Let's start with the aburi saba. It was mediocre, there was a slight grilled and smoky taste to it but it was not prepared well at all. Felt like they just slapped a bunch of pieces onto big chunks of rice, then put it on a plate to serve.
The agedashi tofu was drowned in the sauce and floating in oil. It did not look fresh at all, I've had better agedashi tofu at all you can eat actually. I'll let this picture do the talking: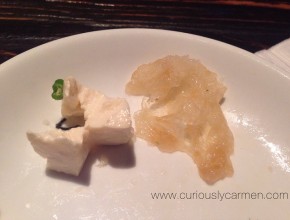 The outside batter of the tofu was slimy and sticky, and came right off the tofu when we tried to eat it. It lacked all flavour and just looked disgusting and pathetic in the bowl. We asked to exchange for the gyozas (the only thing left on the second course menu) instead because we are not eating or paying for this "tofu" . Where was the quality in this?
Although the servers were really attentive and nice, they seemed pretty new and said they had to ask the manager if they were able to switch for us. Fair enough. In the meantime, our main dishes were brought to us- more like being quickly thrown onto the table and having the servers dashing away before you could say thanks. Another point- shouldn't a nicer establishment like Hapa have better service?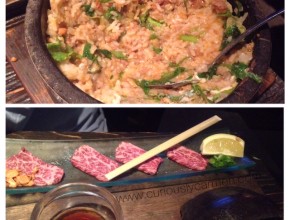 After all the disappointing starters (minus the few bok choy and quarter sized tuna carpaccio), our mains arrived. The spicy pork ishiyaki came with a decent amount of pork, and a raw egg that they stir in for you. The stone bowl is really hot and cooks it, and you're also recommended to leave the rice for a few minutes so that it can become crispy due to the side of the bowl.
It also came with chives, which did not taste fresh either.
The boyfriend ordered the cho wagyu- four thinly sliced pieces of raw Kobe beef, which you cook yourself with the black stone and dip in ponzu sauce. Again, the portion was really small and thin although from the angle of the picture, it looks like a thick cut. He said it was pretty chewy, althought he made sure not to overcook it.
Again, he said it was pretty disappointing due to the size. I'm glad I ordered the rice bowl and we ended up sharing that.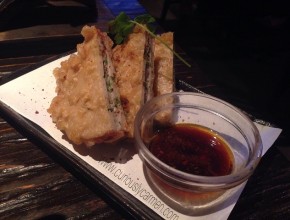 When we were done our main course, our replacement appetizer came- pork gyozas. The server apologized for the slimy tofu mess agadashi tofu, and said since it was deep fried, that's why it was oily. No, I know that deep fried food is oily…but the point was that the tofu batter was slimy and tasteless.
Anyways, the gyozas were not your usual gyozas. They came with minced pork, layered with lotus root and then deep fried. This was a LOT better than the slimy tofu mess. We weren't sure if we actually enjoyed this dish a lot, or if everything else so far was so mediocre or abysmal that this was delicious.
Either way, the gyozas were cooked well and crispy. The lotus root made it really filling and there was a good amount of pork inside as well.
As for service, the entire time, we felt like we were being rushed. Our food was coming really fast and we had servers quickly taking away our dishes. They had told us 3 times about the 1.5 hour seating limit, we were there for a bit under a hour. It felt like the servers were there to just toss dishes on the table.
I'm not sure if I'll come back but I kind of want to give them one last chance since we had a great time here last year. I feel like there might have been a change in management as the name of the place changed from Hapa Izakaya to Hapa Beach, but I think they're still under the Hapa Izakaya family. All the more current reviews at Hapa are pretty negative as well.
Read a happier, more positive, and YUMMIER post on our original visit here.
Did you come here for Dine Out or just recently? I'm really curious to see if we just came on a bad day…
-Carmen