Hi everyone!
Sometimes, as a food blogger, you will visit one of those restaurants that are so bad that you don't even want to waste your time writing or even thinking about it. But at the same time, you want to warn people before they go to said restaurants. Well, Rogue at the Convention Center is one of those said locations. If I knew how bad the food and service would be, I would have definitely tried another place. This place was definitely one of the worst places I've been to in a while, food and service wise.
Walking in, I was very impressed with the decor and location. They had floor to ceiling windows, which let in a lot of sunlight and there was a beautiful view of the water outside. Unfortunately, that's where it stopped with Carmen being impressed.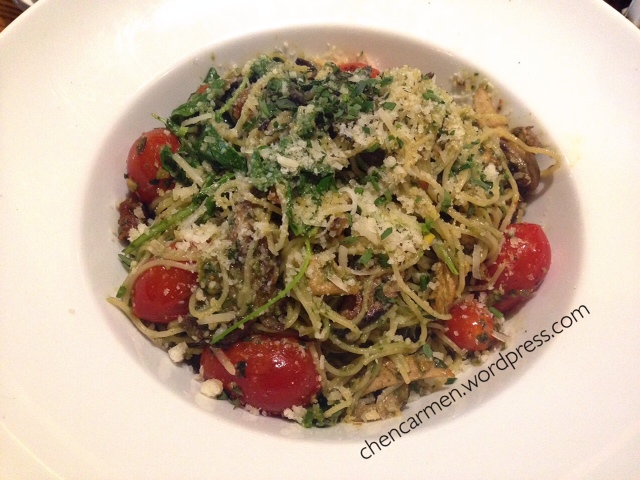 My friend and I decided to share the chicken and chorizo cappelini, which sounded delicious on paper. What arrived and what we tasted was another story. The cappelini noodles were extremely mushy, bland and soggy. In addition, the entire plate was void of any flavour, just soggy, mushy, disgusting noodles.
The worst part of the dish was how oily it was. The entire time we were trying to stomach this down, all we saw was oil gleaming from every angle and all we tasted was bland, soggy noodles.
After a few bites, we were done and couldn't eat anymore. I don't know how they can serve this out to customers and charge $17 for it. Take it from our experience and save yourself the money, do not order this.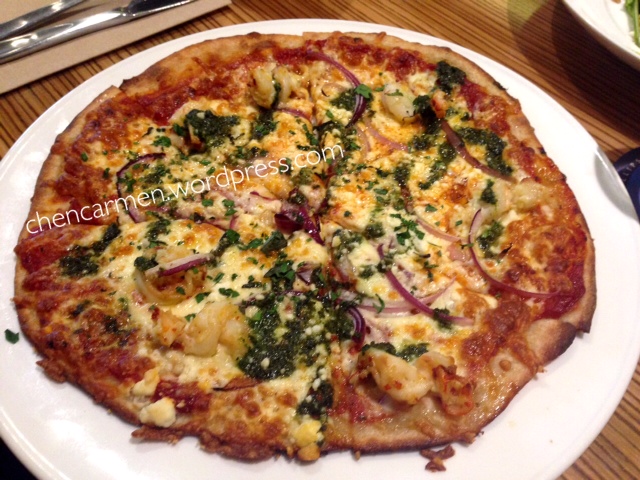 My friend and I also shared the spicy tiger prawn and pesto pizza. I had this at the other Rogue location in Waterfront station, which was really good! However, we were disappointed again when we picked up a slice, and it collapsed due to how much greasy oil was on the thin crust dough. The whole pizza was incredibly oily, to the point where it was so unappetizing that neither of us wanted to eat it anymore.
I tried to salvage it by dabbing my napkin to soak up the oil, but my napkin was drenched in oil after two slices and service was so slow and rude that I didn't want to ask for more napkins. The pizza was also cut really badly and uneven, some of the pieces were four times larger than others. I'm sorry, but this was just terrible.
There weren't many prawns on the dish either and tasted nothing like what I had at the other Rogue, I can't believe they are sister restaurants.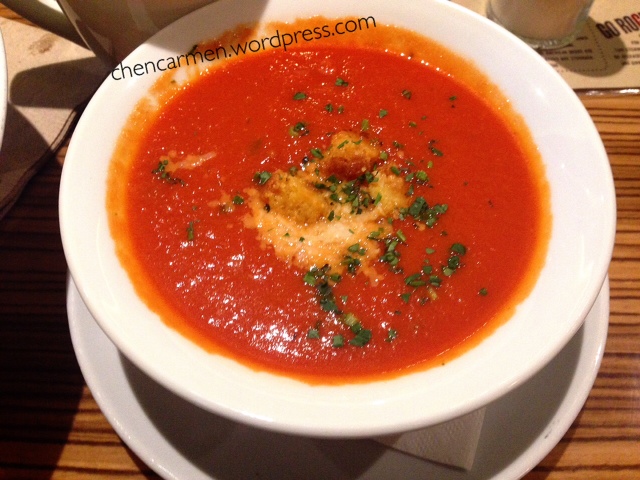 I'm so glad that I ordered a side soup because this was the only minimal dish I had that day. This was the tomato basil soup. I'm not sure if they can cook their soups really well, OR if my standards for this place had gone so low that I thought this was good. There was a strong tomato taste to it, and had a bit of a thicker consistency. It had the right amount of herbs and saltiness, and the melted Parmesan added a nice finishing touch.
Moving on to the rude service. Service was very minimal, and when our server did come, she seemed to be in a really big rush and did not want to serve us. I asked for a hot honey water, which never came so I asked another server as she was walking by. Bad choice. She literally THREW it down on our table and walked away so fast that we couldn't ask her to bring our server.
My friend was also missing her utensils and water, which took us three tries before our server got it for us.
It's safe to say that I will not be returning to this Rogue location after how gross our food was and how bad the service was.
-Carmen